YouTube has content creators who attain recognition for their videos. They are called YouTube influencers. Sometimes they partner with brands and influence you to purchase their products.  They may receive a fixed payment from brands or receive a percentage commission for every sale. In this article, I will present top YouTube influencers in India to draw inspiration from them and become an influencer yourself. I will discuss how to partner with YouTube influencers, be it YouTube beauty influencers or YouTube makeup influencers.
YouTube has not specified any threshold number to be called as an influencer on YouTube. When brands are looking for YouTube influencers, they consider any YouTuber with more than 10K subscribers as an influencer.
India accounts for the most number of users on the YouTube platform – nearly 225 million users (Source: Global Media Insights). Over 93% of online video watchers in India use YouTube to watch videos.
Read my article on how to do influencer marketing to increase profits.
Check out my article on epic formula for using influencer marketing platform
Let's have a look at the Top 10 YouTube Influencers in India: 
10 Best YouTube Influencers of India
There are no specified criteria to judge who the better influencer is. Every YouTuber will not make videos on the same topic; there are numerous topics to choose from – Comedy, Technology, Sports (especially Cricket), Bollywood, Health, Beauty, Fashion, etc. A few of these topics, like cricket, comedy enjoy more popularity than others, so it would be unfair to compare one group's influencers with that of others. To avoid this, I will be elaborating on the best two influencers from each category. 
Comedy
1. Bhuvan Bam
He is an Indian comedian, singer, songwriter, and YouTube personality. He has a popular
YouTube channel named BB ki Vines has over 17 million subscribers and 2.37 billion views of videos. Videos are generally of 2-8 minutes, and Bam himself plays all the characters. He was the first Indian YouTuber to reach 10 million subscribers. Bam usually works with brands targeting the age group of 15-35 years. Such association benefits both of them. Some of the brands he has associated with are Lenskart, Tasty Treat, Beardo, Mivi, Tissot, and Arctic Fox.
2. Ashish Chanchlani
He is also a comedian and YouTube personality in India. With 17.5 million subscribers and 1.87 billion views, he is one of the top YouTubers in India. Chanchlani also endorses several brands on his YouTube channel. He is associated with Groww (online investment platform), MPL, etc. And most of the time, the marketing of these apps' fits into his video's content. Apart from consumer brands, he also partnered with film producers. For instance, During the Avengers Endgame release, Marvel collaborated with Chanchlani and asked him to interview a few of the actors as part of India's promotion.
So, as far as comedy is concerned, you will be dealing with a younger audience. And generally, collaboration with comedians (especially with the above two) gives you a reach which no other category can provide. Sometimes, their videos cross 50 million views, which is indeed a significant achievement for any YouTuber.
Beauty / Makeup
Makeup is an essential activity for most human beings. Who doesn't want to look pretty! Here are some of the top YouTube beauty influencers:
1. Malvika Sitlani
She is a beauty blogger and a YouTuber. She has a YouTube channel by the same name with more than 550K subscribers and 57 million views. Such numbers are considered huge in Beauty or Make-up domain. She started this channel around  2016 and has uploaded more than 400 videos, which is impressive. So, there is a minimal chance that you search for something related to makeup, and you could not find it on her channel.
From traditional Diwali makeup to scary Halloween makeup, she has posted videos for all occasions. From time to time, she even recommends products for you to use. As a YouTube makeup influencer, many beauty brands approach her for influencer marketing.
Apart from YouTube advertisements, this is also one of the ways for influencers to earn money. YouTube influencer marketing is beneficial, especially for brands, as collaborating with an influencer familiar with your niche will give them access to the target audience, rather than general YouTube users. This will ensure a higher conversion rate.
Malvika has also teamed up with several beauty brands, local as well as international. She has promoted the products of brands such as L'Orèal Paris, Maybelline New York, OFRA
Cosmetics, Nykaa, Himalaya Winter Care, and Nivea. And this is not like an advertisement. She uses the product and describes how to use it and the advantages of using it.
2. Jovita George
Just like Malvika, Jovita is an Indian YouTuber and also a YouTube Makeup Influencer. Though she does not currently live in India, most of her YouTube videos are related to Indian style or makeup. Her YouTube channel Jovita George has 586K subscribers and 56 million views. She started this channel around ten years ago and since then has uploaded around 600 videos. Although her YouTube channel is primarily dedicated to Beauty and Make-up videos, she occasionally posts her travel videos.
A few of her videos are unique and exciting. For instance, she compares the makeup of brides of different countries, Indian vs. American, Russian vs. Japanese. Due to her influence over the makeup tips seekers, many beauty brands have partnered with her. Nykaa and Lakme are her prominent partners, and she often makes videos when the associated brand launches any new product.
Shreya Jain, Debasree Banerjee, Shruti Arjun Anand, Erica Fernandes are also a few of the top Beauty or Makeup YouTubers. This category generally serves young female makeup enthusiasts. So, the target group is relatively narrow when compared to the audience of the Comedy category. And views generated for these videos are somewhat less (maximum 2-3 million per video). So, eventually hiring a YouTube Influencer in this category is not an expensive deal.   
Fashion
Just like what you put on your face matters, what you also wear matters in this society. A rich with cheap clothes can look poor, and a poor with expensive clothes can look wealthy. You might remember this dialogue from the Bollywood movie 3 Idiots, Rancho telling millimeter (a boy who earns a living by doing errands and laundry of college students), "You don't need fees (or money) to go to school, you just need a uniform!". The dialogue depicts the contribution of Fashion to our personality. There are many YouTubers creating videos on Fashion, keeping us aware of the latest trends. Let's check two such YouTube fashion influencers.
1. Scherezade Shroff
She is an Indian YouTube personality and a video blogger. She has a channel by her name on YouTube and has over 314K subscribers and more than 51 million views. She joined YouTube in 2014 and, so far, has uploaded over 670 videos. Her video content is mostly related to Fashion (clothing, beauty, hair tutorials) and Lifestyle, but on rare occasions, you would find travel and food vlogs.
This channel is a complete package. She serves a very diverse audience, from showcasing best Indo-western looks to occasional travel vlogs to various brand hauls. On top of that, she also hosts an eating show on her channel where the guest list consists of top YouTube influencers. This gives her a better reach than other influencers.
2. Dhwani Bhatt
Started in 2014, within just six years, she has established a successful YouTube channel. She has expertise in Fashion and Lifestyle. Apart from these, she also makes videos on room decor, cooking, makeup, etc. She has earned over 150K subscribers and 17 million views for 300 video uploads in these years.
She has created several videos featuring outfits for different occasions; it may be a wedding, Navratri, Diwali, etc. There are even unboxing videos for brands like Daniel Wellington. As far as influencer marketing is concerned, she has partnered with E-commerce platforms like Amazon and AliExpress. Besides, Dhwani also advertises for the Nykaa brand.
Komal Narang, Sejal Kumar, Anika Chaturvedi are other good names in the fashion industry. Fashion is, in many ways, similar to the Beauty/makeup category. From target audience to views generated, there exist many similarities between the two. You will even find many influencers common in both categories. So, more or less, Fashion YouTube influencers will cost the same as Beauty/Makeup YouTubers.
Health and Fitness
You can follow the work of these two YouTube health influencers.
1. Akshay Chopra
He is an Ex-Air Force Pilot, graduated from the National Defense Academy (NDA) and the Air Force Academy. The name of his YouTube channel is We R Stupid. It claims to be the most research-based channel in India, creating content on fitness, strength and conditioning, nutrition, and supplementation.
The channel has a wide variety of videos. He not only uploads workout or nutrition videos but also creates videos criticizing and comparing products. Channel frequently organizes live QnA sessions with Akshay. Some videos are unique in their sense. For instance, Super Lockdown Workout or What should be your diet for the Lockdown? Such titles sound amazing.
We R Stupid has over 198K subscribers and 12 million views for 490 videos. The channel is open to influencer marketing if your product is relevant to its content.
2. Gaurav Taneja
He is a professional bodybuilder, nutritionist, and aviator. He has 13 years of experience in this industry. But unlike other fitness influencers, he is an IIT (Kharagpur) graduate as well. In today's date, an IIT tag attracts many followers on social media in India. Gaurav has a YouTube channel named FitMuscle TV with 1.36 million subscribers and over 109 million views.
He is an influencer as well. Online sports nutrition brand 'My Protein' collaborated with him to promote the brand in India. Most often, Gaurav uploads videos suggesting My Protein products whenever the brand launches any new snack supplement. Once, he went to the warehouse of My Protein in Delhi to show his viewers the variety of supplements and the brand offers. The brand has even created exclusive discount coupons, which Gaurav asks his viewers to fetch discounts on orders. Indeed, the brand is taking maximum benefit from this partnership. 

Guru Mann Fitness, BeerBiceps, Tarun Gill are also a few of the top YouTube influencers in Health and Fitness. In terms of audience, this space is the complete opposite of Fashion and makeup. Here, you will mostly find men between 15 to 45 years of age. The target audience is quite broad and hence offers ample opportunity to get views. YouTube influencers in this category are expectedly male-dominated and are more expensive than beauty/fashion YouTubers.
Also check out my article on how to rock influencer marketing on instagram
Technology
Many YouTubers talk about technology but let us know those who influence others.
1. Praval Sharma
He is known as Sharmaji Technical on YouTube, which is the name of his channel. He is a tech blogger and a YouTuber. Like Gaurav Taneja, he is also an Engineer. He started this channel in 2015, and as of September 2020, he has 1.7 million subscribers with more than 3200 uploads and 256 million views. In the technology space, it is quite challenging to accrue more than 1 million subscribers. Sharmaji Technical majorly focuses on smartphones, though the term 'technical' consists of many other gadgets. But for smartphones alone, he has created more than 2000 videos. Whenever any new smartphone is launched, you can view the unboxing video, review, and even comparison the video with the rival on his channel. As an influencer, Praval is also part of several marketing campaigns. He also claims that he does reviews only for good products, and they are not paid. But he is available for other ways of paid sponsorship. He partners with Amazon and Flipkart as well during shopping festivals.
2. Ranjit
Famous by his channel name GeekyRanjit, he is a tech YouTuber. The channel has nearly 2 million subscribers and over 600 million views till date. It is also the first English tech channel in India to have more than 1 million subscribers; Sharmaji Technical is a Hindi channel.
Content is very much similar to that of Sharmaji Technical. The smartphone is the primary focus. But unlike the former, GeekyRanjit also shares his opinion or review on other gadgets like watches, smart TV, RO Purifier, AC, headphones, cars, and even the Jio Fiber Set-top box. The range of products is broad here. And so are the advertising campaigns. Companies from every technical niche have hired him for influencer marketing on YouTube. Even Amazon had joined hands with him to promote online shopping events like Amazon Prime Day, etc. Amazon would ask him to share a list of products with his viewers to get in Amazon sale at lower rates, to ensure more participation in their shopping events.
Apart from the above two, Technical Guruji, C4ETech, iGyaan, Intellect Digest are among my other favorite technology YouTubers. Technology is currently the hottest topic and is progressing at an incredible pace. So, as the users struggling to deal with the modern devices are increasing, these YouTubers have more audience to cater to. So, the 'Technology' domain is a good choice for marketing and advertising. Unlike previous categories, here, there is no division of audience based on gender.
Every time, it should not just be a dull video of an influencer praising the product; you have to be creative and engaging to draw viewers' attention.
Giving special coupon codes to your influencer for promotion or allowing conversation with your CEO there are many ways to make influencer marketing more effective.
But before framing the marketing campaign, you have to find an influencer who would be willing to be a part of your campaign. He/she is the one who can make or break the sale.
Check out my video on tips for influencer social media marketing
Following are a few tips that may help you while partnering with an influencer.
How to Partner with YouTube Influencers?
Go for medium and micro-sized influencers
Narrow down to those who match your brand and character. In the above text, I mentioned the number of subscribers and views for every influencer; the number of followers should not be the sole criteria to choose an influencer. Try to contact small, medium, or micro-sized influencers; they have a highly engaging audience and cost-effectiveness.
Involve Influencers in Content Creation
When you have a medium or micro-sized influencer, you can approach him/her to create a video themselves. They own exciting content. In case your team makes content, it will look branded and scripted and thus will backfire. So, let the matter of content be in the hands of influencers.
Create Custom Links and Track their Conversions
Once you hire an influencer, don't let them roam free. Track their conversions. You can create custom links for every influencer, which will lead to your blog, website, or e-commerce. For instance, in the above examples, My Protein used coupon codes to track the leads generated by Gaurav Taneja. Such a technique would help you compare your influencers and instill competition among them to perform better.
Get Campaign Report
Ask your influencers to submit a campaign report. The report should contain key metrics like views, likes, clicks, etc.
Create Lead-In Videos
Request influencers to create lead-in videos. These are the videos with a call to action button. Once any viewer clicks on the button, he/she will directly land on your website or blog. If you have a YouTube channel but with fewer subscribers and views, you can use influencers to improve those numbers. Even if they simply put the link of your existing campaigns (from your channel) in the description, it will considerably increase your traffic.
Avoid Direct Endorsements
Don't just ask the influencers to endorse your brand directly. The video should not look like a television advertisement or a paid ad. Viewers will understand the motivation of the creator. This may not only tarnish the influencer's image but yours also. Tutorial, unboxing, reaction, or comparison video is the best way to avoid sounding like an ad. Such videos look genuine.
Improve Search Engine Optimization
Improve your SEO ranking. There is a reason why I mentioned it last. If you are partnering with an influencer on YouTube, that means he/she already knows how to improve SEO. He knows the tricks to improve ranking in search engine results. For your knowledge, one way is to insert keywords in the title as well as the description.
Now, you are ready to utilize YouTube influencers for marketing. Let me know the other practices marketers are using to leverage influencer marketing through your comments. Also, feel free to drop any query or doubt in the comment section.
LinkedIn is the world's largest social media platform specifically designed for professionals. LinkedIn is all about making stronger professional connections. These connections are your potential clients.
Read More »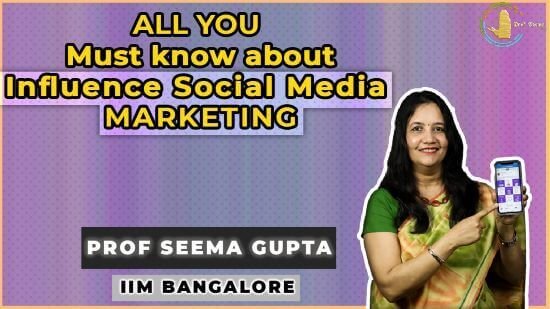 Influencer social media marketing is the new cool in the marketing industry. Marketing is not just about promoting the brand on different platforms. It is more about connecting with the audience emotionally
Read More »
Media is a reflection of our society. Media can be in any form, printed or electronic. It keeps us informed. Media is the mode of communication and is the backbone of our society.
Read More »
HERE IS HOW I CAN HELP YOUR BUSINESS GROW
Don't just stand by and watch others make millions! Jump in and leverage digital marketing to skyrocket your business!