Disclosure: Since I am sharing this content free of cost without any paid subscriptions, some of the links in this post might be affiliate links, which won't cost you anything. Although, all opinions and discussions remain my own.
Are you someone who owns a startup and is looking for a quick way to create attractive, personalised logos? Or you could be someone who has a blog or a business and feels the need to revamp your existing logo because it looks plain and boring.
This is because you understand the importance of a good logo, especially if you are just stepping into the world of business and is looking for a start to set yourself apart from your competitors by creating a good brand identity in your customer's minds and as the saying goes the first impression is the best impression and you want it to be the best!
Either way, you've come to the right place because today, I will be reviewing LogoMaker, one of the best free online logo maker platforms that I've come across where you can create amazing free logos in less than few minutes and you don't need any technical or design knowledge to do the same.
Go for free trial of Logo maker.
Know The Background
As someone who has been in the field of digital marketing for a long time and handling a blog, youtube channel and writing books, I've also been in the same place where I wanted to create a logo that would best suit my ideas, and that would be visually appealing. But I knew that creating a logo from scratch would be a cumbersome task, and appointing a graphic designer for the same would, in fact, take up a lot of time and money. That is when I started searching for free online logo makers and came across LogoMaker and found it to be the best free logo makers when compared to the other similar platforms online. Now, in this review article, I will be sharing my experience with LogoMaker and I am sure that it would definitely help you too.
What is LogoMaker? What makes it different and the best from the rest of the logo makers available?
LogoMaker is the best free online logo design tool that helps you create amazing, personalised, visually-appealing logos for your businesses in minutes.
While just starting out, it wouldn't be a great idea to invest all your money in appointing graphic designers in order to create logos as it would take so much time in pushing out your ideas, negotiating and so on.
That is when you should be considering using a free design tool like LogoMaker and here, you can make your logo in less than four steps: Enter your business name and industry, choose from thousands of pre-made logo templates, customise the font, colours, orientation, and style of your design, then save your logo to edit again later or purchase it immediately to receive high-quality image files.
And to do this, you don't require any prerequisite knowledge about design and can get it done quickly.
Go for free trial of Logo maker.
So first, let us look into how you can get started and design your logo for free!
Firstly, fill in the required details about your business :
Select a logo style according to your requirement :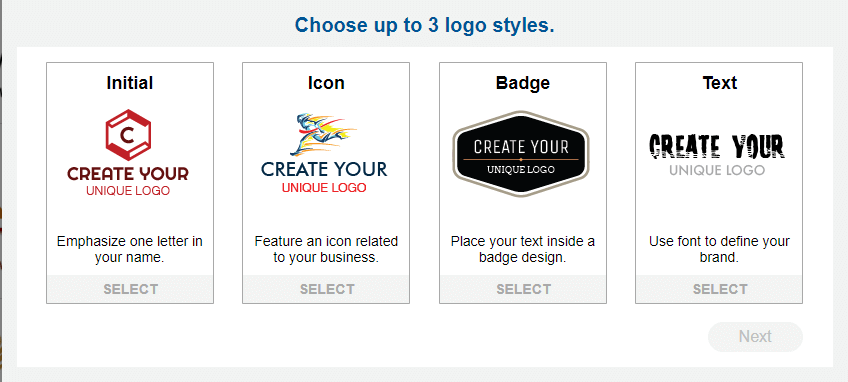 Next, select the font of your choice :
Voila! Your logo has been created, and now go forward and select from the choices available; now go forward and create an account in order to save. Once you have created and saved your logo for free, in order to access the image files, you will have to purchase your design.
Let us also look into the other features that LogoMaker offers :
Feature 1: Work with a Designer
Apart from creating a free logo design, LogoMaker also gives you an option to work with designers who are highly experienced and would help you with designing customised logos based upon the ideas and needs that you have.
This is because there could be times when you aren't really happy with the logos already produced. So, now you could think about investing a little bit and working with designers who would create designs that best suits your business. I will be discussing the pricing plans later on in this article.
Give the necessary information about your company and your target customers that you would want them to know so that it is easier for them to understand your business and customers better and design your logo accordingly.
Next choose the colour, font style, of your choice and also fill in your personal information and just submit it. The designers would get back to you, and then you could discuss with them, and they would be more than happy to receive your feedback and work upon it and give you the perfect logo that suits your requirements.
And now you can confidently go forward and use this logo for your businesses or whatever the requirement is.
A strong, visually appealing logo could do wonders for your brand!
You can also upload an already existing logo of yours and get feedback on it and also receive professional colour matched business cards, custom clothing like t-shirts and hats and promotional products like pens, mugs and signs.
Feature 2: Receive image file types along with your logo
You would be knowing that usually image file types are sent along with the logo once it is created by a graphic designer. In the same way, LogoMaker also sends image file types once you've saved and purchased your logo but at a lesser cost.
These image files are yours to keep and use always once you've purchased. Having proper image files are important as having only one single type wouldn't look suit all platforms especially because you would be marketing on websites, magazines, newspapers, posters and so on.
Some of the image file types that LogoMaker provides are :


Basically, a vector version of your logo and can be used for high-resolution print applications like signs, advertisements, billboards, packaging and so on.
It is a bitmap version of your logo with a white background and is best suitable for online applications like websites and wouldn't be that good for printing purposes.
This file is a "bitmap" graphic file with a transparent background that is often used in Microsoft Office applications, as well as websites and other online applications with coloured backgrounds. Available in small (150 pixels wide), medium (300 pixels wide), and large (600 pixels wide).
Feature 3: Free Business Card Maker
Once that you have created an amazing logo for your business, next comes a business card to make it look professional.
Have there been times when your customer asked you for your business card, and you didn't have one? Fret not!  LogoMaker also helps you create professional-looking personalised business cards.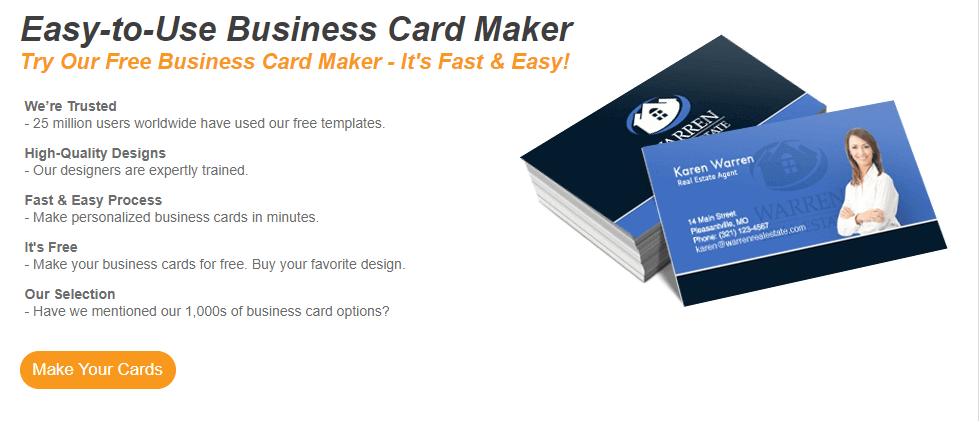 You can choose from their 1000+ business card designs, from colours, texts, layouts, fonts. And when you are ready to print your business card, buy your design just the way you did for the logo and have unlimited access to your image files. 
Feature 4: DIY Website Builder
While starting up businesses, creating a website is also essential in order to create an online presence. And LogoMaker provides an apt solution. You don't need to have any technical knowledge in order to create your website and update it.  And creating a website could never get this easier. You will have to invest some amount in order to access this service.
Some of the features offered are:
You don't need to know to code
Create contact forms in a few minutes
You can get drag and drop templates based on your industry.
E-commerce options are available.
Gmail for Business and Gmail App Suite
One-click SSL certificate
Some of the options offered are :
Website Builder and Hosting where you get easy to use website builder, modern templates that look on any devices be it your laptop, phones and so on, sell your goods online as they offer facilities to maintain a catalogue of items, make payments, and track inventory. They offer stock photography where they have a large collection of pictures to choose from, ultimately free of cost.
G-Suite offers features like Professional Business email using user-friendly Gmail platform, Upgrade to additional inboxes for multiple users with ease, Google Meetings & Hangouts for easier remote communication, Collaborative Google Docs, Sheets, & Slide, 30GB of secure online storage on Google Drive per inbox, access & incorporate Google Apps.
When should you go for LogoMaker?
Starting off a new business is a great step but creating a brand identity is definitely important.
Visuals speak a thousand words, and hence creating an impressive logo is also essential.
You don't want to be that brand that has the best service but has a very boring logo that your customers can't even recollect you when they see your logo somewhere.
And creating a logo comes at its own cost, and that's exactly when you should use LogoMaker as it is the best free online design tool I've come across so far, and you can indeed save money! You get personalised professional logos, image file types, business cards and much more.
When not to go for LogoMaker?
If you are someone who doesn't trust online platforms and believes in creating a logo for your brand yourself, perhaps it isn't the right choice.
If you have enough money to invest in graphic designers who would design logos, then you could think about appointing someone to do it for you.
But perhaps before deciding on that, you could give LogoMaker a try!
LogoMaker Pricing
As discussed earlier, you have an option to work with designers who would help you with the logo creation process from the beginning to the end. And this comes with a small investment and LogoMaker offers four packages as follows:
| | | | | |
| --- | --- | --- | --- | --- |
| LOGO PACKAGES | STARTER    ($99) |   BRONZE    ($195) |   SILVER    ($395) |     GOLD    ( $645) |
| Logo Design Concept | 2 | 4 | 6 | 10 |
| Designers working on your project | 1 | 2 | 4 | 8 |
| Initial Concept Turnaround time | 5 DAYS | 5 DAYS | 5 DAYS | 5 DAYS |
| Design Revisions | 2 | 3 | 3 | 3 |
| Direct Communication | Applicable | Applicable | Applicable | Applicable |
| Business card, envelope designs and letterhead |   |   | Applicable | Applicable |
Apart from this, the GOLD package also includes an option to get 1000 business cards printed. Out of all the pricing plans, I would best recommend the Silver plan as it includes almost all the essential services and is also opted by most of the LogoMaker users.
And all the packages include some common features include:
You own all design rights.
Final files are sent via email.
Files for print use
Files for digital use
Black and white files
Branding Guidelines
If you compare the pricing plans of LogoMaker with the other free online logo design platforms available, you would see that it offers good services at a cheaper rate.
To know more about the platform, services and the pricing plans you can visit the LogoMaker website.
LogoMaker Ratings
Ease of use: 5/5
Service:4/5
Basic Features: 4/5
Advanced Features: 5/5
Overall: 8/10
Summarizing
If you are wondering why an impressive logo is essential, there are a few reasons you should be considering:
Creates an identity: Some of the big brands in our country and worldwide are well appreciated and recognised for the impressive logos that they've created, and whenever you see the logo somewhere, you recognise the brand.
Brings in new customers: You would've often noticed that you've found certain logos very aesthetically appealing and attractive and would've bought it even if you're not a regular customer of that brand.
Sets you apart from the competition: An impressive logo could set you apart from the regular logos that your competitors usually use and sets a good impression in the customer minds.
So, LogoMaker is by far the best free online logo maker platform that I've come across till now and is the best place where you can get logos made for whatever the purpose is, be it for your business, websites, posters and so on. They also help in designing business cards and customised stationery for your business like pens, t-shirts and so on at a very affordable rate. Moreover, they also provide services for setting up websites quickly for your business.
To sum it up, LogoMaker is more than a platform where you can create logos. It is a platform that provides the best services and is an amazing place for all the upcoming businesses.
If you are someone who wants to create logos for your businesses, I would definitely recommend LogoMaker. Happy creating!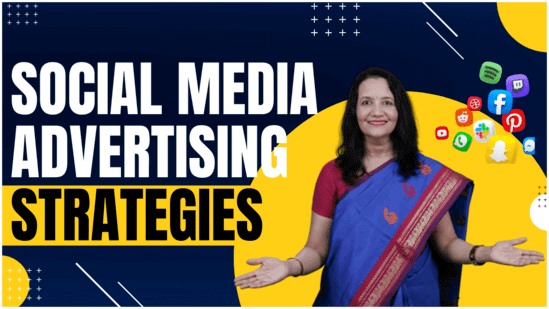 Spread the loveAccording to a study, an average person scrolls close to 300 feet of social media content every day. That's the height of Qutub Minar! Thinking about the amount of time that we tend to spend on social media daily, I find it quite believable. The main idea for social network advertising is to
Read More »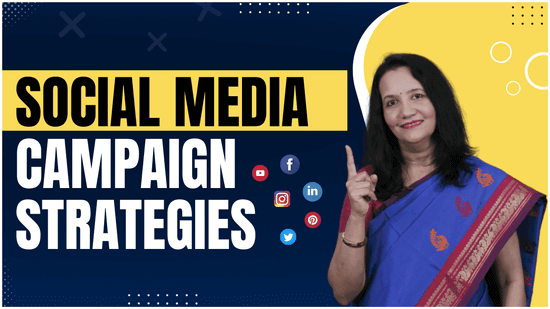 Spread the loveDo you want to create social media campaigns that will make your brand a sensation? Read these five strategies to grow your social media and blow your audiences' mind.Social media campaign is nothing but a series of coordinated activities aimed to promote your product or raise brand awareness in a community. We all
Read More »
Do you want to create excellent landing pages? Do you want to cutdown the cost required to hire a webpage creator. Read the article to know about SeedProd, an excellent landing page builder plugin for WordPress.
Read More »
HERE IS HOW I CAN HELP YOUR BUSINESS GROW
Don't just stand by and watch others make millions! Jump in and leverage digital marketing to skyrocket your business!