Whether we are meeting an interviewer for the first time, or have an essential client to sway through our presentation, we always ensure to keep our best foot forward to convince them of our interest to serve them.
Admittedly, similar is the case when we try to convert the potential leads landing to our doorsteps to becoming customers in real-time.
However, with the onset of digitalisation businesses put in huge amounts of efforts just to create a static page online that acts as a catalyst to convert potential buyers into ultimate customers. 
This makes the prime objective of a landing page to persuade its visitors to complete their intended action, be it buying their product or selling one.
Your website landing page should work out for you as Virender Sehwag did for the Indian cricket team by being the best opener ever!
What is a Landing Page?
A landing page is essentially that static web page that your potential customer first lands on when they enter your website. 
Your landing page forms the first impression of your brand on the lead, and first impression never gets a second chance!
This landing process could be a result of clicking on an online advertisement, a search engine optimised result or another form of marketing promotion. Although these advertisements bring your leads one step closer to you, their ultimate purchase depends on your landing page.
Mentioned below are all the tips and tricks that I have personally used to drive the conversion rate by over 10x with simple hacks. So brace yourself to dive deep into the ocean of how to design a landing page, one at a time!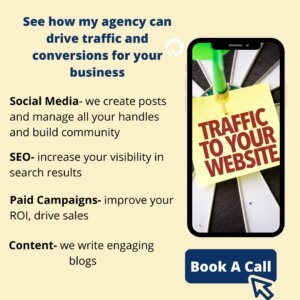 1) Crisp is the key:
Don't underestimate the power of a catchy header and a concise landing copy. The first element your leads read on your landing page can have a striking impact on their purchasing behaviour.
Remember, nobody likes reading long paragraphs of you appreciating your product. All your visitors want to know is how you can help them solve a real-world problem that they are facing, and this should be the very basis of your header and landing copy.
Now you must be wondering how you can portray all about your brand in just a few lines. As an example, consider the landing page of Razerpay.
Not only is this landing page visually appealing, but its on-point header and description make it all the more effective. This is also the perfect example of how your content should be intended to interact with the customers, rather than a mere explanation of your product.
2) Try, but don't Pry!
While creating a landing page to extract customer information, most websites tend to have a long and extensive lead form to serve this purpose. This drawn-out form tends to do more harm than good in terms of conversion rates.
This is because potential customers turn apprehensive towards pages seeking more than essential information at the very beginning. They consider leaving your page more convenient than filling those tedious forms that you push at them.
If you are deliberating how you can extract customer data without seeming intrusive, let me give you a tip followed by the top companies – seek the additional data later on as the customer moves closer to purchase.
A compelling example of this tactic is the landing page of Zomato. It only asks for the most necessary data at the first step (i.e., location) and then as the customer moves closer to placing an order, they gain the rest of the information.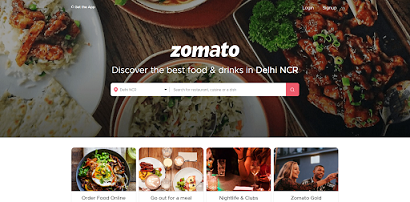 3) Leverage the power of Call-To-Action(CTA): 
CTA is the unrivalled king of the blog when it comes to creating landing pages that convert well. For visitors to convert into leads, they have to click on your CTA. Thus, it's your task of prime importance for it to be highly effective. 
Don't worry; it's not as difficult as it seems. Firstly, using a single CTA prevents the leads from being diverted mid-way, thus decreasing the chances of being deviated from the objective. 
Secondly, make sure your CTA stands out by using action-oriented language and contrasting colours that make it clearly visible on the landing page.
A very suitable example for this tip would be the landing page of Slack. Not only does the unique contrast of the CTA button entice the visitors to grab their attention but the "TRY SLACK FOR FREE" text takes this a step forward in their favour.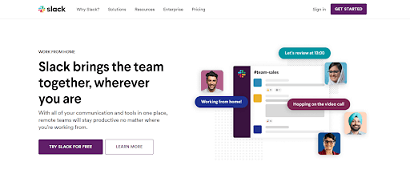 It is also highly effective to have multiple CTA buttons on your landing page as it only improves the chances of your visitor clicking on either of them. 
As an example, check out the landing page of my very own Social Media Marketing Bootcamp where I have included the CTA button thrice to improve my conversion rates.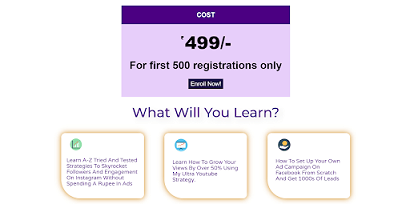 4) Faith takes your forward:
 As philosophical as it sounds, the more legit and safe customers find your landing page, the higher are the chances of their conversion. 
Thus, get as many data security certifications and display the corresponding data security badges on your landing page. 
This can have a significant impact on improving the customer's faith in you with their data. It can also enhance their trust in your products and services as well. Now that's one pro tip right there!
These are the results from a survey conducted by the Baymard Institute that shows the customer preferences towards some of the most renowned security badges. The study also showed that 18% of the customers abandoned their purchase because they didn't trust the website with their credit card information.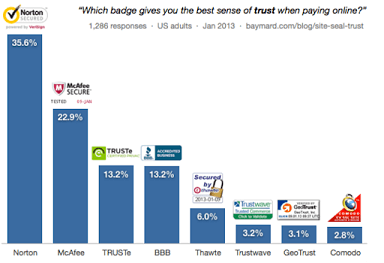 Thus, if security badges are something you have been less bothered about, it's high time you give them their much deserved attention!
5) Pay-Per-Click(PPC) to your rescue: 
PPC advertising is based on the idea of using the right keywords to put an advertisement at the top of the search engine outcomes. 
For businesses facing high levels of competition, this is indeed a necessary strategy to drive the traffic of users towards its landing page. 
Once you have created your PPC Campaign, you must continuously optimise it for relevance. This process should consist of the following measures like-
Expand the reach: By adding more PPC Keywords relevant to your business, you can improve your outreach considerably. 
Improve Click-Through-Rate (CTR): One way to do this is by splitting your ad group into smaller ones and specific ones. This helps create more relevant ad texts and thus improves the quality score. 
Refine: To boost your conversions, align your landing page with specific search queries. This also helps you divert the entire traffic to your page into more niche groups. 
While the ultimate utility of PPC lies in its Return-On-Investment (ROI) analysis, this has proven to be one of the successful alternatives to improve the conversion of landing pages even when the other measures don't work out. Who said money couldn't buy happiness, eh? 
Know About –WP FORMS – form builder plugin for WordPress website
6) Looks matter: 
It's a well-established fact that the human brain perceives images 60,000 times faster than texts. 
Moreover, it takes the human brain less than 3 seconds to form an impression based on what they see when they land on your website. This indeed emphasises the importance of good visuals on your landing page. 
Visual content helps form the first impression in the minds of the leads as they land on the webpage. High-quality images and brand-relevant design is the hack to this tip. 
Thus, it is highly essential for the user interface to be not only attractive with the right images and layout but also user-engaging and easy to use. Get your UI/UX designers ready for this fun ride!
The looks of your landing page also determine which part gathers the most attention by the viewers. A heat map helps you do exactly that. 
As a powerful data visualisation tool, heat map helps you determine how visitors interact with your landing page. This is based on the colour-coded system as you can see in the image below.
The red and yellow areas indicate the most read and interacted areas of the webpage, while the blue parts indicate the relatively less interacted ones. As found in several studies, most heat maps form an F-shaped pattern as you can see below.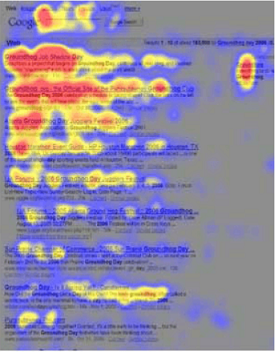 Generate the heat map of your own landing page to understand your visitor's behaviour. This will help you gain insights to strategically place your CTAs and other important content. 
7) Don't just present the content – communicate!
Needless to say that the content on your landing page has to be absolutely free from grammatical and spelling errors to ensure its credibility. Yes, be a Grammar Nazi! Take help of some of the commendable services like Grammarly.com to accomplish this. 
But apart from this, make sure that your content communicates the value of your products or services you're putting on the table. Do not just focus this content on you and your product but instead on how it can help them solve a real-world problem that they face. 
As a worthy example, let us consider the landing page of Cred – a credit card payment app. In just a few lines, the content convinces you of its credibility. That is the power of effective communication!
Here are 10 ways to increase your landing page conversion rate by 10 times 
8) FOMO can be a real deal: 
Fear of missing out (FOMO) is not just a hashtag famous on Instagram anymore as several companies are constantly leveraging its advantages to get potential customers closer to making a purchase. 
We have all been attracted to discounts and offers for as long as we can remember. What makes it more interesting is the customer behaviour when this discount comes with a timeline through which it is active. 
People tend to buy products on sale simply because our FOMO does not let us miss out on lucrative deals. This strategy will urge your leads to click on the CTA, owing to the urgency factor associated with it. 
As a tailor-made example, let us take a look at the landing page of Shein – a women's clothing website. The pop-up comes with a timeline that urges users to avail the discounts before they miss the deal. 
Read my article on Creative Web Page Design That Can Make Your Business Profitable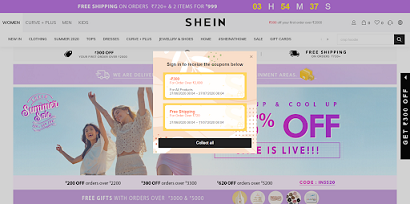 9) To be, or not to be – the site navigation's tale:
There exists a common misconception that including the site navigation feature on your landing page is bound to increase your conversion rates as it gives visitors a chance to move through the website to know more about your services. 
However, studies conducted by the method of A/B testing on several websites show that the ones without navigation links tend to have higher conversion rates than the others.
This has a clear implication – navigation links distract visitors by tempting them to move to a different page, thus leading them to lose their track and not making a purchase. 
Therefore, avoid using distractors in the form of navigation links on your landing page. Or even better – use the method of A/B testing on your very own website to find out what suits your company the most and let me know in the comments below!
 10) Social Media – a powerful tool at your disposal: 
With the ever-increasing impact of social media in driving consumer behaviour, especially amongst the Gen-Z, it becomes inevitable for companies to have a remarkable social media presence. 
This not only helps them drive more leads to their landing page but also helps them analyse the customer behaviour and preferences, thus helping brands customise the products that they offer. 
Most importantly, it is highly desirable for you to have a social media landing page to cater to the needs of your visitors through social media. This landing page should be based on a thorough understanding of your leads and their specific purposes. 
So go ahead and create your customised landing pages for Facebook, Instagram, Twitter and all the other social media handles that you have your presence on. 
 11) The quicker, the better:
How important do you think a fast-loading landing page is? We say – more than you could ever imagine! 
Over 80% marketers would agree if I say that slow speeds can lower their conversion rates.
In fact, if your landing page takes more than 3 seconds to load, it is highly likely that your visitor will lose interest in exploring your products even before they view your website. Seems like your worst nightmare, doesn't it?
Nobody likes buffering in an era where people believe that time is money. Slow loading pages not only have a lower conversion rate but also have a negative impact on the user perception of the brand as a whole. 
Additionally, Google has declared that page speed is, in fact, one of the many signals used by its algorithm to rank pages, thus making it one of the best SEO tips for the brands. 
If you are wondering how you can check the speed of your page, run a Google's speed test here to gain insights into your page's performance and start improving.
Do whatever it takes – starting from improving server response times to enabling compressions – because even a seemingly insignificant improvement in the response time of your landing page can do wonders for your conversion rates!
 12) T for Trust, T for testimonials:
We, humans, have a substantial affinity towards being influenced by the reviews of other fellow sapiens. The right testimonials can drive over a one-third increase in conversions as compared to the current rates. Fascinating, isn't it?
From boosting the credibility of your brand to providing a sentimental essence to it, reviews and testimonials can most certainly be the finishing touch, or rather, the icing to the cake of your landing page. 
Check out the landing page of Udemy – an online learning platform. These positive customer reviews help boost the reader's confidence in the company, thus encouraging them to trust the brand by making a purchase. 
13) Last, but not the least – Keep improvising:
Did you know, with the aid of right targeting and testing methods you can increase the conversion rates of your landing page by 300%.
The key to an exceptional landing page is a well-sought landing page strategy. But how can you arrive at your personal strategy based on your products, services and customer base? Don't worry; I'm here to help you achieve precisely that. 
Use a data-driven approach to gather insights into visitor's behaviour as this can help you analyse the strengths and weaknesses of your landing page.
Some of the critical metrics to consider while gathering these insights are-
Number of views of the landing page
The ratio of views to lead form submissions 
The ratio of new leads from these submissions
The ratio of leads converted into customers
Evaluate the metrics mentioned above to find out at which step your visitor is the most likely to quit the website and improvise at the point. 
Prioritise the subpar aspects when it comes to making a change to your landing page. Then, observe over time the effects of the changes you made. If they seem to be doing well for your landing page, kudos!
Otherwise, keep thriving using this scientific approach, and you are guaranteed to observe positive results soon. 
The list of tips and tricks to a landing page that converts can be endless. However, provided above are some of the most relevant and trusted ones. 
The technique that works the best for you can only be determined based on the product you aim to sell and your customer base, as idiosyncratic strategies exist for each brand. 
To find the most suitable one for yours, you can use the mantra – "Ceteris Paribus", which in the layman's language translates to – "all other things being equal". What this basically implies is that you can keep all the other factors contributing to the conversion rate of your landing page constant and vary that one factor whose impact you intend to measure. Sounds intriguing, doesn't it?
Now, to give you a better insight into what highly converting landing pages should look like, we have presented hereby some of the best landing pages by popular businesses out there along with our reviews on the same. Get ready to be enthralled by the power of landing pages!
An epitome of minimalism, this landing page by Squarespace clearly serves its purpose to the fullest.
Whoever said – "less is more" clearly had this landing page in mind. This is our first pick not just because of its elegance but also its relevance.
All the essentials that a customer landing to this page for the very first time, would find within seconds, for instance, the "getting started" button is highlighted with a white background to make it catchy.
The design and user-interface also go pretty well with the product they aim to sell through their website.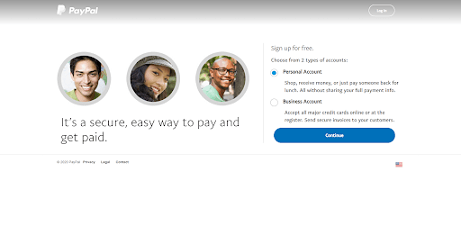 This is another apt example of a landing page that positively converts – PayPal. This is also a brilliant example of how you can drive customers to sign up without having them distracted by the presence of other elements on the landing page, in this case – the navigation bar.
Having no other distractor would increase the chance of moving forward, without getting lost in another page or part of the website.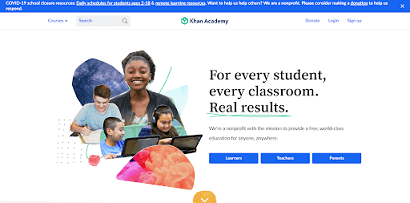 For landing pages designed to address several age-groups like students, parents, and tutors, Khan Academy does a splendid job providing different sections catering to the needs of each group.
The page is easy to navigate through and highlights the vital section through the right choice of design and images.
Moreover, despite being overly trafficked due to the current scenario of the pandemic, this page loads quickly, thus making it one which converts.
Relating the examples of landing pages cited above to the pointers preceding them would definitely help you create just the right landing page for your brand that not only converts by connecting with the targeted customers but also enables you to improve your brand recognition and product demand.
Final Note: 
Now that you realise the role of Landing Page in your marketing funnel as well as your advertisement campaign, you have the power to increase your conversion rates by multiple folds! 
Bear in mind that at each step, understanding your leads is exceptionally crucial. You need to think like them by putting yourself in their shoes. Not as difficult as it seemed, eh?
So start improvising your landing page today, and in no time, you will be converting more leads, and that is guaranteed!
On a closing note, which strategy did you find the most compelling? Leave your response in the comments section below, and I would be glad to help you out with all your queries as well. Happy learning!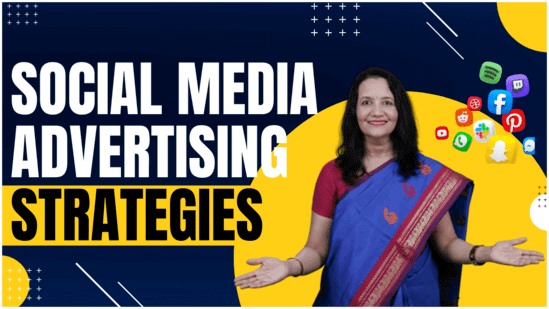 Spread the loveAccording to a study, an average person scrolls close to 300 feet of social media content every day. That's the height of Qutub Minar! Thinking about the amount of time that we tend to spend on social media daily, I find it quite believable. The main idea for social network advertising is to
Read More »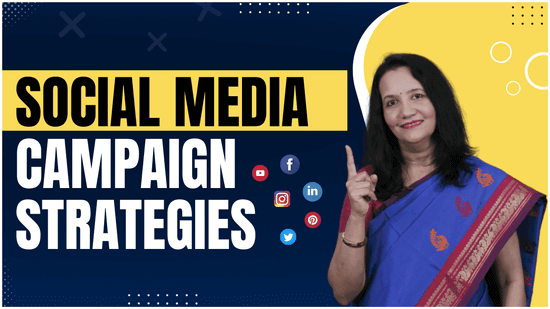 Spread the loveDo you want to create social media campaigns that will make your brand a sensation? Read these five strategies to grow your social media and blow your audiences' mind.Social media campaign is nothing but a series of coordinated activities aimed to promote your product or raise brand awareness in a community. We all
Read More »
Do you want to create excellent landing pages? Do you want to cutdown the cost required to hire a webpage creator. Read the article to know about SeedProd, an excellent landing page builder plugin for WordPress.
Read More »
HERE IS HOW I CAN HELP YOUR BUSINESS GROW
Don't just stand by and watch others make millions! Jump in and leverage digital marketing to skyrocket your business!
A landing page is essentially that static web page that your potential customer first lands on when they enter your website. Your landing page design is your most powerful tool to drive conversion rates, improve your SEO rankings and build your brand. This landing page could be a result of clicking on an online advertisement, a search engine optimised result or another form of marketing promotion. These advertisements bring your leads one step closer to you, so their ultimate purchase depends on your landing page. To build the best landing page, check out the article 10 ideas for your landing page design that can increase conversion rates by 10 times.
The cost of building a landing page varies from the type of web builder you are using and the number of functions you want to incorporate in a landing page. If you are building a landing page through a web builder, then you have to spend a bit more around 10 to 20 dollars per month. On the other hand, you can buy a ready-made landing page based on the template. This method saves a lot of time and effort. A landing page plays a crucial role to build an email list for email marketing, check out this article for email marketing tips and tactics – 10 secrets that will make your email campaign high performer.