Are you one of those websites that create quality content but aren't able to get visitors? Do you want to increase the number of visitors and generate more traffic? Google AdWords Keyword Planner is here to rescue you from all these problems!
This Keyword Planner helps you research keywords to increase your search engine optimization and to increase your traffic. You can use this tool to find new keywords that fit your website and find their search volume and bid amount to target them.
Google Keyword Planner is that dessert of your meal, without which your website development is incomplete!
Let us look at some of the advantages of this keyword tool to understand better.
Explore and explore! – This keyword tool works like a dictionary where you always find new words that can fit your website, product, or business.
Information on hand every month! – This tool calculates the number of searches for the keyword every month. So, after the end of every month, you will get to know the highly searched keywords and those that weren't searched much.
Money Money! – Google Keyword Plannerworks like your accountant as it shall calculate the average cost of your ad that has to be shown on searches for the keyword.
Clear and categorize! – This tool helps you fit the keywords into various sections or categories related to your kind of business. This way, you know which types are highly searched and which are not.
 New Campaigns – This Keyword Planner helps you plan new search campaigns that will be majorly focused on in-depth keyword research.
Make sure your account is on expert mode. You will not be able to access Keyword Planner if your account is switched on smart mode.
To know more about Google Ads, read my blog article.
Check out my article on Amazing ways to earn free google ads.
Let us understand how to set up the Google Keywords Planner in simple and easy steps!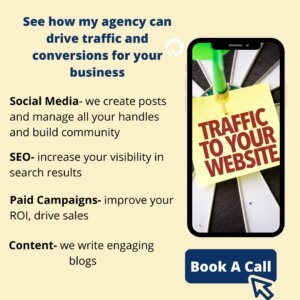 Creation
After logging in to your account, you can create your plan in two ways-
Discover New Keywords
For this, go to the tool's icon. In that, find the section 'Planning' and go to Keyword Planner. Then, click on Discover New Keywords.
Here, you can either enter the words you want or enter any website, in which case Google will discover keywords for your website.
You can use filters and refine the keywords by category.
Once you have a set of keywords, you can either add them to your plan or add them to the groups in your existing search campaigns.
You can add the keywords to your plan in the following steps-
1.Tick the box beside the keywords
2.Select the Add to plan dropdown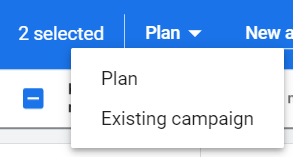 3.Click on Add to plan and specify the name of the Ad Group
4. Also mention the match type using Broad match Dropdown
5. Finally, select Add Keywords

Get Search Volume and Forecast
For this, you can follow the same method in Keyword Planner; instead of Discover New Keywords, click on Get Search Volume and Forecast.  Here you can paste the set of keywords or upload the words from a CSV file. Once you have uploaded, select submit and get started!
Observation through search forecast
Now that you have added new words, you need to observe if these keywords increase your user experience. For this, the search forecast shows the numbers of conversions, clicks, or impressions. This forecast can be seen in your 'Keywords' section of your plan. This also includes the words that you have uploaded through the above step.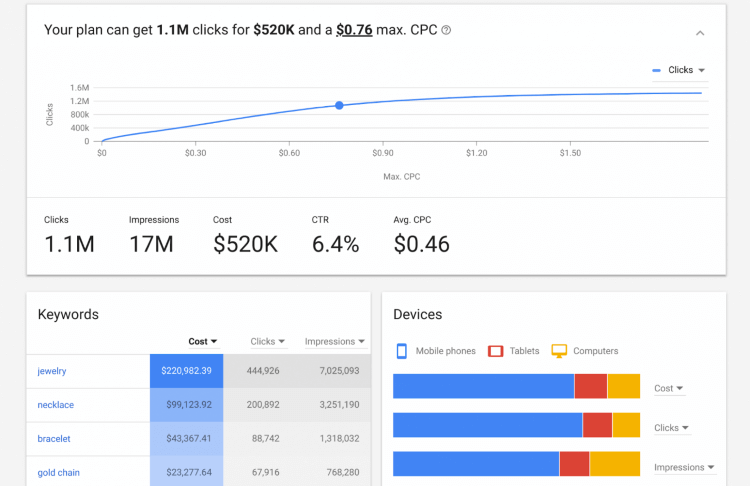 The forecast of your keyword includes the following items-
Clicks: This is the forecast of the number of clicks you may receive when you insert the keywords you chose earlier.
Cost: As the name suggests, it will show you the average amount that will cost you for the keyword per day.
Impressions: Impressions are the number of times your ad appears on the searches. The forecast shall show you how many times your ad appeared with the keywords you inserted.
Clickthrough rate ("CTR"): CTR is the ratio of your ads' clicks and impressions. CTR shall help you know how many people are interested in your ad!
Alteration
In this step, you can categorize your keywords into targeted Ad groups.
Ad groups are just the grouping of ads with similar target groups.
Start with the Ad Groups page, select the +sign, enter a new name, and save the name. You can even remove the groups just by ticking off the box beside the ad group. If you want to edit the locations, follow the same steps and select the target beside the location you want. And then, go ahead save the whole thing.

Creation
Now you can use all your plan into use by creating a campaign.
You can create a campaign through Ad groups or Keywords pages.
Go near the top corner, and select create a campaign
Give a name for your campaign.
Select a daily budget, the money you wish to spend.
Then click on save.
You will find your new campaign on the new page of 'campaigns.'
Lastly, select the 'view campaign' to make customary changes.
And voila! With these easy steps, you set up the keyword planner! Now let us understand different methods to use this planner that can help you build your traffic!
Read about our blogging tips to increase your traffic.
Volume Balance
Finding the perfect keywords is a challenging exercise. If you purchase an expensive keyword with more than 100,000 searches, you may receive a significant number of clicks. Yet, there is a high possibility you will get a great deal of untargeted traffic! Untargeted traffic is the people who aren't intrigued to buy your product.
Therefore, your keywords may receive a high search volume, but not all those shall purchase your products!
Therefore, make sure that your keywords maintain a balance of traffic as well as conversion.
To learn how to use pay per click ads to increase conversion rates, read my blog article.   
For example- The keyword 'Shoes' has a high search volume, but if you see not all of them who search shall buy it. But if you see, the keyword, 'best running shoes for kids' is pretty specific, which means the person searching this is most likely to buy one! Although the search volume of this keyword is relatively low, it promises a higher engagement.
Therefore, your keywords must maintain a well-informed balance.
Say no to negativity
Negative keywords are common when you create a keyword list. Negative keywords help you exclude unwanted keywords from your ad campaigns and help you focus on only the keywords that attract your customers.
Through negative keywords, you can eliminate what not to target.
While choosing negative keywords for search campaigns, search for keywords that have the same meaning as your keywords but may attract customers searching for a different product. For example, if you're an individual who sells sunglasses, you should add negative keywords like "wine glasses" and "drinking glasses."
Now that we have understood how to plan, let us know how to find the right words!
If you want the right words, you need to start by thinking commercially to help you make a profitable campaign!
In case you want your website to receive a high rank in organic search with popular keywords, the Google Keywords Search Forecast shall help you find those!
Read my article on Keyword Analysis That Gets Your Website On Top!
The Forecast provides various calculations, including clicks, impressions, and cost per click received using those keywords.
Using the forecast, get to know the popularity of each of the keywords, and choose the right one!
Now specific keywords shall have the same meaning. For example- The keywords 'Lehenga' or 'Ghagra' refer to an ethnic skirt set. Although both refer to the same product, the popularity of both these words may not be the same. 'Lehenga' is relatively more popular than 'Ghagra'. Now, the audience searching doesn't care about the keywords. They may use anyone.
Therefore, at this time, it essential to make an informed judgment call. Even though two keywords refer to the same product, one of them may be more profitable for your business. Therefore, you should choose wisely.
For example: If someone searching "Boutiques near me", he or she is most likely to buy a dress nearby. 
Although both of these keywords are similar, the "Boutiques" keyword has a lot higher business aim, and accordingly, organizations are eager to pay more for them. Therefore, if you want to be more profitable, you would choose 'boutique near me' over 'clothes shop near me'. 
Finally, let us understand certain Ad words Keyword Tool hacks!
1.Unlocking the exact search volume– First, go to 'find keywords' and search for a keyword or add multiple keywords.
And here, you can see that various keywords fall into the same average monthly search volume range. In a sense, various keywords have the same average monthly search volume range. For example- Keywords, 'iPhone Charger' and 'Apple iPhone Charger' fall into the same average monthly search volume range.
Although both these keywords have the same search volume range, one of these has significantly more search volume. Therefore, to know the exact search volume of both the words, select the two phrases and click on 'exact match' from the dropdown.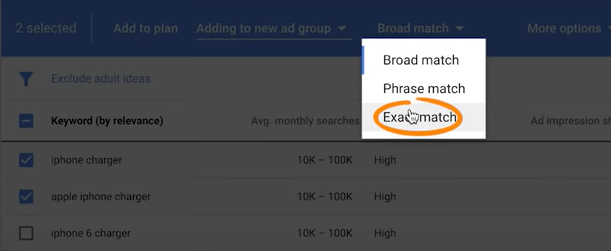 Then, add these to the plan.
Then, go to the sidebar, and select 'keywords.'

Then edit the maximum CPC value to the highest Google allows. And as you start to exceed the maximum value, AdWords will show you a limit. Then match that number to see the most exposure you can get for these keywords.
Now match the number to see the most exposure for these keywords. In this example, the number is $ 7.10.

 Now take a look at the impression's column in the table below.

This number tells you the estimated number of impressions your ad would get over the next 30 days from your target keywords if you bid that amount ($ 7.10). This number would be your keyword's total search volume if you were to attain a top-ranking position.
In this example, the actual average search volume of 'apple iPhone charger' is 13,252.39, and the average search volume of 'iPhone charger' is 59,909.65.
Therefore, even though both of these keywords fall into the same search volume range, the average search volume of 'iPhone charger' is significantly higher than 'apple iPhone charger'.
Boom! Unlocked!
Note: You should take these numbers with a grain of salt. AdWords doesn't always show ads for the search query. And these impression figures are meant for advertisers and not for SEOs.
2.Steal Keyword Ideas from your competitors– AdWords Keyword Planner is the most useful tool for its ability to generate keyword ideas based on a seed keyword.
Seed keywords are short. They are small keywords without any modifiers. For example, 'Shoe' or 'Ball.'
But did you know that you can generate keyword ideas from a page, or Keyword Planner has an exciting feature where you can find your competitor's keywords! How cool is that?! You can match your competitor's performance with their keywords and make informed assumptions!
Google Keyword Planner can provide keyword suggestions by just copy-pasting a URL.
Just copy-paste your competitor's URL and click "Entire site" from the dropdown box.
You will receive around 2,724 suggestions! If that seems too much, you filter them by adding brand name filters.
Repeat the same process for other competitors for a never-ending stream of keyword suggestions!
Another cool thing you can do is enter your competitors' domain and see if you can come with topic ideas relevant to your site. You can type the domain name of your website and then search their entire site for keyword ideas.
You can also exclude their brand name by clicking on Filter, select Keyword Text, then choose 'does not contain' from the dropdown. Now, enter their brand name, and you will see a much more relevant list of topics you can target.
You can also get creative with these filters. If you wanted to find question-like keywords, then you can add more keyword text filters. You can set up keyword text filters that contain keywords like who, what, where, why, and how. And you will see a solid list of questions you can use in your blog posts or FAQ sections.
3.Find lucrative keywords by looking at suggested bids– This hack is pretty simple but extremely powerful. Based on this logic, if advertisers are willing to pay top dollar for ad placement on a keyword, that keyword likely holds commercial intent.
For example- if you use furniture as our seed keyword. Then sort the data by 'Top of page bid' on the high range. And right away, you will see a whole bunch of great commercial keyword ideas.
Note- Look at the disparity between the low range and high range bids. You will see that 'oriental furniture' has a low range of around $ 1. At the same time, the high range is over $20.
On the other hand, office furniture has a low range bid of around $6 and an increased range of $22, suggesting that advertisers are consistently willing to pay top dollar on these ad placements.
It is also worth looking for exact keyword volumes on the keywords you are interested in targeting. Now, while advertisers are willing to pay upwards of $50, you would have to evaluate if targeting this keyword would be worth your time and effort.
4.Targeted locational data– With most keyword research tools, you can only see keyword data by country.
For example- if you look up 'cleaning services' using the impressions hack, you will see nearly 1,50,000 impressions per month in India alone. Also, nobody is going to fly across the country to clean a house. So, click on the locations at the top and enter the location that you serve. Then you can see the number of impressions change. Ad Words cost vary from location to location. Therefore, make sure that you modify the CPC as well.
Using the impressions change, you can identify if that keyword is popular in your location or not.
Find countries, cities, and regions that need your products and services- Enter in a keyword phrase or phrases that your prospective customers might be looking for. For example, if you type SEO tools, keyword research, and backlink checkers, add them to your plan. Then make sure that you clear any selected locations, which search for data in all locations from around the world.
The report that you want to look at is the 'Plan Overview.'  If we scroll down to the bottom of the page, we will see the countries ranked in popularity based on the Filter you choose here.
5.Optimize for the devices that are searching for your keyword terms- Different keywords can have significantly different search volumes based on the device that is being used.
If we look at the 'Plan Overview' page for our query on SEO tools, keyword research tools, and backlink checker, you will see that the vast majority of impressions come from computers. And it makes sense since people searching for these terms likely want to use them to test a tool right then and there.
 And that is not going to happen on mobile.
 Also, these queries are more for a B2B audience than a B2C audience. But let us examine the queries' restaurants near me' and other variants that are more mobile dominant. You will see that almost all of the searches come from phones and tablets.
Now less obvious terms might be informational keywords related to babies and toddlers sleeping. These searches probably come from tired parents turning to their phones in the middle of the night rather than whipping out their laptops.
With that said, you must consider this data in your keyword research process so you optimize your pages for the devices that will be viewing it.
A couple of additional tips to optimize for mobile would be to ensure that your fonts are readable for smaller screens, and you will also want to make sure that your images are scaled proportionally.
So, what do you think of these hacks? Learn these hacks with a grain of salt. These are not rocket science. AdWords Keyword Planner shall help you research keywords to increase your search engine optimization and increase your traffic. You can use this tool to find new keywords that fit your website and find their search volume and also the amount to target them.
Therefore, plunge in and discover this keyword tool!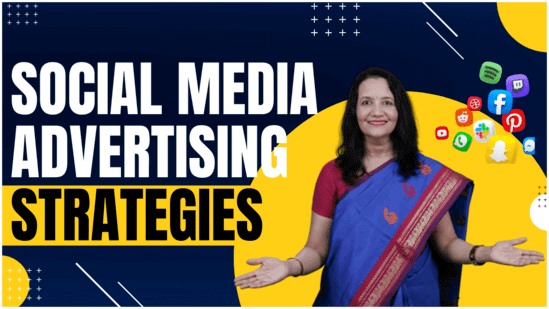 Spread the loveAccording to a study, an average person scrolls close to 300 feet of social media content every day. That's the height of Qutub Minar! Thinking about the amount of time that we tend to spend on social media daily, I find it quite believable. The main idea for social network advertising is to
Read More »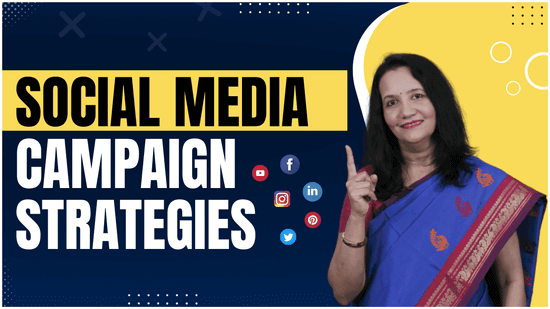 Spread the loveDo you want to create social media campaigns that will make your brand a sensation? Read these five strategies to grow your social media and blow your audiences' mind.Social media campaign is nothing but a series of coordinated activities aimed to promote your product or raise brand awareness in a community. We all
Read More »
Do you want to create excellent landing pages? Do you want to cutdown the cost required to hire a webpage creator. Read the article to know about SeedProd, an excellent landing page builder plugin for WordPress.
Read More »
HERE IS HOW I CAN HELP YOUR BUSINESS GROW
Don't just stand by and watch others make millions! Jump in and leverage digital marketing to skyrocket your business!