Have you tried using Google ads to boost your business online?
If you think that setting up an ad campaign on google ads is a tedious task or you own a small business and don't want to spend so much time setting up an ad campaign, then Google AdWords Express is the solution for you.
You must have heard about many inter-related terms such as Google AdWords, Google ads, Google ads express, and Smart ads campaign. Indeed, a lot of digital marketers also get confused between these terms. Now, I will help you figure out the difference between these popular terms, and then we will learn an exciting way to launch our ad campaign with ease.
Google Ads Vs. Google AdWords vs. Google Ads Express vs. Google Smart ads campaign:
You probably have heard of Google Adwords. It has evolved over many years. Now, Google has many advertising options such as Google Display Network, YouTube Ads, Google Search Ads, Google maps, Gmail promotions, etc. Hence, Google rebranded Google Adwords to Google Ads.
What's more exciting is that Google also had Google Adwords Express, a simplified advertising product for business owners. You could start advertising and managing your ad campaigns efficiently on Google Adwords Express.
Check out my article on how to boost your sales 10x using google display network – youtube 
Also check out my article on Amazing ways to earn free google ads.
But Google has also merged the concept of Google Adwords express into Google ads. So now, basically, Adwords Express is coined under Google Ads with the name Smart ads campaign. In this article, we will discuss smart ads Campaign, aka Google Adwords Express. Let's get started.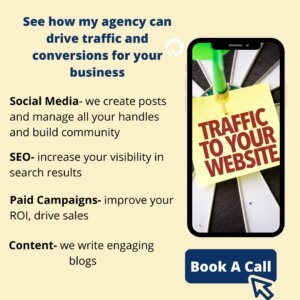 What is Google Adwords Express?
Google AdWords Express is Google's product to simplify the advertising platform Google Adwords for low-budget advertisers and small business owners. Instead of spending hours doing keyword research, creating an ad copy, and using your bidding strategy, all you need to do is to start telling Google about your business, and Google will take care of everything else. Using smart technology and algorithms, Google will find the right audience for your business.
For Google Ads, you have a variety of budgeting strategies, including CPC bidding (where you choose what you want to pay for every click you get through your Ad campaign) and CPA bidding (where you set your budget on ads and let Google use its data to change your bids).
To know more about different types of bidding strategies, check my article on Google Ads PPC Advertising.
In Google Ads Express, however, things are mostly straightforward.
Instead of paying some amount per click or per conversion, you just tell Google how much to use every month, and they will do the rest.
Using Google Adwords express, you can start an ad campaign in only these six simple selection steps. 
Step1: first of all, you need to choose your campaign goal.
Once you select your campaign goal, then you have to choose the type of campaign. If you want to replicate the former Google Adwords express, you have to click smart.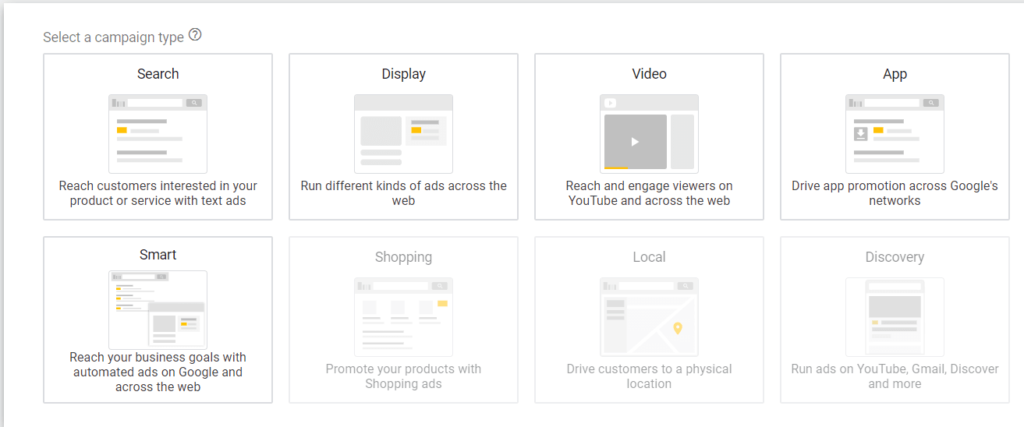 Step2:You have to enter the name of your business and your website URL; after that, Google Ads will automatically analyze your website.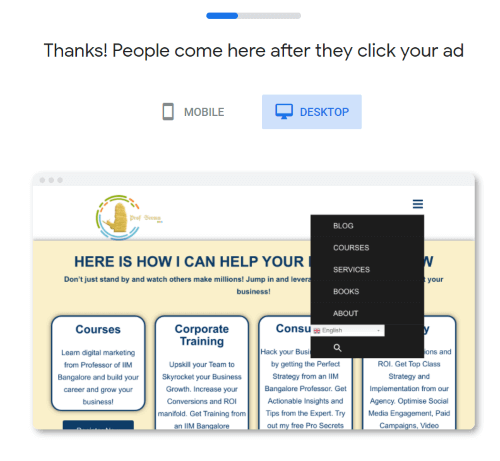 Step 3: now it's the time to write your ad. You have to enter your headlines and description for the ad. However, Google will give you suggestions and a preview of your ad.
Step 4: It is time to select the keywords for your ad. Google will suggest you some keywords, but I recommend using some SEO tools such as Semrush to know which keywords are having the highest search volume. Selecting the right keywords is essential as your ad will appear whenever someone will search for your keywords.
Step 5: You can set the location to advertise your ad. You can raise or lower your bidding amount according to your targeted geographical areas. There is a possibility that your business operations are only confined to a particular region, then you can select your region to advertise.
It will cost you more if you want to advertise in cities like Bangalore, Delhi, Mumbai as compared to Tripura, Sikkim. Moreover, sometimes you want to target a particular region where your business's demand is the most.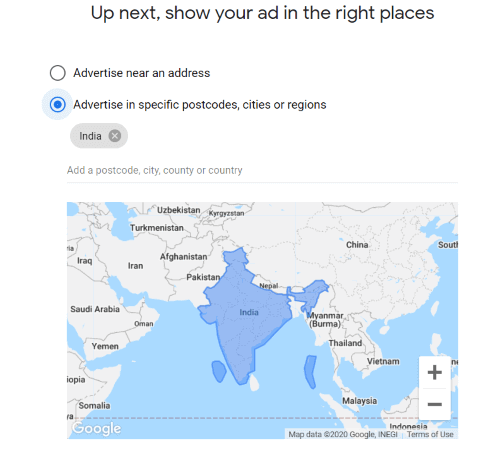 Step 6: Set your budget and go live. Don't have any idea of how much and where to spend? Don't worry; the smart campaign will suggest to you some monthly bidding amounts. You just have to choose how much you want to spend, and google ads will use its smart algorithms for advertising you at the right place.
To know more about boosting your business, check out my article on 4 Steps For Using Google AdWords To Boost Your Business By 10X.
What are the benefits of using Google Ads express?
So now, Google has designed low maintenance and easy to use 'Smart Campaigns.' Along with the benefits of Google Adwords Express, these Smart campaigns have some improved features as well. Let's know them one by one.
Seven key features you will find in Smart campaigns on Google Ads:
Strategically use Ad time Scheduling: Google AdWords gives you the flexibility to decide the days and time when your ads show up. If you want to attract high-quality traffic or receive more calls, you can choose to advertise during business hours when most people are active.
Campaigns home page: you will see an overview of campaign insights generated by Google.
Google Analytics:  You can track your traffic, goal completions, and other metrics by linking your Google Ads account with Google Analytics. You can also follow the actions that your visitors take when they click your ad.
Important account alerts: Smart campaigns enables you to get every critical information that you should know.
Call verification and listing:  You will have access to the list of every call and click you receive on your ad.
Know the map actions: you can know the number of people who have clicked on "directions" to see the way to your business after watching your ad.
Google Adwords Express as compared to Google Expert Account
Let us examine Adwords Express versus Adwords Expert:
Bidding: in expert campaigns, you need to manually select the bidding strategy (CPA, max clicks, etc.); however, in smart campaigns, you just need to set your budget. Google will manage the bidding in your campaign to drive more calls, clicks, and valuable customers.
Keyword creation: you have to manually enter the keywords and their corresponding ad groups in expert campaigns. While in smart campaigns, you will get the automatically generated keywords based on your business.
Keyword editing: you have to edit each keyword and its types in expert campaigns manually.
Extensions:  you have to set your ad extensions according to your needs on your own. But, in smart campaigns, the ad extensions like call, site links, locations are automatically created.
Ad placements:  without a smart campaign, you need to choose where you want to show your ad; however, in the smart campaign, your ads will automatically display on various platforms to achieve optimal performance.
The number of landing pages– smart campaigns have only one landing page, while other campaigns have the option to add multiple landing pages.
Know the different categories of smart ad campaigns
There are three categories of smart ad campaigns: smart search ads campaign, smart display ads campaign, and smart shopping campaigns. You will find brief insights into the possibilities of each type of smart campaign.
| | | | |
| --- | --- | --- | --- |
| Possibility | Smart search campaign | Smart display campaign | Smart shopping campaign |
| Device targeting | Not possible | Not possible | Not possible |
| Manual bidding strategy | Not possible | Not possible | Not possible |
| Add Negative keywords | Not possible | Not possible | Not possible |
| Custom scheduling | possible | Not possible | Not possible |
| Location targeting | possible | possible | Possible |
Now let's figure out the challenges associated with each type of smart campaign.
Smart Search campaigns
You cannot customize your audience based on the interests of your smart campaign.
You can set your maximum budget, but you will never know which default bidding strategy Google will use for the ad campaign.
If you want to repeat campaigns and settings, you have to create a new campaign from scratch.
Smart Display Campaigns
You cannot access your creative assets' performance data, so you will never know which images or ad copy materials work best.
You cannot use settings such as the delivery method or device direction.
You cannot target your audience with interest-based activity on your own.
Smart Shopping Campaign
You cannot use device targeting. Device targeting enables you to select the type of device you want to showcase your ads – mobile phones, tablets, or laptops.
Do you want to switch from the default ads campaigns to the smart ads campaign? Here's how.
To do this, you need to contact the Google ads support team and inform them that you want to change your interface to a smart ads campaign.
They will mail you a template to get your approval in somewhat below format:
Name:
email:
I give Google my authorization to make all of the following types of modifications in Google Ads account 0000000000.
Request 1: I authorize Google to change the interface from Google Ads to Google Smart Campaigns.
Google Ads account CID: 0000000000
 You need to fill this template and send them.
The drawbacks of smart campaigns:
Everything comes with some shortcomings, so do Smart campaigns. Along with the advantages, you should be aware of smart ad campaigns' limitations to make the right choice for your business. Let's figure them out.
1. You will have less control over where to show your ads: the smart campaign uses Google's algorithm and machine learning for ad targeting, which requires some time and data to know the right places to show your ad. But the smart campaigns lack the feature of negative keyword selection.
Negative keywords ensure that you do not spend your money on showing ads for the wrong search queries.  
Negative keywords help you filter out unwanted keywords that cost you money. For example, suppose you were getting clicks on "rent old cars," but you only sell old cars. These clicks will not lead to any conversions, and a lot of money is wasted. Negative keywords allow you to filter out such happenings.
While you can somehow do this in Smart campaigns by marking the search phrases, they are not so useful, as even simple match types can significantly impact negative keywords.
For example, if you want to delete a word for free from your keywords and nothing else, you will need to include quotes ("free") to ensure that any searches with that name are deleted.
Moreover, with a range of 40 miles of location targeting, your options to expand your business are limited, too. If you are opening a store elsewhere in the city, you should build a new campaign from scratch instead of just adding a location.
Another issue is related to ad placements, as, in smart campaigns, you can't decide where to display or place your ads. Indeed, Google does that on its own.
This means you have no control over the customized ads in each placement, leading to lower conversion rates.
Simple, flexible, and time-saving characteristics are excellent. No one disputes that. But it also reduces your potential for optimization.
2. You have less access to data: you have to make some analytical decisions for your ad campaign. For that, you need a lot of business data. Although smart campaigns have a simple and interactive dashboard, they still give you the least access to your data.
Smart campaigns are meant for small business owners who either don't have the expertise or time; they just need recognition on Google maps and searches.
Who will be most benefited from smart ad campaigns?
Smart campaigns can be a boon for you if you are a small business owner who lacks the expertise or time to run your ad campaigns successfully on your own.
However, why not choose fully-featured Adwords expert google ads campaigns instead of smart ad campaigns even if you are a local business? It's not that complicated, after all.
The team that can benefit the most from Smart Campaigns usually tick the following boxes:
Small businesses present in a particular locality.
Businesses having a low advertising budget.
Businesses that have not employed marketers for advertising.
You don't want to invest in consultants and agencies.
The owner/staff does not want to learn how to use Google's expert ads effectively.
The fact is that Smart campaigns are designed for small businesses with only a few employees. If you are out of time every day, but you want to get a few additional customers, smart campaigns can work well for you.
Smart campaigns are designed for a business owner who wears many hats, running everything from sales, finance, and marketing.
If you do not have four to six hours a week dedicated to Google Ads Management, Smart campaigns will generate traffic for your business without any problems.
If you are interested in developing your PPC strategy, then you will need to opt-out of Smart Campaigns over time.
Smart Campaigns are a great place to start when you are a beginner to PPC, but you should not rely on smart campaigns forever.
Now you are aware of when smart ad campaigns will work for you. In case your smart campaigns are not working well, then you should know the following tips.
Why your smart ad campaigns are not working well enough?
Less Investment: setting up a low budget for your ad campaign can be a reason for a low CTR on your ad. The higher you bid, the more your ad will appear in front of the users. You need to set up a budget according to the competition level of your keyword.
You might have a low-quality landing page: Quality score is a determinant factor of your Ad Rank. It is measured on a scale of 10, and a higher quality score means better ad positions and lower pricing. Quality Score measures the three factors: ad Relevancy, CTR, and landing page quality.
You might be running irrelevant ad campaigns: your ad's keywords might not be in demand at certain times. For example, if you have a travel insurance business, your ad might not have a good CTR during the COVID 19 times. You need to pause such campaigns and save your money when the demand is maximum.
Summing it up
If you think that setting up an ad campaign on Google ads is a tedious task or you own a small business and don't want to spend so much time setting up an ad campaign, then Google Adwords Express is the solution.
Key features you will find in Smart campaigns on Google Ads are ad scheduling, campaign home page insights, account alerts, call listings, and recorded map actions.
There are three categories of smart campaigns- display smart campaign, shopping smart campaign, and smart search campaigns.
Smart campaigns have some drawbacks– you will have less control over where to show your ads, and you will have less access to your data.
Smart campaigns work well for small businesses having low ad budgets, less time, and insufficient skills. In case your smart campaign is not working, you should check the quality of the landing page, run relevant ads, and increase your budget.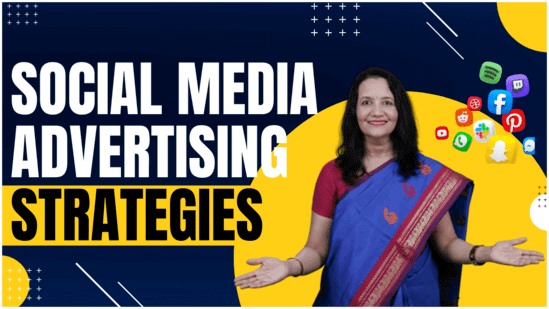 Spread the loveAccording to a study, an average person scrolls close to 300 feet of social media content every day. That's the height of Qutub Minar! Thinking about the amount of time that we tend to spend on social media daily, I find it quite believable. The main idea for social network advertising is to
Read More »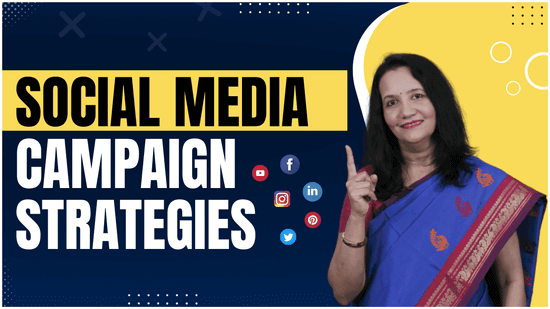 Spread the loveDo you want to create social media campaigns that will make your brand a sensation? Read these five strategies to grow your social media and blow your audiences' mind.Social media campaign is nothing but a series of coordinated activities aimed to promote your product or raise brand awareness in a community. We all
Read More »
Do you want to create excellent landing pages? Do you want to cutdown the cost required to hire a webpage creator. Read the article to know about SeedProd, an excellent landing page builder plugin for WordPress.
Read More »
HERE IS HOW I CAN HELP YOUR BUSINESS GROW
Don't just stand by and watch others make millions! Jump in and leverage digital marketing to skyrocket your business!