Social Media has opened billions of doors for businesses to come in contact with the right customer.
But with thousands of businesses and influencers posting their content all over Instagram, you must be thinking how is your post ever going to reach your target audience? Well… you are not alone.
Instagram alone witnesses more than 100 million photos and videos every SINGLE DAY!!
This stat gives a fair idea of the competition out there.
Wondering how, amongst so many posts, will your post survive?
Well, don't get overwhelmed by the numbers as these can easily be turned in your favor with the help of HASHTAGS! (Drum-roll)
You must be thinking REALLY??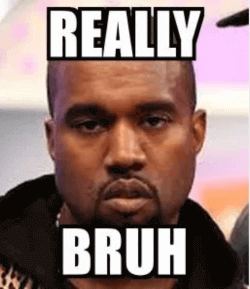 Source: https://memesbams.com/bruh-memes/
How is a string of a few catchy words with a hash symbol going to save my business? How is this going to help me reach my ideal audience?
Don't worry! If you are unclear of how hashtags work, you have come to the right place. In this Article, you will learn
What are hashtags and how they work
Why you should use hashtags on Instagram
What are the different types of hashtags
How to hide hashtags in posts and stories
Tips and strategies to find the right hashtags
Don't add simple definitions they add no value and make reader go away.
Ever noticed that every hashtag is hyperlinked, well…..that is kind of a superpower of every hashtag. Hashtags are clickable. Every hashtag acts as a directory that contains all the posts that uses that hashtag.
So, Hashtags are used to filter your content, amongst those millions of posts.
Why Use Hashtags on Instagram?
Hashtags are one of the best and the simplest ways to increase your following on Instagram. When you use a hashtag on your post, then it will appear on the page of that hashtag.
Since hashtags are used to categorize content, the right hashtags put you out in front of your target audience, even if they don't follow you.
88% of brand posts include at least one Instagram hashtag in their post Posts with at least one hashtag average 12.6% more engagement than those without, simply because hashtags help grouping similar content and make it even more discoverable.
More than 70% of consumers are motivated to explore new content when hashtags are present. So it's essential to incorporate hashtags on your Instagram posts for more likes and followers.
Also, if you are new to social media platforms like Instagram, do read my article on how to  gain Instagram followers quickly.
Before we move any further, let's look at different types of popular hashtags on Instagram.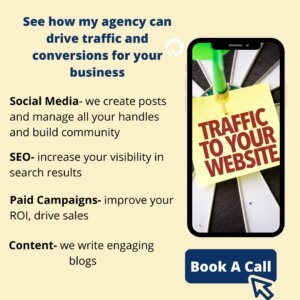 TYPES OF HASHTAGS
BRAND HASHTAGS
These are the hashtags that help in promoting the image of the brand or its tagline. These are mostly used to promote the unique traits of the brand that makes them stand apart from their competitors. They are mostly used to promote a campaign or collect User-Generated Content (UGC). 
Making your current audience use your branded hashtags in their posts and stories is a great way to reach out to a broader audience and increase your Instagram following.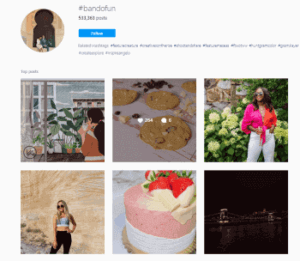 A great example is @shopbando's branded Instagram hashtag, #bandofun. It is easy to say and spell, and adds the word fun in it! And Bando's brand is all about fun!
Campaign hashtags
Campaign hashtags are usually shorter-term and run for just a few days, a season, or a year, unlike the brand hashtags that are supposed to last forever.
They're usually tied to specific campaigns, like new product launches, special events, or partnerships or a particular cause.
A great example would be Airbnb's campaign from 2017 revolving around the hashtag #WeAccept. It was an excellent way for the company to be proud of its universal nature and show its support for diversity.
 

 

View this post on Instagram

 
It started with an inspirational video posted on the Airbnb branded social media feed. The campaign was a success in bringing forward the message of open-mindedness and acceptance.
Hashtags about your product or service -These hashtags focus directly on the product/service offered. like #t-shirt or #bakery.
Hashtags indicating niches in your industry–  These get a little more specific, showing where you fit in the context of your industry such as #weddingphotographer, #travelphotographer or #travelblogger or #mobiletechie.
Hashtags for Instagram communities in your industry– There are various communities on Instagram around several niches. For example- #bakersofinstagram, #gardnerofinstagram or #foodiesofinstagram.
Hashtags for special events or seasons– These hashtags for Instagram are used to create social hype about a particular event or celebrate a certain season such as #whiteday or #nationaldonutday or #summerdays, or #Nationalnailpolishday.
Hashtags using location– These are extremely beneficial if you are trying to attract customers near you. Research shows that post with location tag gets 79% higher engagement than those without a geographical tag such as #pastrynyc, #madeintoronto, or #sydneysweets.
Daily hashtags, There are a few traditions on Instagram that can help you engage with your audience such as #mondaymotivation, #tuesdaytip, #wellnesswednesday, #throwbackthursday.
Hashtags with phrases relevant to what you do- These can be anything relevant to your personality or a product like #becreative or #foodlover #shewhowanders
Hashtags with acronyms- Some examples would be like #qotd (quote of the day) or YOLO (you only live once), #Tbt (Throwback Thursday) or FBF (Flashback Friday)
Hashtags with emojis, These can be just emojis such as #🎂 , or it can be some phrase with emojis #Love💕
I recommend using a variety of hashtags on your posts and stories so that you can target different communities. For instance, if you have a bakery in Mumbai, you can use #mumbaibaker to reach those looking specifically for bakeries in Mumbai, but also use #bakerslife for those who are interested in your day-to-day life as a baker.
How many hashtags can be used?
Instagram only allows a total of 30 hashtags on a post. This includes the hashtags in comments as well.  Anything more than 30 hashtags, and your caption or comment won't post.
Though Instagram permits you to use up to 30 hashtags,  there is no right or wrong number when it comes to the number of hashtags.
An analysis shows that the use of 11 hashtags is optimal to boost engagement on Instagram. But most of the posts contain 1 to 3 hashtags.
For stories, Instagram puts a limit of 10 hashtags.
Before we move on any further, we need to understand how hashtags will direct people to your Instagram account.
How does the Hashtag page work?
If you want people to reach you through the hashtags, you need to either be in the top section or the recent section. So, if someone searches for the hashtag and your post is the latest with that hashtag, it will be the first thing they see in the Recent section.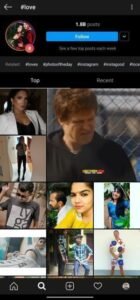 Of course, it's much easier to stay at the top of the recent section for a less-popular or really niche hashtag. Also, it is easier to reach in the top section of such hashtags.
Keep in mind that the recent section is sorted when each post was originally published. If you add hashtags later, either through a comment or by editing the caption, this won't bump your post up into the top of the recent section.
How to hide hashtags
Ever get frustrated to see a post with a small caption and tons of hashtags? These kinds of posts feel too aggressive and desperate. It is an art to use hashtags and also not seem too pushy. There are two ways to hide your hashtags.
How to hide your hashtags in comments
Write your caption without hashtags and post it.
Once it is published, comment all the hashtags in the comment section and post the comment.
Your hashtags won't be visible on mobile until someone clicks on view all comments.  However, on desktop, your comment will remain in the top position.
How to hide your hashtags in the caption?
Put a few dots in the next five to six lines of a caption and then put the hashtags. This puts the 'read more' option, and the viewer only sees the caption.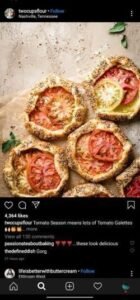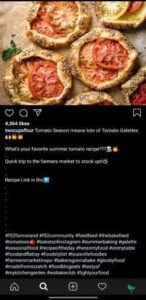 Hashtags in Instagram Stories
Did you know you can add hashtags to your Instagram Stories too?
Adding hashtags to your story is a unique way to give your content an added chance to be discovered by new audiences.
When people search for a hashtag on Instagram, they'll be able to see a collection of tagged stories on the search results page.

To add hashtags on Instagram stories, simply use a hashtag sticker or simply use the text tool and type the hashtag (with the # symbol), like you did on your Instagram posts.
How to hide hashtags in Instagram stories
One option is simply to minimize your hashtags by pinching and shrinking them to make them quite small. You can also tap the hashtag sticker to change it from a white background to a semi-transparent one.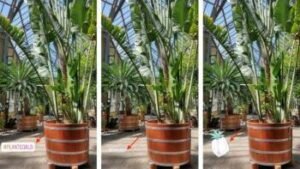 Source: https://www.instagram.com/ckjnewberry/
HASHTAG IN INSTAGRAM BIO
Instagram lets you add hashtags in your bio. In most of the cases, people put their branded hashtags to let their audience know about that hashtag.
The page of that hashtag acts as the brand's site of user-generated content.

If you create a branded hashtag, make sure you follow the hashtag to be updated with everything that is being posted with that hashtag.
To follow a hashtag within Instagram, search it, then tap the blue Follow button on the hashtag page.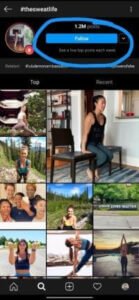 MOST POPULAR HASHTAGS
As of 30 June 2020, these are the top 30 hashtags on Instagram
TIPS AND STRATEGIES
The Clarity of the size of the target audience is essential for the selection of hashtags. You will always be tempted to use the most popular hashtag for your post. That is when you want to take a step back.
Realize that more the hashtag is popular, more it is going to be used, lesser will be the time for which your post will remain on the top of the search. Suppose you use the hashtag #LOVE, this hashtag leads back to 1.8 Billion posts whereas using hashtags like #Lovewhatyoudo lead back to 7.8 Million posts.
It is all about finding the right balance between popular hashtags and danger of
being crowded out of high demand topics.
See my video below on hashtag strategy in Hindi.

ALWAYS RESEARCH YOUR AUDIENCE
Throwing random hashtags at the end of your Instagram posts isn't going to expand your audience magically. It would be best to find out what hashtags your audience is using and find more people with the same interests.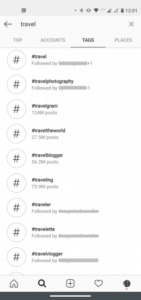 Source: https://blog.hootsuite.com/instagram-hashtags/
Keep an eye on the top accounts you follow and see what hashtags they're using. You must be using Instagram on your mobile for this trick to work. You can conduct an Instagram hashtag search, and the search tool will show you if anyone you follow or anyone who follows you also follows that hashtag.
Check your competitors
It's essential to observe your competitor's posts and the hashtags they are using. It can provide you with insights for your posts and hashtags or any new trends that are starting to emerge in your industry.
See my Video on How to Choose Best Hashtags for Instagram

Use hashtag related feature
On the top right corner, Instagram shows related hashtags. It is a great way to find hashtags that work together.
It helps you find more niche hashtags than the ones you searched for. Also, it enables you to find a more targeted audience with way less competition.
#DON'TUSETOOLONGHASHTAGS
It will be as difficult to read long hashtags as it was for you to read this heading. Your hashtags will only be used by other people if it is short, simple and catchy.
Hashtags that are too long are more prone to misunderstandings and that can put the brand in really embarrassing positions.
Amazon found itself in a similar situation when they used the hashtag around Amazon's hit car show.
 

 

View this post on Instagram

 
USE HOLIDAY HASHTAGS
Everyone has some emotional bonding for some holiday. It is a very good strategy to use these holidays to promote your brand.
Brands mostly post what that festival means to them and is brand's way of wishing it to their audience.
Junglee pictures made a beautiful post, wishing everyone on the Indian festival of Diwali.
 

 

View this post on Instagram

 
Don't use the same hashtags
It might seem easy to use the same long list of hashtags every time, but don't do it. Instagram's community guidelines clearly state that "posting repetitive comments or content" is not appropriate. If you use the same hashtags for every post, your content will be penalized by the algorithm.
When you create a post, only use hashtags that make sense. Using hashtags like #bakersforlife only makes sense on posts targeted at people who appreciate baking. The idea is to reach the right people, not a lot of people.
Check out my video on How to Find Hashtags for Instagram below
AVOID GETTING SHADOWBANNED
An Instagram Shadowban is when your hashtags can only be seen by the people
who follow you. Your posts can't be seen when the hashtag is searched. How to know whether you are shadowbanned or not?
It's simple. Ask someone who doesn't follow you to search for your post in the top feed of the hashtag. If your post is not there, there could be a chance that you are shadowbanned.
Shadowbanning is done by Instagram due to multiple reasons like the use of
bots to increase followers, use of same hashtags for months, use of broken
hashtags, etc.
Don't Use Banned Hashtags
Instagram bans any hashtag that is associated with inappropriate content. So it is advised that you avoid using such hashtags. The only way to know is to find out if a hashtag is banned is to search it before you use it.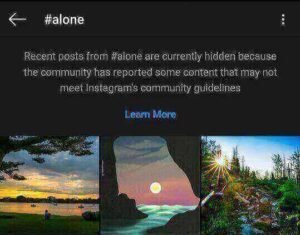 Using banned hashtags can cause a drop in engagement, as per Instagram's algorithm. So make sure you check every hashtag before using it.
Also, avoid using hashtags like #Follow4follow, #likes4likes. These hashtags look insensitive and show desperation. Such hashtags only attract bots and fake accounts, which do not produce any kind of meaningful engagement. They also show your followers that your brand is okay with engaging in spammy behavior. And that's not a good look.
If you want to get more likes on your post, read my article on how to get likes on Instagram
POST AT YOUR BEST TIME
It makes sense to make your move when it will make the strongest impact. It's best to know when your post receives the maximum attention from your audience.
For everyone using the Business profile (which you should if you aren't), go to insights and then the audience to know when your post is seen the most. Try posting 5 minutes before that time and engage with your users 10
minutes before posting to boost your profile traffic.
ANALYSE
First, you need to monitor your hashtag performance.
Instagram Analytics
The business profile of your Instagram already comes with a bunch of tools to analyze your hashtag performance. Instagram insights tell you about the likes, comments. It also gives information about the number of profile visits and how did people find your content. However, Instagram insights limit to 7 days for a regular post and 14 days for stories.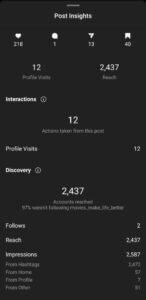 Instagram Insights is good for a fresher in the field. However, when we want to have a detailed analysis of our hashtag campaign, we need something more capable than Instagram insights.
Various tools can provide you with the analysis you want for free or a very little fee.
Simply Measured
Simply Measured helps you see how far your reach spreads on Instagram. It will also help you benchmark performance against competitors.
Simply Measured, even features a "Social Conversion Funnel" feature to help you see how all of these engagement-based activities eventually increase your bottom line.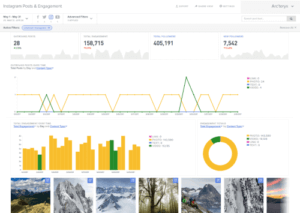 It can also point you in the direction of new comments and related community discussions that you might want to participate in.
Iconosquare
Iconosquare provides you information that helps you understand how your posting frequency relates to or drives either new followers or lost ones on a daily basis.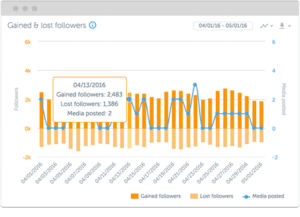 Source: https://neilpatel.com/blog/top-instagram-analytics-tools/
It also offers a library of excellent content that you can use. Iconosquare also offers tool that allows you to manage posting on several accounts at one time.
This app gives a detailed analysis of the hashtags that you use in your Instagram post. The report provided by Sprout Social is simple but very thorough.
Source: https://www.socialmediaexaminer.com/5-tools-to-measure-instagram-hashtag-performance/
This report helps you track your progress as you try new hashtags on Instagram. Spourt social packages starts at $59.99/month for social media management.
Keyhole
Unlike its other competitors, Keyhole provides real-time feedback. For example, you can drop in a specific hashtag, keyword, or account to see what trends are starting to emerge.
Source: https://www.socialmediaexaminer.com/5-tools-to-measure-instagram-hashtag-performance/
Plus, you can directly select a few predefined KPIs that can make tracking easy. Keyhole will automatically report on those, organizing your data into an easy-to-read dashboard.
If you want to get to know about your competition and how to cope with it do read https://www.profseema.com/content-marketing/the-best-digital-marketing-tools-for-competition-analysis/
SUMMARY
Hashtags need to be completely understood so that they can be used appropriately and effectively. There are various types of hashtags. Every hashtag has its effectiveness for different situations and can be used with one another for better results.
Just remember that every one of the Instagram hashtags you use must fit with the content and should not be too repetitive. Don't copy and paste your whole saved list onto every post.
Keey updating your hashtags from time to time and refrain from using banned hashtags. Also, keep analysing your hashtag's performance and use them accordingly.
Now it's time to hear it from you guys!
Which tactic from this post you liked the most? Or maybe you have some questions on choosing the right hashtag. Feel free to share it with me by leaving a comment below.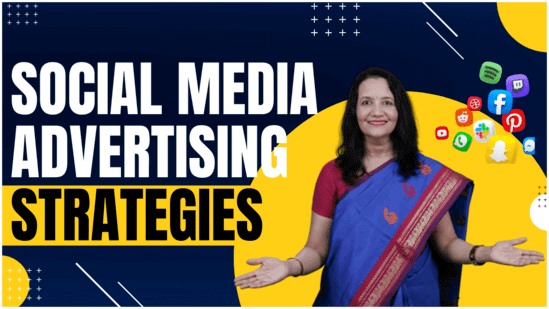 Spread the loveAccording to a study, an average person scrolls close to 300 feet of social media content every day. That's the height of Qutub Minar! Thinking about the amount of time that we tend to spend on social media daily, I find it quite believable. The main idea for social network advertising is to
Read More »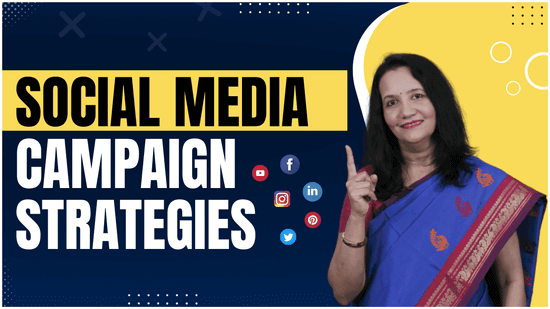 Spread the loveDo you want to create social media campaigns that will make your brand a sensation? Read these five strategies to grow your social media and blow your audiences' mind.Social media campaign is nothing but a series of coordinated activities aimed to promote your product or raise brand awareness in a community. We all
Read More »
Do you want to create excellent landing pages? Do you want to cutdown the cost required to hire a webpage creator. Read the article to know about SeedProd, an excellent landing page builder plugin for WordPress.
Read More »
HERE IS HOW I CAN HELP YOUR BUSINESS GROW
Don't just stand by and watch others make millions! Jump in and leverage digital marketing to skyrocket your business!
The strategy for using hashtags are:
Always research your audience before choosing a hashtag.
Don't use too long hashtags.
Choose the hashtags according to occasion. For choosing the best hashtags check out the article to know easy tips for hashtags on Instagram.
Some tips for using hashtags are:

Brand hashtags: These are mostly used to promote the unique traits of the brand that makes them stand apart from their competitors.
Audience descriptive hashtags: These hashtags are used by defining the type of audience in the hashtag.
Product descriptive hashtags: Hashtags which promote a particular product falls under this category.
Location hashtags: These are extremely beneficial if you are trying to attract customers to your local store.
Event hashtags: These hashtags for Instagram are used to create social hype about a particular event.
Lifestyle hashtags: These kinds of hashtags are used to promote your brand's product by bringing a change in your customer's lifestyle. Also check out this article to know the smart tips for hashtags for likes on Instagram.
To make the hashtag campaign successful:

Use catchy phrases that are easy to remember. Avoid using too long hashtags
The meaning of the hashtags should be very clear and there should not be any scope of misinterpretation.
Avoid using banned hashtags in your campaign. If you feel that the hashtag is banned, search it on Instagram. If it doesn't show any result, it means it is banned either temporarily or permanently.
Try using some new hashtags every time even if you feel the previous ones were successful. Check out the article to Choose the best hashtags for Instagram.