Are you planning to start-up? Are you wondering how to boost your business with minimum resources?
Through this article, you will discover the wonders of Gmail for business that will surely help you step up your online business game!
Amidst this pandemic, gathering resources, setting up offices is instead a taxing job. Today's trend is WFH (Work from Home).You don't need a well-functioning office or huge workforce; all you need is an email account.
The marvels of a free Gmail Account!
When you start your business, you will start by collecting your resources. Suppose you are starting a clothing brand; you first visit the clothing market in your city. Why do you do that? By visiting the market, you get all your resources from plain cloth material, sews, threads, buttons and everything at one single place.
Similarly, if you want to set up your business online you look for a platform that provides multiple functions through a central point.
Also, when you are just starting building your business, you surely will not have huge investments to make. Hence, you look for places where you can get most of the things for free!
When was the last time, you were so delighted to grab a bunch of exciting stuff without paying for them? Let me guess, probably at the food counter of your cousin's wedding!
Right from the Chat counter to the Dessert corner, almost everything looks mouth-watering! Free Gmail account is like that wedding thali you enjoy at your cousin's wedding. You don't pay a penny but still enjoy a delicious wholesome meal.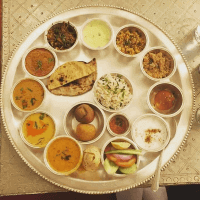 Source- Pinterest
Similarly, a Gmail account provides various services from messages to storage to calendars.  Using a free Gmail account, you can have a whole IT system behind your business.
You don't even need a well-functioning computer, USB or hard disk because Gmail takes care of it all!
Now let us check out the various dishes that a free Gmail account provides in its plate for your business! These can be mainly categorized by two important functions performed in a business setup.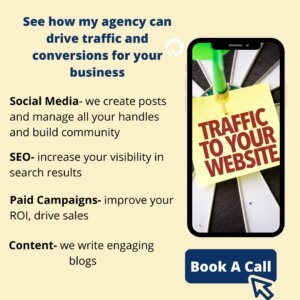 Documentation–
Since childhood, you would've heard people saying, "take notes!". From teachers to mentors to bosses, all of them emphasise on the importance of documentation.
Documentation is one of most important functions of any business. For this, Gmail provides Google Docs, Google Sheets and Google Slides. You can create, share and work on these platforms using images, equations and tables.
With docs for your essays, sheets for your calculations and slides for your presentation you are totally ready for your next meeting!
These documents can be stored in Google Drive.
 Google Drive is like your wardrobe where all your clothes are organized and stored. Similarly, you can store up to 15GB files.
Communication-
Beyond business, even in life, communication is a basic function of human survival
Being in Bangalore, you contact people from Banashankari to Bangkok using your free Gmail account
Gmail provides hangouts, Google meet for social interactions between employees, clients and customers. Because if you aren't having a social life, then you don't have a life as such.
Check my article on Gmail groups: A powerful tool to get the most out of Gmail!
Check out my article on Adopt Efficient Email Practices by Creating a Group on Outlook
These various dishes have many advantages! They are-
Store as much as you want! – Do you have a wardrobe in which how much ever clothes you fit in, still has some extra space?
 A free Gmail account gives up to 15GB storage space. It means that you can easily store large emails and files wherever you want and needn't worry about storage shortage.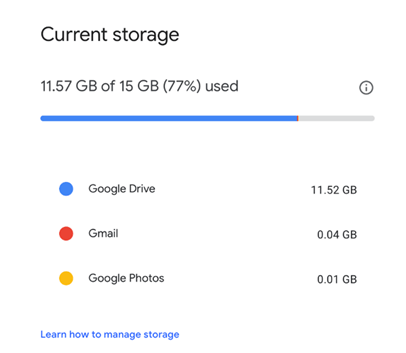 Source Google Support
Economical and easy to maintain–  Gmail is cheap, requires no maintenance, and the data you store can be accessed anywhere anytime in the web browser.
You don't need a separate IT team; you can access and perform all the functions all by yourself using the google dashboard.
Accessible from any device – Imagine your colleague is absent and you need to access his computer for an important file. But you don't know his password and hence, you call him up for a password. Doesn't this look like a time-consuming job?
To avoid all this drama, a free Gmail account gives easy accessibility.  You can sync your Gmail account to MS Offices, Windows, iPhone, Android and other devices. Nowadays, every mobile phone functions with the help of google account.
Now, you can access the file sitting in your cubicle itself!
Helps you manage clients efficiently– In this time of pandemic, setting up physical meetings isn't feasible. Video conferences and video meetings are the best way to interact with your client.
For this, a free Gmail account integrates features like IM storage and Google Meet. Hence you can effortlessly get in touch with your clients and employees and record the same for future references.
Secured Data– In this world of increasing cybercrime cases, people are threatened by the hacker every time. Google takes care of this as well.
 Google gives you the guarantee of service and using uptime, you can back up your data on the Google platform. Your information is accessible over a secured SSL-encrypted connection, so this makes sure that no one can access your data.
After reading all these features, if you haven't created a Gmail account yet, you need  a little coaxing! Open your device, create a Gmail account and start dreaming about your upcoming business successes.
By creating a Gmail account, you create a base on which rest of the construction will take place!
You see that a free Gmail account also does wonders to your business. This is extremely essential for small businesses or start-ups. Watch your online game get healthy free of cost!
Check out my article Everything You Need To Know About Google Adwords Express.
To know more about growing your online business, watch our video on Fascinating Tips to Succeed in E-Commerce Business
Interesting fact! – You don't need to create a Gmail account to set up Google. All you need is a valid existing email address and accept Google's terms and conditions.
It is easier to use google services when you have a free Gmail account, such as Google Search, YouTube, and all other Google properties.
Check out my article on Complete Guide To Google Ads PPC Advertising To Drive Conversions
There are many great features and toppings of the dishes that you can use to make a free Gmail account a tool in your home business.
1. Stars that can be noticed– Have you often experienced scrolling through hundreds of mails in your inbox to find that one important mail?
 Using Gmail's star system, you can tag your important emails to find them later easily. Usually, the starred emails are star marked in yellow colour, but you can use other colours as well.
To add a star to any email you receive, click on the star icon beside the sender's name. You can also click on the star button at the top right corner while the email is open.
2. Organize using Gmail Labels– Every time you buy a shirt, you look at its label or tag to find its price and other details.
Similarly,a Gmail label can be used to mark or tab the emails you send or receive. You can also keep your draft mails.
An exciting feature is that you can add multiple labels to a single email. The tags deeply narrow down the system, and you can easily find the email you are looking for.

3. Autograph Please! – It is often said that a person is defined by his signature.
Gmail Signature is generally a text or a favourite quote, which can be added at the end of your email as a footer
For example- H2O Water, because it is important to hydrate yourself
It can be your contact information, a tag line or your favourite quote. You can add your signature in the following way.

4. Stay updated without internet– Access your email even when you are offline, for example- in an aeroplane. Isn't it cool to manage your email even while flying?
 Gmail uses Google Gears for this service. Google Gears is an open-source browser extension that lets the web applications run even in an offline mode. Gears provide three features, mainly.
 You can cache or serve application sources like Java and HTML without the help of a server. A local server is created instead. It also provides a database for storing and editing files within a browser. Lastly, it gives a worker thread pool. Makes web applications more responsive as expensive operations are  performed in the background.
5. Always something different– Have you ever gotten bored of watching the same advertisement multiple times while watching your favourite show on TV?
Similarly, repeated or the same queries in your inbox can be very taxing to respond. Canned responses will come for your rescue in this case.
Instead of responding to duplicate emails, again and again, you can set up the canned response for faster replies.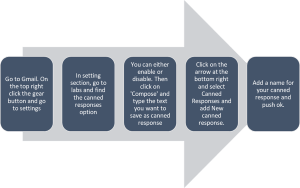 6. Keep your employees in the loop by Bcc'ing and Cc'ing them– When someone says, 'I Cc'd you the email', one may wonder if it is the Café Coffee Day, but it is not. 
When you have to send an email to multiple accounts, you can enter their email addresses in the "Cc:" and "Bcc:" sections. "Cc" stands for "Carbon Copy," while "Bcc" stands for "Blind Carbon Copy.
A carbon copy is a mail copied from your original email. Both the primary recipient and the Cc'd recipients can see all the addresses the email is being sent to.
Using Bling carbon copying, you can let others see the email without the knowledge of the primary recipient.
This system is faster and economical than forwarding the original email again and again.
With these benefits Gmail can help you vision a bright future! So, go ahead and explore the marvels to get the best of the platforms.
To know more about email marketing, give a read about 10 secrets that will make your email campaign high performer.
The next step, would be to take your online game to the next level! This would require a small investment, but it is totally worth it! Gmail for business is the next level I am talking about.
Before we move on, it is vital to familiarize with a term without which Gmail for business is obscure. That is the custom domain. Swap @gmail.com with your own custom domain to create professional email addresses for everyone on your team, like yourname@example.com
A custom field is a unique label that is associated with the IP address of a website. To visit a particular site, you can type its custom domain name into the address bar of your browser.
Source- Blog Ambitious
 For example– Glamrs's custom domain can be www.glamrs.com. The registration for your domain is necessary.
Registrations help you own the website so that no one else can claim it. It is also easy for your visitors to find your website.  You can personalize your domain name, the logo for your website and of course, the content. This will help you establish authority, create the brand identity and make your presence unique and different from your competitors.
Make sure your domain name is short, memorable and easy to understand since it has to reach a broad audience. It should also give a hint about your business theme.
For example– Alex Construction Company Pvt Limited's domain name shouldn't be www.alexconstructioncompanypvtlimited.com as you can see that the name is very long and complex. Instead, www.alexpvt.com or www.alexconstructions.com would be more precise.
Custom domain names can also help you establish search authority. As a general rule of thumb, the older domain gets more lead on search engine platforms. This is because it has had time to generate quality content, internal links, and backlinks.
A website like WordPress or Wax offer free domain names for your website; however, you can also get paid domains from other platforms.
Once you have a domain name and a Gmail account in your bag, you are good to go to use Gmail for a business-like a pro!
Little investment, but super-duper benefits!
For some extra perks and no ads, you can use a paid business version of Gmail.  Google provides two paid plans, one for $5 and one for $10 per month.
The paid version of gmail is the gmail business account. The Gmail business account is also called G Suite account. This term is specifically used to refer to your professional or business account. By accessing a G Suite account you enjoy a lot more benefits than a normal Gmail account.  G Suite for work is a culmination of various web applications that google provides for business.
Now let us understand how to set up the G Suite account to play the next level! It involves the following procedures-
Upgrade, cause you want to reach the peak– Why is every A.R. Rahman's album so evergreen? The answer is because of its exclusiveness.
Similarly, every business will have an edge when it uses exclusive features. For exclusive features, a Gmail business account is there to help you!
The G Suite account gives access to Gmail on the domain of your choice. Each user in the organization can enjoy up to 30GB of storage space. It gives you an executive email, cloud storage, shared calendars, video conferences, much more. 
Collaborations through Google Apps are simple and effective. It is ideal for small businesses as it provides many tools at one platform to help you succeed. The significant benefit is the accessibility to any web applications.
You can access various secondary web applications from social media apps like Facebook and Instagram to governmental apps like Aarogya Setu App just by using Google Play Store.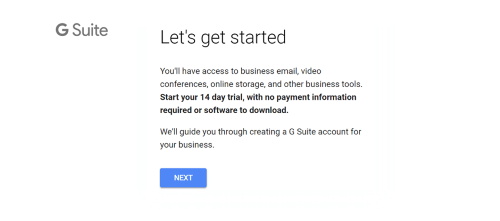 2. Let them know if it is you– Reveal your identity to let them know if it is you!
 It is crucial to verify your domain to set up a Gmail professional account. After you've switched on to Google's MX records(A record that specifies the mail server responsible for accepting email messages) , you can get your records in your Gmail inbox or even through Microsoft Outlook.
Follow the instructions and sign in to your domain host. Your domain host will manage technical settings of your domain.
Source- Kinsta
 After that step, update the MX record settings so that your email is directed to your G Suite account. It is like registering your updated mobile phone number to receive the messages on your new number. If you use an email with your existing domain host, you'll receive messages in your Gmail inbox directly. Google allows you to add multiple domains to your G Suite account.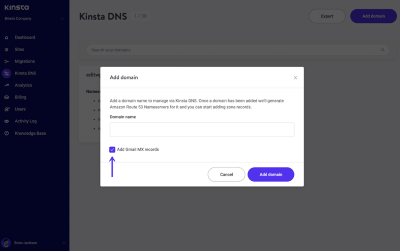 Source- Kinsta
3. Security time! –  Once you reveal your identity, you must make sure you are protected. To prevent your account from hackers around the world, Gmail for business performs authentication.
Gmail for business performs the authentication using the SPF, DKIM and DMARC method.
Like in a sunscreen, this is not the one that protects you from harmful UV Rays, but it does save you from spoofing. Sender Policy Framework (SPF) is an email authentication method that directs mail servers to send mail only to your domain. SPF helps prevent spoofing and makes sure that the mail is delivered precisely. Mail servers that receive mail from your domain verify the mail using the SPF to check if it is coming from your do
Source- Goldyora
The DKIM (Domain Keys Identified Mail) is used to enhance the safety of the mail sent from your domain. If spammers send spam emails using your domain, your domain quality will be turned down. Users who receive the fake emails from your domain might find them spam emails, and the actual emails you send might get unseen.
Hence, the DMARC (Domain-based Message Authentication, Reporting, and Conformance) is used to ensure this doesn't happen.
4. Pick up some needles and threads! – Like how you prefer your outfit to be made to measure, you can customize your G Suite service URL.
By creating custom web addresses (URL), your user can easily find your core services from G Suite.
 For example, with a custom address, users can sign in to their Gmail business account at mail.Preethi.com instead of the longer default address mail.google.com/Constructions/Preethi.com.
You can tailor your web addresses for both your primary and secondary domains for services, including Gmail, Calendar, Sites, and others.
5. The integration step– Using a Gmail business account, employees in your organization can gain the new integrated Gmail experience. You can have access to all kinds of communications like email, video conference, files drive at one familiar place, i.e. Gmail.
 By integrating all your employees, you can share documents, prioritize tasks by controlling notifications, plan meetings and multitask all at a single platform.
Further on, you can also customize various Gmail features like offline file access, reading receipts and mail delegation.
By following the above steps, the building for your business's success is almost ready. Some creative and smart painting and indoor nuances can make your business outshine!
 To think smart, you need to understand the features of G Suite.
Some exclusive features of G Suite are:
Uptime- While WFH (Working from home), have you ever faced the problem of video lag during video meetings? This is a tough state. You don't understand what the other person is saying and the meeting goes to waste because the  server is down.
But, google is always prepared. When it comes to uptime, Google is one of the best.. Also, since email is such a vital part of every business, G Suite has no scheduled downtime or maintenance windows. All of their data centres are built with redundant infrastructure.Hence, just like a clock, Google works properly all day long.
Add a third-party domain– This especially for businesses to send out marketing emails or newsletter. These emails are often sent out in large volumes and for a broad audience. Hence Adding a third-party domain and using that for this purpose will help you with better deliverability rates. 
You can check out our article on email campaign.
Compatible and simple– Gmail for business is one of the most accessible platforms of communication. This is because all your employees will be able to access all the platforms from a central point. This makes communication very simple and flexible.
G Suite is compatible with any devices from windows to android to iPhone.
Hence, with such exciting uses and features can you really go wrong?
 At this time of Covid-19 outbreak, people are struggling to manage their business. They are unable to run from pole to pole to sort their business problems.
Sitting at your couch, sipping a hot cup of coffee, managing your business with a device in front of you. Sounds like a dream, isn't it?
To know more about growing your business at this time, watch our video on How to Market during Corona.
Make this a reality with Gmail for business. It should be one of the essential tools in every businessmen's pocket. So just go ahead, create an account, make use of all the fantastic features and watch your sales increase by leaps and bounds!
Comment below and let us know your favourite feature of Gmail for business!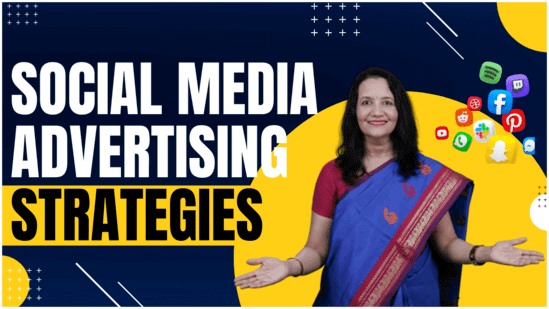 Spread the loveAccording to a study, an average person scrolls close to 300 feet of social media content every day. That's the height of Qutub Minar! Thinking about the amount of time that we tend to spend on social media daily, I find it quite believable. The main idea for social network advertising is to
Read More »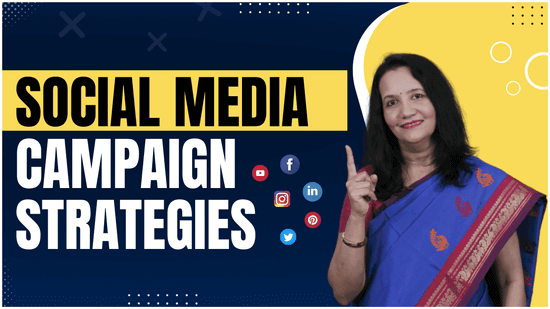 Spread the loveDo you want to create social media campaigns that will make your brand a sensation? Read these five strategies to grow your social media and blow your audiences' mind.Social media campaign is nothing but a series of coordinated activities aimed to promote your product or raise brand awareness in a community. We all
Read More »
Do you want to create excellent landing pages? Do you want to cutdown the cost required to hire a webpage creator. Read the article to know about SeedProd, an excellent landing page builder plugin for WordPress.
Read More »
HERE IS HOW I CAN HELP YOUR BUSINESS GROW
Don't just stand by and watch others make millions! Jump in and leverage digital marketing to skyrocket your business!
There are many advantages of Gmail for business:
· Store as much as you want.
· Economical and easy to maintain.
· Accessible from any device.
· Helps you manage clients efficiently.
· It keeps your data secure.
You can check out this article to know the secrets that will make your email campaign high
performer.
Features of Gmail Business account are:
· Tag your important emails to find them later easily by the Gmail star system.
· Organize using Gmail Labels
· Create your own signature.
· Access your email when you are online
· Keep your employees in the loop by Bcc'ing and Cc'ing them
You can also check out this article to know about Email Marketing softwares.
The paid version of Gmail is the Gmail business account. The Gmail business account is also called G
Suite account. This term is specifically used to refer to your professional or business account. By
accessing a G Suite account, you enjoy a lot more benefits than a normal Gmail account. G Suite for
work is a culmination of various web applications that google provides for business.