Disclosure: Since I share this content free of cost without any paid subscriptions, some of the links in this post might be affiliate links, which won't cost you anything. Although, all opinions and discussions remain my own.
Introduction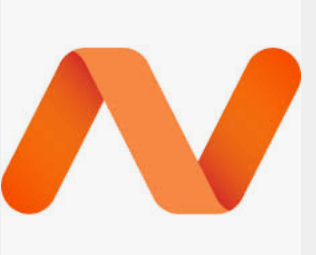 Namecheap Logo
Do you want to start an online business? Or are you a professional website developer?
If yes, then you have landed at the right place. Choosing the wrong web hosting can slow down your website, cause security issues, and even crash your whole site. And also, switching web hosts can be a hassle. That's why it's so essential to make the right choice to begin with, when you're hosting a new website.
It doesn't matter either you're hosting a website for the first time or a seasoned website developer looking for the best hosting site. Either way, you've come to the perfect resource for the best web hosting.
In this review, we'll take a detailed look at Namecheap so you will have enough understanding to figure out if their services are in your favor or not.
Background
In the beginning, when I had just started my blog, I used to look for a good hosting website capable of providing me with all the features that could save my time and investment. After trying many hosting sites that eventually turned out to be problematic as they led to slowing down my website and even crashing my whole site, Namecheap came to my rescue and made my work much more manageable.
Over time, looking at the performance of my website, I found Namecheap quite useful. Moreover, I found some great features on Namecheap, like good loading time, fast servers, and excellent user interface. I will be discussing these features later in the article.
Now, let me tell you about my understanding and experiences with Namecheap in detail. In this review article, I will explain some of the features of Namecheap that intrigued me and might aid you in your journey.
What is Namecheap? And why is it a vital web hosting and domain registration service?

Namecheap is a leading domain, hosting, and website service company helping businesses worldwide set up their online presence. In Namecheap, you will get affordable domain names, a great website hosting and management service that provide your website with higher stability, traffic, and Google rankings.
Click here to Try Namecheap Now
Namecheap was started in 2000 by Richard Kirkendall in Phoenix, Arizona. It provides budget-friendly services and has 11 million registered users and 10 million domains.
Moreover, Namecheap is an ICANN accredited domain registrar which renders web plans for shared hosting, WordPress, and e-commerce. It also comes with WhoisGuard to secure your information and a robust customer support.
That's just the beginning, though! Apart from these, there are a lot of thrilling features offered by Namecheap. Let's discuss them in detail. After understanding these exciting features and knowing their advantages for your business, I am sure you will be willing to use this excellent service.
Namecheap Features
1. Free Domain and Migration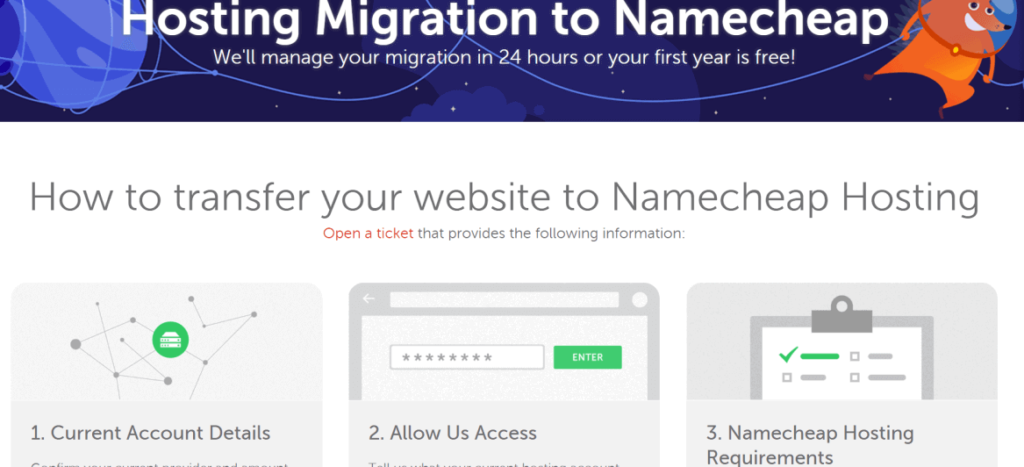 Namecheap is famous for its domain name. So when you sign up for its hosting plan, it happily throws in one for free. It provides a free domain name for the first year only. After one year, you'd have to pay the renewal price that the domain offers.
If you already have hosted your site on some other platform, Namecheap will assist you in migrating the service for free. It guarantees to do it in less than 24 hours and with no more than 15 minutes of downtime. In addition, it will credit your account with the value of your first purchase of shared hosting if it fails.
No one likes slow-loading websites, Right? But, don't worry, Namecheap got you covered.
Read –Review of Profile Press – User Registration, Login and Profile WordPress plugin
2. Decent Loading Time of 426ms
If your site is slow, it's almost dead.
The websites hosted using Namecheap services have decent loading times.
Namecheap has shown a good average page speed of 426 ms over the past 12 months. Moreover, they are steadily making better their loading times.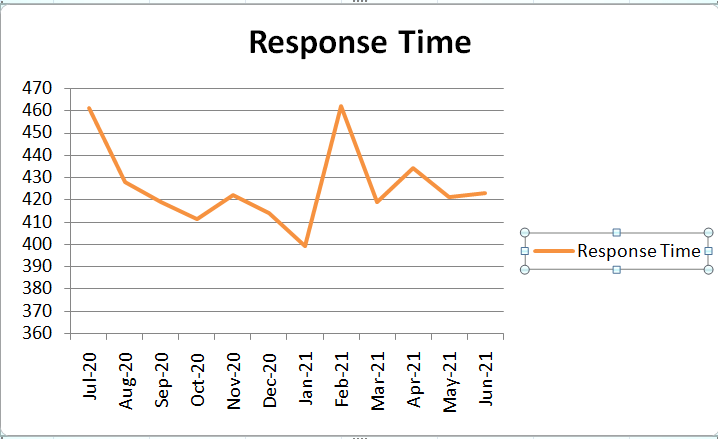 Namecheap Average Speed
 A decent loading time will get you more traffic and time spent on the site. According to a Google survey, the probability of more visitors can increase over 100% if your pages take six seconds or less to load.
The main reason why Namecheap provides decent loading time is its better cache.
3. Better Cache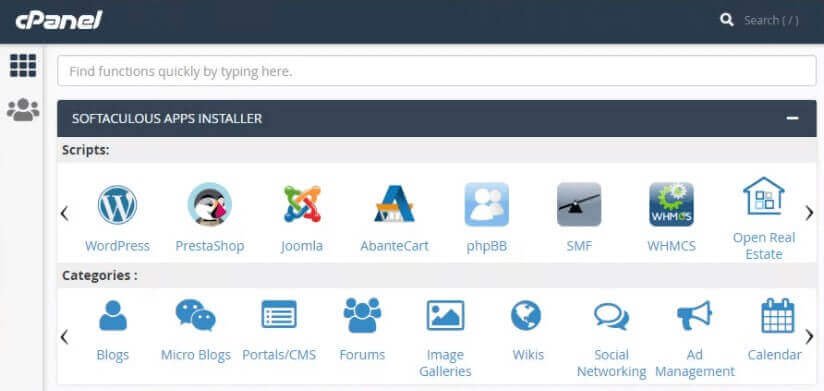 So how cache improves loading time?
Cache produces static HTML files from your dynamic WordPress website.
Once an HTML file is generated, your web server will only serve that file instead of processing the comparatively heavier WordPress PHP scripts.
In this way, cache improves the website's loading time.
In layman's terms, caching is an extra layer that makes your website load faster.
So your users get a better experience.
However, there is no built-in cache in Namecheap. But don't worry. Namecheap includes cPanel. And cPanel has easy-to-use Cloudflare to cache your website.
Click here to Try Namecheap Now.
It's not only the better cache that improves the loading time of your website, but the fast servers of Namecheap also play an important role in it.
4. Fast Servers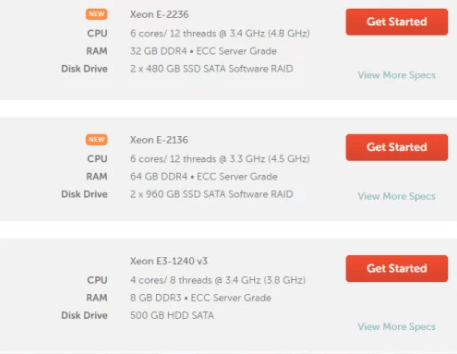 Namecheap has fast servers which provide fast installation of more than 445 apps, including WordPress and PHP.
It implements cPanel for server management. This means you don't need to toil around with setting up its SQL databases.
Sometimes you might be getting fast servers with your hosting services, but your hosting service still lacks a good user interface. If you feel this way then, Namecheap is definitely for you.
5. Excellent User Interface & User Experience
Namecheap has got its popularity because of its user-friendly experience.
The control panel of Namecheap is world-class when it comes to ease of use and workflow.
It has good UX. It is cleaner and simpler than many of its competitors. It uses a tidy sidebar and an uncluttered layout that doesn't contain any of the upselling that GoDaddy is famous for.
Nothing lasts forever. This is entirely true when it comes to hardware such as personal computers and external hard drives. There will finally come a day when your computer wears out and places you at the risk of losing all of the data kept on it.
That's why backing up your data regularly is so important. With Namecheap, you don't need to worry about your website's files on your PC.
6. Website Backup
In Namecheap, cPanel allows a one-click backup of your data.
Backup merely requires using a PHP script. A weakly backup of data is done in Namecheap.
But it is neither automatic nor free to access its backup. It will charge you to recover lost data in the event of disastrous failure.       
Generally, website backup options come with premium plans of web hosting services. But with Namecheap, you will get this backup option in its basic plan. Not only this, but you will also get fully-loaded services with the basic plan of Namecheap.
7. Fully-loaded value plan
I have gone for the most basic plan to set up my website. And Namecheap surprised me.
Namecheap offered the cheapest plan in the market, which also comes with the free SSL certificate for the first year, and then you need to pay for it to continue the access over a particular domain. 
Namecheap can serve you with ease as it offers 100 percent free-of-cost email forwarding services, which means you don't have to pay any amount over the received emails.
 It offers you a reliable DNS, which means your company's website cannot be hacked.
It has free custom name servers, which are capable of serving the users with ease.
What if Namecheap still doesn't work for you? 
8. 30-day Money Back Guarantee
Namecheap does offer a 30-day money-back guarantee.
So it means you will get a full month subscription to examine if their service is right for you or not.
Otherwise, it's never too late to backpedal and try something new.
What I have observed in Namecheap
| | |
| --- | --- |
| Pros: |   Cons: |
| Namecheap has Firewall protection. | In Namecheap, you will  have no free SSL certificates on shared plans. |
| Namecheap has a 100% service level agreement (SLA). | Namecheap has poor uptime. |
| Namecheap provides twice-a-week backups for all plans and auto backup for free with Stellar Plus & Stellar Business plans. | Namecheap's cheapest hosting services are inadequate; consider the premium subscription. |
| In Namecheap, you will get free email accounts with all hosting plans. You will get 30 email accounts for Stellar, unlimited email accounts for Stellar Plus, and Stellar Business plans. | Namecheap has slow resource throttling. |
| Namecheap makes use of the latest server technology from brands like Dell, HP, and Supermicro. | Namecheap has no automatic backup system available. |
| Namecheap has a softaculous installer. It enables you to maneuver WordPress or other apps with just a few clicks. In addition, it eventually helps to update and maintain your applications with great ease. | Namecheap has no Built-in Cache |
| Namecheap employs cPanel. It is the most commonly used control panel globally, and it makes life easier for users. |   |
Click here to Try Namecheap Now.
Frequently Asked Questions
What are the plans offered by Namecheap?
Namecheap has offered several plans. The cost of various plans varies from each other. There are nuances in plans that will enable you to identify the finest one according to your necessities quickly. I will be discussing these plans later in the article.
 Can I upgrade anytime in case my business grows?
Yes, your account can be changed or upgraded anytime. Upgrades are done out on a prorated basis. And the upgrade price is calculated based on your current plan's unused period. Before requesting the upgrade, I strongly recommend you to contact Namecheap's Helpdesk.
Why is Namecheap preferable to the other hosting sites?
The Namecheap is cheaper if you compare it with other hosting sites. However, it also offers several reliable and easily accessible features to clients that other hosting sites do not offer.
Namecheap Pricing
Here is a quick overview of the hosting plans offered by Namecheap.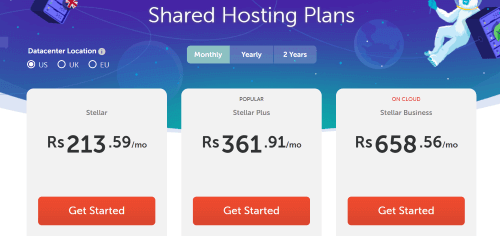 | | | | |
| --- | --- | --- | --- |
|   | Stellar Plan | Stellar Plus Plan | Stellar Business Plan |
| Pricing |    Rs 213.59/mo |    Rs 361.91/mo  |    Rs. 658.56/mo |
| Websites |           3 |     Unlimited |     Unlimited |
| Bandwidth |    Unmetered |     Unmetered |     Unmetered |
| Storage |       20 GB |     Unmetered |       50 GB |
| Email Accounts |    Unlimited |     Unlimited |    Unlimited |
| Other Features |           – |    Auto backup | Auto backup Cloud Storage |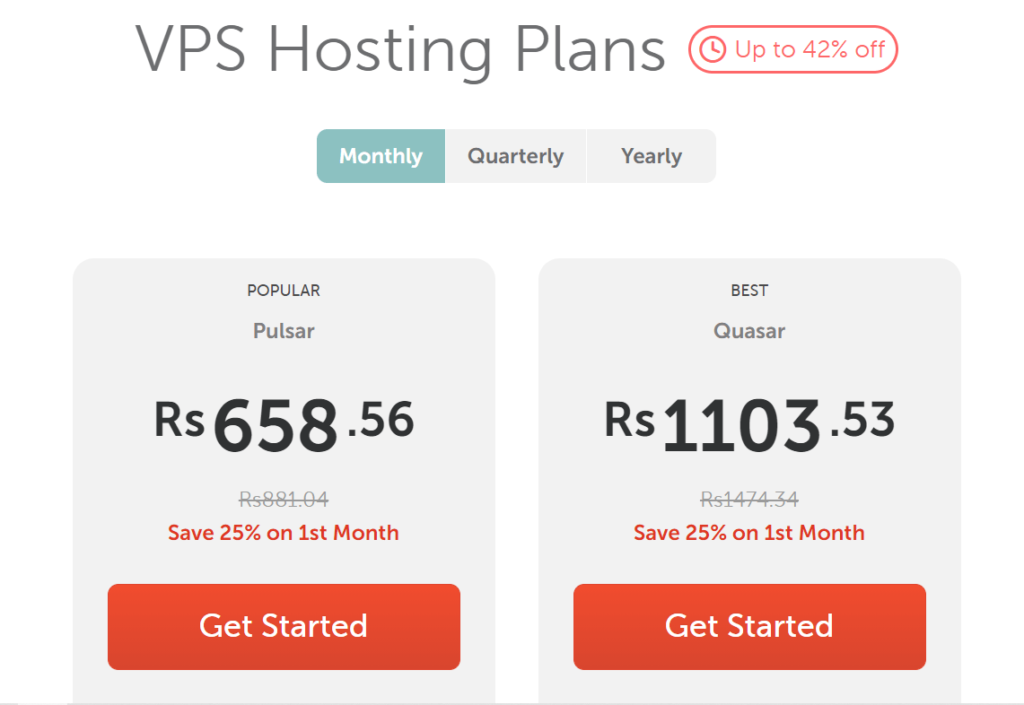 | | | |
| --- | --- | --- |
|   |  Pulsar |    Quasar |
|              Price               |                Rs. 658.56/mo         |          Rs. 1103.53/mo          |
|   Cores |  2 CPU Cores | 4 CPU Cores |
| RAM | 2GB | 6GB |
| Storage | 40 GB SSD Raid 10 | 120 GB SSD Raid 10 |
|  Bandwidth |          1000GB | 3000GB |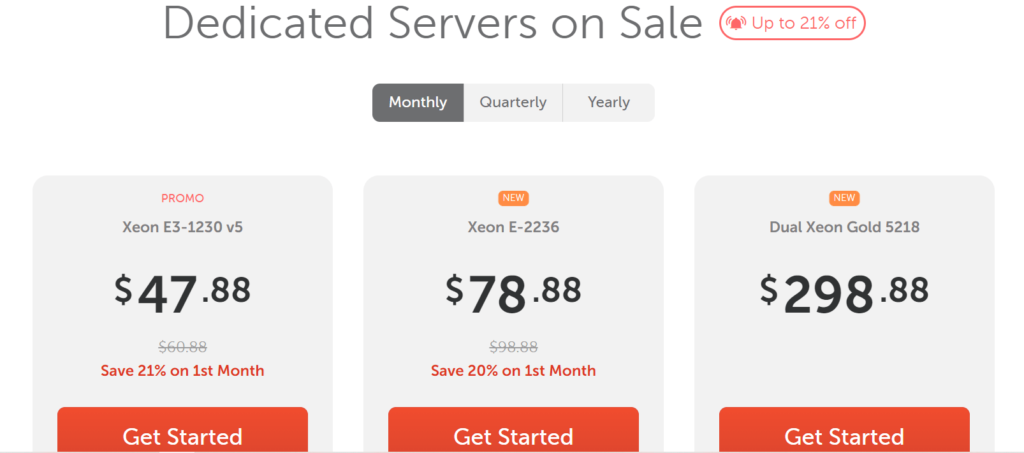 | | | | |
| --- | --- | --- | --- |
|   | Xeon E3-1230v5 | Xeon E-2236 | Dual AMD EPYC 7282 |
|       Price | $47.88 | $78.88 | $298.88 |
|       Cores | 4 cores @ 3.4 GHz |  6 cores @ 3.4 GHz | Dual 16 cores @ 2.8 GHz |
|      RAM |    16 GB DDR4 |     32 GB DDR4 |    128 GB DDR4 |
|       Storage |   4 * 500 GB HDD |    2 * 480 GB SDD |    4 * 1.92 TB NVMe |
Quick Facts
Ease of Signup:  Easy Signup.
Free Domain:   Yes, for the first year.
Money-Back:   30-days money-back guarantee.
Account Activation Process: Fast account activation.
Upsells:   A few upsells.
Payment Methods: Credit cards, Paypal, and Bitcoin.
Namecheap ratings
Ease of use: 8/10
Features: 9/10
User Interface: 8/10
Pricing: 10/10
Overall: 9/10
Verdict
Overall, Namecheap gives outstanding value for the price. It kick-started pretty well. Existing customers say highly of it, and the fact that even its basic plan is compared favorably to other company's premium plans looks promising. It's straightforward to use and offers excellent real-time support. Namecheap cares about the requirements of new website developers. For website developers on a tight budget or without the benefit of bounteous professional consultation, Namecheap is the best hosting service. All in all, it is the best choice for money and thumbs up from me. 
So what are you waiting for? Start your online business. Try Namecheap web hosting for less than the cost of a domain.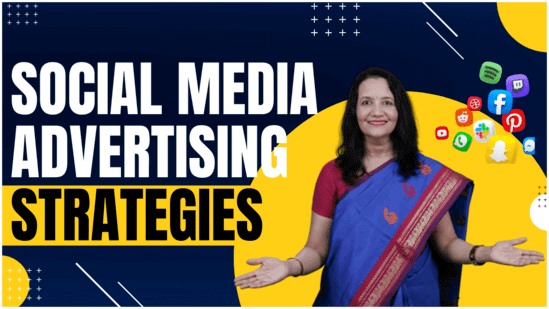 Spread the loveAccording to a study, an average person scrolls close to 300 feet of social media content every day. That's the height of Qutub Minar! Thinking about the amount of time that we tend to spend on social media daily, I find it quite believable. The main idea for social network advertising is to
Read More »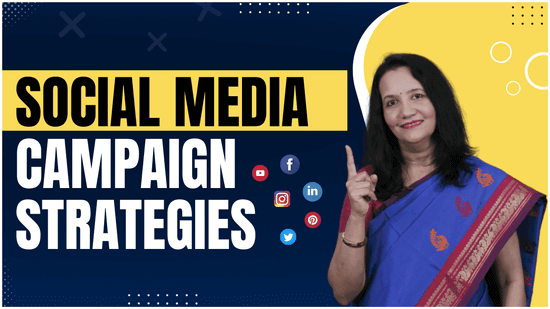 Spread the loveDo you want to create social media campaigns that will make your brand a sensation? Read these five strategies to grow your social media and blow your audiences' mind.Social media campaign is nothing but a series of coordinated activities aimed to promote your product or raise brand awareness in a community. We all
Read More »
Do you want to create excellent landing pages? Do you want to cutdown the cost required to hire a webpage creator. Read the article to know about SeedProd, an excellent landing page builder plugin for WordPress.
Read More »
HERE IS HOW I CAN HELP YOUR BUSINESS GROW
Don't just stand by and watch others make millions! Jump in and leverage digital marketing to skyrocket your business!