Tailwind is a scheduler tool providing marketing services on social media. It is a premier social media scheduling tool to optimize marketing strategies through proper planning and execution well in time.
Hello readers, we bring you another comprehensive article on Tailwind. Starting as a Pinterest scheduler, Tailwind has proved to be a trustable app as of now. It is widely used as an Instagram scheduler as well. This is a review article on Tailwind that will walk you through the necessity of social media scheduling, features of tailwind, and much more.
Tailwind dates back to 2011 when PinLeague, the first version of Tailwind, inquired its first question: how to identify brides-to-be using Pinterest to plan their weddings? These insights proved to be helpful and shed light on the sector of brides-to-be for the creation and marketing of their website BridesView.com. It was then that they observed rapid progress on Pinterest, and since then, Pinterest has been the heart of Tailwind.
Tailwind was formed in the following year and worked on a statistical analysis of the customer base. Now, Tailwind caters to the requirements of over 500,000 brands and around 400 of the top agencies.
Check out Tailwind here.
Tailwind is there for you even when you yourself are not.  Tailwind happens to be the best schedule app for covering the gaps and reading between the lines. So the need for an appropriate social media scheduler is fulfilled by Tailwind.
Tailwind's gust of wind
My teammates and I once thought of starting a new page that was easy to manage and operate. As full-time college students, we had pre-planned the hours we could dedicate to this novel service we wanted to offer. It was something moderate that won't have the too much load upon us. The website included developing the necessary writing skills a student needs while moulding themselves from a student to a professional. We also opened accounts in social media. We orchestrated the times we had to post on social media accounts.
It was not a problem in the beginning. But later on, we had too much on our plates to analyze and monitor the number of times we should post and learn the followers behaviour in depth.
It can get too hectic to study the users' reactions, sort out the post with maximum reach, and give the viewers such content for more engagement.
That's when we came across Tailwind while learning for a social media scheduler that could reduce the manual efforts on the insides of managing a correctly growing account/page on social media.
Smart Features
Social Intelligence has been a powerful instrument in revolutionizing business. Learning, concluding, mapping responses from the audience, and providing them with what they are interested in are all business amplifiers.
Let's see the core features offered by Tailwind:
1. Publisher
You can readily schedule and publish content to Pinterest and Instagram.
For Pinterest, the publisher enables automatic pins on boards.
Smartloop: It makes it easy to reshare your best pins at the best time to engage more audiences.
Board list: You can select the boards where you want to pin. Precisely, pins can be posted on different boards you create.
Pin from Instagram: You can select images from Instagram that you want to pin to Pinterest.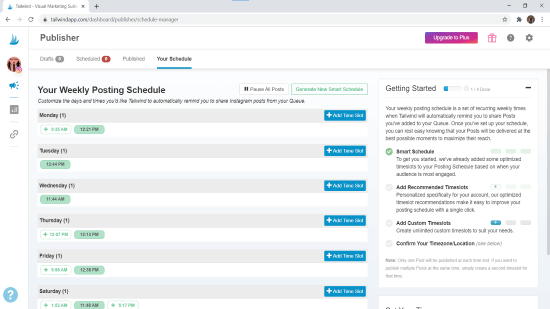 For Instagram, the publisher is the scheduler of your posts at the right times.
Your Schedule: Your weekly posting schedule is in the hands of Tailwind.
Published: Keep track of the scheduled posts and also the posts which are already published.
2. Insights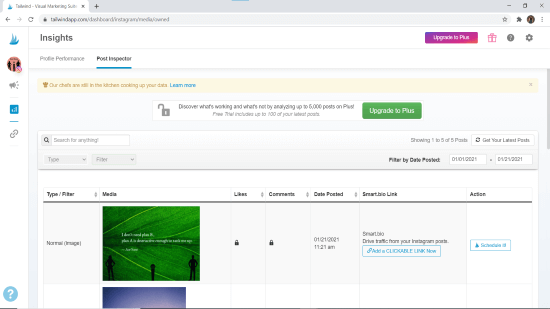 Profile Performance: Check how your profile has been able to perform. Refer to the report, the posts/pins that have rocked and appealed to the audience. Also, check what needs to be bettered.
Pin/Post Inspector: The pin/post date, number  of repin/reposts, comments, etc., can be inspected with this feature.
Website Insights: Gives you an overview of the insights of posted data. You can get insights into what people are pinning from your website.
3. Video guides
This feature is my personal favorite. Any novice can go through the tutorials to learn the essential functions of Tailwind. These are free and very helpful.
4. Sync Google Analytics
Sync Google Analytics from the option on the Tailwind Dashboard.
Learning through intelligence and analytics about the customer's interests, and then serving them can change the way of marketing through social media apps. So, posting regularly on social media is necessary to analyze consumer behaviour and preferences. Hence, social media pages and business accounts often need to function through a scheduler tool.
Tailwind has much more to offer. These are the tools you may make use of:
Installation: Setup and Signing In
You may find the Tailwind app on Playstore and directly install and signup from there. You can log in to the website otherwise.
You can sign up on Tailwind using both Instagram and Pinterest.
For signing up Tailwind Instagram, follow the step by step guide: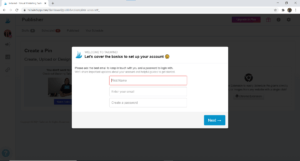 Fill up your name, email and create a strong password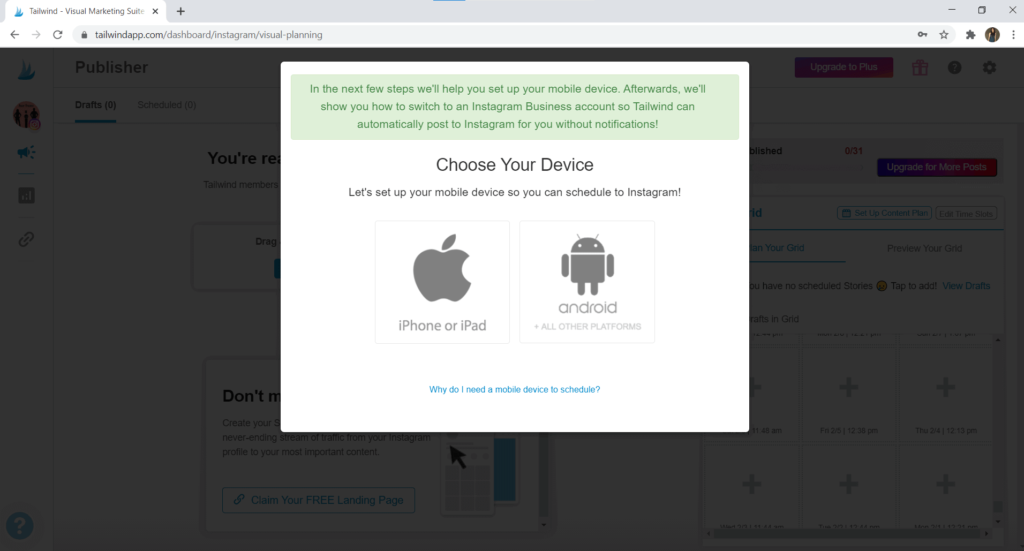 In the next step, select your device. Tailwind works wonders in android as well as iPhone/iPad.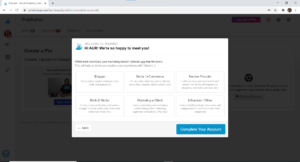 To complete signup, select your type of niche amongst the others. It helps Tailwind pinpoint your requirements based on the kind of brand you are and then offers you services and plans according to your selection.
Signup accomplished!
Grab your Tailwind for Instagram here.
If Pinterest is your calling, you can similarly Install and signup using Tailwind Pinterest following the same steps for Pinterest.
Create Tailwind for Pinterest here.
Tailwind Marketing Products
FAQ: How to use tailwind for marketing?
Pinterest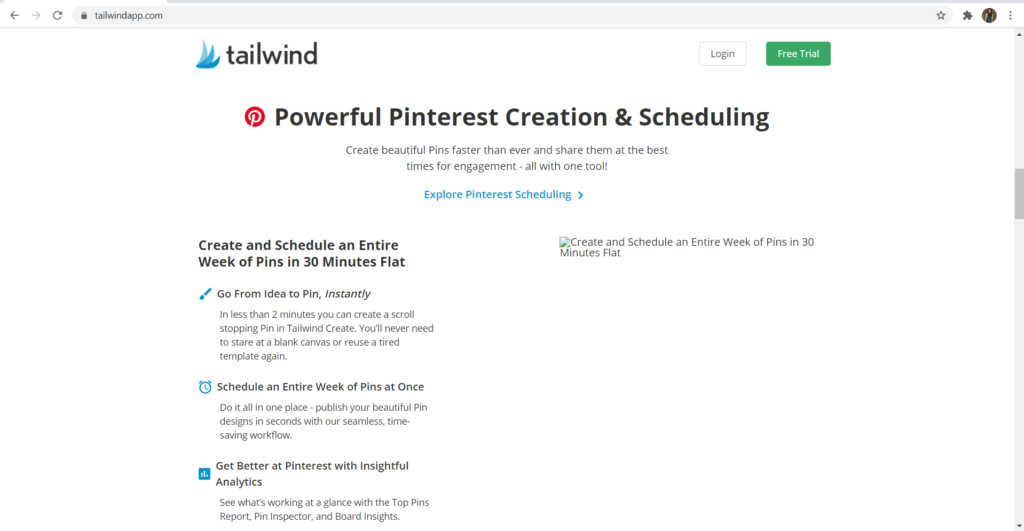 Streamline your Pinterest marketing by increasing your ROI.
Enables Scheduling all of your pins on the go.
Tailwind knows when your followers are most active on Pinterest. So, you can precisely schedule pins, so they post at the best possible times.
Pinterest scheduler through the extension
The tailwind chrome extension is a serious time saver and has serious ROI attached to it.
Add Tailwind chrome extension in just three steps :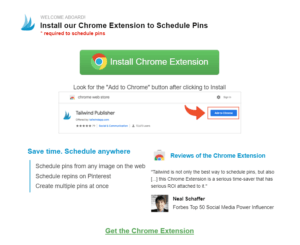 1. Go to Chrome extensions
Add extensions
Tailwind Chrome Extension.
2. Add Tailwind publisher to chrome so that publisher pins images for you. The publisher is an option by Tailwind to pin on the images when you surf through sites.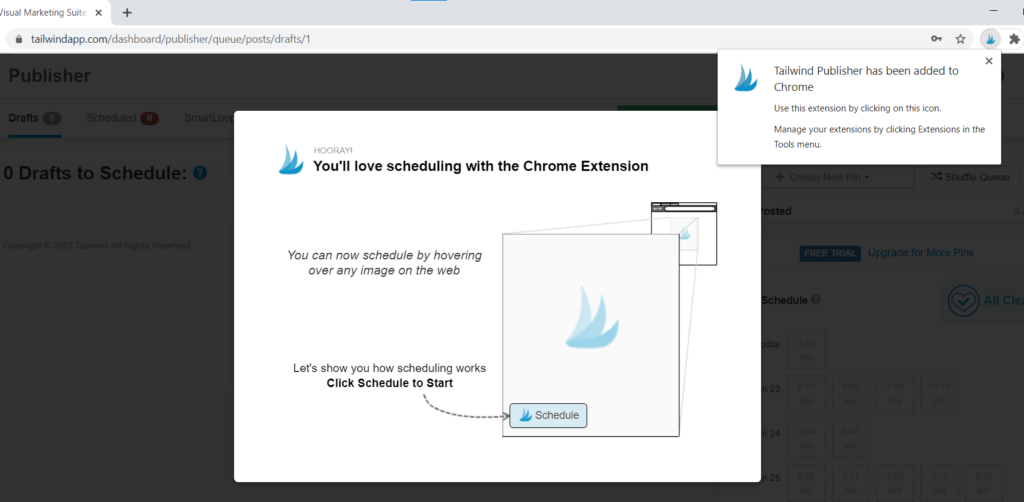 3. Chrome extension is added and all set to schedule. So you can have your precious time saved and save the efforts for something more than manual scheduling.
Instagram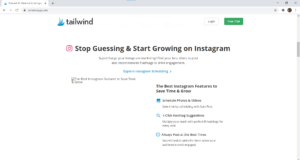 Tailwind will post for you on Instagram only when your business account is linked to a Facebook page since it is the parent authority of tailwind. This way, tailwind enables Facebook post scheduler automatically.
Hashtag finder on Tailwind can help you find suitable hashtags for your posts on Instagram.
You can serve the audience only when you have a handful!
On the Bright Side
Tailwind Publisher is the best app for mobile and pc. Moreover, the app is well supported to operate in both places.
Scheduling Pinterest through the Tailwind scheduler extension itself is a time savior . Marketers already have too much on their plate to handle each and every pin. You can plan a week's worth of Pins in just a few minutes.
Seamless integration with chrome and Pinterest can be witnessed.
Adding and scheduling content for Pinterest couldn't get much more comfortable.
Customer service and support are above and beyond.
What can be upgraded
Tough Tailwind is a versatile app for scheduling and monitoring purposes, there is still scope for improvement. Problems don't go unnoticed:
It is observed that many pins don't source the URL correctly.
While hovering over any random webpage, the tailwind Pinterest extension enables the "schedule" button on every image. Unfortunately, this can be not calming for people visiting the pages otherwise.
It puts the button right over the top of other website's buttons (like emojis), and you can't move it around.
These are some occasional issues associated with Tailwind but can usually be fixed briskly. You can try troubleshooting by uninstalling and reinstalling the app on your device.
Some rectifications :
Add a tailwind logo for the button symbol. It will help to identify the tailwind icon, and people will not use it unnecessarily. The button could be made partially visible or black and white while not hovering on it and fully visible when hovering on the button itself.
An option for filtering out sites where the plugin is not enabled should be added.
Ratings
Inspired by tailwind reviews from various users, I have arrived at an assessment of tailwind ratings as mentioned:
1. User Interface – 8.5/10
The tailwind app offers a friendly and understandable user interface. At first glance of it, you would feel no less than a pre-visited site, and you're well-acquainted with it. The features are visually locatable, and the support system is strong.
2. Ease of Use – 9.5/10
Beginners find this site easy to use, and the tabs are opened within a few seconds describing the usability of Tailwind.
3. Pricing – 8/10
While the plus plan is economical, the professional plan can be worked upon and revised. Professionals seek optimum service in the transition from a startup to a well-established firm. The rates should be standard as such an agency will have many places to spend in expanding their brands.
4. Features – 9/10
Feature-wise, Tailwind is the best app to schedule posts. Be it Facebook posts scheduler or Pinterest, it has exceptional features that can post, monitor, and observe the followers' likes and interest, the timing for posting, and much more. In addition, the fantastic quality offered by tailwind has reduced heaps of manual work.
An overall 8.75/10 is how much I will likely suggest this app to others to schedule social media posts.
Tailwind Pricing and Plans
 The offers on Tailwind cost differently based on the plan you choose:
Basic plan: You can try all of the tailwind features for up to 100 Pins on Pinterest and 30 Posts on Instagram.
Plus Plan – $15/ month, For bloggers and small businesses
A venture like mine could be significantly boosted to new heights by using Tailwind's basic plus plan.
30- Day History Archive: You will have access to 30- day historical archives for brand trends, engagement, and Pin activity.
Content Optimization: Helps quickly identify top-performing content that resonates with your audience and extends to maximum people.
Scheduled Pins: You could schedule up to 400 Pins/ month.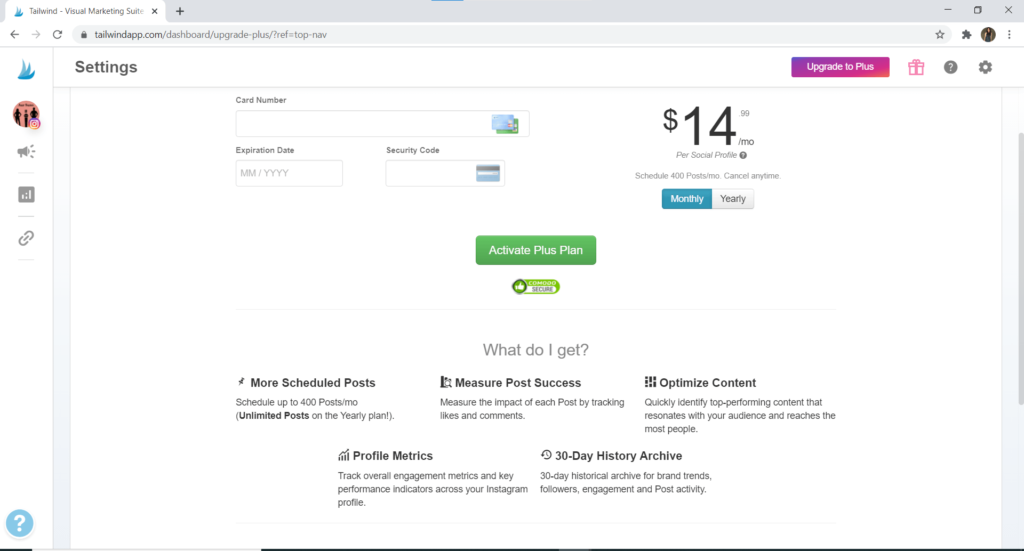 Professional Plan – $ 1199.99/month – Large brands and agencies, such as established firms, emerging startups, and renowned companies, opt for this plan.
1- Year history archive: support
Optimize content strategy: Uncover the most valuable content and identify the best days and best times for audience engagement.
Analyze ROI sources – You can sync Google Analytics or Omniture to monitor your most valued content. Helpful for Pinterest in pin targeting.
Enterprise Plan –  This plan is customized according to the requirements of the client. It is usually meant for even larger brands and agencies; some are P&G, eBay, Unilever, and Viacom.
Unlimited History Archive: This feature offers an edge over the other two plans.
Keyword/Hashtag Analysis: Your brand's organic activity can be tracked with popular keywords, Phrases, and #Hashtags.
Content Discovery Engine: Quickly find the perfect content for your boards to promote your brand image and audience inspiration simultaneously.
Conclusion
Tailwind has come a long way in a nutshell, starting from scratch to being an official Pinterest Partner now, Tailwind is the best way to schedule pins and do an in-depth analysis to understand how your pinning affects your bottom line.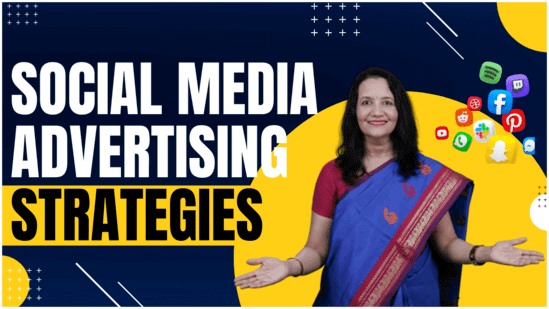 Spread the loveAccording to a study, an average person scrolls close to 300 feet of social media content every day. That's the height of Qutub Minar! Thinking about the amount of time that we tend to spend on social media daily, I find it quite believable. The main idea for social network advertising is to
Read More »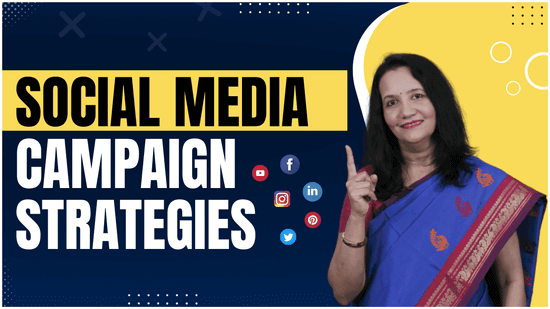 Spread the loveDo you want to create social media campaigns that will make your brand a sensation? Read these five strategies to grow your social media and blow your audiences' mind.Social media campaign is nothing but a series of coordinated activities aimed to promote your product or raise brand awareness in a community. We all
Read More »
Do you want to create excellent landing pages? Do you want to cutdown the cost required to hire a webpage creator. Read the article to know about SeedProd, an excellent landing page builder plugin for WordPress.
Read More »
HERE IS HOW I CAN HELP YOUR BUSINESS GROW
Don't just stand by and watch others make millions! Jump in and leverage digital marketing to skyrocket your business!