HOW TO EARN INCOME THROUGH AFFILIATE MARKETING
COMPLETED
In today's scenario it is important for all of us to be financially independent.
Affiliate marketing is a lucrative way to earn passive income and make your content work for you.
Learning how to become an influencer or blogger and monetising through affiliate marketing will give you financial freedom.
Join me in this webinar where I will discuss how you can become an affiliate marketer.
DATE: 4th JULY 2020
TIME: 11:15 AM – 12:15 PM
QUINTESSENTIAL SOCIAL MEDIA SKILLS FOR BUSINESS STUDENTS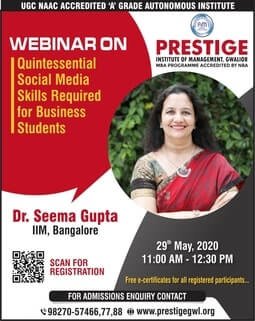 COMPLETED
With around 70% of employers using Social Media to identify and screen potential candidates, it is quite evident that social media is vital to our career development. A platform like LinkedIn is the perfect place to grow professional connections and develop relationships that could skyrocket your career. In unprecedented times like these, it is all the more important that we invest in skill development to get ahead and advance in your career.Join me in this webinar where we will go over all the essential social media skills required by business students for an even more promising career.
DATE: 29th MAY 2020
TIME: 11:00AM – 12:30PM
MARKETING DURING COVID-19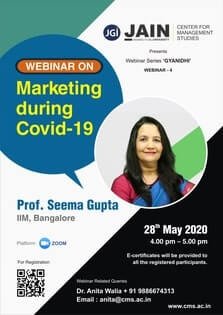 COMPLETED
The COVID-19 pandemic has managed to flip our lives upside down – it has taken a toll on the economy and impacted businesses severely. The crisis has not only shifted business trends, but has also brought about a change in consumer priorities and the entire marketing landscape. The aim of this webinar is to take a look at Marketing strategies we can adopt to alleviate the imminent threat.
DATE: 28th MAY 2020
TIME: 4:00PM – 5:00PM
FACULTY DEVELOPMENT PROGRAMME - DIGITAL MARKETING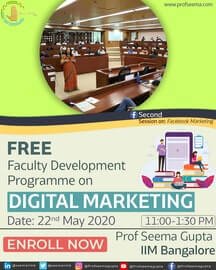 COMPLETED
With the rise in Digital Marketing career opportunities, teachers play a crucial role in training future managers. To be effective, it is critical to have an in-depth knowledge of Digital Marketing principles and a practical understanding of digital platforms. 
DATE: 22nd MAY 2020
TIME: 11:00AM – 1:30PM
COMPLETED
With over 3 million people infected and 359 thousand deaths and billions in losses, COVID-19 has brutally ravaged and pillaged the world. There is a growing fear this could be "The Great Depression of the 21st Century". In this webinar, we shall discuss how to get a job during and after COVID and the Jobs of the Future.
DATE: 13th MAY 2020
TIME: 4:00PM – 5:00PM
ROLE OF DIGITAL MARKETING IN COMPLETE LOCKDOWN
COMPLETED​
COVID-19 has pushed the whole world into a dark tunnel. Businesses have been severely impacted and are looking for ways to salvage themselves. In this webinar, we discuss the marketing strategies we can adopt and what role Digital Marketing can play to help mitigate the impending threats.
DATE: 30th APRIL 2020
TIME: 3:00PM – 4:00PM