DISCLOSURE: Since I am sharing this content free of cost without any paid subscriptions, some of the links in this post might be affiliate links, which won't cost you anything. Although, all opinions and discussions remain my own.
If you are looking for the best form builder plugin for your WordPress website, you have reached the right place! In this detailed WordPress Forms review, you will find why WP forms should be your go-to option. 
Introduction
 Evolution in technology has revamped our websites. Websites are no longer limited to being merely information portals for businesses and organizations. For your website to be successful, you have to consider much more than its primary functionality, your visitor's queries, and user experience! A webform is the best way to get direct inputs from various users online and directly establish a relationship with them. 
But creating a web form is a tedious task when it comes to building it from scratch by hiring a developer to do it, but not anymore. If you are using WP Forms, you will create your own WP form for your WordPress Website with just a few clicks. WP forms act as a medium that enables your visitors to get in touch with you, to send information such as a catalog request, query, reviews, etc. Being the best beginner-friendly contact form in the market, you can create attractive feedback forms, contact forms, payment forms, and other numerous types of forms within minutes using pre-built templates.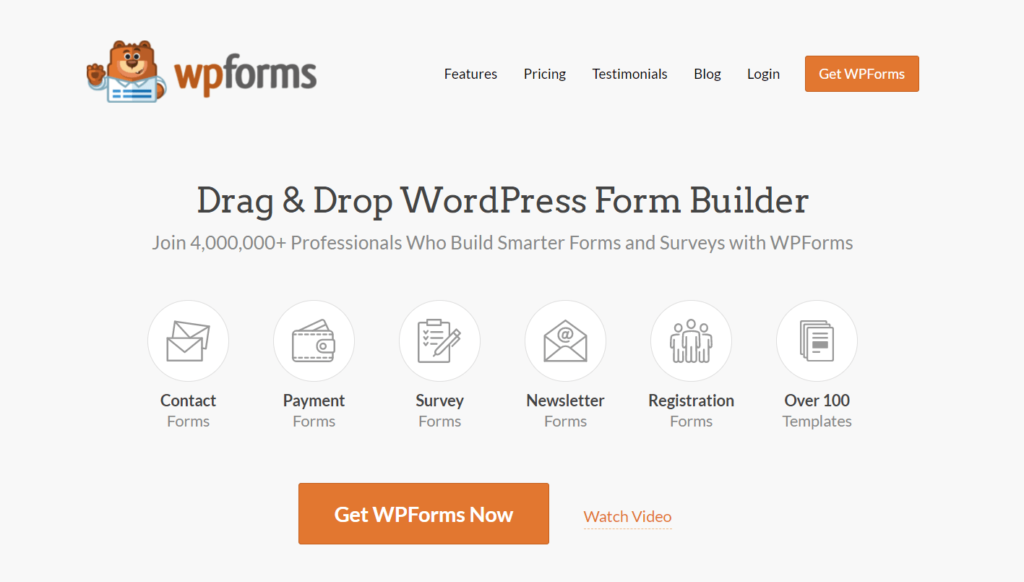 Background
 When we were all stuck in the COVID-19 cocoon, I wanted to emerge and follow my passion for cooking and creating fusion recipes. After receiving a lot of support from my online viewers, I decided to start taking customer orders. Initially, my inbox was full of spam messages. So, I missed out on a lot of important customers who were trying to connect with me. That's when I realized the importance of a contact form. 
After a lot of experimentation, evaluation, and efforts, I stumbled upon WP forms. Compared to other form builders like Ninja Forms and Gravity forms, it was pocket friendly. I was amazed to see my contact form up and running in a few minutes without writing a single code. Its drag and drop, pre-built attractive template features saved me a lot of time. 
WordPress Forms is one of the best form builders available in the market. That's the reason it's active on over three million+ sites. It also has an excellent 4.9-star rating on over 7,000+ reviews.  
Check – WP Mail SMTP
WP Forms is my favorite! Here's why it might benefit you too – 
Spam Protection

– A contact form without spam protection is highly vulnerable to risks such as viruses, compromised web links, etc.

WP forms

use smart CAPTCHA and a Honeypot method to stop spam from submissions.  

Instant Form Notification

 – It's vital to keep up with the pace and respond to a customer as soon as possible for an excellent user experience. The instant form notification feature notifies you straight away when a form is submitted. For instance, if you are running a restaurant, it's vital to know your order immediately. 

Form Confirmation

– Once a user submits the form, you can use the form confirmation feature to show your customer a custom success message or redirect them to a custom thank you page. 
Integrated payments – While using

WP Forms

, you can effortlessly integrate your forms with PayPal, Authorize.Net, or Stripe to make payments and donations. This feature makes it easy to create customized order forms. 

Drag and Drop – Using the drag and drop feature, you can add various customized elements like contact information, review, ratings, etc. Since there is nothing to install and upgrade, this process is hassle-free and provides the best user experience. 
Numerous Templates–

WP Forms

provides over 150+ pre-built templates for users to choose from. There is no requirement to start from scratch and waste time.
Entry Management –

WP

Forms

stores form entries in your

WordPress

database. This means you can manage your form entries from your

WordPress

dashboard. Entry management is also a great way to sort through your form entries. You can mark them as read, delete any which you don't require. You also have the option of exporting your entries into a .csv file so that you can quickly go through them in Excel.  
I'm sure you are excited to try these features and benefit from them!
Check – WPForms Features & Addons 
WP Forms has reshaped the method of creating advanced WP forms using super – fast functionalities using a myriad of free tools rather than creating time-consuming stereotyped forms! 
Let me walk you through some of the pros of using WP Forms that I find the most appealing. 
Polls and Surveys – You can effortlessly create polls and surveys in

WP Forms

. Additionally, you can convert any form into a survey if you want.

100% Responsive

–

WP Forms

is mobile-friendly, which means your forms will always look great, whatever device your visitor is using

.

Conversational Forms

– Conversational forms are interactive forms designed exclusively for

WordPress.

Instead of displaying many questions at once, they take a 'one question' at a time approach – just like a real conversation. Hence, they will boost form completion rates and your overall form conversations.
NOTE – The conversational form won't work if your permalink structure is set to Plain. Hence, make sure you change it. 
Smart Conditional Logic

– Using conditional logic, you will hide or show specified fields based on the user's behavior. For instance, If you have a feedback form, you might want to show different messages or options depending on the rating a user gives for your service. For example, if they give you a 5 star, you could ask for a review. If they give you a 2-star rating, you can encourage them to voice out what went wrong. 

Simplified Results

– After running surveys, you need not worry about ambiguous data.

WP Form

helps in creating beautiful charts and graph the results of your results. 

File Uploads – using

WP Forms

, it is super easy and safe to collect media and files through your online forms with the "file uploads option." File uploads are a fantastic way to add testimonials, guest posts, and user-generated content to your site. 
AND MUCH MORE… You can do lots using WP Forms, like creating forms that require a signature, creating user registration, letting people submit guest posts, login forms, capturing partial entries from abandoned forms, gathering geolocation data, and locking forms so that only certain people can access them. 
On the contrary, these were a few challenges I faced while using WP Forms, Nonetheless, they had a negligible impact during the process. 
Limited function

– The free version has minimal functions. However, since the basic plan is inexpensive, you can experiment and upgrade according to your needs. 

ADD – ON'S

– Using add – on for the first time can be confusing. However, once you master the knack, you will customize and create forms with ease. 
So, what's the verdict? 
Although WP forms have negligible limitations, it is a fantastic WordPress form builder plugin that helps you build any form in a matter of minutes. No coding or complicated settings are needed. It also provides 24/7 support and regular updates.  
Depending on your resources and needs, you can choose from the basic and pro versions, with many unique features for each paid package. If you are just starting, I recommend you try the basic plan first and then upgrade according to your requirements. If you require the conversational forms feature or their form templates, you may want to consider their best-selling pro version. But keep in mind that your license will always renew at full price. Personally, it makes the Pro version a 'nice to have' but not necessarily a "must-have.'  
Ratings
 After evaluating various Form builders, I have rated WP Forms based on many criteria. You can find below my rating – 
Overall Rating: 9.5/10
User Interface- 9/10
Ease of Use: 9.5/10
Features: 9/10
Pricing: 8/10
Pricing
The prices are range from $39.50/ year – $299.50/year. Read further to know which best suits your business. 
Basic plan

– You can create unlimited forms using basic plans, and you can use it on one site. It comes with basic integrations such as spam protection and conditional logic. The price for this version is $39.50/ year.

Plus plan

– The plus plan is very similar to the basic version and has additions such as email newsletter integrations like Mailchimp, Drip, and Aweber. You can use it on three sites, and it costs $99.50/year.

Pro plan

-The pro plan includes everything in the plus plan plus integrations such as Paypal and stripe, zapier integration, form abandonment, surveys, polls, and more. You will be able to use this on five sites, and it costs 199.50/year.

Elite plan

– The elite plan includes all of the features and ActiveCampaign integrations, CRM capabilities, support for WordPress multisite installations, and much more. You can use it on multiple sites, and it costs $299.50/year.
FEATURES AND PRICING 

BASIC

PLUS 

PRO

ELITE 

 

Essential tools to build your online form

Great for businesses who want to do more

Everything you need to build a perfect form

The premier solution for smart business owners

PRICING AND OFFER 

normally 79.00,

now $39.50/ year

normally 199.00,

now $99.50/ year

normally 399.00,

now $199.50/ year

normally 599.00,

now, $299.50/ year

Form Templates

✓
✓
✓
✓

Multi-Page Forms

✓
✓
✓
✓

Conditional Logic

✓
✓
✓
✓

Spam Protection

✓
✓
✓
✓

File Uploads

✓
✓
✓
✓

Advanced Fields

✓
✓
✓
✓

Form Layouts

✓
✓
✓
✓

Entry Management

✓
✓
✓
✓

Form Confirmation

✓
✓
✓
✓

Form Notification

✓
✓
✓
✓

Custom Captchas

✓
✓
✓
✓

Constant Contact Forms

✓
✓
✓
✓

Mailchimp Forms

✖
✓
✓
✓

PayPal

✖
✖
✓
✓

Surveys and Polls

✖
✖
✓
✓

Login Form

✖
✖
✓
✓
Conclusion 
It is a fact; the customer is the king, and customer satisfaction is one of the most important things to ensure a business goes a long way. A form helps a customer voice out and provide valuable feedback. As a businessman, you can take inputs from what your customers feel and improve accordingly. 
I'm sure you may be wondering what a tedious task it is to start designing a form from scratch and building it. It also seems tiring to hire a builder to do it for you. It might not only punch a hole in your pocket but also proves to be time-consuming. Let's avoid all this using – WP Forms. 
WordPress Forms is one of the best inexpensive form building websites that is available in the market. It is one of the highly-rated WordPress plugins which has over 7000+ trusted users all over the world. It is a combination of excellent features with minimal cost and outstanding benefits.
It is super- beginner-friendly, which makes it stand out from competitions. This means you don't have to spend a single minute trying to code or hiring a builder to do it for you. If you don't know where to start, its pre-made templates, drag and drop feature creates a beautiful form that is up and running in a couple of minutes.  
As the saying goes, not all five fingers are the same. Whatever plan works for somebody else may not work for you. Be sure to try your hand at everything. After all, experimentation is the key to triumph. Once your form is built, up and running, you will come across some issues. You can modify your website if you find any glitches.  There is always a learning curve. 
You can also create poll and survey forms, blog post submission forms, email marketing, and many more. Additionally, you can also effortlessly collect payments from your clients via different payment methods. The stripe method helps you to collect payments directly to your accounts. 
I hope you find this WP Forms review article useful to decide your best form builder plugin for WordPress. If you have any queries or comments, please feel free to comment below.