WhatsApp Web business facilitates the communications of WhatsApp messages online on your PC or Laptop. Learn the steps to set up WhatsApp Web for Business and effective ways to optimize it for your business growth!
Whether it is sending good morning messages to your loved ones or sending official details to your employees, the one-stop solution for all is WhatsApp! WhatsApp stays more close to us as compared to social media, as it facilitates one-to-one communication better!
Well, imagine if you could access the same platform on multiple devices; isn't it like a great deal? It is possible, thanks to WhatsApp Web for business!
WhatsApp Web is the exact carbon copy of the WhatsApp you use on your mobile! WhatsApp Web business facilitates the communications of WhatsApp messages online on your PC or Laptop. It is a browser-based PC client of WhatsApp messenger.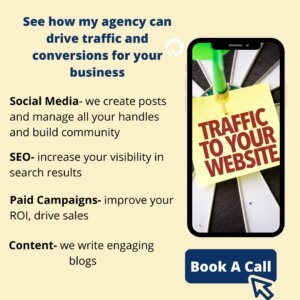 Well, you will not be using a separate account for WhatsApp Web. Instead, you will be using the same account for all the actions from multiple devices! In this article, we will discuss effective ways to set up WhatsApp Web for business. In the end, we will also discuss the latest update, WhatsApp Business for Desktop! 
So let us start and learn step by step how to use WhatsApp Web!
1. Go to the WhatsApp Web website, https://web.whatsapp.com/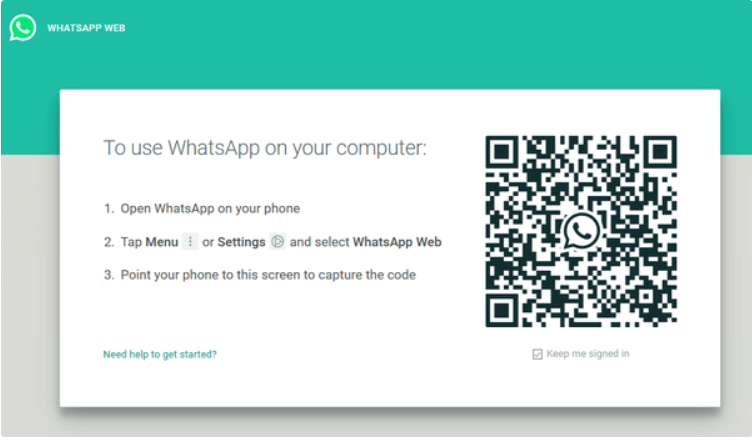 Note: In the above picture, you can see a box, 'Keep me signed in. If you don't want to log in every time on your Desktop, just click on the box. This way, you will be logged in always and can come back at any point in time!
2. Once you land on the WhatsApp Web page, you will find a QR code on the right and the instructions on the left. So you can simply follow the instructions to get started!
If you are confused, don't worry! We will explain it in detail to make it easy for you!
3. Once you have opened the page on Desktop, open WhatsApp in your Mobile App
4. Click on the three dots that you will find on the top right corner of the app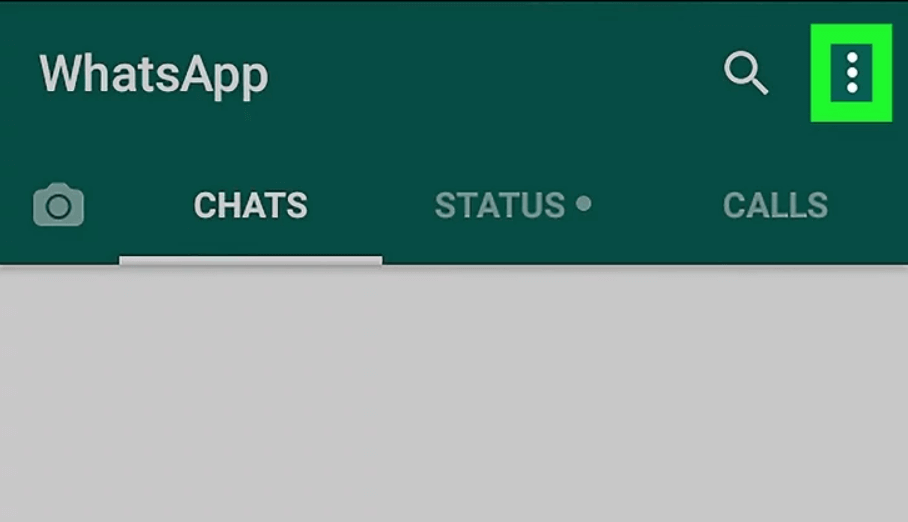 5. Then click on WhatsApp Web
6. Once you click on WhatsApp Web, you will be able to scan the QR code shown in the WhatsApp Web Desktop.
7. Just scan the QR code, and your WhatsApp messages will automatically appear on the screen!
Caution: Make sure your WhatsApp on your mobile phone is connected to the internet. If you aren't online on your mobile phone, you cannot use WhatsApp Web on your Desktop
And with these simple steps, you are ready to use WhatsApp Web on your Desktop!
As seen in the above picture, the WhatsApp Web functions exactly like WhatsApp on your mobile!
To know more about WhatsApp Business in your mobile, read our blog.
Some icons may appear a little different from the app, but all of them function in the same way! First, however, let us discuss some unique icons on the WhatsApp Web!
Also check out my article on A complete guide collaborative Advertisements on Facebook 
1. Status icon
Unlike WhatsApp, you can't swipe right to create or view the status of people on the WhatsApp Web. However, in the message status, you will find a process-like button. So, if you click on the button, you will be able to view the status page.

2. Profile icon
To change your profile, you can directly click on the profile icon in the top left corner.

3. Messaging icon
Using messaging icon, you either search for a contact to chat with or you can create a new group.
4. Menu Icon
Just like WhatsApp, you find the menu button is nothing but the three dots icon at the top right corner in WhatsApp Web. Under the menu, you can create a new group, create a room, change your profile, find archived and starred messages, go to settings, and log out.
Well, with these icons, you can easily navigate to perform your desired actions. So now, let us look at how effective WhatsApp Web is to perform your business efficiently!
1. Desktop Notifications!
Imagine you are working on something important on your laptop for few hours on the balcony. Suddenly your assistant sends you an important file on WhatsApp that you need to examine immediately. And you need to reach out to your mobile phone kept in the hall. Doesn't going all the way to the hall just to examine one file seem too much work?
Don't worry, as WhatsApp Web Desktop Notifications has got you covered! You can simply switch on the desktop notifications so that you can directly get all the WhatsApp messages while you are working on something else on your laptops!

2. Immediate access!
Most often, all of our files are stored on our Desktop. Even professionals prefer to work on documents using Desktops as its visible in a better way. Now, if you want to some send files urgently to other employees, you can simply finish the work, save and share it on WhatsApp Web with others! But reaching out to your phone and then transferring files using the app is a different ball game. To avoid all the hassle, you can immediately access files using WhatsApp Web!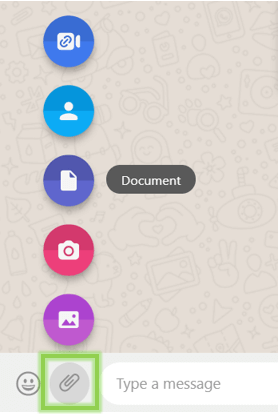 3. All the essentials in one place!
Desktop or Laptop are the devices used by most professionals to perform official tasks. This is because of huge storage space and comfortable access. Using WhatsApp Web is very helpful in this case, as all your essentials will be stored on your Desktop. So even at the time of contingency, you can find all the files on your Desktop and simply click on a share button to send them right away!
Therefore, with these advantages, you can definitely consider using WhatsApp Web for your business purposes!
Now let us understand how you can incorporate WhatsApp Web in your businesses to maximize profits!
1. Marketing
Do you prefer to visit the shop that announces sale on the TV or especially invites you to purchase from the sale? I am sure you will prefer the latter. This is because customer connections are formed better in targeted marketing.
To know more about targeted marketing, watch our below video.
This is where the WhatsApp Web comes in handy. Using this tool, you can send promotional WhatsApp messages directly to the customers, adding a personal touch. Therefore, it is very helpful for small business owners.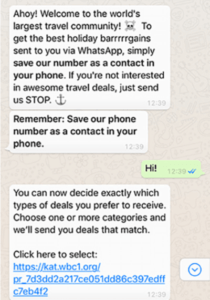 2. Orders and Booking
This especially useful for small business owners. You can simply take the order directly from the customers. It will be easier for you to communicate with customers and understand their needs better.
For example- If you own a boutique shop, you can easily contact your customers for proper measurements and other fitting preferences. So you can tailor the most correctly fitted clothes for your customers. This way both you and your customers will be satisfied!
If you are a small business owner looking for ways to performing marketing online,  you can take my course.
Not only for orders but also for tracking orders, the WhatsApp web is very useful. You can regularly update them as to where their orders have reached till they receive them.
3. Customer Support
WhatsApp Web is one of the excellent platforms to provide customer support. This is quite similar to the customer support using the mobile. For example, customers will be asked to type specific text in a specific format, and the service assistant will guide the customer to solve the problem.
Mobile phone companies like Vodafone popularly use this system.
In the above picture, we can see how the customer messaged Hi, and the customer support and automatically replied with further instructions.
Lastly, we would like to discuss one of the latest updates of WhatsApp that is going to make your WhatsApp operations even more convenient. That is, WhatsApp Business for Desktop! You can download WhatsApp right on Desktop or Laptop using just three steps.
1. Go to Microsoft Play Store or Apple Play Store and log in to your Microsoft Account
2. Search for WhatsApp Desktop in the top right corner (as shown in the above picture)
3. Then click on Get
That's it! The app will get installed on your Desktop, and then you can use it just like you use your WhatsApp and the WhatsApp Web!
Note: Unlike WhatsApp Web, using WhatsApp Desktop, you use to call or video call functions. These functions are enabled in the Desktop App.
Now we come to the end of the article! WhatsApp Web for Business is a great messaging tool to communicate with others quickly. Since it is an exact carbon copy of WhatsApp, the tool won't be alien to you, and you can easily operate on the website. You can also get WhatsApp for Desktop, which is the later update of WhatsApp. The options are endless for functioning!
Therefore, if you want close connections with your customers, faster communication, and an organized work setting, use WhatsApp Web for business and watch your business grow exponentially!
Share your experience with WhatsApp web in the comments below.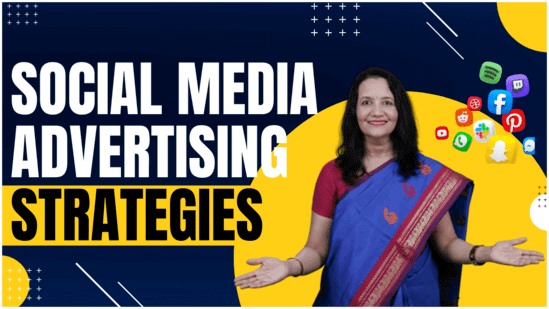 Spread the loveAccording to a study, an average person scrolls close to 300 feet of social media content every day. That's the height of Qutub Minar! Thinking about the amount of time that we tend to spend on social media daily, I find it quite believable. The main idea for social network advertising is to
Read More »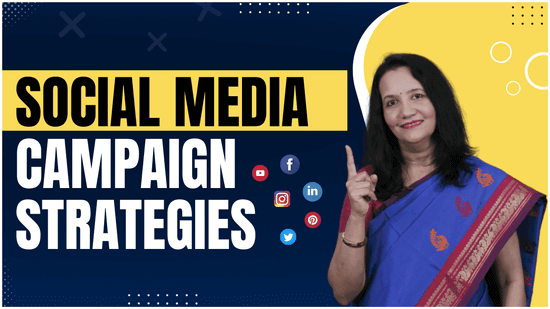 Spread the loveDo you want to create social media campaigns that will make your brand a sensation? Read these five strategies to grow your social media and blow your audiences' mind.Social media campaign is nothing but a series of coordinated activities aimed to promote your product or raise brand awareness in a community. We all
Read More »
Do you want to create excellent landing pages? Do you want to cutdown the cost required to hire a webpage creator. Read the article to know about SeedProd, an excellent landing page builder plugin for WordPress.
Read More »
HERE IS HOW I CAN HELP YOUR BUSINESS GROW
Don't just stand by and watch others make millions! Jump in and leverage digital marketing to skyrocket your business!