Want free Google ads? In this article I will tell you how to redeem credit for free advertising on Google.
You must have heard about Google Ads or Google Adwords. These ads can be promoted by paying Google Ads the amount depending upon the area – Where are the Ads going to be shown, time – At what time? Age group – Who is going to watch your Ad? etc., of the audience. The prices vary on a wide variety of factors.
Google ads are one of the best advertising platforms out there to do any advertising.
You're also able to use the top search engine in the world right now to place your ads in front of those who are already searching you up.
Why go with Google Ads?
Your business gets the best exposure, whether it's through display ads, video, or search.
You can reach out to the potential customers worldwide by broadcasting your ads to locations of your choice.
You only pay when someone clicks your ad, and you can stay right into your budget.
But do you know about free Google ads?
Some ways, such as Coupons, Ads credit, etc., will lead you to have your GoogleAds posted for free.
You can get two thousand rupees completely free as a GoogleAds credit.
Let's get into it.
So the listed different ways can essentially get you Ads credit when you're free advertising on Google.
I'm going to confront all the different ways, from easiest to hardest to least savings to most savings for getting you started with Google ads.
Also, read my blog on The ultimate guide to audio ads with some mind-blowing case studies
1. Special offers & discounts for Covid – 19
If you are starting now, you can claim your $100 ad credit coupon.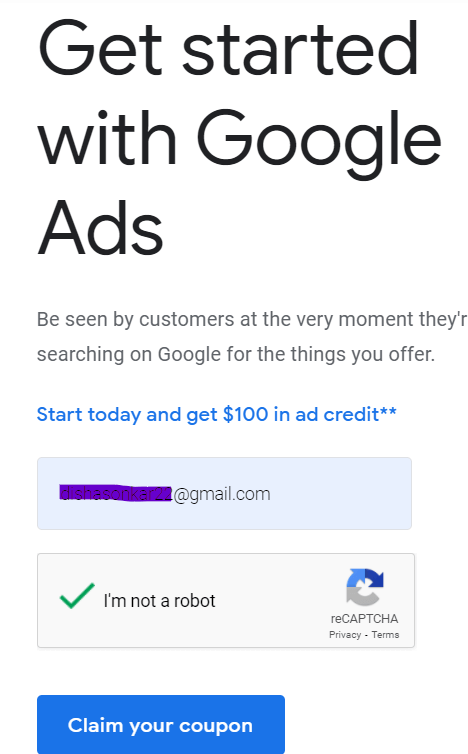 You just have to enter your email and click on the option "Claim your coupon."
You will receive your coupon in your provided email within a minute, and you can apply your coupon right after you start.
Existing small and medium-sized businesses can go for free ad credit up to $1,000, which Google is offering. To be eligible for it, you must have used Google Ads for at least 10 of the previous 12 months. There is no application process; Google will distribute it to individuals who meet the requirements.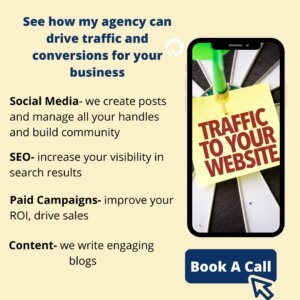 2. Using the Adwords Coupons with partnership programs
If you are trying to save more money and you're willing to do a little more work, then here's the way for you.
If you don't already know, Google Ads has a bunch of partnerships with different platforms. A lot of them are domain providers viz, GoDaddy and Bluehost, and if you just have a subscription with them, even if it's the most basic one, you're still going to be able to get that partnership voucher.
 You can get a coupon code or a promotional code and put it into your Google Ads account, and you'll just get the Google Adwords free credit.
Log into your domain provider account.
Look where you can find these discounts and partnerships.
Search in the programs.
If you're advertising anyways, why not claim a promotional voucher from a service you're already using?
 Login to your Bluehost account. It's also going to show you how to get free credits for Google Ads.
You can get $100 through Bluehost – Google Ads partnership.
A lot of people aren't taking advantage of this service because of the lack of awareness. There are other ways too.
There are more and different partnership programs.
You may go to  Google and search- " get free ads credit partnership" or anything along those lines to learn about such new programs. The results will show you many partnerships, and you can go for the cheapest subscription possible to use that for free.
 Some partners have the initial cost or the cost subscribed for the first month free.
But first, go through this must-read article, 4 Steps For Using Google AdWords To Boost Your Business By 10X to grow your business.
3. Taking advantage of the Grants for Nonprofit Organizations
Google for nonprofit businesses–
If you qualify and they believe in your nonprofit cause, they will give you ten thousand dollars in GoogleAds credits per year.
These are not hard to find. You can either Google or go on LinkedIn, and you can just find a business.
Many of them are not aware of getting some thousand dollars in free Google Ads credit for their nonprofit.
If you're a digital marketing agency on a nonprofit, you can do marketing for them and Bid your charge for the advertising cost.
You can make money from marketing for them. If they are not prompted, you can negotiate them into sharing some portion by telling them the trick.
All you might need to do is visit Google.com/events.

For nonprofit organizations, you can use the strategy that I just shared with you.
There are many other ways to use these ads other than the mentioned ones.
Go to the page where they asked if you're eligible. You can see all the countries that they allow to take part in this.

Then there's a chance to qualify as long as you're nonprofit and see how you are eligible. You can look at program policies, and you have to fill out a form through your Google account.
And then, you will receive the grants if you qualify.
Free add credits are super easy as long as you are a legit nonprofit business and you qualify, and you are in the right states.
This method is quite rare, and not everybody knows of it. It is a little tricky, but it would be completely worth it to do.
4. Step-wise guide to Add Free GoogleAds Credit the Easiest Way
On signing up for Google AdWords, Google provides you with a free credit bonus worth Rs.2000, which you can use according to your requirements for running a campaign, promoting videos or applications, or in the promotion of a website. Check this video to learn how to use Google banner ads to build your business.
This section will benefit you as it will guide you from scratch, from creating an AdWords account to redeeming the Rs. 2000 credit.
1. For creating an account on Google AdWords, you need a Google account or a Gmail account. It is common to have such an account. If you don't have it yet, you can create a Gmail account and proceed further.
Search for "GoogleAds Rs.2000 credit" on Google. You will see the search results similar to the image given.
Click on the top result (Ad) mentioning.
"GoogleAds Credit – Here's Your 2,000 Ad credit".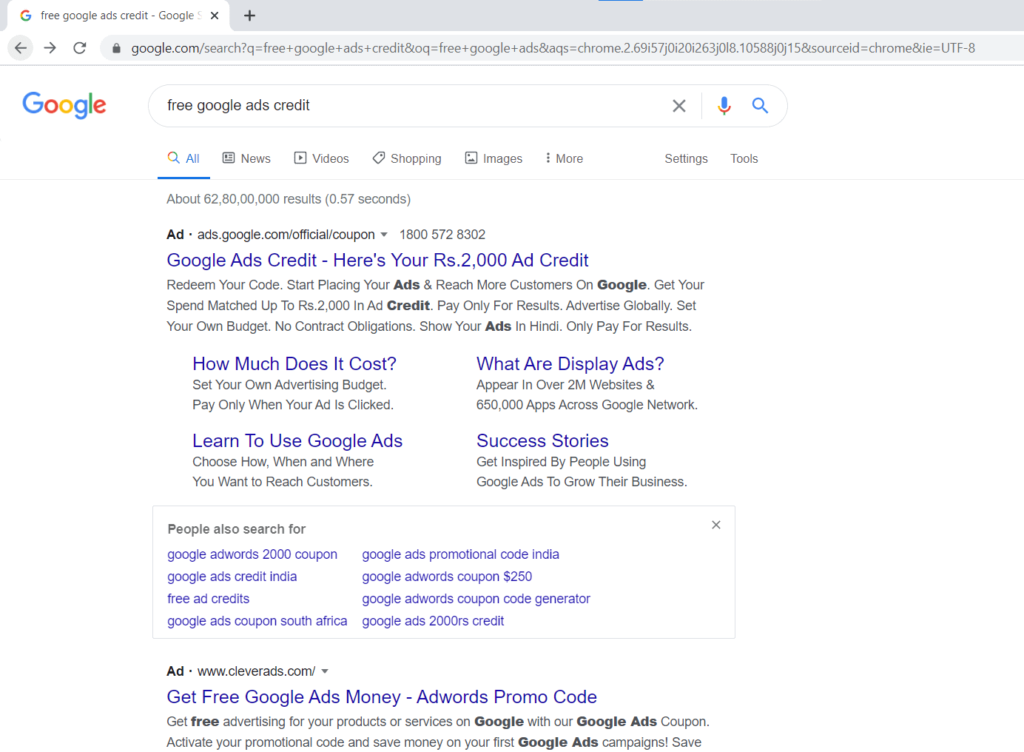 On opening the webpage, you will need to Sign Up with your email.
Add your email and confirm the Captcha.
After you're done with the first two fields' entries, click next on "Get offer Code."
Google will be sending you a mail containing the offer code in the Email ID you had entered while signing up for AdWords.
Use this Coupon Code in Google Adwords in the next few steps. So, make sure the Email ID is active, and the Gmail account is signed in.
2. Check your Mails ➡ Inbox for the Coupon Code sent via GoogleAds.
You will see the Code with Rs. 2000 right there, once you open the mail from GoogleAds.
Copy the offer code. Go back to the GoogleAds page and click "Get started" there.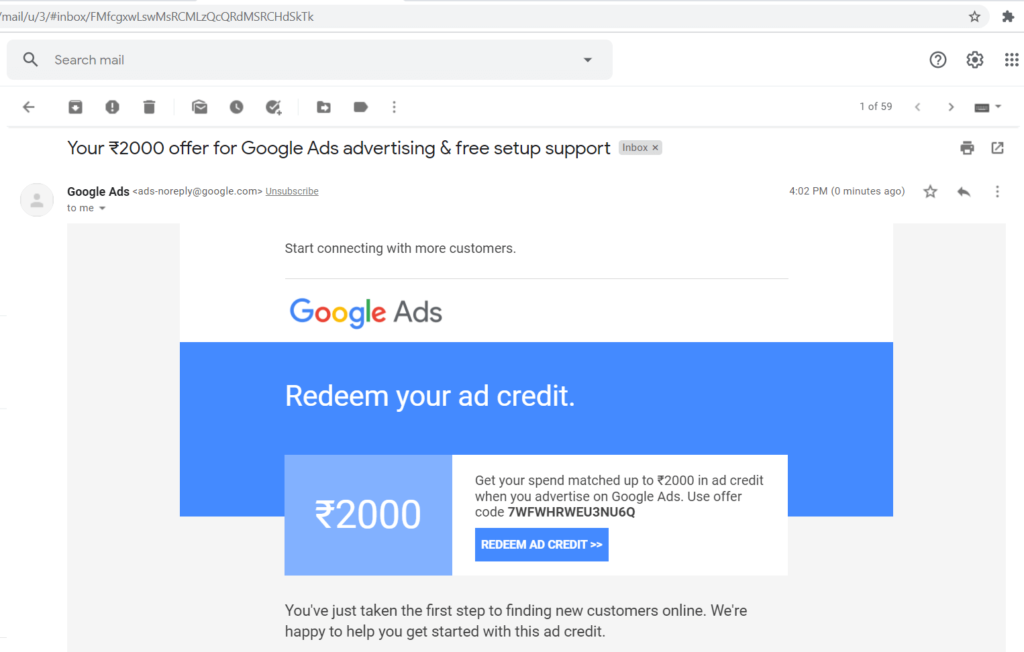 3. Getting started, you will be able to see three options for the question "What's your advertising goal?"
This is because Google needs to know what you're interested in advertising. Google wants you to create a new campaign for your product (that is to be advertised).
But you don't want to get involved in creating a campaign first. A perfect campaign can be created later on after finishing the account setup ultimately.
For proceeding in the account setup steps, click on "Switch to Expert Mode," visible on the bottom side of your screen. For your convenience, it has been underlined here in the image following.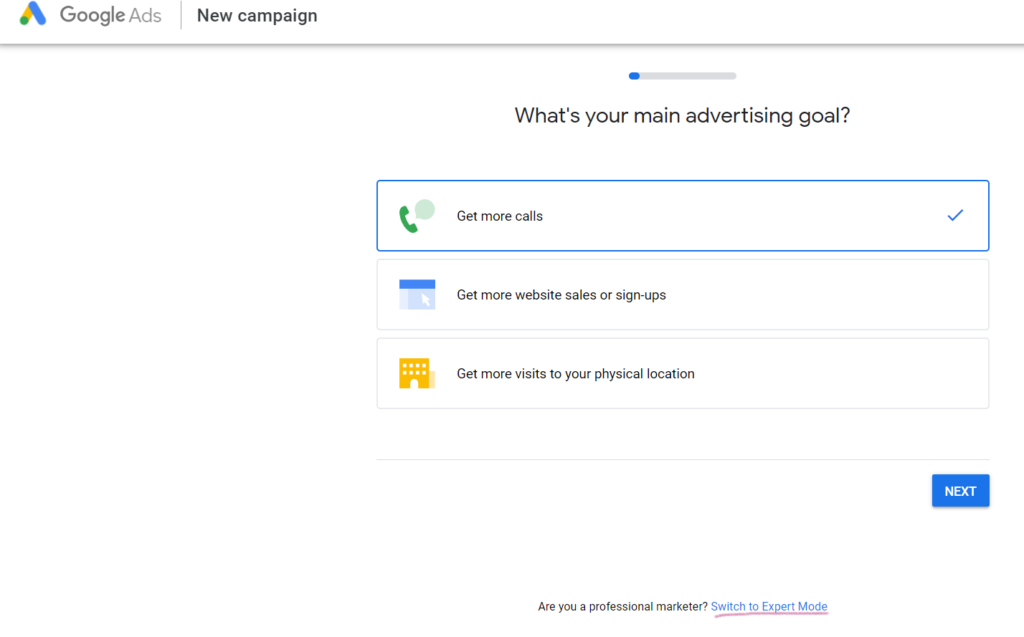 Moving on, Google will ask you the kind of campaign you're interested in running after clicking on the previous Hypertext.
But remember, you are not running a campaign just now, so skip the campaign selection for some more time.
At the left bottom of the tab (underlined in red as shown in the image below), you can see
"Create an account without a campaign." You need to click on it for the moment.
4. It will ask you some basic questions to confirm your Business Information.
Some of them being,
Billing Country: You can select India (or the country you want your billing to be).
Time zone: Here we go with IST (GMT + 05.30). You can set the time zone according to your location.
Currency: The choice of currency is most definitely Indian Rupee (Rs) or INR for us.
Select "Submit" once you're done with the Settings.
5. The account will be created for you.
All you have to do is to explore your newly created account.
You can explore your account all you want.
Now Go to the "Tools and Settings" option available in the panel.
Let's apply the Rs. 2000 credit that you have received in the mail to "Promotions."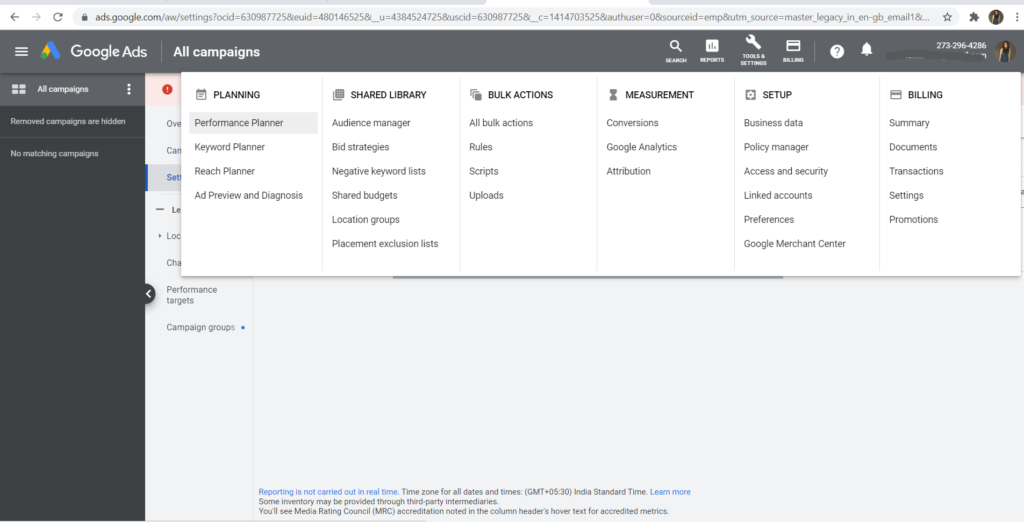 6. Before that, you need to set up your Billing Address.
Add your payment method, account type, and other details.
After the payment method comes How you want to pay, i.e., Automatic Payment – which is deducted automatically and Manual Payment – which you have to pay.
Set it for "Manual Payment" for more convenience.
Choose your suitable Billing Country.
Let's move on to the next step.
7. There are several payment methods listed down here. Some of them are Money Transfer, BHIM UPI, NetBanking, Debit card, and Paytm. You can choose any one of them.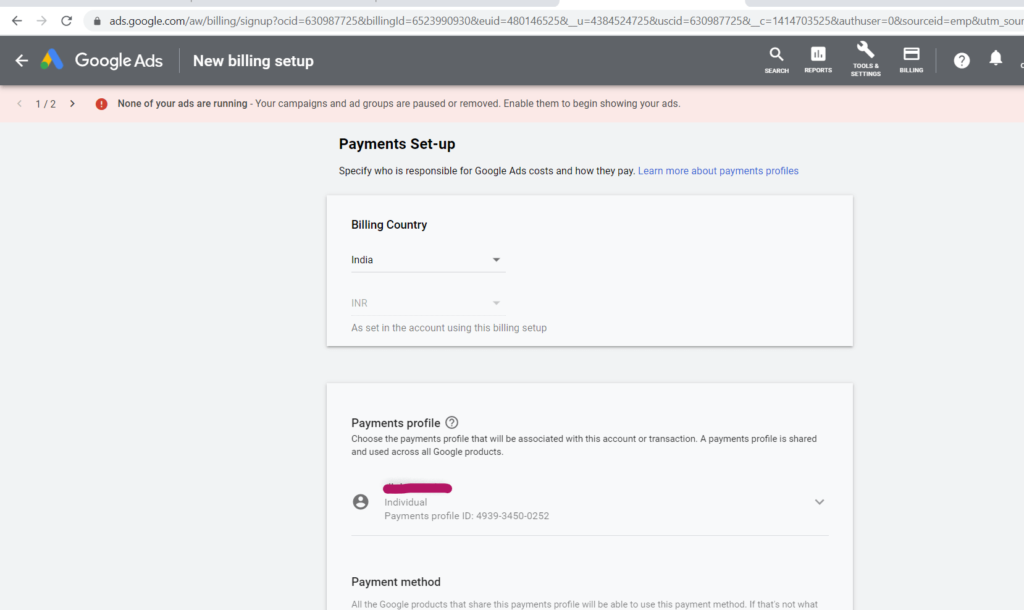 8. Fill up any acceptable amount (more than Rs.500).
You may enter any amount because it's just a formality, and it doesn't count or add up to your payment amount for the first time.
Click on "I agree" after rechecking your selections.
Press on the Submit button.
9. Now, AdWords will ask you to complete this transaction by redirecting you to the bank's page, where you then have to fill out the OTP for this transaction.
But you don't have to complete this transaction.
Remember what we're here for?
We have chosen this method to get free credit and not to pay even a meager amount.
For our benefit, if you don't pay here and first utilize the bonus from GoogleAds.
Therefore, close the pop-up.
10. You will see, this is what your screen looks like after closing the pop-up of transaction completion. That's it, now move to "Promotions" again.
On clicking on "Promotions" on the left panel, you will arrive on the page where you must add your offer/promotional/ coupon code from the email sent by GoogleAds.

11. Paste the copied code from the mail here and click on the "Submit" button to apply the coupon to avail of free credit.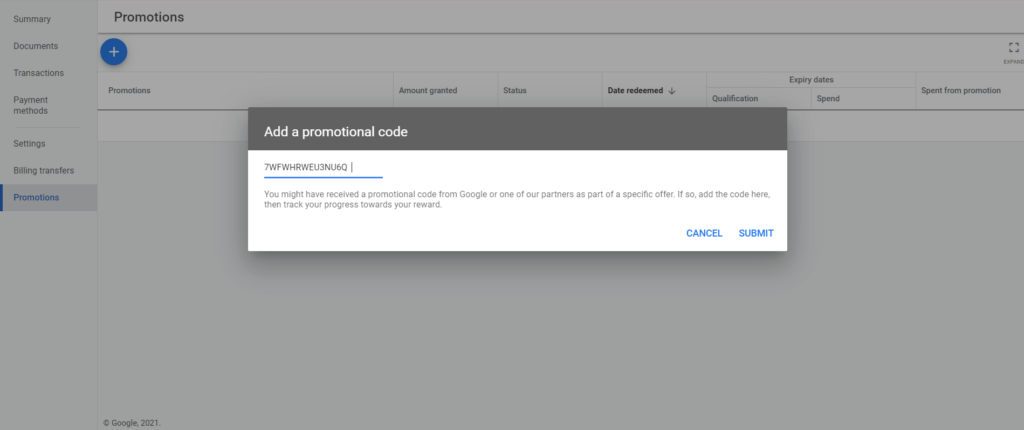 12. Congratulations!
The Rs.2000 credit would have been successfully added.
Let's understand this with an example.
Suppose you have spent Rs.2000 to promote your YouTube Ads; Google will add Rs.2000 more into your account, which you can use again to promote your video or anything you want for free.
Now that you have added the promotional code, there are some more important things that you need to be accustomed to
There are a variety of tools for the best Ad promotion experience on GoogleAds. You can discover them in the "Tools & Settings" option.
Keyword Planner: If you're targeting any specific keyword through your Ad, the keyword planner gives you insights on the Traffic, the competition, and much more.
Read my article to learn about amazing GoogleAds Keyword Planner tool.
Linked Accounts: Go to Linked Accounts and add the rest of your Google accounts to the GoogleAds account.
There are around ten such accounts that can be linked to your new AdWords account.
Choose among the following accordingly.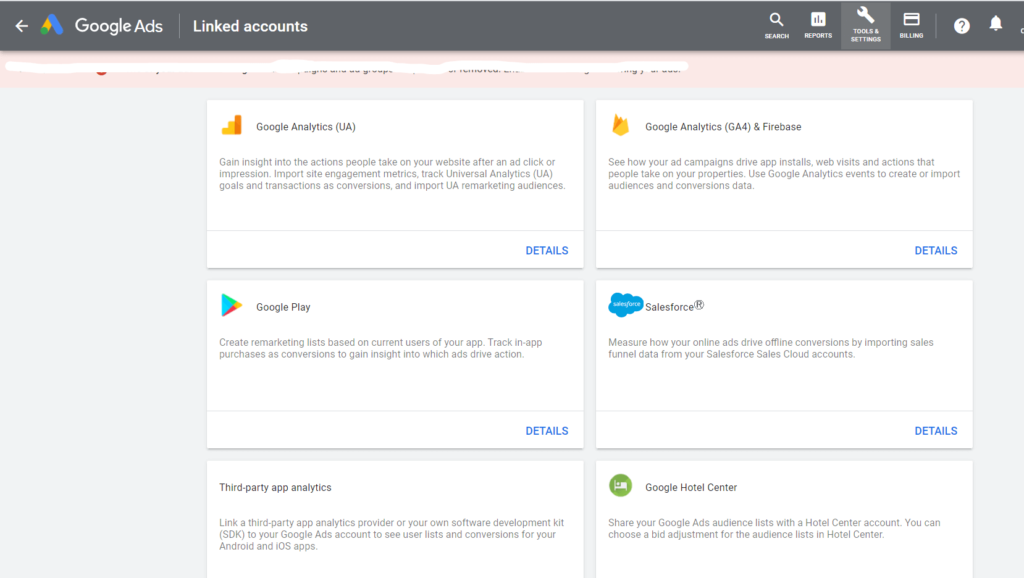 One account that you'll have to add is your YouTube account.
For video promotions, you can directly utilize the free credit that you redeemed.
How to Link YouTube to GoogleAds?
Tap on the "Details" hypertext present at the right bottom.
GoogleAds will ask you a question –
"Link YouTube to Google Ads?"
Confirm and click on "Add Channel."
Hurrah! Your YouTube account will be linked with your AdWords account.
Now, you can directly promote your channel's video from GoogleAds itself.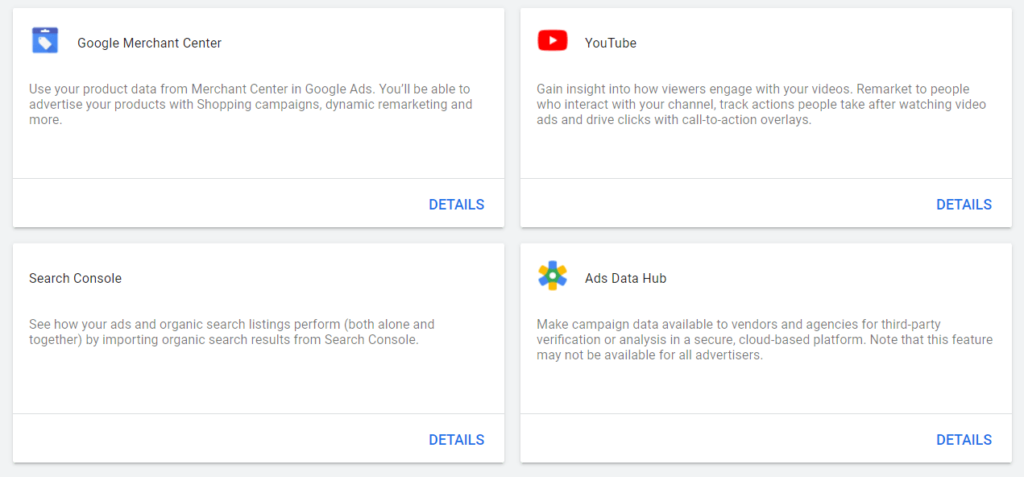 Open "Summary" to choose your payment method again, this time for actual payment.
Out of all the mentioned methods in point 7, I would suggest you go for Credit Cards. There is no necessity or compulsion for choosing this option, but it is preferred over others.
Let me tell you why.
Paytm may sometimes hang in between the transactions and not work correctly.
Google Pay might get tricky in its usability.
Whereas, Debit card is the easiest method to use for adding an amount to GoogleAds.
Note: If you're using a phone (with no availability of Laptop/Computer), then you can enable Desktop Site in Chrome, and you're good to go for AdWords.
You can find the "Google Ads" application on PlayStore, the official Application of Google for AdWords. You can download it and use it on your phone.
Now that you are done with all the steps, you can add your Ad campaign too.
Bottom Line 

    
I wish that you got some value out of this article. Those are the four main ways that you can get ad credit entirely free to your account.
Hopefully, you're able to use these strategies to your advantage.
Whichever one you use, you can be assured that you aren't just throwing money down the drain that you don't ever have to.
Let me know in the comments how it goes.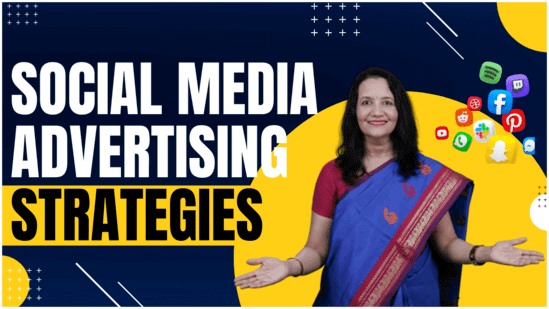 Spread the loveAccording to a study, an average person scrolls close to 300 feet of social media content every day. That's the height of Qutub Minar! Thinking about the amount of time that we tend to spend on social media daily, I find it quite believable. The main idea for social network advertising is to
Read More »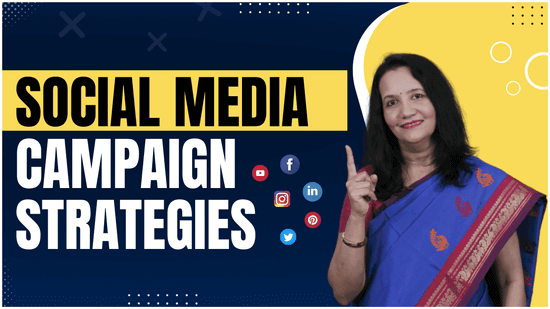 Spread the loveDo you want to create social media campaigns that will make your brand a sensation? Read these five strategies to grow your social media and blow your audiences' mind.Social media campaign is nothing but a series of coordinated activities aimed to promote your product or raise brand awareness in a community. We all
Read More »
Do you want to create excellent landing pages? Do you want to cutdown the cost required to hire a webpage creator. Read the article to know about SeedProd, an excellent landing page builder plugin for WordPress.
Read More »
HERE IS HOW I CAN HELP YOUR BUSINESS GROW
Don't just stand by and watch others make millions! Jump in and leverage digital marketing to skyrocket your business!