Disclosure: Since I am sharing this content free of cost without any paid subscriptions, some of the links in this post might be affiliate links, which won't cost you anything. Although, all opinions and discussions remain my own.
Introduction
Design cap is free Graphic design software that is designed for a beginner or a design-savvy person! You can create beautiful flyers, posters, and banners without having any background related to graphics. Let your creativity be the substratum.
Design cap has thousands of trusted users across the globe. An attractive design will help speak your message out and draw a lot of attention along with excellent results. However, creating a mind-blowing graphic design is not easy as it often requires a lot of time, money, and talent. But the good news is Design cap is engineered to give you a hand. Their mission is to create an effortless process of graphic design as well as reduce costs drastically.
Design cap is determined to provide the best graphic design experience for its users. They offer thousands of high-quality templates, a vast collection of illustrations, stylish fonts, and shapes for users to play around with. If you are an amateur, Design cap helps you create professional designs without any difficulties.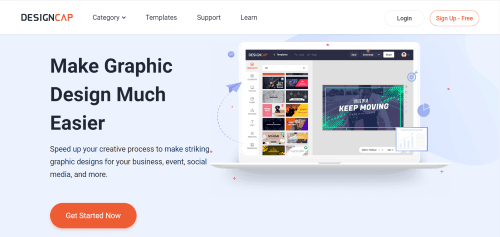 Design cap provides fantastic benefits! If you are a start-up or an agency, you have reached the right place.  Design cap does not require any prior photoshop design experience or expertise. Their drag and drop, readymade templates are exclusively designed for beginners. All you need to do is, get creative and input your content. You can construct posters, flyers, etc., effortlessly. 
Check out Design Cap easy Graphics Design maker
Suppose you own a small business-like service agency, product industry, or looking forward to promoting your events through social media cover for broader reach. In that case, design cap is your go-to tool. You can create mind-blowing creatives with their collection of mind-blowing templates.
I'm sure you are curious to explore design cap in detail. Let's get started.
Background
As a part of my organization's employee engagement team, I was assigned to encourage my fellow mates to participate actively. I used to type huge paragraphs of data along with detailed information about the upcoming events. However, there was very little participation and enthusiasm. While evaluating, I found out that my employees could not collect necessary information from huge data chunks.
At this point, my HR manager suggested me to make digital posters and brochures. Initially, I was doubtful because I had no prior experience with graphic design. I evaluated various tools on the internet. It seemed very expensive and time-consuming. That's when I came across design cap. It was super easy to use. Their pre-designed template helped me drag and drop designs I liked. It was easily customizable and saved a lot of time.
After sending posters and brochures, my fellow employees were very extremely motivated to participate in events. They could effortlessly comprehend important messages from the posters. This method of communication went a long way. Design cap has helped my company and me to increase participation and create enthusiasm.
Check out Design Cap Easy Graphics Maker Online 
I have been using design cap for a long time. These features were my holy grail while creating brochures and posters. Stay inquisitive and read on if you wish to benefit from them too.
1. Thousands of designs
We all love the variety! Ranging from infographics, presentations, flyers, posters, social media graphics, you can choose from thousands of professionally designed templates to make your journey easier. You can easily choose from pre-built templates and designs. Just drag and drop your favorite designs to customize your work.
Check out Design Cap easy Graphics Design maker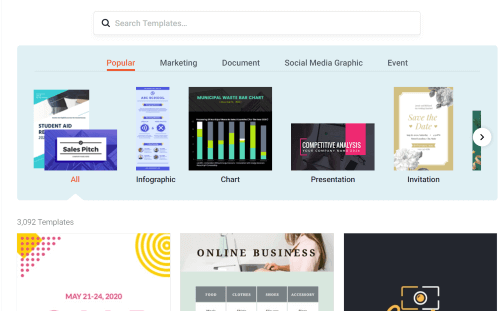 2. Logo maker
Logos are an essential part of your business. Logos help differentiate between businesses and increase customer loyalty. Design cap helps you build your logo from scratch. On the web, you may come across various free logo markers. However, they would put their watermark on your logo and ask you to pay to remove it. However, design cap helps you create your unique custom logo and download them for free, without watermarks.
TIP – if you want to insert an object into your logo, try premium.
3. Visual charts
Huge chunks of data might confuse your business clients and partners. There are great chances your clients may miss out on important information and data. This is when visual chats come in handy. You can turn massive data into a visualized, super cool chart using design cap. You can customize your chat at your will and present data effortlessly.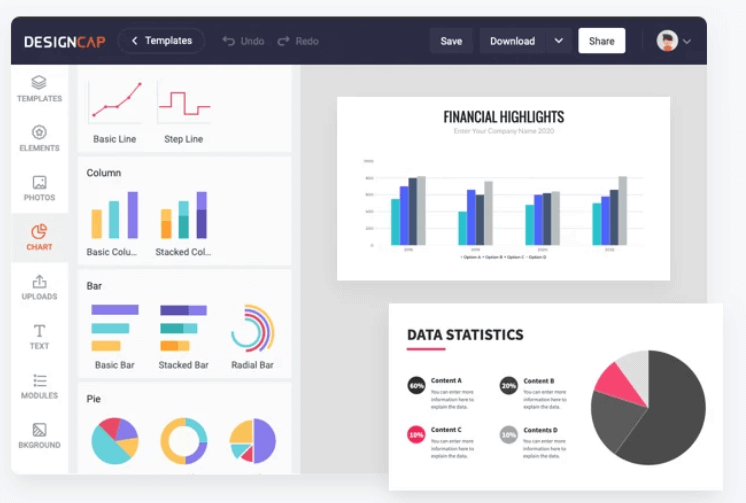 4. Elements
Design cap contains over ten variants of elements to aid your creatives. It includes a badge, decoration, lines, abstract shapes, and many more. Elements help you impressively express your ideas and thoughts. Design cap has a better quality of elements in premium options. You can search the elements regarding your area of the topic. Elements effectively help you to make your contents relevant and meaningful.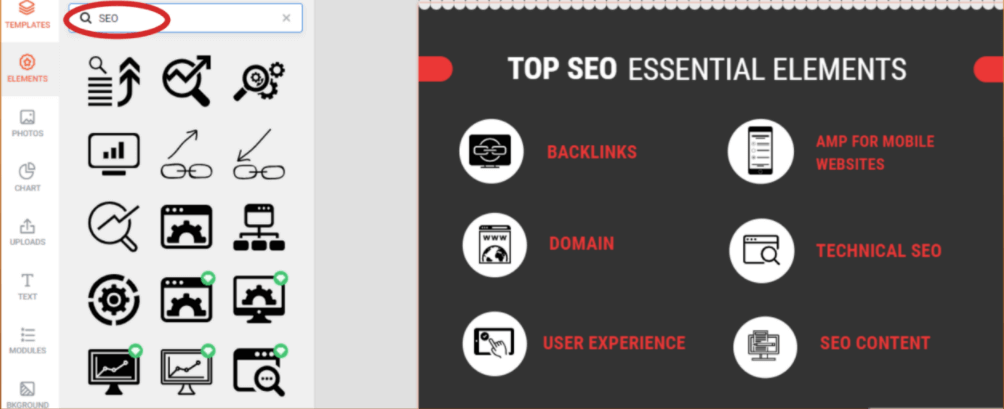 5. Powerful tools
Design cap contains simple and powerful editing tools to customize designs the way you want. These tools are super easy to use.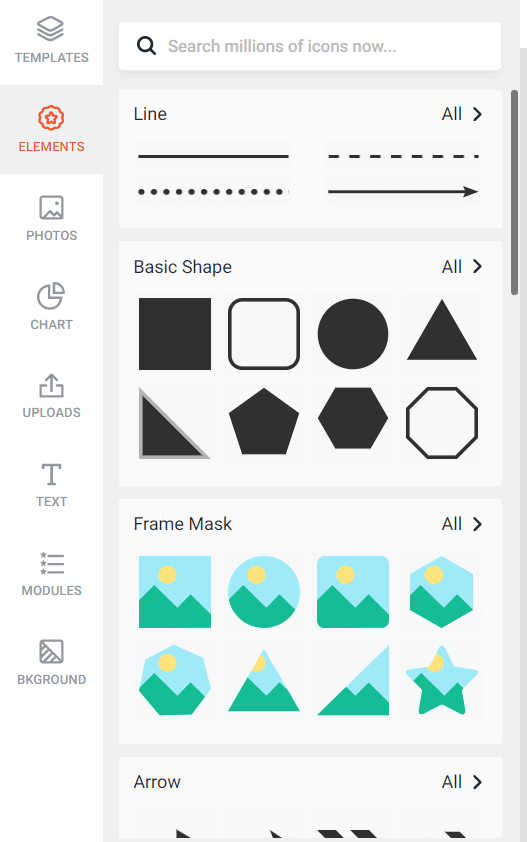 6. Powerful photo editor
If you are building a resume or editing your menu, you can effortlessly use the photo editor tool to edit your photos. You can increase brightness, contrast and change your saturation levels. You can add hues and crop your pictures.
7. Fast and easy
Design Cap's fast and efficient graphic tools will save you many hours in designing your own resume. If you are just new to design, you can make a resume in a matter of minutes without any effort.
8. Modules
Modules help you engage your users on social media platforms with the help of social icons; you can explore other modules like timelines, statistics, SWOT analysis, comparisons, etc., using modules, you can create elegant and useful designs and educate your audience with exact steps and diagrams.

I hope you explore and enjoy these features as much as I did.
After a lot of experimentation, I made a list of how design cap is different from competitors. Here is how design cap stands out –
1. Free and easy sign-up
You can quickly sign up or log in to design cap without any hassles. It just requires three easy steps. They also provide an option for users to sign up through other applications such as Facebook and Google. This requires zero cost.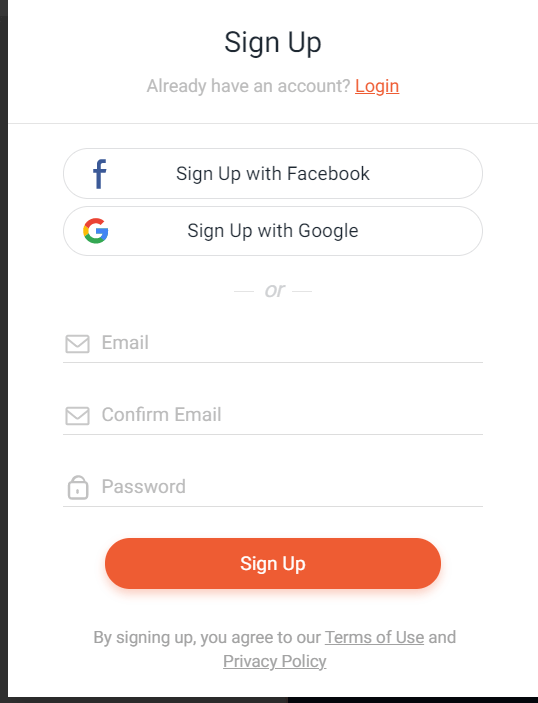 2. Pocket-friendly
Design cap is extremely pocket-friendly for users. Compared to other online graphic tools, it is very cost-efficient. They have various plans to satisfy different user's needs. They have simple plans ranging from free to premium for users to choose from.
3. Languages
Design cap offers eight languages for users to choose from. Ranging from English to Chinese, they have a collection of different languages for users.
On the contrary, these were a few challenges I faced while using design cap. Nonetheless, they had a negligible impact during the process.
Fonts – Although design cap provides various types of fonts, they are limited.
RATING – After a lot of research, I have rated design cap based on many criteria. You can find below my ratings compared to other graphic design tools available online.
OVERALL RATING: 9/10
USER INTERFACE- 8.5/10
EASE OF USE: 10/10
FEATURES: 8.5/10
PRICING: 9/10
Cost-saving is an essential aspect of any business. Investing in an essential tool is design cap is worth it. Design cap provides a lot of benefits for a very nominal amount. If you are a budding professional looking forward to creating an attractive resume, use the free plan. If you own a small enterprise, use the plus plan to create mind-blowing covers, thumbnails, and brochures.
If you are a teacher or a small business owner and require an excellent graphic designing tool for creating printable items, the free plan of design cap is the perfect plan for you. Design cap's strength is its infographics for posters and other printed publications. I suggest you begin with the free version. If you program a lot and would benefit from saving, downloading capabilities, and uploading, then the paid version is instrumental. If you are a budding blogger looking forward to sharing their work on social media, the basic plan is perfect for you.
I have collected information regarding each plan, price, and comparison. Keeping reading and stay curious to find which plan suits your needs!
Prices and Offers
1. FREE PLAN: $0 – I recommend the free plan for users who want to experiment. You can play around with limited templates, limited stock media choices, and JPC exports. It will be useful for creating resumes, cover letters, etc.
2. BASIC PLAN: $107.88 – The basic plan is a cost-beneficial plan to enhance your results. You can unlock features such as unlimited templates, 100 image uploads, unlimited stock icons, etc. The basic plan is best for small businesses, budding entrepreneurs, and freelancers.
3. PLUS PLAN: $155.88 – As the name suggests, this is the best plan for fast–growing businesses and entrepreneurs. Since this plan has a strong business focus, you can avail of features like saving 1000 designs, 1000 image uploads, unlimited templates, unlimited modules, and much more.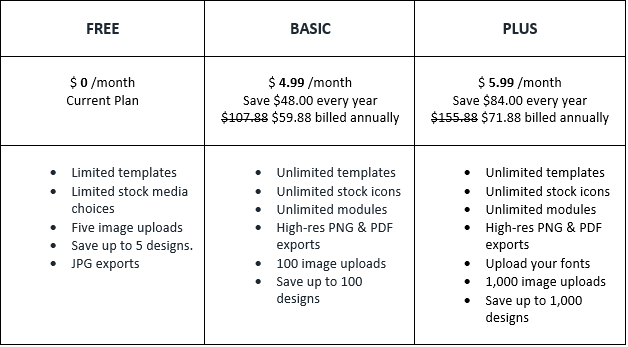 TIP- Use the annual plan to save up to 50%. Plus plan is the most popular plan.
Conclusion
Design cap is one of the best graphic designing tools available in the market. All the tools are effortless to use and intuitive. I never needed to use the tutorials. It was effortless to drag and drop my favorite designs on templates. Design cap is an excellent app for creating graphics for flyers, social media, ads, etc. It is very pocket-friendly for what it offers. If you are interested in a cost-efficient graphics application that's easy to use and provides a lot of benefits, design cap is worth it.
Design cap enables you to create online posters with ease in just three steps. Your posters will look extremely professional. You can create excellent persuasive flyers and posters with various themes, massive element resources, and free templates. It offers professional tools for hundred percent customization such as position, adjusting the size, rotation, changing text font, effect, color, alignment, applying specific background and layers. You can unleash your creativity to create mind-blowing flyers and posters using design cap. It is a free poster creator which does not require any download and registration.
As the saying goes, not all five fingers are the same; whatever plan works for somebody else may not work for you. Be sure to try your hand at everything. After all, experimentation is the key to success. There is always a learning curve.
Although there are many pictures available, there are not as many templates as you might require. The free plan will give you a few new template choices. If you are looking for some fresh and new content to get clicks and action on Pinterest, the free version of Design Cap might work the best for you. Free is a reasonable price.
To sum it up, you can use design cap as a nominal option to support your business or a hobby. It's easy to use, drag and drop, easy to use features have impressed many users. Remember to save some room in your budget for extra costs you are likely to encounter while using design cap. You can choose to upgrade to a high version if you require it.
Check out Design Cap easy Graphics Design maker
I'm sure you have made up your mind to pick your perfect plan that best suits your interest. Make sure to turn your design cap creative design ideas a reality!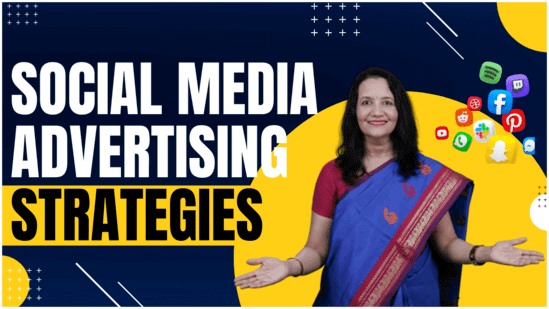 Spread the loveAccording to a study, an average person scrolls close to 300 feet of social media content every day. That's the height of Qutub Minar! Thinking about the amount of time that we tend to spend on social media daily, I find it quite believable. The main idea for social network advertising is to
Read More »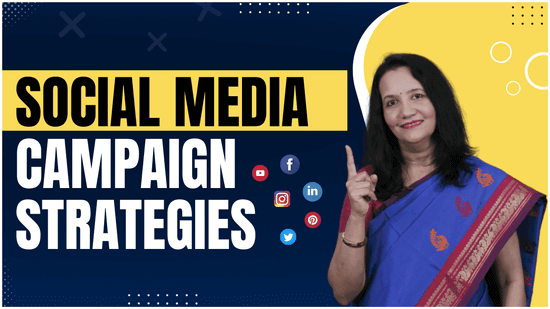 Spread the loveDo you want to create social media campaigns that will make your brand a sensation? Read these five strategies to grow your social media and blow your audiences' mind.Social media campaign is nothing but a series of coordinated activities aimed to promote your product or raise brand awareness in a community. We all
Read More »
Do you want to create excellent landing pages? Do you want to cutdown the cost required to hire a webpage creator. Read the article to know about SeedProd, an excellent landing page builder plugin for WordPress.
Read More »
HERE IS HOW I CAN HELP YOUR BUSINESS GROW
Don't just stand by and watch others make millions! Jump in and leverage digital marketing to skyrocket your business!