DISCLOSURE: Since I am sharing this content free of cost without any paid subscriptions, some of the links in this post might be affiliate links, which won't cost you anything. Although, all opinions and discussions remain my own.
Do you want to make a video for your YouTube ad campaign, a business presentation or a birthday greeting? Or are you a professional video blogger?
If yes, then you have to produce perfectly designed visuals and graphics that can catch the attention of a lot of people.
To do so, you will need some professional tools and a significant amount of investment. Apart from these, you will also have to invest your time, as usually, these tools are not as intuitive to use.
Luckily, some platforms are quite user friendly; one such platform is FlexClip. In this review article, we will take a look at this great online video maker.
Read my article on LogoMaker Review- the best free online logo designing platform.
Know the background
Previously, I used to think that video editing is a cumbersome task that requires a lot of time, investment, and skills. Being a video blogger, I tried to look for some video editing tools and softwares online. After trying a plethora of tools having heavy installation processes like openshot, movavi video suite, Camtasia, and many more, I found FlexClip- a video making software that made my work much easier. Now, let me tell you about my experiences with FlexClip in detail. In this review article, I will explain some of the features of FlexClip that fascinated me and might help you out as well.
What is FlexClip? What makes it a versatile and easy to use video maker?
FlexClip is a best free online video editor that enables you to make personal and professional videos in minutes.
Do you feel that your PC might slow down when you run heavy video editing software?
Yes, that's true. But this is not the case here!
All you need is a reliable internet connection as flex clip is entirely web-based, and it will not rely on your PC's specs. Now let's have a look at some of the exciting features of FlexClip.
Reasons to use flex clip
Many times, we have to upload a photo or video in various forms and websites, but sometimes we get stuck as it requires a particular video/photo format and size.
We have to spend hours looking for video converters online. Some video converters do not provide the required resolution, while others don't allow various formats that we need. In such cases we can resolve our issues in seconds using the following tool.
Feature1: FlexClip's free video converter
FlexClip's video converter is much more than a video converter. Apart from providing various video and image file formats for conversion such as JPEG, MP4, MOV, PNG, WEBM, FlexClip also allows you to select the custom sizes.
Along with an option to reduce the video resolution, you can also customize your videos and images according to a desktop, mobile, or tablet's requirement.
While creating commercial youtube videos or ads, we need some popular music, videos, photos, etc. But generally, copyrighted material is protected, and you cannot use it without permission and payment of royalties.
Feature 2: Royalty-free library
Do you need video footage or want to add background music to your video? FlexClip has a rich content library with thousands of photos, videos, and music that you can add to your content. It is up to you whether you use it for a marketing promotion or a video ad. You don't have to worry about copyrights. The library is entirely free, and it gets regularly updated.

No one likes motionless videos without any effects. Right? To add some flavor to your content, you should try adding some special effects. FlexClip got you covered.
Feature 3: Motion Graphics and special effects
You can add built-in transition effects to your slides and presentations to make them look more continuous. Moreover, you can also include moving images, texts, and shapes using FlexClip's motion effects to make your videos more attractive.
Suppose you want to create a video resume for applying to a new job, you will encounter a ton of doubts- where to start? Which effects to add? Which colors will look more professional?
What if I say that FlexClip has an automatic video creator for professional-looking video resumes and pitches? Moreover, the templates already have infused relevant transitions and stock videos. How satisfying it would be to find such a feature. Your work will be eased manifolds. Right?
This is what I love about FlexClip – templates.
You will get a pre-made video with text compositions, transitions, effects, and much more relevant to the category you want. There are different template categories on FlexClip such as:
Video template for social media: whether you are an influencer or a person who wants to post personal photos and videos regularly, you will require an optimal size and settings that will fit your social media app's feed. FlexClip has readymade social media templates that contain pop-ups, transitions, and music that popular influencers use. Moreover, using FlexClip, you can directly upload your videos on social media platforms like YouTube, Facebook, and Instagram without any hustle.

Music video maker: what all do you need to make a music video? Graphics, music, option to upload own track, inbuilt microphone, and screen recorder can add lyrics and pre-sequenced text boxes. FlexClip's music video templates got you covered. 
Marketing video maker: video advertising campaigns can directly lead to sales and conversions. You can post your video ads on platforms like google and YouTube using Google AdWords. But for that, you need to make a video ad on your own.
Ranging from product launch video to promotional video, FlexClip has a wide variety of marketing video templates. You can make a video ad and post it directly to boost your business instantly. Here, you can learn more about Google Adwords.
Personal video templates: you can always impress your friends and relatives by making a greetings video for their birthday, wedding, or any other occasion. However, this will appear to them as if you have spent hours creating the video for them, but in reality, it is just a task of a few clicks on FlexClip.  
You can boost your sales, increase traffic, and encourage social shares by making review videos on FlexClip
You can make review videos to boost your sales as a compelling video can influence users directly, leading to direct sales and conversions. Moreover, if you post video content on your social media, it will get more likes and shares than any image or text.
But you might be thinking that creating a review video is a hectic task. So, let me tell you that flex clips review video maker offers an astonishingly easy way to create a review video. You can start by taking an inbuilt template. You can get templates of camera review, restaurant review, hotel review, website review, gaming review, and many more. After choosing a template, all you need to do is follow the following three steps that will only take minutes, even if you have no video editing experience. But first you need to create an account on FlexClip.
Step 1: Add media: you have to add videos or photos from your computer to the storyboard. Otherwise, you can add them from the stock library too.
Step2: Customize: you can add texts, voiceover, music to customize your video according to your requirements.
Step3: Export: the final step is to download your review video in any ratio or definition you want and share it.
What I have observed in FlexClip
| | |
| --- | --- |
| Pros: | Cons: |
| A variety of templates are provided readymade with the software. | It does not provide space for videos of more than 1 GB. |
| The software has an in-built audio store, where a wide range of audios are available of different genres, moods, etc so it does not have to be downloaded as in other software. | It does not provide a workspace, so we would have to split it frame by frame, every time we want to add a text or image. |
| Another pro is that it has certain inbuilt features like the like and subscribe buttons, so we won't have to search for it elsewhere. |   |
FAQ: what do the free plan and the paid plans have in common?
They have the same variety and range of templates available.
They both enable cloud-based editing.
You can download and use the video editor offline for free as well.
You will get the same tools and special effects.
You won't get the best video editing software online that provides so much for free.
You can create 12 projects with a video length of up to 1 minute (1 stock video per project) with 480p SD download quality for free using flex clip.
So, why not give it a try?
FlexClip Pricing
Besides the free offerings, flex clip provides three premium paid packages-
| | | | |
| --- | --- | --- | --- |
|   | Basic | Plus | Business |
| Download quality | 720p HD | 1080 Full-HD | 1080 Full-HD |
| Stock videos per project | 1 | 5 | Unlimited |
| Number of Online projects (saved) | 50 | 200 | 1000 |
| Video length | Up to 3 mins | Upto 10 mins | Upto 30 mins |
| watermark | custom | custom | custom |
| Price per month (If billed annually) | $4.99 | $7.99 | $19.99 |
You won't get any flex clip intro in your videos with any of the paid plans.
If you compare this tool's pricing with other similar editing software, you will find it relatively cheap and affordable. To know more about FlexClip and its plans you can visit the FlexClip website now. 
You can always use the free plan of this best editing software and utilize the essential features. But, I will tell you when to purchase the paid accounts:
Basic plan: for those who want to make videos for personal use such as greetings, social media posts, travel notes, etc.
Plus plan: if you are a small business owner who wants to make videos for various ad campaigns, marketing plans, or you are a video blogger, then you should go with the plus plan.
Business: As the name suggests, if you are a dedicated video blogger or you think your company holds the capacity to grow fast, then you should go for the business plan for sure.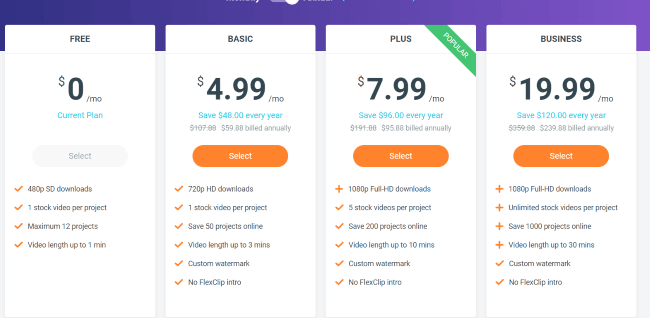 So, out of these which plan will comply with all your needs and requirements? Is there anything else that you need in an online video editor?  Do let me know in the comment section below. 
I have been using FlexClip for a while now to create videos for my social media handles and YouTube as well. According to my experiences, I will rate FlexClip as:
FlexClip ratings
Ease of use: 5/5.
Pricing: 4/5
Basic Features: 5/5
Advanced features: 4/5
Overall: 8/10
Summarizing
FlexClip.com is an awesome online video creator for all-level users. With extensive resources for music, image and video, it's easier for anyone to make short videos for ad, business, graduation, party, festival, holiday, best time, bestie, birthday, etc.
 Important Features in a nutshell
* Vast media library of stock photos, royalty-free videos, and music.
* Comprehensive features including trim, effects, voiceover, and watermark.
* Animated elements: dynamic text, overlays, widgets, logos, etc.
* Screen recorder and video converter supported.
Once you will use the platform you will find it quite intuitive to use. Indeed I would say that FlexClip is the best video editing software for beginners. This means that you don't have to spend time locating the various features, tools and controls, you will become a master in a couple of minutes. Moreover, the ready made templates will fasten your work manifolds.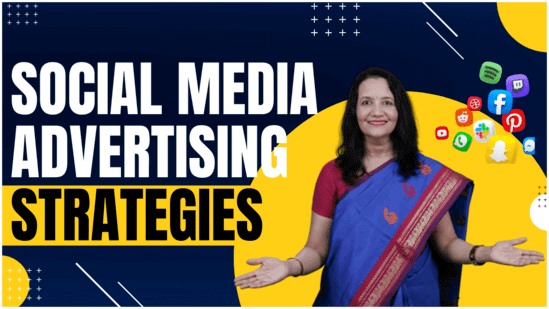 Spread the loveAccording to a study, an average person scrolls close to 300 feet of social media content every day. That's the height of Qutub Minar! Thinking about the amount of time that we tend to spend on social media daily, I find it quite believable. The main idea for social network advertising is to
Read More »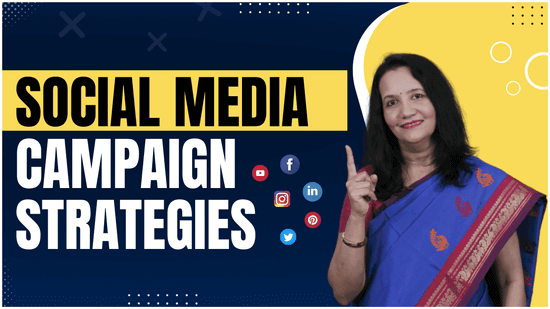 Spread the loveDo you want to create social media campaigns that will make your brand a sensation? Read these five strategies to grow your social media and blow your audiences' mind.Social media campaign is nothing but a series of coordinated activities aimed to promote your product or raise brand awareness in a community. We all
Read More »
Do you want to create excellent landing pages? Do you want to cutdown the cost required to hire a webpage creator. Read the article to know about SeedProd, an excellent landing page builder plugin for WordPress.
Read More »
HERE IS HOW I CAN HELP YOUR BUSINESS GROW
Don't just stand by and watch others make millions! Jump in and leverage digital marketing to skyrocket your business!