The 10 Secrets for Catchy Content Page Design Only A Handful Of People Know
"Jo dikhta h wohibikta h"
Have you ever heard this statement?
Do you know 75% credibility of your website comes from your page design!
A well-executed website is nothing without a good layout and content. And a website with amazing content is nothing without a proper presentation.
These two factors combine to make successful websites with high levels of user engagement, conversion rates, and search engine rankings.
So, you need both.
But are you wondering where to start?
Well, I am here to help you. I will share "The 10 Secrets about Content Page Design" that no one will tell you.
#1 What Makes a Good Homepage Design?
The homepage is like a cover of the book. No matter how clichéd it sounds but people do judge on that!
So, let's talk about homepage content!
The homepage of your website should answer some questions.
 "Who I am?"
 "What I do,"
 "What can you do here."
Businesses need to answer these questions. So that each guest knows they are in the "right place." If visitors can't see what you're doing in seconds, they won't stick around for long.
Read my blog on  Personalize Content to Connect with your audience and build Loyalty
Interacts with the target audience.
The home page needs to be more focused. Talk to the right people in their language. Color creates a first impression.
Do you know why Facebook is blue and Swiggy is orange?
The reason is color psychology. 
Blue stands for trust, peace, loyalty, and competence. And that perfectly justifies the mission of Facebook. The same applies to Swiggy!
The green color is associated with nature, healing, freshness, and quality. So, if you are selling organic products then this color would help you.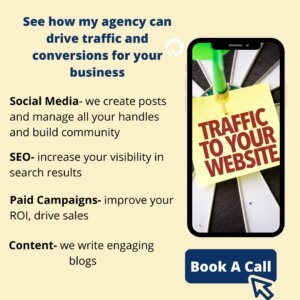 Preparation for use of multiple devices.
All the home pages have a slightly different format on phones and PCs.
 Almost 70% of people use mobile phones for internet browsing. So, you have to be prepared for the mobile version.
Includes call-to-action (CTA).                 
Every successful homepage uses the call to action to guide visitors.
 Examples include                                   
"Free Trial,"
 "Take Demo,"
"Buy Now,"
 "Learn More."
Remember, the purpose of the homepage is to make visitors dive deeper into your website. CTAs tell them what to do next so that they are not frustrated or lost.
Most importantly, CTAs turn your homepage into a sales or marketing engine, not just a brochure.
Changes constantly
Best home destinations are not always sustainable. Some of them are constantly changing.  They reflect the needs, problems, and questions of their visitors. A more dynamic website, the better the hook.
#2 Layout     
Content Page layout helps you determine what content to place on your page, where to place it and what content should be your priority.
You have to maintain a flow in your website which allows the user to navigate easily.
A good layout will give you an extra edge. It will capture the users attention.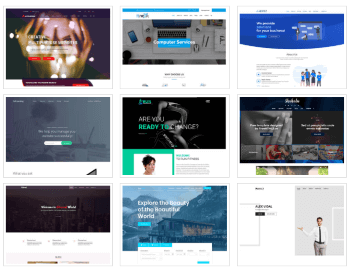 These are some of the popular layouts. All of them are highly visual and attractive.
#3 Where to put what
Let's get started on what to include on the active homepage. The content page format and content page template are very important factors!
What content should I include in the homepage design?
Let's be honest.                                               
How many times have you logged into a website and ended up clicking the "back" button?
Because you couldn't find what you needed in a few seconds?
The fact is that most of us want answers in a few seconds. People are becoming impatient these days.
Your visitors will make a very simple, split-second option when they arrive on your homepage. Stay or go!
In short, the design of your homepage is divided into two parts:
1. Above-The-Fold – the content you can see WITHOUT scrolling down when your homepage is first uploaded.
2. Below-The-Fold – content you only see when you scroll down.
100% of your visitors will see the contents above-the-Fold as shown on their computer screen instantly.
As you scroll down the page, your content should be in order. The number of people who will continue to pay attention to your content has decreased dramatically.
That is why it is important to organize what content your site is up with.
Read my article on A Beginners Guide To Content (Marketing) Strategy
#4 Content Classifications
1. Headline:
What is your company doing?"
A great headline will put forward everything!
So you need to be brief, clear, and explain what you are doing well.
You want your guests to read your article and think "Wow, that's me! I need this!"
2. Sub Headline:
You have the opportunity to explain your product in more detail.
The short description should answer "What problems do you solve for me?"
In one short sentence, it tells you how their product can help you.
3. First Calling Step:
Think of the call-to-action action as a guide.
Road sign informs you that you are still heading east. And you can reach Kanpur by going straight.
We find these signs and arrows very useful in our daily lives.
So, why not use them on your website to guide your audience on what to do anywhere?
Think about it: You find a random restaurant and see a menu at the door. You go inside and see the host standing there. But he doesn't say anything. He does not ask about you. Nor does he try to lead you to a table.
You end up standing there, wondering – "what's next?"
Does that make you feel good and confident about the business?
Does it make the business feel human and exciting?
The key is to actively engage with your guests. Tell them what to do, and guide them into action to start building a relationship with them.
This can greatly increase your chances of winning new customers.
4. Use Photos or Video to Show Your Message:
People are naturally drawn to visuals such as photos and videos. So, it's a great way to create an atmosphere.
It's important to remember to use images and videos that are relevant to your website. If they do not serve any purpose or do not do a good job of expanding your brand or message, don't use it.
5. Logo:
Your logo needs to do a good job of communicating what your company is all about.
It points to the DNA of your business.
6. Navigation bar:
This map you use to show your visitors what's important and where they can go to find the specific information they need.
Only include required pages and do not confuse users with many unnecessary options.
Your visitors will not be interested in pages about copyright, privacy, and terms of service. So, put them somewhere else just like on your footer.
Put all the important links in front where it is easily visible and accessible.
Keep page titles short and defined. Place your navigation bar in a prominent position so it's easy to find.
#5 Making a strong connection
List of benefits

:                       
Here's a general mistake.
Most websites focus on listing multiple brands. Not focusing enough on explaining the potential benefits for potential customers.
The main question your visitors will ask is,
"So what is that to me?"
"Why should I eat at your restaurant?"
 "Why should I use your service?"
Once you get to the website and all you see is a huge list of features. Focus on how your guests will benefit from you.
Be aware that the benefits affect the emotional side of people. Defining benefits does not always have to be a solution to a particular problem.
It can also be encouraging how good it can be to take a road trip with your family in a new car!
Trust:
Confidence indicators can be
customer success stories
customer testimonial
professional verification
media quotes
number of social media assignments
The personalized blurring of your team members to create trust.
People buy from people or businesses they love and trust. So, show that other people like you and your brand. This will increase your credibility.
The key here is to properly integrate your business with people teams. Show that your business is made up of people, not robots.
Trust indicators have great potential to help bring your visitors one step closer to being a customer.
Remember, people like to follow other people. So, when they see others (like them) doing business with you, they tend to follow you.
Why do you think we always look for reviews on different services or products?
 Features list:
The list of features helps your potential customers know what they are getting when they shop.
List the most compelling things your guests will want to have.
One of the biggest mistakes I see people make is that they make a long list of features, such that important ones get lost.
Features may sound interesting. But I might not buy if the features didn't solve my problem.
For example: When I go to a website to research a new car features such as electric power steering is not something that I will be interested in.
Instead, you're sold on features like the infinity moon roof and 10 speakers that surround the sound system. These are the factors that people care about and are the ones that end up selling the car.
#6 Visual hierarchy
Strong visual capabilities make the difference between a website that directs users to the action you want them to take and a site that just looks good.
Humans are the most visible creatures. We often scan the page to see if we can get what we need before we go inside. Be sure that the most important details are visible and attract users to it.
Use the grid
Grids provide a powerful way to make connections between different elements on a page. And gives a sense of order to your page design. The grid shows how everything works on a page and makes sure you use a clear layout to add relevant information.
Read my article about Creative Web Page Design That Can Make Your Business Profitable.
Design of natural scan patterns
There are two important eye scanning patterns that people use to quickly scan content blocks:
F-shaped pattern
Z-pattern
You have a lot of controls where users will look when they scan your page. So, it's important to set the right strategies to follow.
We often come across an F-shaped pattern on heavy websites like blogs and news sites.
The F-shaped pattern is bad for consumers and businesses. This should be avoided.
When users test your website with an F pattern, it means they are showing strong selections on the left side of the page. That means they are missing important content on the right.
To prevent F scanning, you should format the content of your site in a way that directs them to the information you consider most important.
Here are a few ways to guide visitors into reading your most important content:
Enter the most important information in the first two paragraphs
Use topics
Important words or phrases
Add a small amount of related information
Use a numbered alphabet
Strive to do the hard work of your users to minimize distractions and discourage them from taking shortcuts.
The Z-shaped pattern is better suited for sites with less copy and fewer key features designed to capture the user's attention. Landing pages often use a Z-shaped pattern to guide users down the conversion path.
 A Z-pattern design tracks the way a human eye moves when scanning a page – left to right:
First, people scanned from left to right, forming a straight line
Next, down to the left side of the page, form a diagonal line
Finally, turn left again, forming a second horizontal line
When viewers' eyes move from this pattern, they create a "Z" state of mind:
Point 1: is the first place for a spectator trip. It's a great place for your logo.
Point 2: Place the objects you want the reader to see first above the Z-axis. The eye will follow the top line of the Z. So, the goal is to place your "calling" at the end. Put a lot of visual weight in the Point 2 element.
Center Page location: The trick in this area is to fill in the content that will keep the user interest. But it will not interfere with further scanning.
For example, you can use the hero image at the center of the page to distinguish upper and lower areas and direct your eyes along the Z path.
Point 3: The purpose of Point 3 is to guide users to the last call that will work in Point 4.
You can use Point 3 to provide the benefits of using your product or other useful information for your visitors that will help them create context.
Point 4: This is the finish line. The line between it and Point 3 should contain content that emphasizes user visibility in the corner. Point 4 is the perfect place for your CTA.
Where to use it?
Small pages or landing pages that include one or two key elements can use the Z pattern to make the page scanning process much easier for site visitors.
How to use it?
Before you start designing page layouts it is important to find the answer to the following questions:
When a visitor arrives on the page what information do you want them to see first?
What do you expect users to do on the page?
The layout of the Z structure is simple:
It puts the letter Z on the page. Ideally, you want people to see your most important details right from the start.
Therefore, priorities should be set aside for the scanning process. Visitors should be presented with the right information at the right time.
#7 Use animations
Who doesn't love animations?
It not only makes your website lively but also makes it attractive.
It works even better if you are targeting kids or teenagers. That is the reason, most educational websites include animations.
So, design your page with some animations to gain more attention.
#8 Avoid carousels and rotating sliders
Companies love them.
But there is a problem with the slideshow of the home page. Visitors can only see the first slide.
There have been many studies that come to the same conclusion. The messages on the following slides are very unlikely to be seen and that makes them impossible to click.
So, what should you do?
Stack slides: So that the visitor can see slides by scrolling down. Soon they will be very visible.
Use the embedded image: Use the most influential slide as a hero. Give it a great call to action!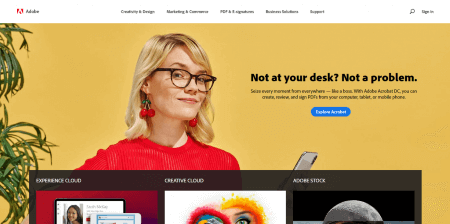 #9 Avoid tabs
Here's another way to get rid of clutter: avoid tabs and explicit content boxes.
Make your content visible to users by keeping everything displayed. No need to click to reveal something.
Remember, scrolling is faster and easier than clicking. If visitors have to browse and click or tab to view something, they are less likely to see it.
#10 Test Early, Try often
This process called TETO-code should be applied to the entire web design project. Usability tests often provide important information on issues related to a given structure.
Some important points to keep in mind:
According to Steve Krug, testing one user is 100% better than no one.
Testing one user at the beginning of a project is better than testing 50 at the end. Boehm's first law, errors are more common during construction and are more expensive when they are later removed.
Testing is a complex process. That means designing something, testing it, fixing it, and testing it again. There may be problems not detected during the first session as users are blocked by other issues.
Regular usability testing produces useful results. You will either be identified by the problems you are having or you will be identified by the absence of design errors. 
An engineer is not allowed to test his code. This holds true for designers as well. After working on the site for a few weeks, they will no longer be able to view it from a new perspective. You know how it was built and therefore you know exactly how it works. 
So use independent visitors to your site for feedback.
So, keep testing and keep improving.
Do tell us about our page design and give suggestions in the comments box. We would love to hear from you!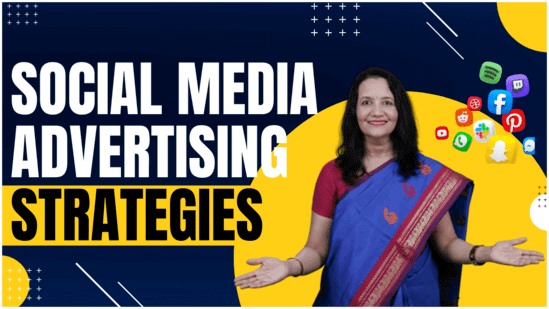 Spread the loveAccording to a study, an average person scrolls close to 300 feet of social media content every day. That's the height of Qutub Minar! Thinking about the amount of time that we tend to spend on social media daily, I find it quite believable. The main idea for social network advertising is to
Read More »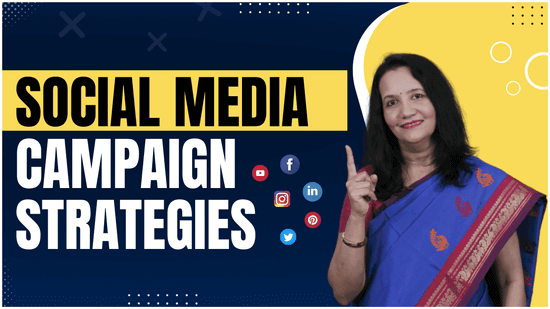 Spread the loveDo you want to create social media campaigns that will make your brand a sensation? Read these five strategies to grow your social media and blow your audiences' mind.Social media campaign is nothing but a series of coordinated activities aimed to promote your product or raise brand awareness in a community. We all
Read More »
Do you want to create excellent landing pages? Do you want to cutdown the cost required to hire a webpage creator. Read the article to know about SeedProd, an excellent landing page builder plugin for WordPress.
Read More »
HERE IS HOW I CAN HELP YOUR BUSINESS GROW
Don't just stand by and watch others make millions! Jump in and leverage digital marketing to skyrocket your business!