Quickly learn how to create, use and benefit from Facebook Messenger chatbot. By adding Messenger chatbot to your business, you can reach globally, promote your products, and increase sales.
The holiday season is coming up, and everybody is looking for the perfect gift. If you own a Facebook business page, that time of the year has always meant more customers, more money, and more work for the support teams. It's going to be even more challenging this year since most of the customers are shopping online.
Since it's a tedious task to attend to every customer, companies often use chatbots to answer questions, showcase products and services. Implementing and maintaining chatbots are inexpensive and saves time. If you own a business page on Facebook, looking forward to incorporating messenger chatbots, stay inquisitive and read on.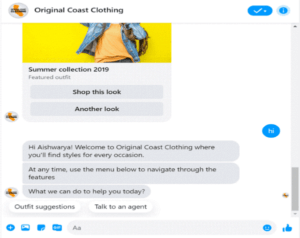 We live in a golden age where promoting a business is easier than ever using social media. Facebook, the 3rd most used application globally, has the perfect customer base to flaunt your products. If you make beautiful handcrafted jewelry or bake customized delicious cakes, this is the perfect time to incorporate Messenger chatbot into your business. Let's get started!
But the crucial question here is, how to create a messenger chatbot? Do you require coding skills?
Imagine walking through a kitchen you've never cooked in before, but you know where all the ingredients are. It is that easy!
Creating a messenger chatbot requires only ten minutes of your time. Easy isn't it? You don't require any coding skills. Let me walk you through easy steps to create your own custom messenger chatbot.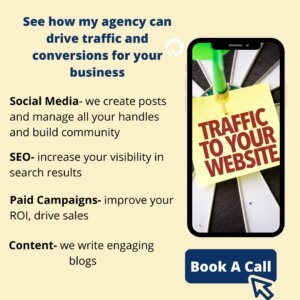 STEP 1 – Connect your Facebook account to Chatfuel chatbot builder.
This step is effortless. Log into Facebook on your browser you wish to connect with chatfuel. Then click on the "get started for free" button right on the chatfuel homepage. It will display a Facebook connection page, enabling you to give permissions to chatfuel to see your Facebook information.
Once you authorize it, you'll be taken back into the chatfuel chatbot builder. Now select the Facebook page you wish to connect to.
STEP 2 – Connect directly to your Facebook business page.
To enable a chatbot, you must have an existing business account. If you don't, it's super easy to create one!
As an alternative, click the "Create a Facebook page" option in the chat fuel interface to set up your Page.
TIP – Setting up a dazzling Facebook page is an essential step to gain a potential customer's trust. Hence, it would help if you did it in the right way. I recommend you to log into Facebook, create a page and then come back to Chatfuel.
Once you have a Facebook page, select it, and we're on the way!!
Watch the below video to know how to leverage Facebook business page for growth.
STEP 3 – Glimpse through the in-app tutorial
After connecting your Page, you will be taken into the actual chatbot builder. Chatfuel offers detailed tutorials and guides for beginners.
An expert was once a beginner. So, I recommend you take some time to go through their tutorials. This background knowledge will enable you to discover unknown features and help you on your way.
STEP 4 – Create an eye-catching custom welcome message and default answer.
Creating a custom welcome message is the most exciting part of this process!
I recommend you to add a quick greeting that introduces the chatbot and then asks – "Hello X, how may I help you today?"
Along with this, create a default message displayed in case the user types in a message that you do not have AI detection set up for.
For instance – "I am not sure what you are asking. Maybe some of the options below can help you". Link your default messages to your navigation items. 
At this juncture, you have two options:
A navigation type-driven conversation
AI set up to guide the conversation.
TIP – Since this is your first interaction with your customers, make sure your message is as humane as possible. Make sure you add a human touch by using Emojis or Greetings.
STEP 5 – Create your conversation navigation
During this crucial step, you will be building your conversation navigation, where an individual will work with your chatbot.
Let me give you a quick example to understand how your audience will find answers to questions. In the example, a potential customer has a few inquiries about booking a customized cake for her son's first birthday.
Here are a few questions we will program the chatbot to answer –
Do you bake customized cakes?
Are your cakes eggless?
What is the price range of your customized cakes?
Do you offer any discount?
To set up the actual navigation, you must build a new block for each question.
STEP 6 – Link the custom blocks to the main navigation
Revert to the welcome message and select the "add button" option on the message block. Submit details like a name – what you want a user to view in the first field. In the next section, choose "block," you can select the block you would like to take the user to.
You can also link to:
TIP – A chatbot works best when it is conversational. So, keep it short and sweet. Add only a few options per question.
STEP 7 – Put in your chatbot script

You can create dialogue or content that is displayed when somebody asks a specific question. You can select a block from these options –
Text
Typing
Quick Reply
Image
Gallery
Go to block
To sequence, etc
STEP 8 – Create your AI
Once you have built out your content blocks, chose the "Set up AI" link on the left side. Here you can brainstorm all the questions and set up answers. The answers can be a new text you enter at this point, or you can redirect them to the blocks of content you have previously entered.
STEP 9 – Launch and triumph!
This is the last and final step – your chatbot is ready for action!
As you build your chatbot, Chatfuel is saving your changes immediately.
At this stage, you can receive the link and put it on your website, online ads, or Facebook page.
You can do this by choosing the "Promote" Page in the navigation menu and copying the URL displayed at the Page's top.
Share this URL generously!!
Hurray! You have created a customized Messenger chatbot perfect for your business.
To emerge from the covid cocoon and take my mind of work pressure, I decided to help my friend by creating a  Facebook Business page for him. Since he stays next to a vintage furniture store, he decided to source furniture, refurbish and sell it online for a reasonable price.
As soon as he started posting pictures of my work, he received many positive comments from Facebook users. He was pleased to reach around 5k followers within six months. Soon after this, his DM was stormed with questions and inquiries. His customers were unhappy and disappointed with late responses because he was unable to respond to every customer. He lost a lot of potential customers and followers because of this situation.
He sought my help. After a lot of research, I found out the root cause of the problem. His customers had basic inquiries about his Page. Because of delayed responses, customer loyalty went for a toss. I then suggested him to use Messenger chatbot, and it was beneficial. It saved him a lot of time and boosted his sales.
These were the many ways Facebook Messenger helped me. I hope you benefit from it too –
Read- Review of Live Chat- an online chat software
Increase Sales
A picture speaks a thousand words. Use Messenger as a medium to showcase your beautiful handcrafted jewelry or a custom summer look. As customer loyalty increases, so will your sales.
Customer support 24/7
Facebook Messenger bot offers 24/7, 365 days of support whenever you need it. A Facebook chatbot is like your assistant who is ready to answer questions at any time. Messenger chatbot provides quality service quickly.
Boost customer engagement
You can set up interactive greetings design, provide a product tour, display best-selling items, connect a customer to the sales team, and much more. You can keep your customers up-to-date when you are introducing new products and features.
I'm sure you are thrilled to incorporate Facebook Messenger bot after reading about the extraordinary benefits it provides!
As the name suggests – Messenger chatbot interacts with customers regarding special offers and recommends your best sellers. It does the job of a sales personnel without costing a single penny. Let me tell you how Messenger connects with your customers –
Watch the below video for advanced tips on Facebook Marketing.
Chat plugin
The chat plugin enables you to integrate your Messenger experience directly into your website. Chat plugin helps customers interact with your business anytime using the same customized, personalized, and rich media experience they receive in Messenger.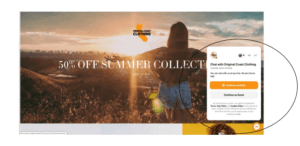 Facebook page
Make it effortless for people to reach out to you by simply adding a 'send message' call-to-action to your page posts or Page. To add a CTA button to your Page, you will need to be an editor, administrator, moderator, or advertiser.  CTA buttons can help your customers:
Shop
Start Food orders
Book a service
Contact you via email or Messenger or by Phone or website.
Ads that click to Messenger
As a business owner, you can use ads that click to the Messenger to start conversations at scale, leveraging Facebook targeting to find customers relevant to your business. Whether the goal is to raise awareness of brands or products, generate leads, or drive sales, you can tailor conversations in Messenger to meet your specific needs — driving business outcomes one conversation at a time.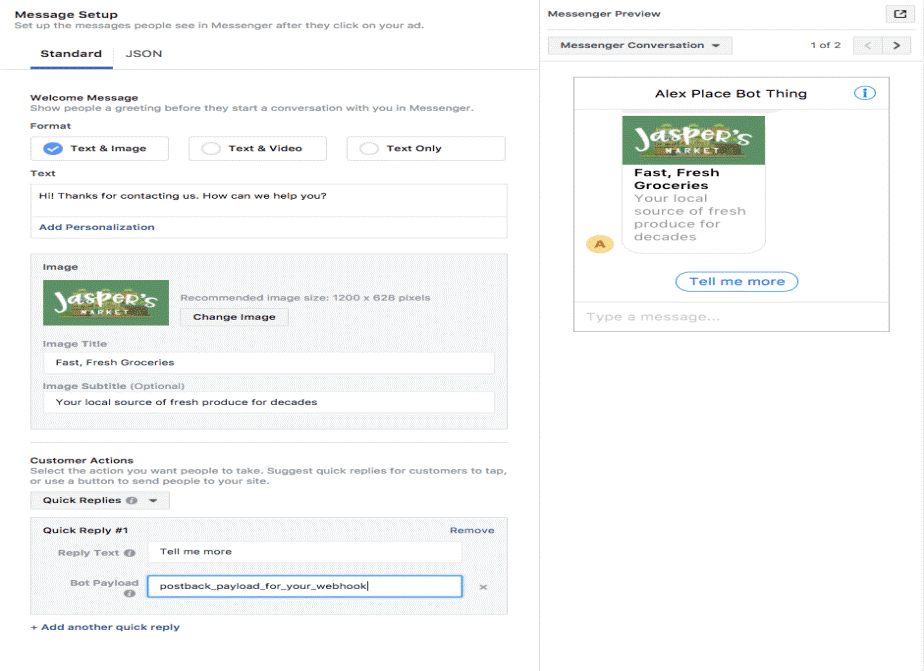 N.me links
M.me is a shortened URL service operated by Facebook that redirects users to a page, person, or conversation in Messenger. You can use them on your newsletters, website, email, and more.

When a user starts a new conversation or continues an existing conversation with your Page through a m.me link, the following message will appear in the conversation:
"You have entered this conversation by following a link. We've let PAGE_X know you're here."
QR code
M.me links with ref parameters can be easily embedded into QR Codes. QR compatible codes can be scanned with a phone's native camera. When scanned, they will open the Messenger app and the message thread with the Page.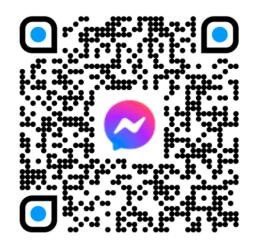 In 2016, Facebook allowed developers to place Messenger chatbots on their platform. Messenger chatbot has come a long way since then.
Messenger chatbot contains excellent features that increase your online business sales 2X times. These features help you boost your workflows including:
Omnichannel
At this time and age, people engage more in messaging applications and social media. This means your business needs to engage with your customers where they prefer to communicate. Messenger chatbot helps to communicate with buyers across multiple channels. These channels can interact with each other.
Discovery
Once you established a presence in Messenger, there are many ways to expand and reengage your audience. There are options like ads, sponsored messages, chat plugin, and much more, making it easy to start conversations from ads, email communications, website, or offline media such as in-store signs and fliers.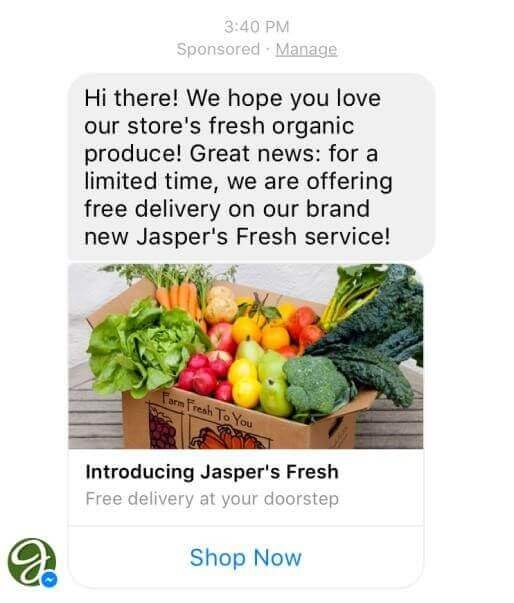 Chat extensions
Chat Extensions enable bots to provide interactive and social features that you can invoke directly into your conversations. Chat Extensions appear in the composer drawer in Messenger once a user interacts with the associated bot.
Built-in NLP
Natural Language Processing enables you to extract and understand meaningful information from people's messages. This information will identify intent, automate a few replies, route the conversation to a human, and collect audience data.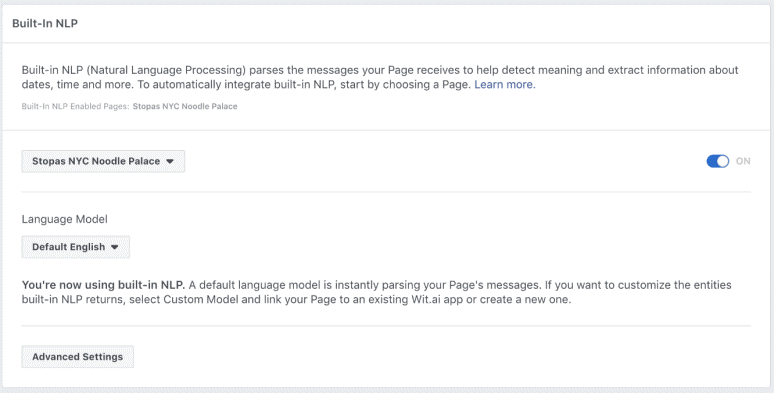 Teachable
Facebook Messenger Chatbot does not require too much technical expertise. You do not have to know a lot of coding to train messenger chatbot. You can effortlessly train your messenger chatbot to interact with customers.
Read my article to know Awesome strategies that will rock your Facebook marketing.
AI
Since Messenger chatbot is AI-enabled, it is more likely to give precise answers. They have conversational flows to customer inquiries. They trigger actions and also know when to hand over the chat to the sales team. These features ensure smooth communication flows between your business and customer.
A great messaging experience comes from the ability to convert your chatbot conversations to sales. A great messaging experience is a result of timely and relevant conversations. Always prioritize conversations started by people and related follow–up enquires and communications.
To help your business's sales and conversation, here is a list of tips I have made on the best practices to adopt while designing a messenger chatbot –
Respond quickly
Potential customers expect your business to respond quickly and provide timely updates. There is a solid correlation between responsiveness and successful business outcomes.
Short and sweet messages
Communication is vital! Hence, make sure your key points are precise and timely. This will align with the user's expectations and increase readability. Short and to the point messages can be read in message previews too.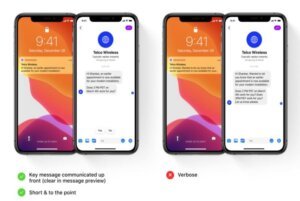 High-value messages
There are options to send messages outside the standard messaging window. Here is how you can use them effectively:
Message tags – Use tags to send timely, personal, and important messages. As a business owner, you can use tags to send post-purchase updates, send account updates, confirmed event updates, and even human agent responses.
Notification – One-time notification allows a page to request a user to send a follow–up message after the 24- hour messaging window has finished. You may want to prompt users to interact with your notification to restart the standard messaging window.
Sponsored messages – You can use sponsored messages to broadcast your promotional updates to customers you have interacted with in Messenger. Sponsored messages support Facebook ads targeting and contain built-in integrity controls to help you safeguard the Messenger user experience.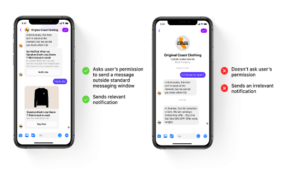 Customer value > everything
It is crucial to ensure your messages communicate customer value. Sending low-value messages makes it more likely that customers will block messages from your business. It would be best to consider adjusting push parameters for valuable messages that do not require immediate action.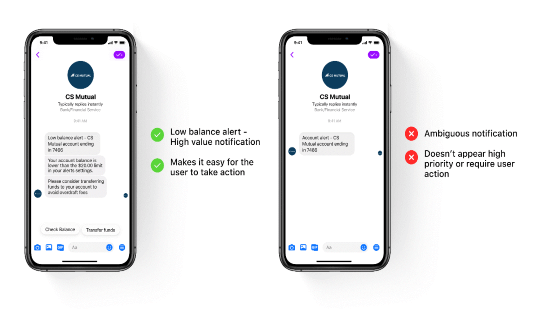 More options, the better
Customer is always the king! Giving your customers control over the content will increase customer engagement. For instance, you may allow your customers to choose specific types of post-purchase updates or account alerts.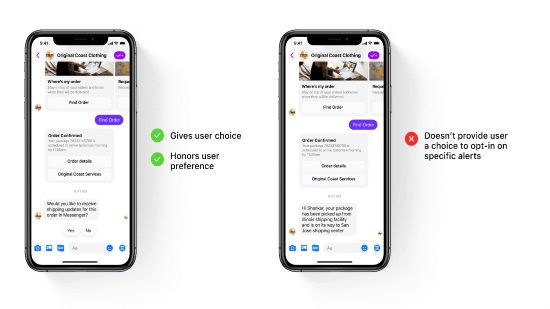 Following these simple guidelines will ensure your businesses' messaging efforts to be effective and drive high outcomes while providing customers with valuable and pleasant interaction experiences that encourage them to continue engaging with the business on Facebook Messenger.
Facebook Messenger Analytics
Once you launch your Messenger experience, there are many ways to collect valuable insights, data, and analytics on how it is being utilized and what your potential customers on Messenger think about it.
As a business owner, Facebook Analytics is an excellent tool you can use to understand your audience and optimize your apps. It supports Messenger too!
Facebook Analytics helps you to view detailed demographic information about your users. Keep reading and stay curious to know more!
Page Insights
Page insights help you check your spam and block rates. I advise you to keep them low by shifting your focus to a good user experience. You can view your Facebook page and check messages under the insights tab.
Insight's data
You can easily export your analytics data by switching to App Analytics under the messenger tab. But this activity is restricted to the admins of the app.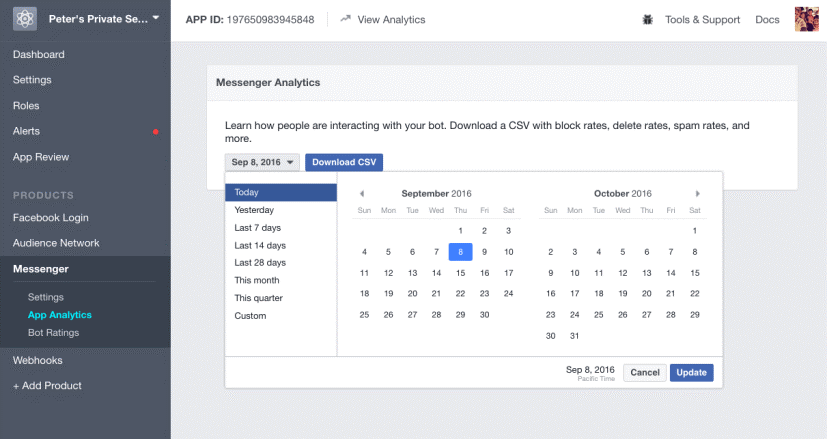 Third-party analytics services
You can consider integrating your existing provider with Facebook Messenger. Since most analytics providers allow you to create server-side events, these can also be used to measure engagement, retention, errors, and other metrics essential to your experience.
Conclusion
To conclude, Facebook Messenger chatbot is one of the best software that your business needs right now. It works very well, and I thoroughly enjoyed using it for my business.  Messenger chatbot provides excellent benefits and features for various businesses for better sales and customer service.
It is a fact; the customer is the king, and customer satisfaction is one of the most important things to ensure a business goes a long way. Messenger chatbot helps you to increase sales and traffic and offers customer satisfaction. It is one of the highly-rated software, which has thousands of trusted users all over the world. It is a combination of excellent features with minimal cost and outstanding benefits. It is super- beginner-friendly. This means you don't have to spend a single minute trying to code or hiring a builder to do it for you. If you don't know where to begin, they will guide you in a detailed manner.
I hope you find this Facebook Messenger Chatbot a helpful article. If you have any queries or comments, please feel free to comment below.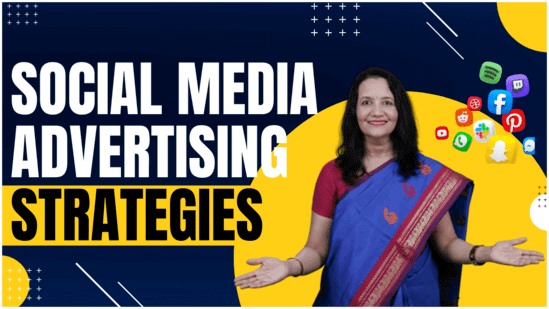 Spread the loveAccording to a study, an average person scrolls close to 300 feet of social media content every day. That's the height of Qutub Minar! Thinking about the amount of time that we tend to spend on social media daily, I find it quite believable. The main idea for social network advertising is to
Read More »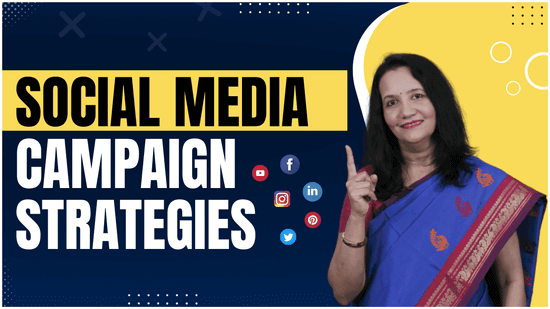 Spread the loveDo you want to create social media campaigns that will make your brand a sensation? Read these five strategies to grow your social media and blow your audiences' mind.Social media campaign is nothing but a series of coordinated activities aimed to promote your product or raise brand awareness in a community. We all
Read More »
Do you want to create excellent landing pages? Do you want to cutdown the cost required to hire a webpage creator. Read the article to know about SeedProd, an excellent landing page builder plugin for WordPress.
Read More »
HERE IS HOW I CAN HELP YOUR BUSINESS GROW
Don't just stand by and watch others make millions! Jump in and leverage digital marketing to skyrocket your business!