With social media platforms, people have multiple alternatives. Most of us started with Facebook, then few who got bored went to Instagram and now those who have more time to waste turned to TikTok. LinkedIn, Quora, Snapchat, Pinterest are a few of the other successful social media platforms started in the last 15 years. But even today (as of April 2020), Facebook has managed to retain its top spot as the most popular social media platform since its beginning in 2004. 
Over the years, it has grown to become a virtual home to billions of people, even giving you hundreds of friends, most of them are just to increase your count. Today, there are over 2.45 billion monthly active users on Facebook. Of these, 1.66 billion users log onto Facebook daily. Users spend 38 minutes daily on Facebook, leaving behind Instagram (28 minutes) by a significant margin. 
When any platform has such a vast user base and massive user engagement, then it becomes a hotspot for businesses to market their products as well as for the platform to generate revenue. 
And same happened with Facebook. At present, over 3 million companies from all over the world advertise on Facebook. But as you know, Facebook is a US-based company, so are all the companies advertising on Facebook from America? Around 70% of companies are from outside the US. 
So, before you move ahead, you must know the country-wise demographics. India accounts for over 334 million Facebook users, who are approximately 24% of our entire population. For every four people in India, one has an account on Facebook. That is just magnificent. Home nation, the United States follows India with over 220 million users. Europe, has around 387 million users. So, you will get users from all over the planet. And with such a diverse audience on a single platform, it is the biggest hub for social media marketing.
If you are interested in doing marketing on Facebook, you must have a planned Facebook marketing strategy. You can't just post any photo or video randomly. The basic strategy for Facebook marketing includes
Create your Facebook business page.
Set your goals for Facebook marketing.
Whether you are aiming at brand awareness or sales generation, your goal must be clear. According to Sprout Social, marketers on Facebook had the following objectives set for marketing on Facebook.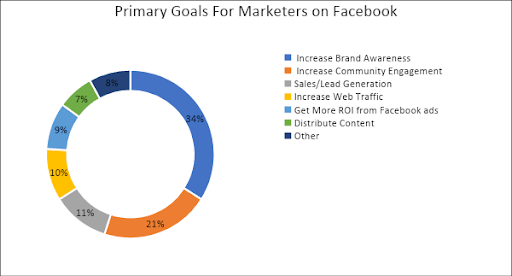 Know the Facebook audience
You must analyze demographics based on gender, age-group etc. India has around 77.8% male and 22.2% female Facebook users. Below is the chart; you can see the age-wise distribution of Facebook users in India. 
You can get more familiar with Facebook demographics either using Facebook Insights page or a tool like Social Sprout. For hidden tricks, just check my blog Powerful tips to crack targeting in Digital Marketing.
Check out my article on Creating a facebook messenger chatbot.
Create and Plan your content
This is the most crucial step in this whole process. The outcome of your marketing efforts will depend mainly on content creation and presentation. To receive a maximum response from users, your content must be engaging and must be presented to them in a more attractive way.
Track, Measure and Analyze your results
Once you post any photo, video or link from your page, keep a check on its reception by the audience. There are several ways to measure the result. The number of impressions, likes, shares, and comments, clicks to the link, etc. are a few of such techniques to analyze every post. And often keep on asking a question, "Is this result on its way to fulfilling the goals you set"?
These steps are like a fundamental structure or a skeleton of your complete strategy for Facebook marketing. Bajirao Mastani didn't become such a massive hit by merely casting Ranveer and Deepika. To excel in this process, you need to do some extra work.
Here is the list of 18 best and proven Facebook marketing strategies for every business to make the most out of Facebook: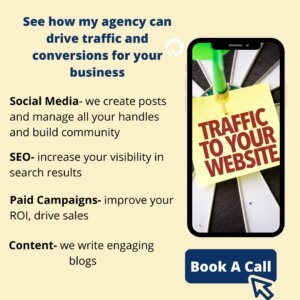 1. Link your Facebook business page to your website
Once you have set up your Facebook business page, an easy way to gain traction is driving traffic visitors (from your website) to your Facebook page. Often people in need search for products or services on the internet and if you have an active website, they may land on your site, which may increase your traffic. Giving these visitors further opportunity to connect with you on Facebook may convert them into your customers. Also, driving traffic to your Facebook page will improve your reach among the Facebook community.
2.  Use a wide variety of demographics to know your audience
A website like Social Sprout gives you insightful information beyond gender and age. It shows you the demographics of income and education. It will help you identify the purchasing capacity and literacy of the audience. Besides, it even indicates the location: urban, suburban, and rural. Use this data to design your posts to maximize your reach on the platform.
3. Expand your content creation capacity
Try to create as much content as possible. But while focusing on quantity, don't compromise with the quality. You need to turn to a content machine. The instant you stop creating content, your competitor will take advantage of this shortcoming.
The rule is simple: more articles, videos, images, podcasts etc. you create, more material you will have to share on Facebook and eventually a higher number of posts will result in more views, likes, shares and user engagement.  This will lead to more reach among the audience and will ultimately contribute to the success of your business. Don't expect more traffic or sales, if you publish content occasionally.
Looking to build an effective launchpad for your business? here are 13 tips to build a landing page that converts
4. Follow Social Media's "The Rule of Thirds"
In 2019, Facebook reinvented its News Feed algorithm. This new algorithm gives priority to interaction with family and friends over brands. Due to this change, it has become difficult for businesses to show their promotional content to the audience. So, you can't just put only promotional material on your page; you must have a content of the perfect mix. So, when you want to establish a balance in your content, 'The Rule of Thirds' comes into the picture.
It states that,
1/3 promoting your products or services.
1/3 sharing recent news of your industry and information you believe could be beneficial for your followers.
1/3 interacting with others.  
Indian Hotel Chain, Oyo Rooms promoting itself and at the same time giving information about offers available.
5. Use different types of Posts to reach out to your audience
I know I just asked you to maximize content creation, but a small menu wont attract even the most undemanding of foodies. There are multiple type of posts available on Facebook, each having its own merits and situations to use.
Text
It is the most basic and easy to do post. It will not help you widen your reach or increase your followers, as it is an outdated tool. But, text posts are capable of bringing excellent user engagement on Facebook. You just need a good number of followers or friends on your page. Instead of writing an essay in your post, just write 2-3 lines in the form of an interesting question seeking suggestion or opinion of users. If your users find your question interesting, thoughtful or entertaining, most of them will express their views. 
In the screenshot above, a thought-provoking question by SRK to the audience to promote his new TV show received over 2500 comments and around 29k likes. 
Image/Photo
Obviously, in today's date, photo or image posts on Facebook are more appealing than the plain text posts. Using an image, you can directly show your product to the customer with a more visual appeal and eventually help customer to decide to buy it or not. With the advent of technology, designing and graphics have improved a lot, resulting in the creation of attractive and highly creative images. Such photos draw more likes, shares, and user engagement than text posts.
Even if you are not good at designing, you can use tools like Canva, Piktochart and Piconkey to make Facebook images worth sharing for everyone. 
Now, here are some statistics supporting photos. 
Over 300 million images are posted on Facebook every day. 
According to BuzzSumo, Facebook posts with images/photos receive about 2.3 times more engagement than posts without images.
Indian film production company YRF posting an image with a question to increase its engagement
Beware of the image copyright, don't just use any image from social media. Doing that, you may find yourself in trouble.
Video
With the success of video-sharing platforms like YouTube and TikTok, it is evident that people are ready to spend time to watch videos. Similarly, Facebook videos recorded 800% rise in the number of views in 2016. One billion views daily in 2015 rose to 8 billion views daily in a year. And it is proving to be an essential tool in marketing as well. 
A video enables the marketer to convey a strong message with a story, giving much more than a static visual appeal of the photo. It even saves your time. Instead of reading a 3000-words article which would take nearly 10 minutes, you can watch a 5 minutes video. If you want to attract any user's attention, videos are the best way to do that. But videos take more time to load and more data than photos, leading to fewer views in most cases. 
Here is a simple example:
When any movie is in the production stage, what producers do?
 They first release the photo/image posts in the form of a poster to show every character or announce the release date.  It serves for you as an introduction to the movie. And when we are a few weeks away from release, they release the video posts in the form of Trailers, which gives you an idea of the story and increases the buzz for the film. Whether it is Hollywood or Bollywood this is the strategy every film industry across the world has been using for marketing. 
6. Add Links to your post for more information
Unless you are some sort of mind reader, you cant guess the mood of your readers? So, what will you do if you want to provide more details about your product? Fear is that a few of the viewers would skip your post without even giving it a try due to its length. 
To avoid this, before posting on Facebook, make sure your website (or any other site or page where complete information exists) is updated with this complete information. Copy the URL of that webpage and paste that link into your post with some 2-3 lines of introduction. This way, you can serve for all types of audience.  
(Source: Sprout Social)
7. Share content to your Facebook Story
Similar to Instagram and Snapchat, Facebook also started this concept with some extra features in 2017. It was in response to the declining level of original content on the platform and to encourage more user-generated content. It is also open to Facebook pages. Whatever you will share in your story, it will disappear after 24 hours. 
You can share a clip of working of your product or just a video of your team working at the office or any announcement. Only user-generated content doesn't need to be shared; you can also share images or videos from your gallery or even regular Facebook posts. Sharing Facebook posts on your story would increase the chances of users viewing it. And it also allows the users to reply (DM) you, directly from your story, in case they are afraid of commenting publicly to your posts.
10 Shocking Impacts of Social Media on Youth
8. Reply to the Comments and Messages
Comments are a great way to measure user engagement. And it even helps you understand the views of your customers and followers for your service or goods. You may receive positive as well as negative comments. Don't be one of those rude marketers that ignore the comments. Reply to as many as you can. This will give a loud and clear message that you genuinely care for your customers.
9. Conduct Facebook Polls
Questions could be an exciting way to spark conversation with your audience. As questions and answers via text posts are subjective, therefore text posts are used when you want open responses or for a wide range like suggestions, feedback etc.
But when there are objective answers to your question, then it does not make sense to ask your audience for comment. You can just simply put all the possible responses/solutions as options and ask users to vote accordingly. People would generally prefer simply ticking of an option over typing in the comment box, resulting in more participation. At the end of the poll, share the result with respective votes. Even results will also draw a varied reaction from the voters. So, Be careful! 
10.  Go LIVE on Facebook 
Nothing screams active and engaging like going live! You can do this occasionally like many movie stars. It is one of their ways to interact with fans spread all across the globe. Similarly, you can interact with your customers, show them behind the making of product scenes, make them aware of any new developments in your company.
Rather than just interaction, you can go live to make any big announcement. Real-time announcements will be much more impactful than a mere recorded video or image post. Before going Live, just make sure your followers or customers know about the event so that they could show up at the time.
11. The optimal time to post 
Posting at the wrong time is like a chicken waking people up in the middle of the night.
It is a trial and error method. Initially, post at different times and days in a week, then using Facebook Analytics, compare the user engagement for each post. This way, you can get the optimal day and time for posting on FB.
Hootsuite did a similar more detailed analysis and came up with results (listed below) which you can use directly for scheduling your posts.
For B2B brands, the best time to post is 9 AM and 2 PM on Tuesday, Wednesday, and Thursday.
Similarly, for B2C brands, it is observed to be noon on Monday, Tuesday, and Wednesday.
12. Always keep a Pinned Post
Leonardo Da Vinci made several paintings, but Mona Lisa is his masterpiece. Facebook allows you to pin any of your posts. The pinned post will always appear at the top whenever any user views your profile. So, if there is any post which you think every visitor should see, you can pin that post. It may be an important announcement or a post that gives a glimpse of your business.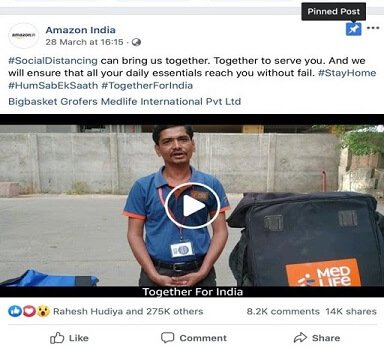 This is the Amazon India Facebook page. You could see, they have pinned a post related to social distancing and delivery of essential goods, both of which have immense importance amid coronavirus pandemic. 
13. Take Advantage of Cover Photo
There is an option to add a cover photo to your Facebook profile. I am not saying that it is an essential Facebook marketing strategy, but it can make a difference in your page. If any of the users visit your page, a profile pic with a proper cover photo will make first impression.
As a cover photo, you can display all your products in an organized manner. And if you offer services, you can just show your skillset or even words of encouragement from your popular clients. Few of the companies also put an image of their massive building or attractive office as a cover photo. 
14. Join Facebook Groups
Groups are also a great way to interact with your fans, customers or community. So, if there is any group related to your business or product, join it. Members of these groups are also in the same space that you are. There is a high chance that they may turn into your customers or even partners in the near future. Hence, such a group with like-minded people is an excellent place for you to promote your products or service and also receive insightful feedback.
Can't find a group? Create one! Not only are you creating new spaces, but you'll also have authority over the group.
15. Ask your Employees to show support on Facebook
According to Sprout Brands Get Real report, 72% users (of all social media platforms) feel more connected to your brand when your employees themselves share information (related to business) on social media. And if this happens in your company, then it is a very positive sign.
Not just employees, you (Founder or CEO) must also follow the above advice. Earlier report also states that 70% of consumers feel more connected if the founder or CEO of the company is active on social media.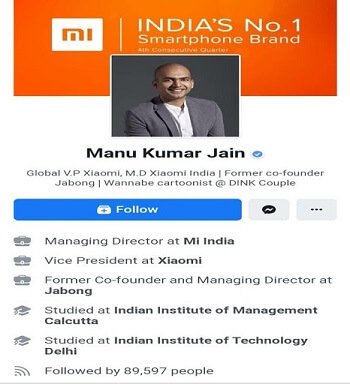 Manu Kumar Jain (MD, Xiaomi India) is one of the few Indian business Executives who are highly active on Facebook and regularly promote their brand.
16. Give Facebook Ads
The Facebook ad itself requires a strategy similar to TikTok Advertising. There is a lot of work involved in managing an ad campaign. From creating an ad to decide its placement to ad targeting requires a thorough analysis of all reports. Apart from this, you also have to keep an eye on spending (ads are not free!).

  To ease this process, Facebook provides a business management tool, which fulfills all your advertising needs. It also gives you access to Instagram and the product catalog. Facebook advertising is the only way to reach over two billion users at the same time.
17. Make Facebook Messenger Chatbots
Facebook messenger chatbot makes an automated conversation with a customer. It allows marketers to practice one-to-one marketing strategy. Disney used this messenger chatbot to promote one of its films. It (chatbot as the main character of the movie) used to make a conversation with a kid on the story of that movie.
18. Track and Improve
Learn from your mistakes in the previous cycle. This became one of Facebook marketing strategies because many ignore this step.  
Track all the information, Facebook insights gives you. Click rate, reach of your content, user engagement and even your competitor's position and metrics. Analyzing this data will help you in further posts.
I hope you find these 18 tips for Facebook Marketing helpful. Share in the comment section below which strategies you are using.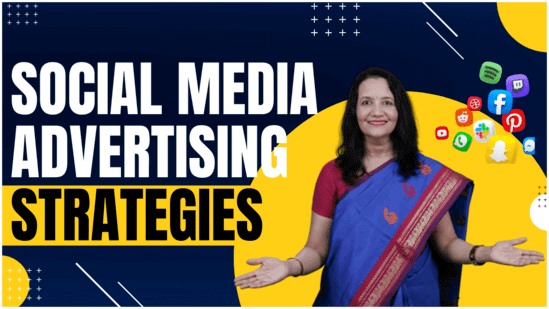 Spread the loveAccording to a study, an average person scrolls close to 300 feet of social media content every day. That's the height of Qutub Minar! Thinking about the amount of time that we tend to spend on social media daily, I find it quite believable. The main idea for social network advertising is to
Read More »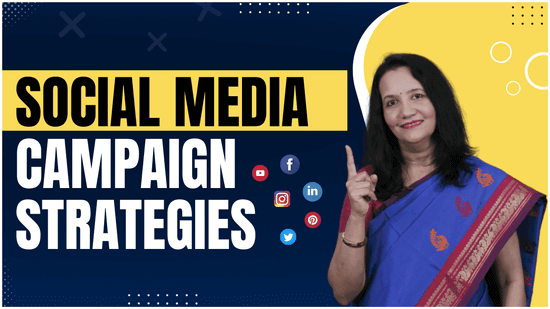 Spread the loveDo you want to create social media campaigns that will make your brand a sensation? Read these five strategies to grow your social media and blow your audiences' mind.Social media campaign is nothing but a series of coordinated activities aimed to promote your product or raise brand awareness in a community. We all
Read More »
Do you want to create excellent landing pages? Do you want to cutdown the cost required to hire a webpage creator. Read the article to know about SeedProd, an excellent landing page builder plugin for WordPress.
Read More »
HERE IS HOW I CAN HELP YOUR BUSINESS GROW
Don't just stand by and watch others make millions! Jump in and leverage digital marketing to skyrocket your business!
Over the years, Facebook has grown to become a virtual home to billions of people, even giving you hundreds of friends. When any platform has such a vast user base and massive user engagement, then it becomes a hotspot for businesses to market their products as well as for the platform to generate revenue. Let's look at some of the best Facebook marketing strategies:
Link your Facebook business page to a website.
Use a wide variety of demographics to know your audience.
Expand your content creation capacity
Share content from the Facebook story.
Go LIVE on Facebook.
Join Facebook groups.
To get more insight of Facebook marketing, check out the article 9 ways to leverage Facebook for business.
Today, there are over 2.45 billion monthly active users on Facebook. Of these, 1.66 billion users log onto Facebook daily. Users spend 38 minutes daily on Facebook. At present, over 3 million companies from all over the world advertise on Facebook. Therefore, Facebook is definitely a useful marketing tool. For best utilization of Facebook, check out the article Advance tips for digital marketing on Facebook.
Facebook is one of the best platforms for marketing. Facebook has many intriguing features that can be used for marketing. Let's take a look at some of them.

Always keep a pinned post on Facebook.
Use 3D ads for Facebook.
Conduct Facebook polls.
Create a fundraiser on Facebook.
Use Facebook custom applications.

To get more information for Facebook marketing, check out the article 25 guaranteed tips to rock your marketing strategy for Facebook.