Be it a search, a question, or a review – you name it, and that's Google My Business for you.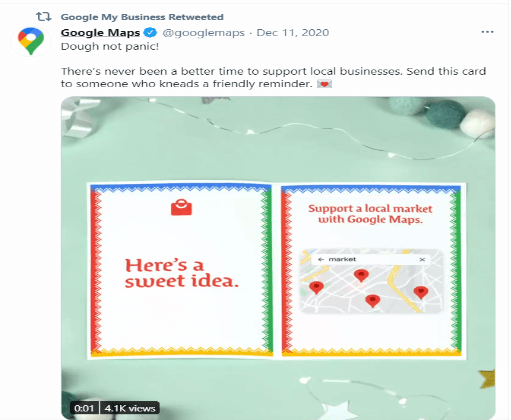 Recently, Google My Business retweeted the importance of supporting a local market using Google Maps. That is precisely GMB's mission! 
Many small-scale businesses were often unrecognized because they never had the opportunity and budget to share the limelight with competitors. Additionally, Customers were facing a challenge of exploring new businesses around since the whole process is tiresome. 
Don't you agree? Where there is a problem, there is an opportunity!  Google my Business was founded to connect businesses and potential customers through search, Maps, and Website.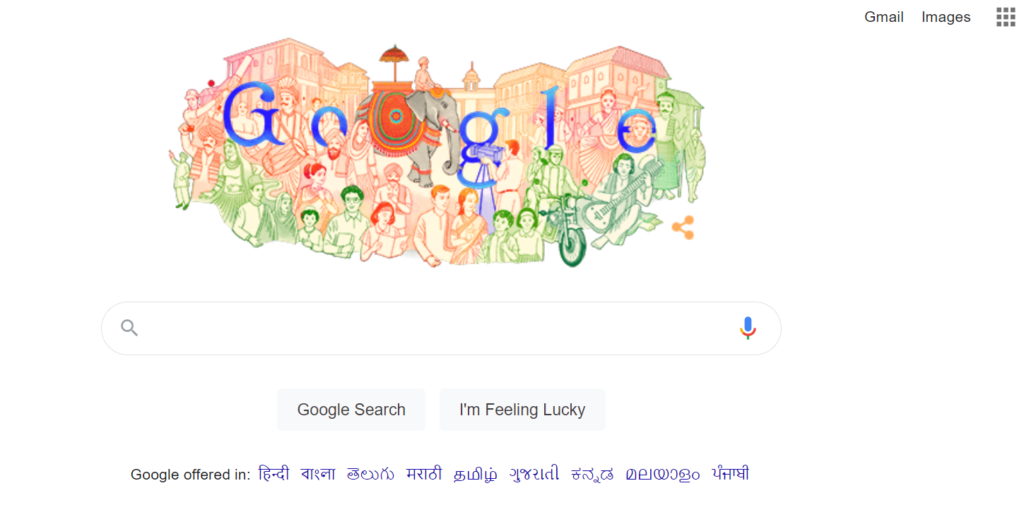 Whether it's a Kirana store guy or a 7- storied building owner, everyone seems to love the idea of Google my Business and its incredible impact on their Business. And there are many reasons you should too. You can post breath-taking pictures to woo users, update upcoming events and provide exciting offers!
I'm sure you don't want to miss these benefits. Let's begin to move your presence digitally. 
Starting from basics, let's learn how to create a google my business account in 8 simple steps!  
STEP 1: On your computer, sign in to Google My Business.
      Sign in to your Google Account, or choose to create one. Then, click Next.
STEP 2:  Enter the name of your Business. 
Tip: Sign up with your business email account since this account will be for your Business. Enter the name of your Business.
If users have already added information about your Business, Google offers you an opportunity to claim it. 
STEP 3:  Google My Business has around 3000+ Business categories you can choose from! 
Tip: You can select up to 10 categories, play them to your strengths. Select the most appropriate primary category. Google algorithm offers the utmost importance to your primary category.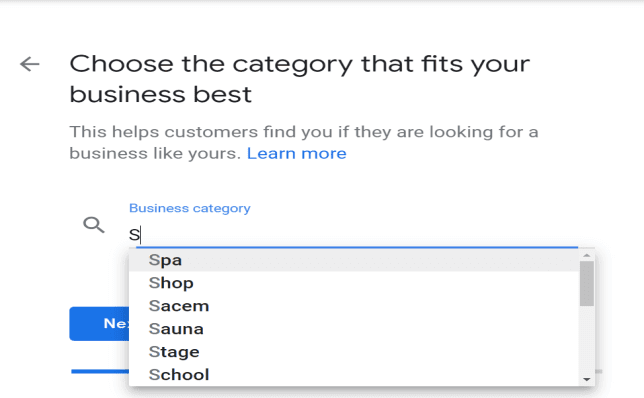 STEP 4: Add your Business or a service location where your customers can visit you.
Though you can skip this step, I recommend you add a location because it enhances search results. 
Read my article to step up your business game using Google My Business.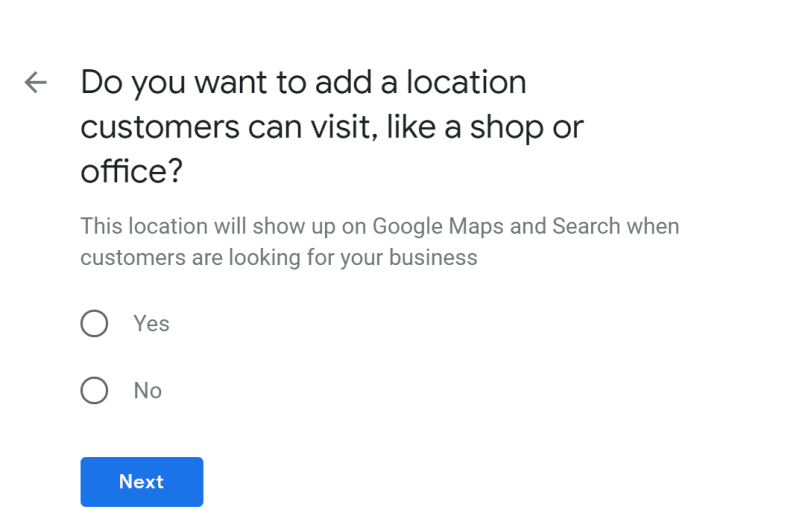 STEP 5: Add your exact address. Google will send a verification code to confirm your address. You will need to enter the code you received. 
STEP 6: Google gives you an option to list your service areas to improve your local Search engine optimization. 
STEP 7: Once a potential customer chooses you from a pool of options, he/she will look forward to contacting you. 
Add your Business's contact number for a professional connection. 
Add your Business's website information for your customer for collecting additional data. 
Sometimes, customers may require a personalized sale with a special offer or explore different products using your website. They can also initiate secured transactions. 
Wait, it doesn't end there!! 
If you don't have a website, Google provides a free website based on your information. 
Since it's an automated process, you don't have to spend time updating it. It is updated based on your Google My Business listing.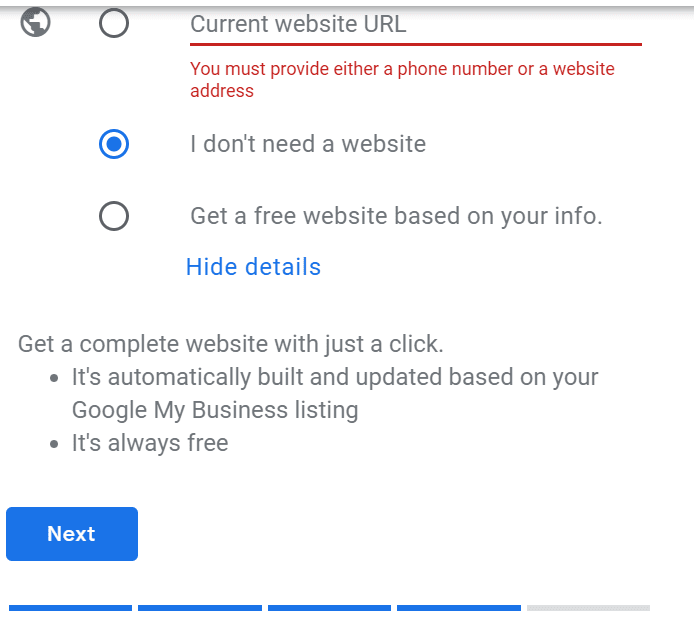 STEP 8: Publish your very own Google My Business account. 
Hurraaayyyy! You have published your very own business account!
Now that you have published your account, customers will try to reach you. So, verify your account! 
Did you know your GMB account might exist even if you didn't create it? If you verify your account, you will be able to control and verify all the information users update about your Business. Most local businesses are verified by mail. 
All fingers are alike, but not equal! 
On similar lines, verification methods may vary depending on the type and nature of your Business. You can choose the best option available. You can verify your Business through a postcard, mail, phone, or instantly through a search console. 
Let us investigate how to verify our Business on Google in several ways: 
Important: Make sure you don't edit your business name, category, address, or request a new code while waiting for your verification postcard. This may delay and complicate the verification process.
Learn about how to use Google Keyword Planner tool
Before you request verification by mail, make sure your address complies with Google's address entry guidelines.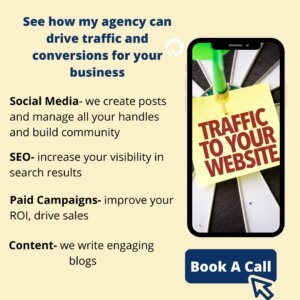 HERE IS HOW YOU CAN VERIFY YOUR ACCOUNT USING A POSTCARD: 
On your computer:
Sign in to your Google My Business account. 
Choose the Business you would like to verify. 
Click on the "Verify now" option.
On the postcard request screen, make sure your address is displayed correctly. You can also add an optional contact name to help deliver your postcard. 
Click Send postcard option.
Please check the mail for your postcard. Most of the postcards will arrive within 14 days.  
Enter your verification code
 On your mobile device: 
Open Google My Business app.
Tap the "send postcard" option. 
Choose the Business you would like to verify.
Click the "I don't have a code" option. 
Please check the mail for your postcard. Most of the postcards will arrive within 14 days.
 Enter your verification code
ONCE YOUR RECEIVE YOUR CODE, FOLLOW THESE STEPS: 
Watch my video to know how to build your brand using Google Banner Ads.
 On your computer
After you receive your postcard, sign in to the Google My Business application.
If you have multiple locations, open the location, you would like to manage.
Choose Verify location from the menu or Verify now option.
Enter the 5-digit verification code from your postcard from the "code" field. 
Click on Submit option.
 On your mobile device
After you receive your postcard, open the Google My Business app.
Choose the Business you would like to verify.
To verify, tap on Enter code. 

If you didn't receive your postcard, choose I don't have a code.
HERE IS HOW YOU CAN VERIFY YOUR ACCOUNT USING A MOBILE PHONE DEVICE: 
You will find the "Verify by phone" option when you request verification if your Business is eligible to be verified by phone.
On your computer 
Sign in to the Google My Business application. 
Choose the Business you would like to verify. 
Click the "Verify now" option.
To receive your verification code, make sure you can directly respond to your business phone number.
Enter the code you received from the automated message.
On your mobile device
Open the  Google My Business app.
Tap Call me now.
Enter the code from the automated message.
Tap Send
HERE IS HOW YOU CAN VERIFY YOUR ACCOUNT USING MAIL: 
Not all businesses are eligible for Email verification. Check for other methods before you try to verify your Business by Email. Make sure you can access the email address shown on the verification screen.
On your computer
Sign in to the Google My Business application. 
 Choose the Business you would like to verify. 
Choose Verify now option.
From the list of verification options, choose Email.
In the verification email, choose Verify button. 
On your mobile device
Open Google My Business application. 
Choose the Business you would like to verify. 
Click Send email option.
Check your Email for the code.
Click Enter code. 
Enter the code from the email you received.
Tap Submit option.
SEARCH CONSOLE: 
If you've already verified your Business's website with Google Search Console, you may have the option to verify your Business instantly. Not all business categories are eligible for verification through Google search Console. 
For instant verification, make sure you have signed in to the Google My Business application with the same email domain you used to verify your site with Search Console. 
Your account is verified using these simple and easy steps! 
You may be wonder how you can claim your Business if it already appears on Google By Business. 
Please don't dwell on it, my friend. I have got your back.  
Claim your Business through Google Maps
On your computer, open the Google Maps application. 
Please enter your business name in the search bar.
Click or choose the correct business name.
Choose Claim this Business, Manage now.
Select a verification method and follow the on-screen steps.
Now that you have published and verified your google my business account, I'll walk you through how you can manage your account to attract potential customers. 

MORE PATRONS = MORE PICTURES 
As the millennial saying goes, pictures speak louder than words; you can add images and posts to boost your product's sales. If you are running a furniture store, post pictures of your softest sofas or fanciest décor, and target potential buyers. 
You might assume that pictures are mostly for artistic and aesthetic purposes and wouldn't have much of an impact on local search performance. 
But there is a lot of evidence suggesting a link between having lots of pictures on your listing and users interacting with your page. Businesses with more than 100 images get 2,717% more direction requests than the average Business, while those with just one get 75% fewer, so it's worth investing your time in uploading high – quality images. 
Read my article to start running campaigns through Google Ads.
Here is an illustration to know how pictures can affect your ratings, reviews, and potential customers!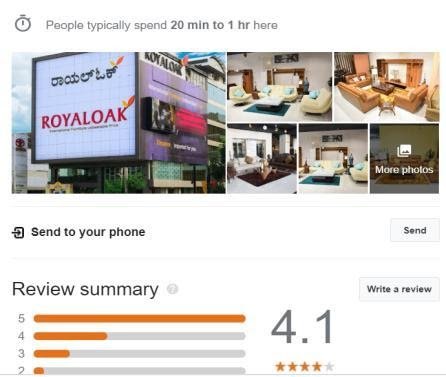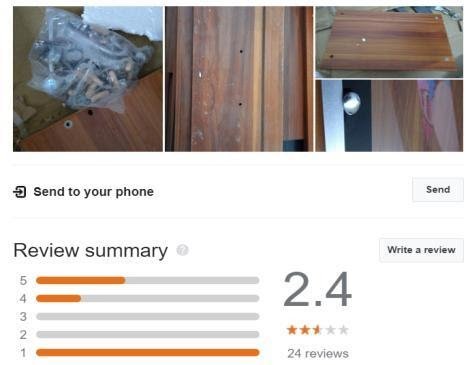 CONSISTENCY IS THE CHARISMA
  Consistency is the foundation for topping local SEO. Answer questions, update or post your current happenings. If you have special offers or have an exciting event and are eagerly anticipating enthusiastic participation, consistently update it! 
We are all aware of Amazon's Great Indian festive, Black Friday, and many more offers.
These are excellent promotion strategies to maintain consistency! 
For instance, please take a look at Lifestyle stores and their method of attracting customers through offers.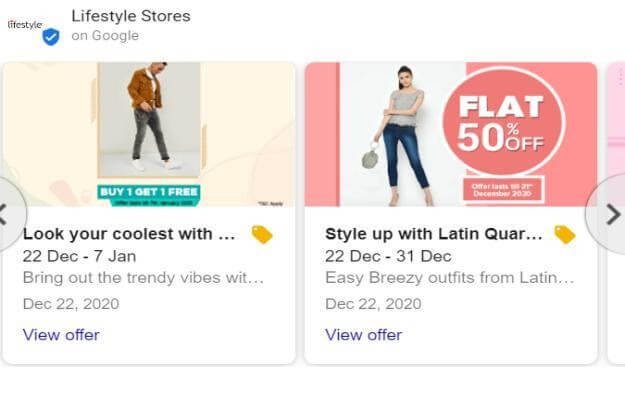 COMPLETE INFORMATION: Complete information builds trust. Customers can There are chances your customers might choose you over others if you have detailed and comprehensive information about your Business. 
You can see how your profile appears in searches, maps, etc., using the options to view and edit the profile. 
3 R's –REPLY, RESPOND, AND REPEAT! 
Engage your audience in your digital content creation activity by answering customer's questions. The audience can inquire and know more about your Business through the messaging feature. This will help you to increase engagement.
It's a fact that customers dislike long wait times while expecting a reply. Respond as quickly as possible! 
THE HALO EFFECT 
This is a tendency to create positive impressions of a brand, a product, or an influencer. Use your Google My Business account as an inexpensive marketing opportunity to grow your network on Instagram, Facebook, and your webpage.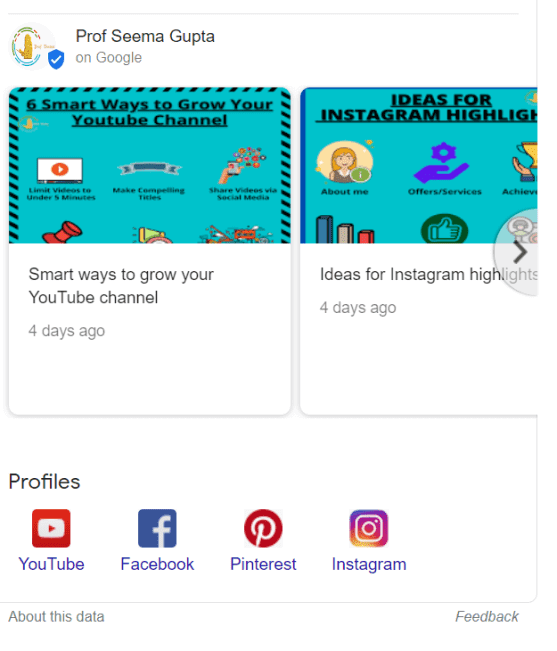 GOOD DESCRIPTION = MORE CLICKS
Your description plays a crucial role in determining how many people click to see your Business. Write up an exciting description to increase your views. Keep it short and sweet. Let your single sentence make you stand out of the crowd. 
These tips are simple yet have a significant impact on your Business! 
By now, I'm sure you are curious to know how you can use Google My Business tools to maximize benefits! 
Let's dive right into it. 
Imagine you are craving for some delicious North Indian Rotis, and you are confused about ordering from various options like Parathas, Tandoori Rotis, Kulchas, or Phulkas!! But you are worried it's going to punch a hole in your pocket.
That's when you order a Bread Basket. You can taste everything at once at a nominal rate and avoid the hassle of ordering and managing different items.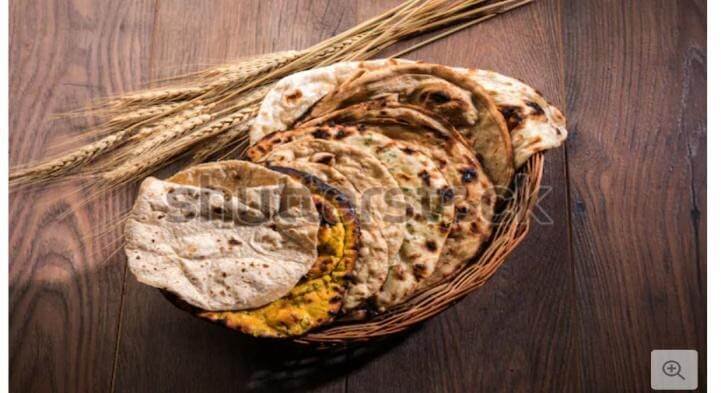 Google My Business dashboard is exactly that cost-beneficial Breadbasket. 
Google My Business dashboard is a one-stop, handy tool that consists of different resources like Metrics, overview, searches, sources, etc., to help you analyze your digital presence.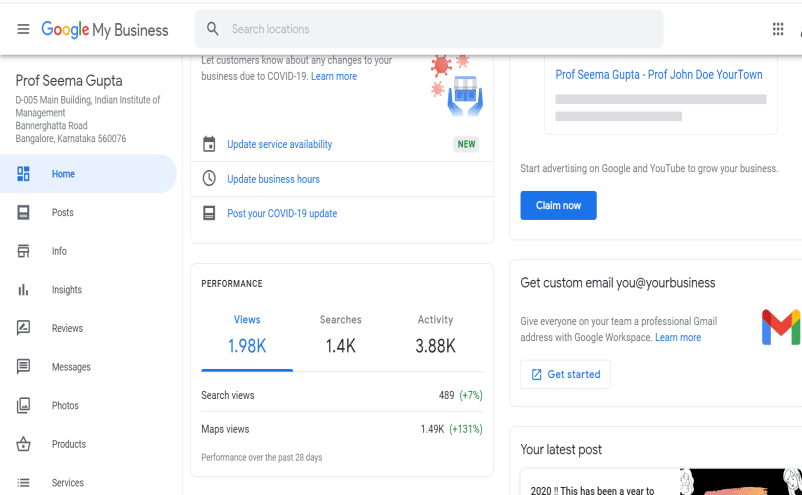 Let us hasten through each tab to comprehend the operation of different features. 
Home: As the same suggests, it's a one-stop place for all your essentials. It consists of essential features like the latest COVID -19 update, advertisements, performance, insights which monitor your business performance. 
Posts: I'm sure you love to post the latest updates or your classy pictures on Instagram; who doesn't? Google my Business offers you an exciting feature to post your current happenings, events, offers, and products!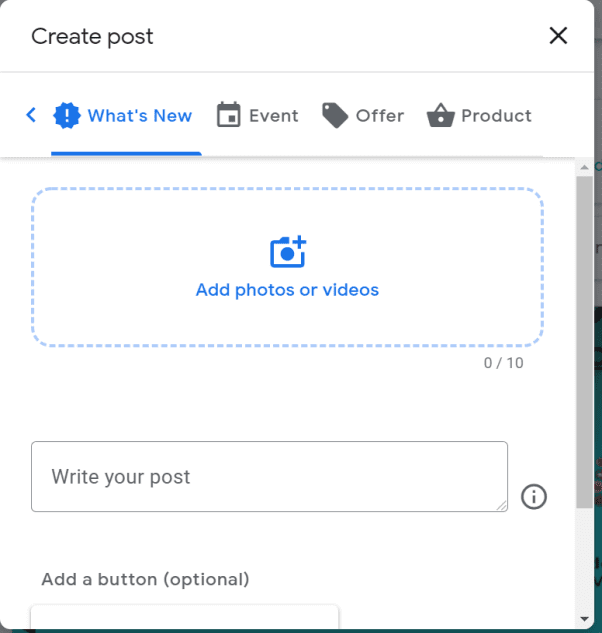 TIP: Add Emojis to your post. Google has added the use of emojis to the searches. This adds value to the post, mainly when the younger generation uses it. The response is faster and may receive maximum clicks.
INFO: Info is like your digital business card, which can be edited numerous times. They are meant to aid users in getting a quick conclusion of details and information about your Business. You can view your Business on search, maps, and share your business profile. 
Insights: Insights are metrics that help you determine how customers are trying to reach you and your account. If you want to find out your most effective method of getting customers, be it Phone, Maps, or search, Google Insights is the key. It even helps you manage how your business data and information appears across Google- including Maps or search using GMB. 
TIP: Keep a watch on your analytics and insights to know your customer's location and the most efficient method of reaching you. You will master the knack of segmentation, Targeting, and positioning of your product. 
REVIEWS: Remember rating your favorite song a 5 star, or not so favorite Movie or Tv show average? 
How critical are customer reviews, you may ponder? As it turns out, very important. The fact is, 90% of consumers read online reviews before choosing a business. And 88% of consumers trust online reviews as much as personal recommendations. Your customers now get notified when you reply to their review.

MESSAGES: Your customer is just one tap away! Literally! 
Google lets you reach globally and allows customers to view your listing and message you directly. Respond to questions, quickly connect, share information, and for free. 
TIP: You can turn off the messaging feature according to your convenience. 
PHOTOS: It is indeed said, pictures speak a thousand words! Add images and a Logo to attract customers. Keep an eye on your views to calculate your reach.
TIP: Add exterior photos to make it easier for customers to spot your Business in real life. 
PRODUCTS: Showcase your products to let your users know about the variety of products you offer. Enhance your Business by adding products to your Business Profile on Maps and Google Search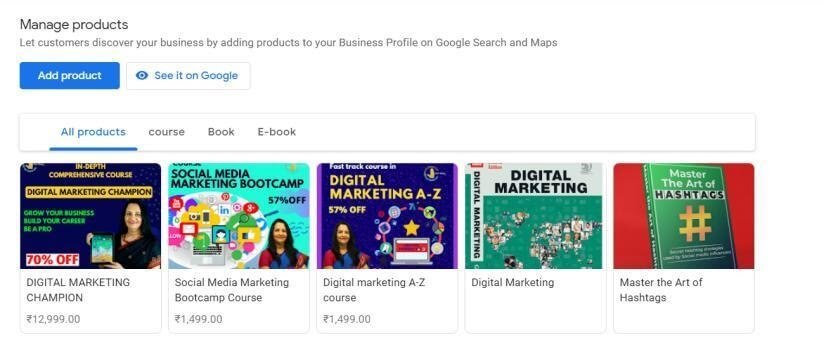 SERVICE: If you are a plumber, and you want to add "Repair toilet" or "install faucet" in your listing, here is your chance. In Google My Business, you may get an option to add the services you offer along with its prices and description. 
Users will find your services listed under "Services."
Add or edit services.
Sign in to the Google My Business application. 
Open the location you want to manage.
From the menu, choose Info.
In the "Services" section, choose the "Edit" option.
Add your items and sections. 
TIP: This feature is available to all services businesses. Please make use of it! 
WEBSITE: A custom website with features like themes, various font styles, and pictures just at Rs. 860/year? Electrifying! Google offers you a custom domain name, along with suggestions at a nominal rate.  Edit it as per your preference and Publish. 
Final Note: 
Whether it be looking for a new restaurant to try or messaging a restaurant to book a table, Google My Business is designed to meet a user's need instantly. Undoubtedly, Google My Business's convenience and unique tools mean any business can reach the moon if used efficiently. 
Being on the best business applications, Google My Business can revamp the cliché way of conducting a business. You can reach globally, edit your information often, or even digitally display your product. This technological enhancement is a marvel. 
Google My Business also provides users all the information they need at their fingertips, and I'm sure they have never been more than a few seconds away from answers to their questions with everything just one click away. 
For more information and insights, read my blogs:
Boost Your Sales 10x Using The Google Display Network -Youtube
Everything You Need To Know About Google Adwords Express
Awesome Drip Marketing Strategies For Your Sales Funnel
Complete Guide To Google Ads PPC Advertising To Drive Conversions
Guide To Guest Blogging To Boost Your SEO And Drive Insane Traffic [Video]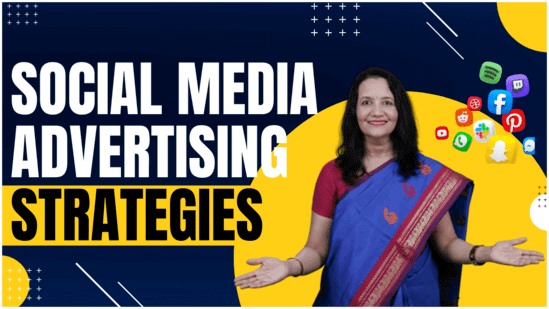 Spread the loveAccording to a study, an average person scrolls close to 300 feet of social media content every day. That's the height of Qutub Minar! Thinking about the amount of time that we tend to spend on social media daily, I find it quite believable. The main idea for social network advertising is to
Read More »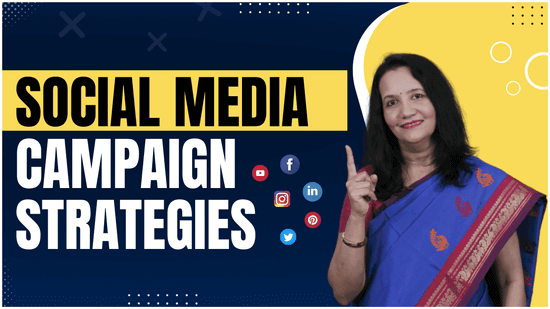 Spread the loveDo you want to create social media campaigns that will make your brand a sensation? Read these five strategies to grow your social media and blow your audiences' mind.Social media campaign is nothing but a series of coordinated activities aimed to promote your product or raise brand awareness in a community. We all
Read More »
Do you want to create excellent landing pages? Do you want to cutdown the cost required to hire a webpage creator. Read the article to know about SeedProd, an excellent landing page builder plugin for WordPress.
Read More »
HERE IS HOW I CAN HELP YOUR BUSINESS GROW
Don't just stand by and watch others make millions! Jump in and leverage digital marketing to skyrocket your business!