Your business should be visible online, and for that, you need a website. Website is a soul for any business; a good site is not only defined by its content but its design first. This article will tell you tips for a stunning web page design that will make your business profitable.
So how you make your website visually appealing matters a lot. Colors, graphics, and images are critical elements of the website design.
Users may leave your website if they don't find the homepage design attractive. If users like your website layout design, then only they will go ahead and read your content.
It is like no matter how healthy or fit you are from the inside; people may not interact with you if your appearance is not pleasing.
If you are a business owner or an agency, keep this list of questions ready before designing the website.
Check out my article to know more about LogoMaker – the Best Free Online Logo Designing Platform.
Read- Review of Live Chat- an online chat software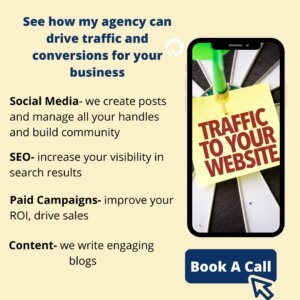 List of Questions before you design a website
Q-1: Business Description
Before you design a website, you must know about its business, products, or services; its vision and mission; the history of the organization, and the people behind the company.
Q-2: Status & Challenges of current website
Before you plan the new website, know the challenges with the existing website. Find out the content management system used, current content, layout, UX, UI, navigation, features, template, and functionality of the existing website.
Q-3: Business Goals
Before you start thinking about design, you need to know about business Goals for the website.
You must know whether you want to upgrade the website design just because your competition has done it or because you are adding one more vertical to the business.
Q-4: Target Audiences
You need to know about the website's users – their taste, culture, background, demographics, location, behaviour, and psychographics.
The more you know about the website's users, the better web page design, website layout, navigation, and appearance you can give to the site.
So, always design keeping in mind the end-user of the website.
Q-5: Which specific features do you want to add to the website?
Plan the specific features, basis which industry you are into as all industries have different requirements.  The restaurant business requires images of food, reservation form, and testimonials.
Real estate may have different requirements such as chatbots, WhatsApp Integration, Project Videos, Client testimonials in video format, etc.
Other features such as social media integration, blogs, google maps, etc., are some standard features needed by most businesses.
Q-6: Who are the competitors?
It's always better to check competition websites first. These websites can help you understand the design, elements, and features prevalent in the industry.
You will come to know what is working for them and what is not working; you can also choose which feature you want to add to your website and which you don't want.
An excellent web page design will not only make users read your content but also push them to check your products, drop an inquiry or call you.
It's like if the restaurant's ambiance is good, then customers may sit for an extended period and order more food. 
Click here to read Quick Tips To Create and Verify Google My Business Account
Design Elements for Website
Let's talk about different web page elements and understand how each aspect can help build a great site.
Website Layout
The website layout defines the structure of the website. Websites should be user friendly.  A user should understand the flow of information on the site and act on it by clicking on the call to action buttons.
Home Page
The most crucial information about the business is on the homepage of the website. A user should easily understand what your business is about once they reach your home page.
The home page should be balanced with the required information and white spaces for better visibility to avoid bounce rate.
You have seen the home pages of Google and Yahoo. Google has effectively used white space to create a better user experience. In contrast, Yahoo has so much information on the home page, making it hard to understand.
Slider or Images
The slider on the website's home page showcases the product or information of the company in slider format. It consists of images, text, and navigation to other pages.
Sliders or carousels can be powerful to present your key messages and products. You need to check for the mobile-friendliness of this feature.
Header
The header is one of the most crucial elements and is placed at the top of the page design; the header consists of Logo, Navigational Menu, Social Media Icons, Phone Number, Login link, etc.
Navigation Menu
The navigation menu has different tabs or pages based on the content of the website for easy navigation. For example, About Us, Our Services, Career, Contact Us page, etc. Further, it depends on the industry and type of information the company wants to share with the user.
Good navigation of the website makes it easy for users to get the flow of information in the required manner; lousy navigation can be frustrating and may result in loss of sales.
Know About –WP FORMS – form builder plugin for WordPress website
Content Column
On the Home page, valuable content of the website is published. Key information about the company such as founder, their achievements, newly launched products, services offered are generally given on the home page only. 
Footer
Footer consists of lots of essential elements of a website such as a site map, inquiry form, company address, map, social media icons, email sign up, disclaimer, legal and privacy policy.
Now let us discuss crucial aspects of website layout. 
Aspects for designing a website layout
Design a layout or select a Template Online
The website layout is like a bone structure of the website. First, you create a website layout, and then you add colours, videos, images, and content to it.
It is the same as you used to draw in school. First, you create a design with a pencil and then fill colors into it.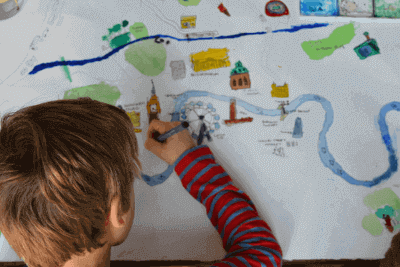 An excellent web page design has three primary attributes: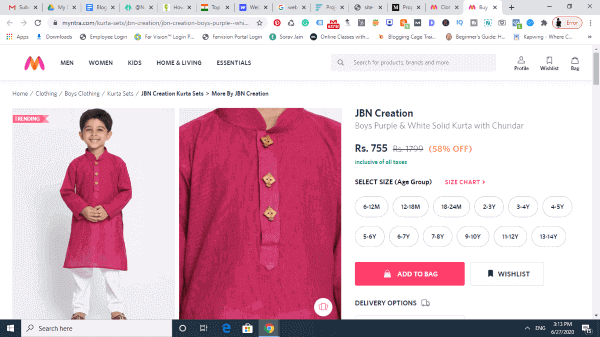 Here is an example of Myntra with clear navigation showcasing breadcrumbs and visuals. You should guide users with the information in the fewest clicks possible. You can achieve this with clear, concise language across all pages of your website.
Users can easily judge the flow of the website with breadcrumbs. It is helpful for a user to know on which page of the site he is at the moment, and it will boost the usability of your website.
Visual Hierarchy of website
A robust visual Hierarchy helps users understand the flow of the website and guides them to take action.
Humans are incredibly visual beings. When it comes to consuming content online, we often scan the page to quickly notice whether we'll find what we need before diving into the website.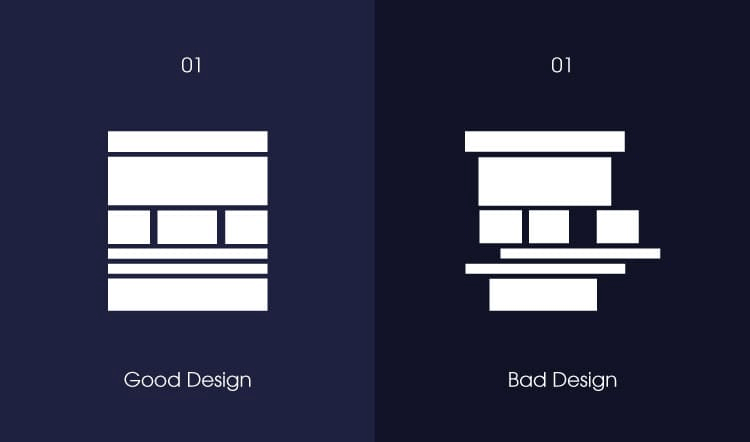 As a web designer, you should attract the user to the most crucial information to draw user attention.
Designing can help you make an unbroken chain of visuals to keep users engaged on the website.
Utilize Grids
Matrices give a terrific method to make associations between various components on the page. The network shows how all the components communicate with one another on the page.
There are two basic designs:
Heat maps have shown that users' eye movement follows an F shaped pattern. People start from the top left and then move to the right. Then they go down from the left and again move horizontal and then down in the left, forming an F shape.
Hence most essential things should be placed on this path. The most important position is the top left, which is the reason why logos are placed there.  F shape is the reason menu is horizontally placed at the top.
We can see the F Pattern in the colour Red/yellow/ orange in the above image. This is how users read, and most of the content websites are in this format only.
The Z shaped design is used in websites with a few crucial components intended to catch the client's eye. Greeting pages frequently utilize the Z shaped design. We can see that the Facebook page follows a Z pattern.
Organize key components
Utilize the five fundamental components to build a visual chain of command:
1. Size
It's critical to correspond size with significance in any structure — the essential data ought to be immense on the page and request the most consideration.
For example, Titan is putting up a headline in bold to promote products online.
2. Colors
Colors show the personality of the brand online and communicate visually about a company and its brand.
Fastrack uses unique colors to attract young people and push them for sales.
3. Format
The excellent arrangement draws users to the substance all through the page.
Google utilizes a card-based structure to arrange the content on the page.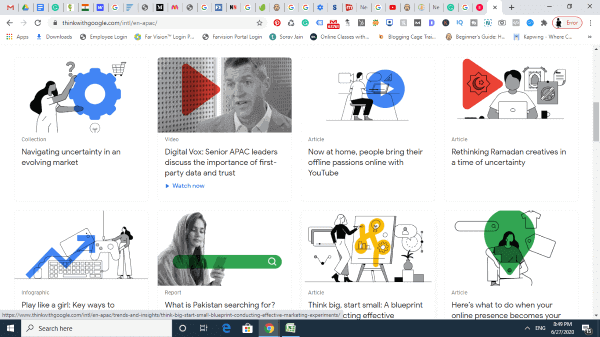 4. White Space
A blank area, or negative space, is the instrument planners use to bring attention to the most significant UI components.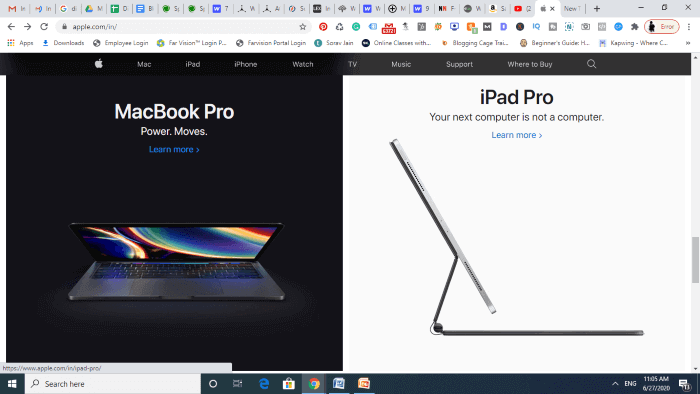 For example, Apple very creatively uses whitespace.
5. Style
Picking a style that matches your content and images will make the page more appealing.
For example, MailChimp uses a simple style and illustration to show friendliness to users.
Focus on your call-to-action buttons
No marketing collaterals are complete without a call to action; likewise, the website is incomplete without call-to-action buttons (CTAs). Marketers would say they're the most crucial element on the page, and all efforts to be made for getting people to click through. Strategic, well-designed CTAs can significantly help you to push users for a conversion. So, it's essential to place them correctly.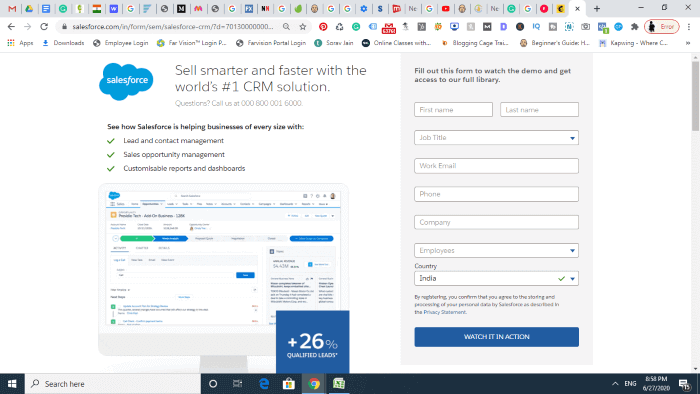 Here, the salesforce directly asks the user to take action and fill-up the form.
Ensure your buttons look clickable. Give visual elements to showcase your CTA like a button by highlighting it with different colours and shades. You can also put some animation in CTA, like CTA falling from above to make it catchy and hard to miss.
Read my article to know more ideas for Landing page design to increase conversion rates.
Let us now examine the process you can follow for web page development.
Web Page Development Process
Structured web design helps you deliver more; it is about creating a web design that achieves the overall strategy. Each element should work towards one goal.
Objective
What are the objectives of an individual or a business to make a website? Is it just to provide the information or to sell a product?Or is it only for self-branding? Or is the objective to improve the site?
I am sure you still remember the website of IRCTC for Indian Railways. You can check the new, improved website now with better design and an excellent user interface.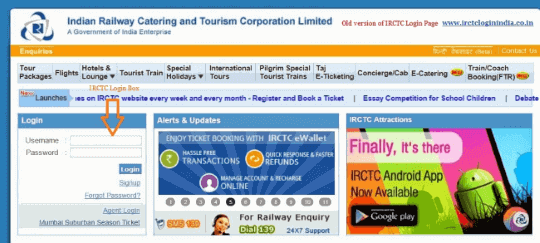 The old website of IRCTC
New, improved site of IRCTC with an excellent user interface with chatbots and good navigation
Brief
The brief from a client or a company is like a scope defined by a director of a movie. Though you will be acting in it, you will have to work as per his direction only.
Once the objective is defined, it will help us understand the flow of information, the number of pages, and each page's purpose and content on the website.
Website Layout and Wireframe
Presenting a website layout and wireframe is not an easy task.
The layout designing keeps in mind the website's user interface, the brand guidelines, and other visual elements.
Web designers take lots of effort to give a unique visual look to a website as per the company's expectations.
Website Development
In this phase, a team of developers and web designers come together to work on a website.
Developers need to choose the platform or the Content Management System such as WordPress, Zoomla, Squarespace, and the hosting company during this stage.
Here developers ensure that the site is secure, loads fast, and is accessible to all.
Content Creation
Once the layout and designs are ready, you can start adding content for each web page, which should be SEO optimized as you need to rank your website on search engine pages.
Your content should be in a flow so that visitors lean towards a narrower sales funnel. The content journey should go from awareness to closure with all required information in between on your website.
Visual components
Once you add the content on the website, web design experts start working on all visual elements like Typography, Fonts, Colors, Styles, Mood Boards, Icons, etc., of the website as per set guidelines in the brand manual of companies or as per brief shared by the company.
Testing
Once the website is ready, it is time to do testing to ensure all pages work with good content on each page.
You also must ensure that there are no broken links on any page.
Launch
Once everything works well, it is time to launch a website. The day you start your website, let the world know that you are on the web and available 24X7 with all information across the globe.
Other elements
While making websites, you can also integrate a website with chatbots, WhatsApp messages, email automation. This way, you can increase the user experience and get more leads.
Further, you can also add videos, 360* views to your website to reduce the bounce rate and keep the user engagement high.
Conclusion
So now you know how important a website is for business or a personal brand. Websites can sell your products and services online while you are sleeping.
Make the best website with the best layout and design to attract the users, and they consume your content.
If you want to understand how to monetize your website, read my articles on How to do affiliate marketing in India. And How to find the best Affiliate Marketing websites to Earn Income.
Share your views on website page design in the comments section below. Tell me which website's design you like the most and why. I am waiting to hear from you.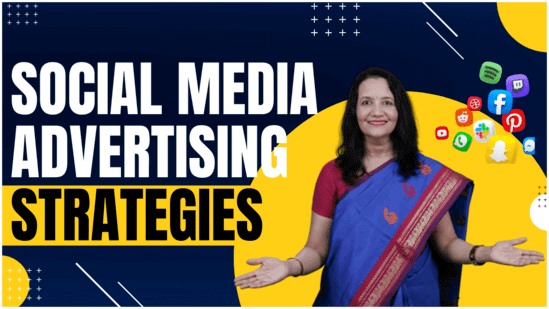 Spread the loveAccording to a study, an average person scrolls close to 300 feet of social media content every day. That's the height of Qutub Minar! Thinking about the amount of time that we tend to spend on social media daily, I find it quite believable. The main idea for social network advertising is to
Read More »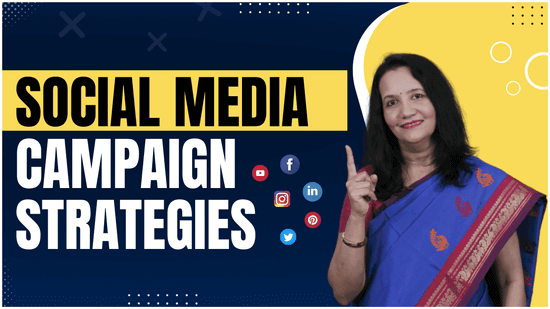 Spread the loveDo you want to create social media campaigns that will make your brand a sensation? Read these five strategies to grow your social media and blow your audiences' mind.Social media campaign is nothing but a series of coordinated activities aimed to promote your product or raise brand awareness in a community. We all
Read More »
Do you want to create excellent landing pages? Do you want to cutdown the cost required to hire a webpage creator. Read the article to know about SeedProd, an excellent landing page builder plugin for WordPress.
Read More »
HERE IS HOW I CAN HELP YOUR BUSINESS GROW
Don't just stand by and watch others make millions! Jump in and leverage digital marketing to skyrocket your business!