If you're here looking for a step-by-step guide to craft a content (marketing) strategy that would help you build trust among your followers, to connect with your target audience by providing them with unique and smart content, you're at the right place.
Content is what drives your other social media strategies, it is the most important part of your digital content marketing campaign and if you can come with a strong content plan or strategy, your site or blog will gain momentum in no time at all. 
Content marketing has become quite popular in the last decade or so, with the rise of the internet and technologies taking over the world. But with growth, there seems to be a lot of noise and lowered quality of content.
We see the inundation of content creators and a massive increase in content creation, and a lack of content marketing strategy.
So what do you do?
 Seeing how content is a significant investment in marketing and isn't a marketing tactic you can switch on and off, you have to remember that it takes months, even years, to build momentum.
So if you are willing to invest that amount of time and months and years worth of effort, you better have a foolproof content marketing strategy to have your back and to fasten the process
Read my blog on  Personalize Content to Connect with your audience and build Loyalty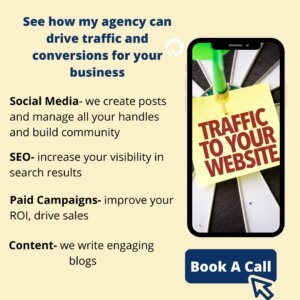 What is Content Marketing?
Content marketing is a long-term content plan or strategy crafted carefully to build a solid relationship with your target audience by providing them with quality content relevant to their interests.
Your content marketing strategy is all about creating and sharing interesting and valuable content that can attract and convert prospects into your audience or customers and then turn them into repeat buyers.
Simply put, it's the strategy of putting out the content into the world to see and letting your content do the marketing for you.
Check out my blog on Marketing Consultant- A Hidden Treasure for Business Growth
Why is content marketing strategy an important weapon in your digital marketing campaign?
Content marketing strategy has become an essential marketing powerhouse for every business in every industry from being just an exciting new marketing concept.
 To build a business reputation online, content marketing is a must. From blog posts to social media posts, infographics to videos and podcasts, viewers are provided with a wide range of content to entice them and build brand trust.
Let's take a closer look at some of the advantages of content marketing:
Great content will enhance your brand authority and increase brand awareness. There is an attractive Return of Investment (ROI) and better Search Engine Optimization (SEO) with consistent and unique content. With Bluehost, you can build your own website and have access to its customised SEO tool, which is used by more than 2 million websites worldwide. 
There is an attractive Return of Investment (ROI) and better Search Engine Optimization (SEO) with consistent and unique content.
To strengthen your relationship with your audience and build trust with them to turn them into regular and loyal customers.
Content Marketing is cost-effective and amplifies the reach of your content.
The Confusion: Content (Marketing) Strategy vs. Content marketing
Before I tell you their difference, let me tell you something: You shouldn't bother marketing without a strategy; similarly, no point in strategizing if you're not marketing.
Content Strategy is the thought and research that has gone into creating an effective content marketing campaign; it is the spine of content marketing crafted with a vision in your mind.
Content Marketing is what comes after the strategy, it is about content promotion and content management. Just as your strategy pushes you and guides your marketing ideas, content marketing and what you learn from it in return will help you improvise and develop your strategy along the way.
Types of Content Marketing
Content is anything you create that isn't an overt sales message or poster. Sounds simple, right?
But also very vague, so I've come up with the most common categories of content you might encounter and have briefly discussed them with examples.
Let's go ahead and explore each of them.
Blog Content Marketing
When it comes to your content marketing strategy, blogging is more or less your home base.
They allow room for a lot of creativity in picking your topic and how you want to approach it and are a powerful type of inbound content. They also create opportunities for sharing via links and with the addition of social share buttons.
Consistent blogging can do wonders. Let me tell you why:
Your blog content is yours; nothing changes as it does with the other social media platforms (Instagram, Twitter, Facebook, and LinkedIn, etc.); it's totally under your control.  Blog posts are long-lasting, i.e., they have no shelf-life.
Blogging using the right keywords increases your business opportunities and drives traffic to your site and is a notable boost to Search Engine Optimization; consistent efforts mean that you are providing search engines with new content to index.
Blogging offers you transparency and strengthens your relationship with your target audience. Being original and real matters.
It's inexpensive and can magnify your brand value once you make an impression with your audience.
Your main aim is to create content that is evergreen, one that has no expiry date. Content that people can look back to in years from now and still find helpful.
For this to happen, you should also make sure to revisit old content to update new info providing a fresh take on the subject. It was seen that content that gets updated and touched up is an excellent way to boost SEO.
You can read my article on "Blogging Tips to blog like a Pro" to learn more about blogging and how to blog.
You can also read my article on "Lessons from top 10 Famous Bloggers to notch up your Blogging" to learn tips from famous bloggers themselves.
Check out my article on how to Set up your Business game using Google my business.  
Infographic Content Marketing
Infographics are easy to understand and are super creative and are done in a graphic format; they display content, information, and data with a twist.
You can use Infographics to your advantage because they are a great way to effectively communicate your content using short sentences, images, and simple wording.
Here is a fun-sized example of Infographics by kind heart. Designs on Instagram about '2021 COVID Solutions'.
Social Media Content Marketing
Over the years, Social media content marketing has won its place, fair and square. It is where social media or brands, or businesses meet content marketing.
With over 3.6 billion people using social media worldwide, it's plenty of self-publicity as to why brands and businesses invest in it.
This involves:
Publishing unique and great content on your social media handles.
Paying attention to and engaging with your customers regularly.
Tracking your results and trying to improve your strategy from time to time.
Using social media advertisements and influencers to create an authentic image of your brand and businesses.
We have several social media platforms like Instagram, Facebook, Twitter, LinkedIn, etc., that we can use to our advantage and publish content with posts, stories, or videos.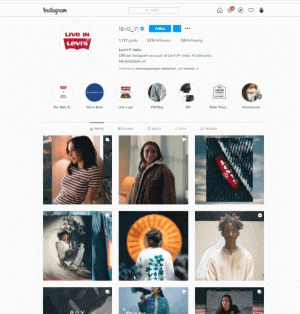 Here is a content marketing example of Levi's India Instagram account. Their Instagram pages show off their new stock and pictures of various influencers and celebrities acting as the face of their brand.
Watch my video on "13 tips for Influencer Social Media Marketing" to learn how to create an original image for your brand using influencers and their follower base.
You can also read my article on "All you must know about Influencer Social Media marketing" to get an in-depth idea about influencer social media marketing.
Video Content Marketing
Video content generates a higher number of social media impressions, conversions, engagement, and traffic. Marketers all around the world have been preaching its rising value for years.
It was seen that 90% of customers say that video form of content helps them in making a decision, and 64% say that seeing a video makes them more likely to buy a brand's products or services.
Video content marketing ultimately aims to drive more profitable customer action and convert qualified leads and prospects.
You can use them along with other forms of content like blog posts and podcasts. It was seen that pages or posts with video content tend to hold the viewer seven times as long as a page without a video.
Let me give you some solid video content ideas to support your social media presence:
How-To videos and Tutorial videos
Going live
Concept or story videos
Instagram video ads or reels
Testimonial videos
Short insightful summaries of your blog articles in video format
Case Studies
Behind the scenes
Animated Content
Here is an example of video content marketing; this is a successful video case study of the brand Coca-Cola. It is very engaging, entertaining, and informative and still somehow maintains the brand's simplicity without going overboard.
Coca-Cola Contour Digital Campaign – Case Study
Here is another content marketing example from the brand Apple, they have come up with a concept video that is engaging, witty, and just showing its employees at work. The concept: Four colleagues. Two Days. One chance.
Podcast Content Marketing
It's no shocker that people these days spend a lot of time traveling, commuting from homes to work and vice versa. And it's widely observed that they prefer listening to music and podcasts rather than watching or reading something during this time.
Podcasting creates a new dimension to your brand or business and is an excellent addition to your content marketing strategy.
So how can you tap into all this potential? You can do this by creating audio content that is engaging and interesting, and your customers can listen to it effortlessly. You can choose other factors relating to the podcasts, like who's on your podcast, your episodes' cadence, and how long each episode is.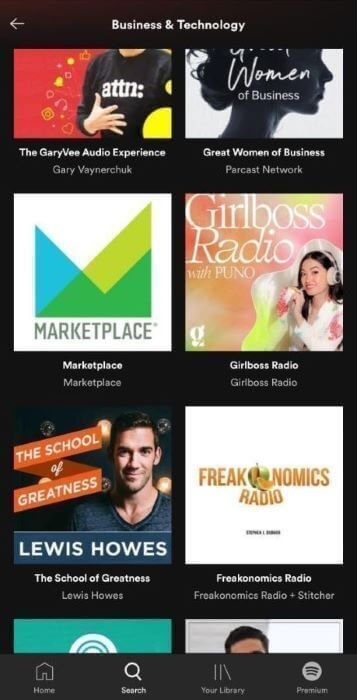 These are the podcasts available under 'Business and Technology' on Spotify.
Paid Ad Content Marketing
With the amount of content being generated daily and our dwindling attention spans, it's not an easy task to catch your audience's attention.
 That's when Paid ads come into the picture to make things easy for you.
Paid content promotion can help you promote your content to a particular audience and convert your qualified leads and prospects and increase your customer base to a great extent.
The downside being, you will have to pay but don't you worry, you have some options that are cost-effective and can still give you the same exposure like Google ads, Facebook ads, Quora and LinkedIn, etc.;
Paid Ads help you reach a broader range of audiences and can help you be seen in places you want to be seen, and they work exceptionally well when paired with inbound marketing.
Steps to Creating a Content (Marketing) Strategy
A content (marketing) strategy is all about planning, researching and crafting a strategy that is capable of making all your goals and dreams come true with the help of the content marketing campaign.
Let us now dive in and learn the specifics on how to create a content strategy. Here is an overview of steps to create a stellar strategy:
Choose a topic
Your first step is to choose a topic, not just any topic but also popular and has a proven track record.
You can look for such topics by:
Keeping an eye out for your competitors and checking out the topics that have done well for them, posts with many shares and comments.
You can also look for podcasts of your competitors and their list of episodes; you can find some great topics this way that you wouldn't be able to find any other way.
You can also use online communities or forums your target audiences use to look for trending and popular topics close to your niche.
You can also watch my video "Don't Select Topics Like This" on my YouTube channel (Prof. Seema Gupta) to get a better idea about what topics to pick and not pick.
Pick keywords for SEO
Now that you have a chosen topic, you will have to list keywords that your customer might use to search queries on Google.
You can use old-school tools like Google suggests and YouTube, which are still very effective for your keyword research, or use keyword tools like WordStream, Soovle, or UberSuggest to do your keyword research for free. Bluehost also provides its own keyword analysis with a bunch of more SEO tools!
You can even use the 'searches related to' area at the bottom of your Google search results. It has a lot of keyword ideas that might be of help to you. And they come straight from Google.
Read my article on Keyword Analysis That Gets Your Website On Top!
Choose a content format
As I have already mentioned before, you have many content types, and I have discussed them in a nutshell.
The main point here is that you've got to choose the content format that works best for you.
If you like getting in front of the camera, make video content that might boost your brand or business. If you like writing, focus on blog posts, and if you like to design, you can create a piece of unique visual content, pick a format that you can do well.
And it is not like you have to stick to one format; if the topic could bring you enough traffic in one format, you can try and publish it in several different formats that might work with a different set of customers.
Coca-Cola is a world-renowned brand with plenty of resources at their disposal, and they have a website called Coca-Cola Journey, which is separate from their main website.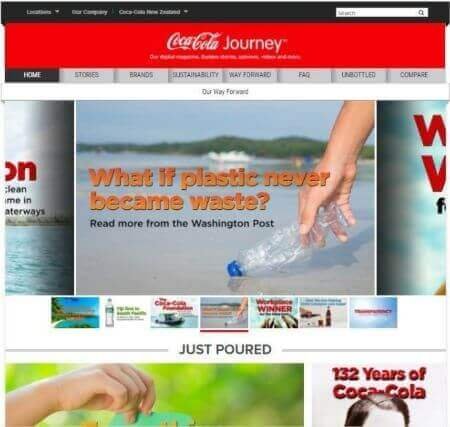 Coca-Cola Journey explores the company's history, innovations, and promotions over the years through several types of content formats like engaging videos, original articles, and fantastic graphics.
Publish an original piece of content
To have your content stand out each time you post something would be a dream come true, but with over 2 million posts being published every day, it might just be an unfinished dream.
But that doesn't mean you cannot create content that will stand out; you absolutely can, and here is how you do it:
Publish insanely actionable content, where you don't talk about the results but how you can get those results.
Using loads of examples. If there is one thing I have noticed among my audience, they love examples; I mean, who doesn't? Examples make learning more straightforward and easier to relate to.
 Focusing on your content UX. You can increase traffic to your site by improving your user experience. People tend to prefer posts that are spacious and have pictures to stuff that are squished and too wordy. Bluehost provides a lot of free and premium website themes website templates with the appropriate fonts and you wont have to worry anymore about user experience.
Nike's hashtag 'Just Do It has been around for a long time now. Though the tagline is old, its widespread recognition has given Nike success over social media.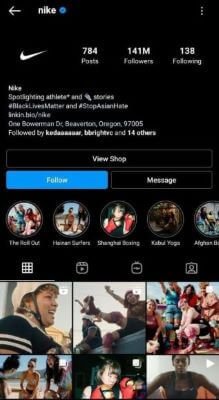 Nike has accumulated over 140 million followers on Instagram and 34 million on Facebook with impactful and inspirational storytelling campaigns and has set the bar high for visual content marketing with its genuine and flawless content.
Optimize your content
Our main aim while publishing any content is that we want it to reach the largest possible target audience and optimization of the content does precisely that.
You can use the following strategies to optimize your content to reach a wider audience:
An enticing title tag will take you a long way. Google uses your site's CTR to determine your rank in the search results; the more clicks you receive, the better you'll rank, which increases your chances of reaching a wider audience.
Using your target keyword a handful of times will make it easier for Google to prioritize your content on a particular topic. That doesn't mean you mention it all the time, just where it makes sense and is needed.
Leaving links to resources that will help your audience to understand the topics you cover in your article better will boost your CTR and drive more traffic to your site.
Content Promotion
Learning about content promotion is just as important as learning about content marketing.
When I say promote your content, it doesn't just mean that you have to share your content on your social media handles. Content promotion is more than that.
Your aim at the end of the day is to get lots of shares and traffic, and let me tell you how to do it:
Email Newsletters are a great way to promote your content. Nowadays, no one out there goes a day without checking their emails, so sending your email subscribers a mail each time you publish something new, will take you a long way. Its always advisable to use a professional email id, one which has your business name in it for more reliability and spreading awareness about your brand. With Bluehost, you can have a professional email id with 24*7 technical and customer support starting at just 125Rs per
month!
Roundups are blog posts that are pieced together by the best content (from multiple authors) from that week or month. If you can manage to get your content in front of someone who runs a roundup, you have a good chance of bagging a link.
Tracking your performance
After publishing great content on a proven topic that has an excellent content UX and taking enough measures to promote it, you will want to know if your efforts paid off or not.
Here are the two metrics you need to focus on to track your performance:
Traffic
Conversions and sales
Our sole aim when publishing content is that we drive more traffic to our sites through it, and if it is not working, it is time we analyze and try to improve it.
With conversions, we want to know if our content is selling stuff or not. Using Google Analytics, we can measure conversions and sales, and if both conversions and traffic are moving up, it is a sign that your content marketing strategy is working.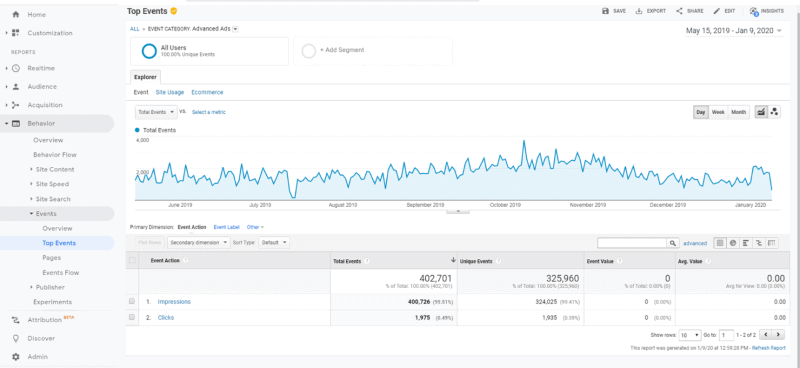 This is a glimpse of how to analyze ad impressions and clicks in Google Analytics.
But you will have to be patient because content marketing and SEO don't happen overnight, and it will take time for your efforts to kick in. Getting a hang and leveraging the use of google analytics can be a bit tricky at times. Bluehost
tracks and presents all those data to you also with latest happenings on your
website at a convenient prices.
Scale your content marketing
At this stage, your strategy is working; you are getting more traffic, shares, and conversions, which is excellent, and now it is time to scale your content marketing.
When I say scale, it doesn't mean I want you to post more and more; this is where people are misguided and prioritize quantity over quality which in turn knocks them down because of the decreased quality in content.
You have to make sure you are scaling your content so that it doesn't affect your content quality. You have to continually publish excellent content that takes your website's traffic and sales up a notch.
CONCLUSION
Content Marketing Strategy is all about creating, crafting, and sharing interesting and valuable content that can attract and convert prospects into your audience or customers and then turn them into repeat buyers.
People generally tend to see how famous your brand is, how confident you are, the money and client base you have, and how you never run out of content and are always doing something new. If you are looking to scale up your business
online, have an online store or a more optimised content marketing tools, analytics and strategy, do visit Bluehost which is being used by nearly 2 million
people worldwide.
Now, what they don't see is how hard you have worked to achieve all that credibility and name; they don't see the insecurities and self-doubt you had to get rid of to get where you are, all the months you had to worry about your money and customers, they don't see the effort and time it took to carefully create a strategy that brought you to where you are.
So, kudos to you if you're still standing; and good luck to all of those who are just starting.
Now, it is time to hear from you guys; let us know what you think about the article and if we have missed something in the comments below.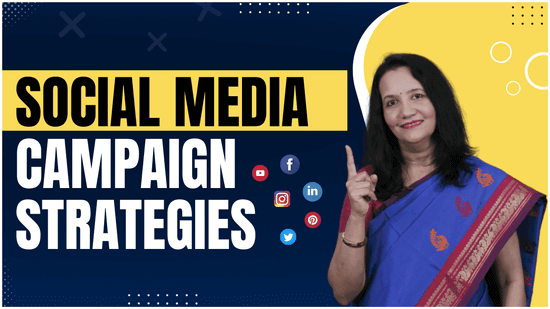 Spread the loveDo you want to create social media campaigns...
Read More
HERE IS HOW I CAN HELP YOUR BUSINESS GROW
Don't just stand by and watch others make millions! Jump in and leverage digital marketing to skyrocket your business!