Have you ever wondered, what is the role of applying stickers on cricket bats in cricket?
Well, the concept behind them is to accelerate brand awareness, increase sales and grow business. All these come under the category of advertisements.
Marketing is more important than ever. People know about advertisements but don't understand what marketing campaigns are.
In this blog, I will share 10 secret strategies for profitable advertising campaigns!
What is an Advertising Campaign?
FACT – Audiences who click on digital ads have greater conversion rates as compared to organic visitors!
Do you know who created orange juice? No, not the orange farmers or companies like Tropicana. Orange juice was a creation of advertising!
The advertising campaign is a planned strategy to promote a company or a product through paid advertising methods. Since a lot of advertising is happening digitally, let us examine some payment methods of digital advertising.
Methods for Digital Marketing Advertisements
1. Pay Per Click (PPC) –
As the name suggests, it is an online advertising concept in which you have to pay whenever your ads get clicks.
In this advertising model, marketers create ads and bid at an online auction to display their ads on the sponsored result section on the search engine page.
Let me show you what I found on the web when I was searching for the 'latest specs frame'. This is an example of a PPC.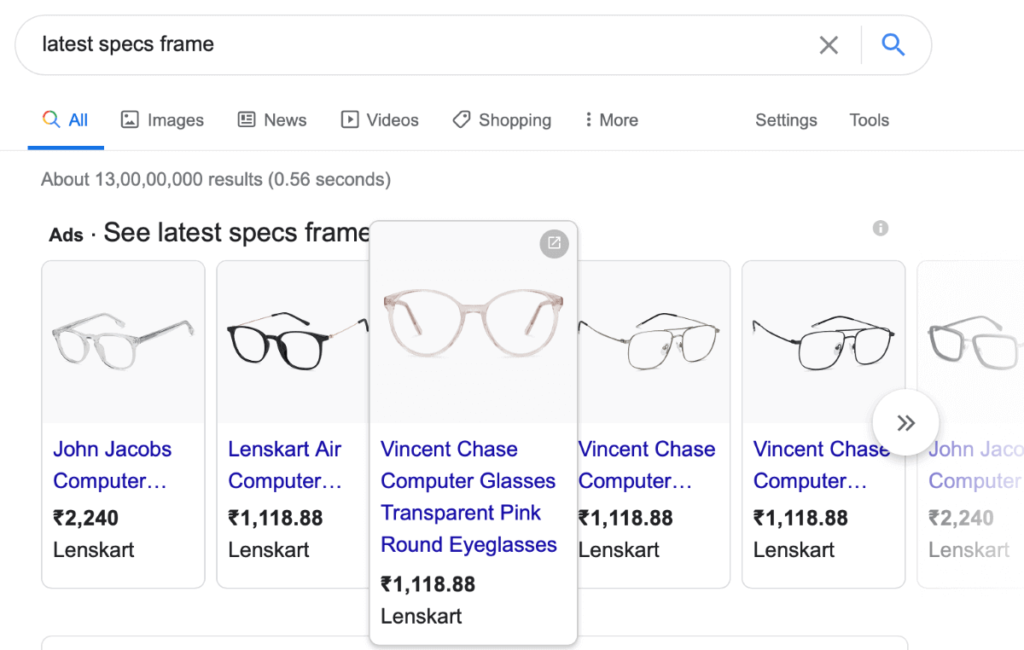 To get a complete guidance on PPC, checkout my blog "Complete Guide To Google Ads PPC Advertising To Drive Conversions".           
2. Social Media Advertising –
It is the online advertisements shown in the feed of social media users. They can be an image or video ads.
Look at the below Facebook newsfeed for an example of a social media ad.     
Before directly putting ads together, it is important to know about how targeting and strategies work.
If you want to see a step by step guide for digital ads, check out my blog "Understand Banner Ads before you Regret [Complete Guide]."
Strategies to make an impactful advertising campaign
1. Targeting –
"You need a blueprint before actually constructing a house so things will go accurately and smoothly" same follows for targeting. You need to target your audiences precisely.
It is not like that target means more buyers or customers. Be specific.
Targeting the market is a very crucial step for building brand awareness and loyalty.
Why?
Do you remember Yahoo? The company which is now shut!!
They made a mistake in targeting the market, which is they tried to charge for services like emails and file sharing, while Google offered everything free.
Google's target market smartly resulted in customers flocking to Google.
This shows why you should be more careful before targeting the market.
The targeting step sounds very easy, but it is vital for sales and leads. You need a to-the-point target strategy for building your brand, which comes to my next point –
How do you create a social media strategy to target?
You need to know about your audiences, where they are from, when they are actually online, what channels they are using, etc. You can increase your knowledge in traffic analysis from a marketer angle frame. This information can be helpful when doing content promoting.
It will help you discover the tendencies for your intended interest group and build up a site enhancement system.         
2. Set Objective and Budget –
We all want a little more in the same amount of money, whether it be one extra gol gappa or an extra sauce sachet 🙂.
But while setting your advertising budget try to be realistic. Some good points to know before you setup your campaign – 
Researching on ROI for digital marketing campaigns is the main key point that most young entrepreneurs forget. It is just like the "Padharo Mhare Desh" welcome phrase before getting into the campaign marketing system. You have to be smart enough to research ROI for campaigns.                                                                                                                                      
Shape your Sales Funnel – Sales funnel refers to your customer's series of steps to purchase your product or service. Outlining your sales funnel provides you a well thought out structure –

How your potential customer finds you in the first place.        
Until they buy, what they need to know.
The key variables leading to their final decision are (and your marketing plan).                                                                                                                      

Explore Avenues – It is always better to check the depth of water before diving in it. You need to explore avenues of advertising to determine effectiveness.                                                              

 

3. Trendiness in your content-
Trendiness in your content is one of the best ways to skyrocket your business. Let me show the power of the trend. You all must have come across this video (YouTube vs. Tik Tok THE END).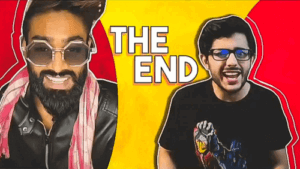 (source – The economic times)                                                                        
This video becomes the first Indian YouTube video to attain 10 million likes. Also, Carryminati broke the record of most subscribers in a single day. If you bring trendiness to your content, you will grab users' attention and generate interest in buying your product or service. 
NOTE –  Make sure the message you are conveying is always relatable to the audience. You will lose your audience if the message is not personally important to them.
Read my latest blog on social media advertising strategies                  
4. Hold your existing customers –
Ever wonder why carry bags have company names written on it? This is a technique to hold your existing customer. The three bases of every successful business are leads, customers, sales. You need to keep an eye on the biggest asset – customers, to build a successful business.
According to a survey, most of the digital campaign focuses on lead generation but forget to take care of customer retention. Here are some of the points –                                                                                                               
Offer customer surprises – Surprises motivate customers. We all love surprises. Surprises show extra care of a company towards customers. It gives a feeling that customers are an essential part of the company.
Automation to re-engage – The idea behind automation is to re-engage customers. Automation helps to manage your customers, send periodic messages, and notify them of any events.            
Feedback Surveys – Surveying is the best method to find out what customers want from us. This will help you to understand them better. You will be able to implement their thoughts in your ad campaign.                                                                           
5. Explainer Video –
People are more likely to watch video instead of reading text. Explainer video is a good strategy to engage audiences. It will help customers to get most out of digital ads.
Let us go through a digital ad by a famous company MRF.
In this video, the company shows the concept of grip with a tagline 'You can bet on it'. These explainer ad videos help you to understand the features and benefits of the product. An explainer video helps you to educate your audiences in an engaging way!
In case you want to know what an explainer video looks like, have a look at the one I created for my digital marketing book.                                                                                      
6. Celebrity Branding –
It is a form of advertising campaign which uses celebrity fame to get credibility and gain visibility for brand or service. Most of the big companies use this technique for their digital ad marketing.
Customers have a tendency to trust a brand more if products are promoted by their favorite celebrity. Just have a look at Byju's celebrity branding.
7. Event Advertisement –
As the name suggests, it is the practice of advertising your event. They help you in getting more registrants with the help of campaigns. Take a look at how big companies use this strategy very smartly.
Here is the event advertising demo –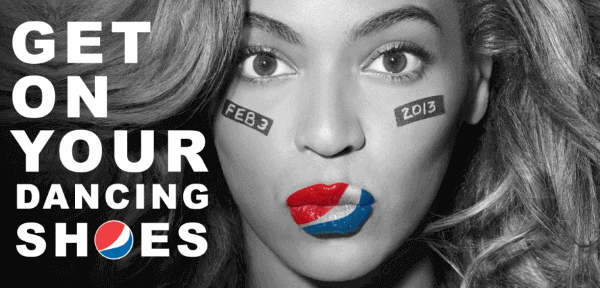 source – Optimy wiki 
See, how cleverly Pepsi advertises its product while announcing the event. This is an effective technique to increase sales and brand image in a smart. Use this strategy with different social media like Facebook, Instagram, Twitter, LinkedIn, and many more platforms to grab attention from audiences.
And how to do that? Here I am providing you the tips to use event advertisement to get more engagement:
Setting up your website is a good starting step.
Using email marketing is an excellent way to remind registrants.
Using video creation to showcase your speakers and events is a great way to excite the users. 
8. Creativity –
Creativity has the potential to increase the effectiveness of digital advertising. It can be done by selecting a concept that binds various parts of an ad campaign.
Look how a creative theme can create a huge impact on audiences-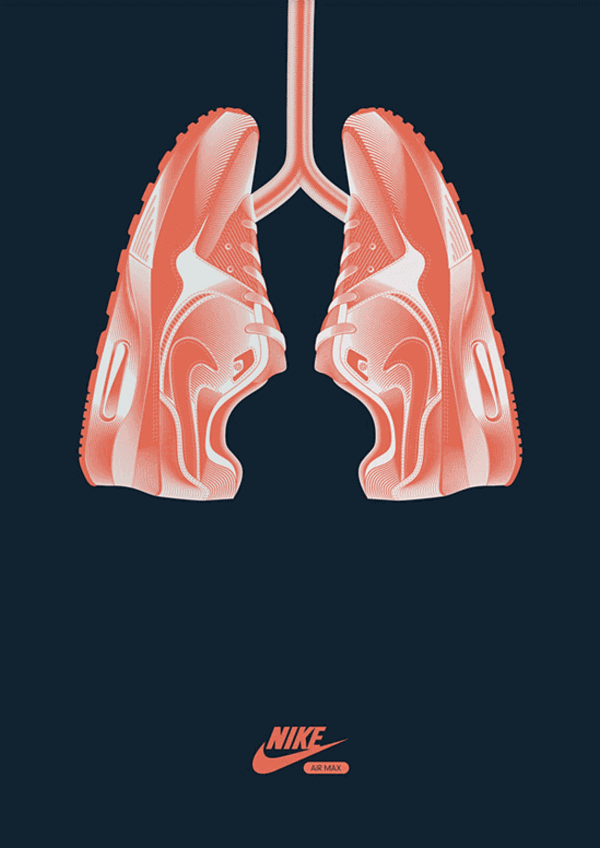 This is what creativity means. Nike smartly shows "How the product is beneficial for customers". It illustrates the concept of shoes impacting health and heart. Look how beautifully they have shown the value of their product.                                                         
9. Communication –
Business advertising is a kind of communication that persuades and inspires individuals to take concrete action. Audiences need to comprehend the message of your brand.                                                    
Direct Communication – It is a form of communicating with audiences who have shown interest to buy from you, from any communication means like phone, face to face contact, email, etc.
One important factor is that this form customizes digital campaigns to the recipient.
Emails marketing comes under direct communication. It might shock you that we meet with direct communications strategy every day.                                                                                                                                                               Curious to know HOW? Just look at my mail, this is the real example!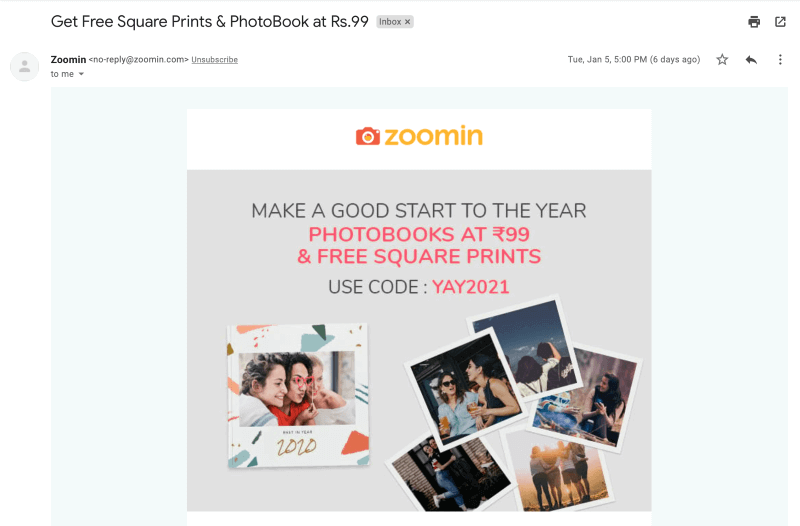 Indirect Communication – This is the method for marketing your product or service and building customer trust and loyalty without spamming or direct advertising. This strategy covers social media accounts, blogs, and newsletters that don't try to sell anything. An example is writing a blog.
TIP – Direct marketing is more effective than indirect marketing. This is because of the rapid generation of leads, sales, and the attention of prospects.
10. Comparative Advertising –
It is the advertising where one party compares his products or services with another party. It will be easily understood if we check this example –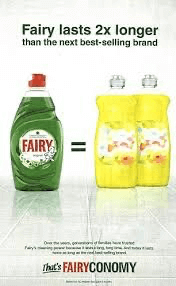 See, how smartly they are competing with their competitor by showing the power of two in one.
In the minds of consumers, comparative advertising is a way to potentially separate yourself from competitors. You need to concentrate on a trait or feature that your clients care about to succeed.
These are the secret mantras for building up successful advertising campaigns.
If you want to know more about social media strategies, you can go through the video.
Let us now examine some successful campaigns to draw lessons from them.
Top 5 Successful Advertising Campaigns
1. Red Bull
Red Bull has one of the most entertaining advertising, thanks to their "Zebra" – 2011 Red Bull Cartoon Ad" campaign. The concept of instant energy is shown in this ad campaign. With the use of funny themes demonstrated in the campaign, they are showing the energy level – Red Bull gives you wings.
They always make distinct funny comedy clips with utmost creativity.
For a younger audience, this witty commercial could rebrand the iconic energy drink brand and spawned a full-blown advertising campaign for years with many more similar style commercials.
Are you ready for your wings:)
2. Mountain Dew
Mountain Dew is known for its action-based digital marketing advertisements. Mostly focused on adventurous promotions, their "Darr ke aage jeet hai | Mountain Dew | Hrithik Roshan" advertisement campaign shows the excellent power of fear.
They always prove their tagline "Darr ke aage jeet hai" with a full-blown advertising strategy. All it takes to make us want to put on our drink and go for a chase is a catchy song and a good setup. This campaign proves that excitement, entertainment, and continuity are great keys for successful advertising campaigns. 
3. Coca Cola
Coca-Cola is the most beloved brand across the world. It is trying to make more multi-sensorial advertisements.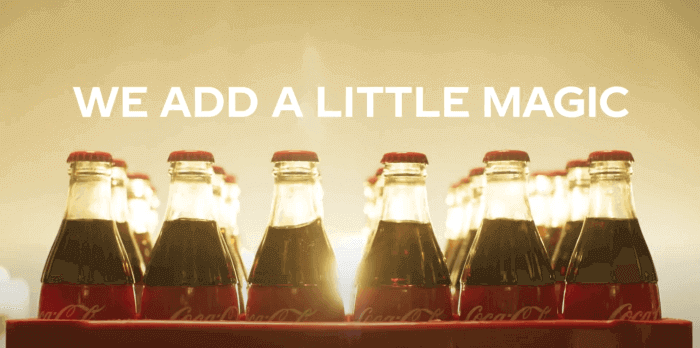 (multi-sensorial ad)
With their latest advertisement campaign naming "Coca-Cola – Turn Up Your Rhythm", they creatively show how to turn up. The innovative idea of coming up with the process of showing manufacturing to sold out is quite sensational. The ad was about to awaken the lazy soul of yours with a little magic.
4. Maggie
Famous for #2_minutes noodles. Everybody needs to fill their empty stomachs that make them happy and that made them want to take on the world, And with the "Everyone's Favorite MAGGI" spot, that is the case.
This ad campaign focuses on "kuch acha banae, aao maggie banae," they implement this by showing the eagerness for crispy maggie among family members. They are also adding one more value that taste becomes better when all family members come to sit together for eating.  
There is a small line which is famous among bachelors which is ghar ghar ki kahani, maggie hai banani 🙂
Are you ready to prepare your maggie kahani 🙂 
5. Surf Excel
Surf excel comes up with creative ideas every time. It has managed to draw over a million subscribers with their implementation of the "daag acche hai " concept into "This Holi, let colours bring us together!" campaign.
By this marketing campaign they not only encourage people to enjoy holi festivals but also send a cute message that is to bring togetherness.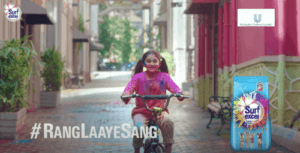 Across new media, the campaign message of getting people together and  how colours can be an equaliser in our culture has resonated well.
Surf Excel's #RangLaayeSang initiative brilliantly captures how Holi's colours can be a force for melting distinctions and getting people together.
It brings our decade old 'Dirt is Fine' ideology to 'Agar kuch accha karne mein daag lag jaaye, toh daag acche hain' life effortlessly. 
Conclusion
An advertising campaign's objective is not to infuriate an entire community of individuals. By being different, simple, trendy, and unforgettable, the aim is to bring your target audience's attention to your brand and your product. Try to get some unique ideas with utmost creativity.
Above listed tested strategies will surely help you in getting maximum ROI for your advertising campaign.
Do you have any doubts regarding advertisement campaign strategies? If yes, do comment! I will love to clear your doubts.
Let me know in the comment sections if these secret mantras help you build up your advertising campaigns.
Stay tuned for upcoming blogs!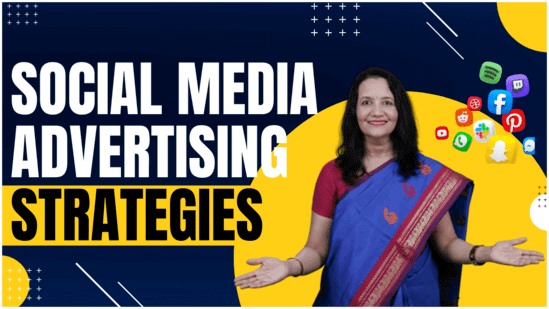 Spread the loveAccording to a study, an average person scrolls close to 300 feet of social media content every day. That's the height of Qutub Minar! Thinking about the amount of time that we tend to spend on social media daily, I find it quite believable. The main idea for social network advertising is to
Read More »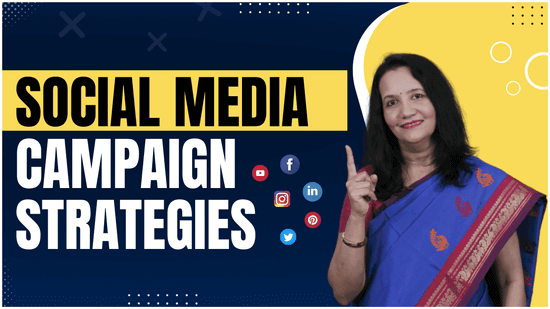 Spread the loveDo you want to create social media campaigns that will make your brand a sensation? Read these five strategies to grow your social media and blow your audiences' mind.Social media campaign is nothing but a series of coordinated activities aimed to promote your product or raise brand awareness in a community. We all
Read More »
Do you want to create excellent landing pages? Do you want to cutdown the cost required to hire a webpage creator. Read the article to know about SeedProd, an excellent landing page builder plugin for WordPress.
Read More »
HERE IS HOW I CAN HELP YOUR BUSINESS GROW
Don't just stand by and watch others make millions! Jump in and leverage digital marketing to skyrocket your business!