Are you someone who produces a product that isn't getting much reach? Are you making Reels that don't get enough views? What if I tell you the exact method to create Instagram Reels Videos that capture your audience's attention? Surprising yeah, Read along to find out how.
The ban of TikTok in the entire nation in June 2020, followed shortly by the release of Reels feature by Instagram, saw content creators jumping into this platform and utilizing it to build and engage their audience.
Reading through this article, you, as a content creator and an owner of a business, would better use this platform to promote yourself and your products for more revenue and a wider reach.
Check out my article on Tailwind review – A Game Changer for pins and posts.
To know more in detail, refer to my article on "Become an Instagram Marketing Expert in 2020"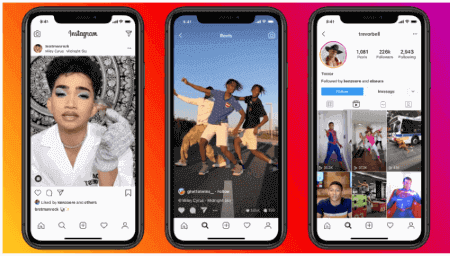 What are Instagram Reels
With Instagram updating itself to keep abreast with the changing trends, it rolled out the Reels feature in the August of 2020, conveniently right after the Indian government banned TikTok.
This has been designed in an almost similar fashion to TikTok, maybe with a hope to neutralize the growth of TikTok in many countries.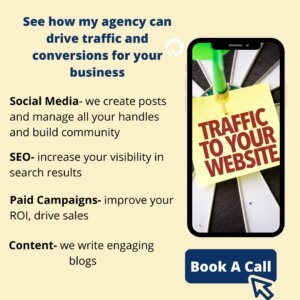 The various Instagram Reels features include:
The videos can be from 3-15 seconds long.
The aspect ratio of the video is 9:16 portrait mode.
The video can be shot directly on Instagram or uploaded from the camera roll.
Video can be a single take or different takes edited together. Users can even use AR effects to enhance their videos.
Uploading can be done only through mobile.
They are stored on your Profile, unlike a story that disappears after 24 hours.
They have a dedicated section to explore and share such content hence making them more visible.
If you have been using Instagram, you probably know a Reel when you see one. They are different from other Instagram posts and even have a dedicated section on your Profile where you can organize them and are also present on the main page of your Profile. We can also see them on the Explore page inter-spread among various other posts and are easily recognizable.
In addition to uploading a reel to feed, you can even make your audience take notice by adding it to your Story and your Highlights, thereby increasing reach.
Also checkout my article on Amazing ideas to explore in the world of Youtube Shorts.
For in-depth knowledge, do check my video on "Instagram Marketing 2021 | Tips and Tricks for Instagram Growth"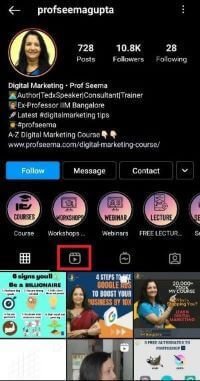 As illustrated above, one can easily recognize a Reel when they see one by its icon on the bottom left corner while going through feed or at a separate place while going through someone's Profile.
As we can see from above, the reels in a profile have a separate grid and are part of the main grid, and can even be used in Story and Highlights, thus giving it much more versatility and visibility. This is now the right time for you guys to understand how we can exploit this to our advantage and, as a business, reap benefits from it.  
How can we use the Reels feature on Instagram to grow our Business?
The first question that arises in our mind is, "Why should we use it?"
This is easily answerable. If you are an enthusiastic digital marketer, you would probably know the benefits of marketing on Instagram and already know how to use Stories, Feed, and Highlights to your advantage. Reels combine all these features in a much more efficient way which will help us garner more audience and provide more reach.
It also provides room for more creativity, and we get to add music, text, effects, etc.
After having gone through the trending Reels of celebrities dancing, singing, and catching up with the trend, you might be left wondering, "How can we use this to grow our business?"
Well, it can be used in different ways depending on your profession.
For example,
If you were a freelance digital artist, you could show a time-lapse of the process behind your most recent work.
If you owned a bakery/ cooking business, you could make a video on the various food being cooked/baked.
If you were from the fashion industry, you could make quite many videos relating to fashion and clothing.
You can even show the audience around your Business to get more engaged and connected to them personally and gain their trust.
Once people get to know you and your brand and get familiarized and accustomed to you, they naturally begin trusting you and your products.
Here are some tips about Instagram in general, which will surely help a lot in Reels marketing "Decoding Instagram Algorithm to Increase Free Instagram Followers"
What kind of content works best in Reels?
Having understood Why the Reels feature on Instagram is a fantastic tool and How we can use it to grow our business, let us now look at the various types of content that have worked out well so far when put on Reels.
Educational Content
Don't get scared. Educational content doesn't mean teaching school or college subjects; it means educating your audience on why your product/ service is different from the others and why they should buy/use it.
For example, if you owned a bakery, your ultimate goal is to get recognized for selling quality products. Attaining this status would require you to be well established and recognized by customers. Reels are here to help you do exactly that. You can now post about various things which might capture the audience's attention, including:
A before and after of the decoration of a cake.
A time-lapse of how your bakery looks.
A video on how things get cooked, i.e., behind the scenes.
A compilation of the various reviews and comments you have got from the customers who have tasted your items.
A sneak-peek into the method behind you baking those dishes (Secret recipes!!)
These videos will help showcase your expertise in that field and make the audience believe in your product, leading to more reach.
Product Review
Educational type content showcases your expertise in that particular field and in the product/service you provide, whereas, Product Reviews show the customers' reaction.
The satisfaction of the buyer of your product is one of the primary reasons producers work so hard. If you get positive reviews, then through the power of word of mouth, the reach for your product/ service increases by itself.
Using Reels to create 15-second videos of the reviews you have got from your customers and sharing them, and having a dedicated Highlights section for that is a great marketing strategy. It assures potential customers of your product's quality and the experiences that people have had with your product/ service.
Behind the Scenes
Well, who wouldn't want to see how the item they had ordered is made or prepared. Behind the Scenes helps build relationships between the producer and the consumer.
It helps humanize your company as the consumers see how you make the products, helping them build trust and forge long-term relationships with the company/ brand. Reels act as a bridge between the producer and the consumer as they can see you go about the process of making something they have ordered for.
For example, if you are someone in the fashion industry/ have a clothing brand, customers would be very interested in knowing where the fabric came from and how it is being designed, which can be made into a series of Reels.
Company Story
Every brand, company, and Business has a story about how they began and how they have evolved over the years. People love to hear stories about such successful businesses, making them feel the need to be a part of it.
With Reels, we can share the Story in many different ways using old photos and music to show people and make them realize how much they have grown over the years and their various experiences in those years.
The reasons for doing such Reels would be to make the audience more connected and make it more personal and relatable to everyone, which will help build relationships with them.
Reaching out to influencers can also be one option you can keep in your mind. To learn more, do check out my article on "Find Top Instagram Influencers to Skyrocket Your Marketing"
Creating and Publishing Reels for Instagram like a Pro
Before making a Reel, one of the best things to do is go to the Explore page, start surfing for Reels and check out some examples of brands relating to what you want to set up. This would get you accustomed to the market trends and understand what kind of content works well among the audience.
Now that you are ready, let us jump in and create a Reel, shall we!
Making an Instagram Reel
You can access Reels by opening the camera on Instagram by swiping right from your home feed. On the bottom of the screen, you will see four options – Post, Live, Reels, Story – which are the different ways of posting content on Instagram. Click on Reels to start creating one.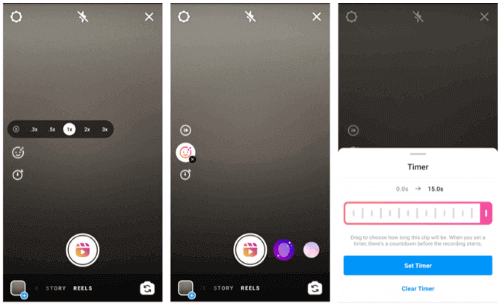 On the left is the navigation toolbar with different options to modify the speed, add effects, keep a timer, and add music. On the top left is your settings icon; to the right is the flash icon. The button at the center is for recording your Reels.
NOTE: 1. Creative effects like filters, music, and timer need to be set before shooting the video and cannot be changed once the video has been shot. So, Beware!
            2. In addition to the above features on the toolbar, personal and creator Instagram profiles, i.e., Non- Business profiles, have an extra option of adding any music as background to their video.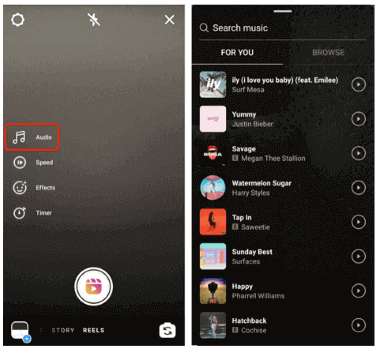 Let me now explain to you what these toolbar features include in some detail:
Music: Using the music feature, we can add any 15 or 30 seconds clip from some of our favorite and popular songs by searching and editing which part of the song we want in our video.
Speed: The speed effect is for increasing or decreasing the rate of the recorded content.
Timer: Timer is used for setting a time by clicking on the clock icon. This enables us to do a hands-free recording.
Effects: This feature is used for adding a filter to the recording. We can scroll through the enormous different filters near the shutter button that Instagram provides and choose what suits us best. Upon reaching the end of the filters, we can even browse for other filters.
Align: This tool is used for lining up the shot with the previous shot. It is an excellent tool for seamless transitions between two clips.
Now that you know what's there on the screen, it's time to Record a Reel.
First, add appropriate music if you need one, select speed, add effects, and use a timer if you need it. Once that is all set, press and hold the shutter button to start recording.
Once you start recording, a progress bar will start moving at the top from left to right, showing you the time left. Once the recording is done, this progress bar will tell you the duration of the video and the number of clips recorded.
After recording, at the bottom, we can see two arrows. If we click the left arrow, it opens a place where we can trim and delete a clip.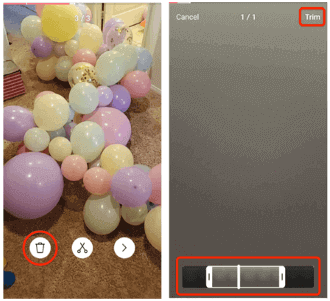 To trim the clip, we click on the scissors icon. This will take us to the next screen, where we can drag the start and the end bars of our clip to select the portion of the recorded video we need. Once that's done, click on the "trim" button on the top right to save the changes made.
To delete/discard the current Reel, which we have just shot, click on the trashcan icon to the left of the scissors icon.
NOTE: Instead of taking a reel on an Instagram camera, we can even upload videos from the gallery.
To upload a video from the gallery, i.e., Camera roll, click on the box in the bottom left corner as shown above. This will take you to your phone's gallery. Choose any video clip which you wish to upload.
When we choose a video on Reels, there is a chance that the selected video is longer than the time limit of Reels (15/30 seconds). If that happens, then we can choose the 15/30 second portion we want. Once that's done, click on the upload button to upload the Reels and add them to your collection.
Once you have finished filming the video, there are some post edits which you can do, like add stickers, text, and doodles to the recorded clip. There is also a feature to save it to our camera roll too.
Posting Reels to Reels feed, Profile feed, and Stories
Now that you are well-versed in making an Instagram Reel, let us look at the various ways we can share it to reach the maximum audience and generate maximum viewership.
Now that you are done creating a Reel, it is time to upload it. You can do that by clicking on the edit button, doing the post edits, trimming, and then clicking on the share button.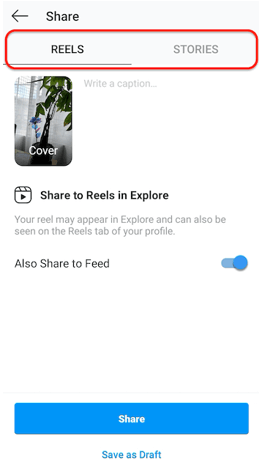 Once you click on the share button, you will be taken to the share screen as shown above, from where we can share to Feed, Story, and Reels.
To share a Reel to your Story, click on the Story tab and add it to either your Main Story or to your Close Friends Story, which contains a list of your close friends. Here you can even send it as a personal message to some of your contacts or a group.
NOTE: Sharing your Reels to Story can only be done here. If you don't do it here, it can't be shared once you upload it to the feed.
We can also add other things to the Reel like a Cover Photo, Write a Caption, and even Tag people.
Cover Photo: You can select a particular frame from the recorded video as a cover photo or upload a separate one from the gallery.
Caption: For the video's caption, you can use 2200 words and up to 30 hashtags. So, choose wisely.
Tagging: You can also tag other people/businesses who made this video to tell the audience who exactly did what.
There is also the option of saving it as a draft so that if not now, wherever we are free, we can resume the editing from where we left off. To access the drafts, go to your Profile and click on the Reels tab, and you will see the saved drafts, and you can click on it to edit.
Once you have uploaded the Reels, they will automatically appear on the Reels tab on your Profile. Also, since you shared it to the feed, it will appear on the feed of your followers. If you don't want the Reel to be visible on other's feed, then uncheck the slider as shown above.
Deleting a Reel
Now that you know what Reels are and how to upload them, there may arise a time where you might want to delete a Reel or two. So how do we do that?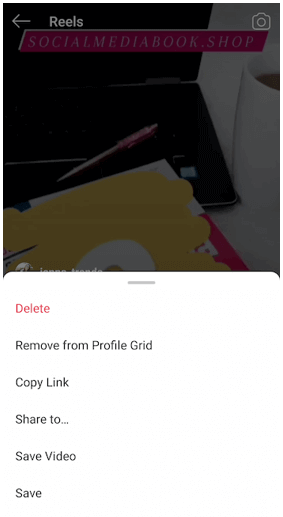 If you tap the three dots next to the like, share, and comment icons, it will open additional functions, as shown above in the figure. Here, by clicking Delete, we can delete the entire Reel from Instagram.
By selecting Remove from Profile Grid, it is removed from the main profile tab but stays in the reels tab.
Now you are all ready to dive into Instagram and create your perfect Reel to showcase your product or service to the entire world. Before doing that, let us look into some pros and cons of such Reels Marketing.
Now that you are an expert on creating Reels check this article out to learn "How to get Instagram followers for FREE | Grow 0 to 10K Fast (EASY TIPS) | 100% Success" 
Pros and Cons
There are various benefits that a marketer can extract by marketing his product/service on Reels, some of which are:
Reels are very easy to create
Creators can get more exposure
The content is permanent and will always be on your handle until you remove it
Some of the cons of Instagram Reels are:
Not so easy to discover
Tough to navigate through
We cannot schedule Reels
Conclusion
Instagram Reels is a feature that adds another gun to the already powerful armory of Instagram, making it something which digital marketers must focus on to attract the Gen Z audience. Creating unique content always helps you stand out among the crowd and helps to provide reach.
It might take time to master the Reels, but once you get the hang of it, I'm sure you will create unique and fun videos that engage every demographic of the audience.
Now it's over to you guys!
Drop your comments below if you think I've missed out on something or if you want to share your reviews, I appreciate and answer them all.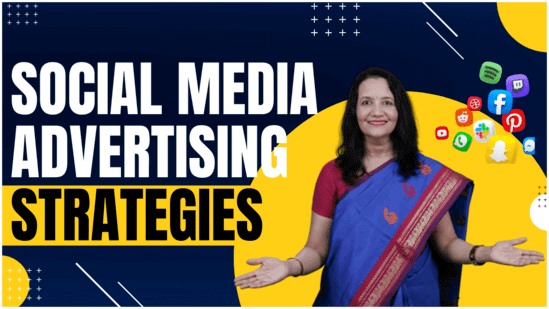 Spread the loveAccording to a study, an average person scrolls close to 300 feet of social media content every day. That's the height of Qutub Minar! Thinking about the amount of time that we tend to spend on social media daily, I find it quite believable. The main idea for social network advertising is to
Read More »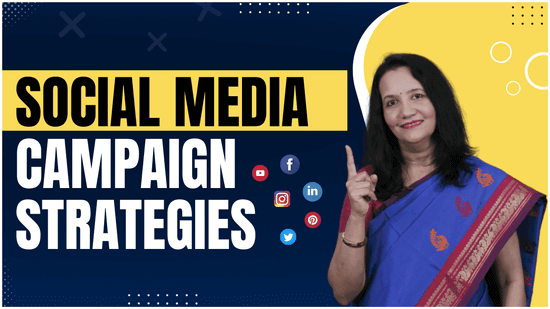 Spread the loveDo you want to create social media campaigns that will make your brand a sensation? Read these five strategies to grow your social media and blow your audiences' mind.Social media campaign is nothing but a series of coordinated activities aimed to promote your product or raise brand awareness in a community. We all
Read More »
Do you want to create excellent landing pages? Do you want to cutdown the cost required to hire a webpage creator. Read the article to know about SeedProd, an excellent landing page builder plugin for WordPress.
Read More »
HERE IS HOW I CAN HELP YOUR BUSINESS GROW
Don't just stand by and watch others make millions! Jump in and leverage digital marketing to skyrocket your business!