A Keyword Analysis is the starting point for any search marketing campaign!
Like how words form a sentence, keywords form your marketing strategy!
Keyword Analysis is done to identify which keywords are searched the most on the search engine platforms like Google. By identifying the most searched words, you can add those keywords to your website and increase your website's popularity!
There are many website keyword analysis tools in the market. We have discussed the top ten keyword analysis tools that are most effective and simple to use. And the most exciting part is that these tools are completely free of cost! These tools save your money and time! However, you can use their paid service to perform a more detailed keyword analysis.
Let us plunge in and discover the ten keyword analysis tools that will make your keyword research much more effortless!
Read my article to know more about about how to Set up your Business game using Google My Business.
Google Trends
Google Trends is the perfect tool for Google Keyword Analysis! It showcases the performance of keywords over some time. It also helps you compare keywords and their performance over some time.
Once you land on the homepage of Google Trends, you will find the following items-
Country Option
You can find the 'country' filter at the top left corner. Therefore, if you are looking for region-wise data, you add your country from the drop-down.  And in case you are looking worldwide, you can add the same.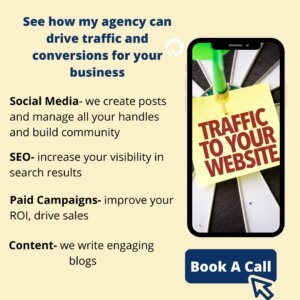 Search Option
At the right middle of the home page, you will find the search option to type the keywords, whose data you are looking.  Following the search option, you have six examples with the keywords and their analysis. Therefore, you will have an idea of what Google Trends analyze by looking at the examples.
Recently Trending searches
If you scroll down, you will find the recent trending searches. Here, the keywords are listed along with the number of searches. Keywords like 'Christopher Plummer', 'Rose Day,' and 'Sports' are trending.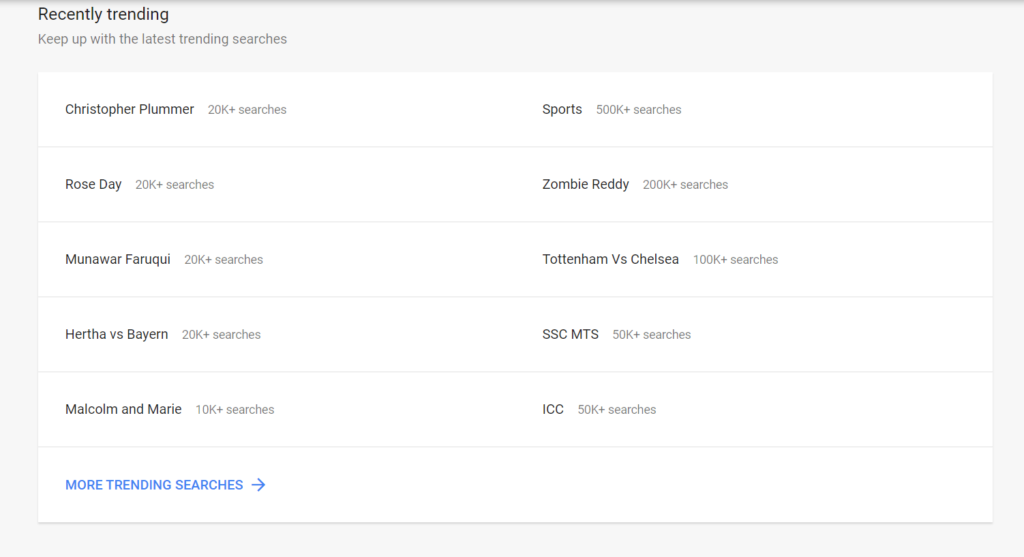 Year in Search
The next section is the year in search. Here, there are different years trending search. Year in Search tool provides the list of trending keywords of that year. It is categorized into- Overall, near me, how to, Movies, News events, Personalities, Sports Events, TV/Web Series and What is. Therefore, this section provides a coherent report covering almost all the trending words of that region or worldwide.
For example- In 2020, the most searched movie was 'Dil Bechara,' and the most searched overall keyword is 'Indian Premier League.'
Check out my review of Weebly- Website builder tool
And now, coming to the analysis section.
Suppose I want to search the keyword, 'Biryani.' I have to type the keyword, and I will receive the analysis.
Google Trends shows a timeline graph with the number of searches per day. This timeline graph is offered for six months. You can both download and share the data.
Following the graph, you can find the interest by sub-region or city. Here, you can find the popularity of the keyword in specific states or cities. In this example- the 'Biryani' keyword is popular in Puducherry and Tamil Nadu. It is also popular in Bengaluru city.
Lastly, Google Trends provides related topics and related queries that are rising and on the top. The related topics to the keyword, 'Biryani,' are Bai Veetu Kalyanam and Ranveer Brar.
Filters
These filters are the fantastic tools that shall make your keyword analysis easy peasy! A country filter makes your data narrow and specific to your region, as mentioned above.
Timeline– This filter is to choose your timeline. These timelines range from the past hour to the past five years. You can also customize the time range.
Categories– This filter is chosen for the categories of topics in which your keyword is popular. There are different topics like travel, beauty and fitness, books and literature, and many more.
For example– 'Biryani' will be popular in 'travel' and 'food and drink.'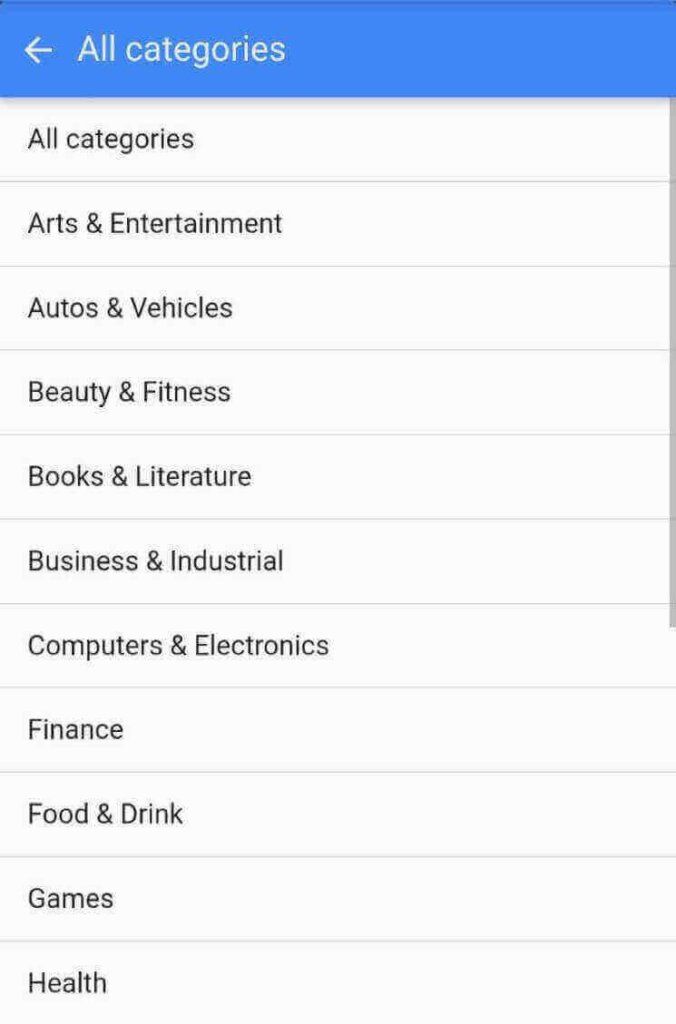 Searches – Here, you can choose the type of searches you want to look into. There are choices including web search, image search, news search, google shopping, and YouTube search.
Keyword Generator
Keyword generator is another keyword research that not only provides results from Google. It also provides results from search engines, including Bing, YouTube, and Amazon.
You can start by typing a small seed keyword. Seed keywords are small primary keywords that are generally used, for example – Shoe, Ball, or Hoodie. This keyword tool is primarily used to find keyword ideas. The tool provides more than 100 keyword ideas with keywords difficulty and search volume.
You can find different categories among which you can choose your keywords.
Phrase Match
Here, you will find the keywords written from the seed keyword you typed. For example- If you typed 'Hoodies,' you can find 'Hoodies for men' and 'Hoodies for girls' and so on.
exactQuestions
As the name suggests, here you will find the questions phrased with the keywords.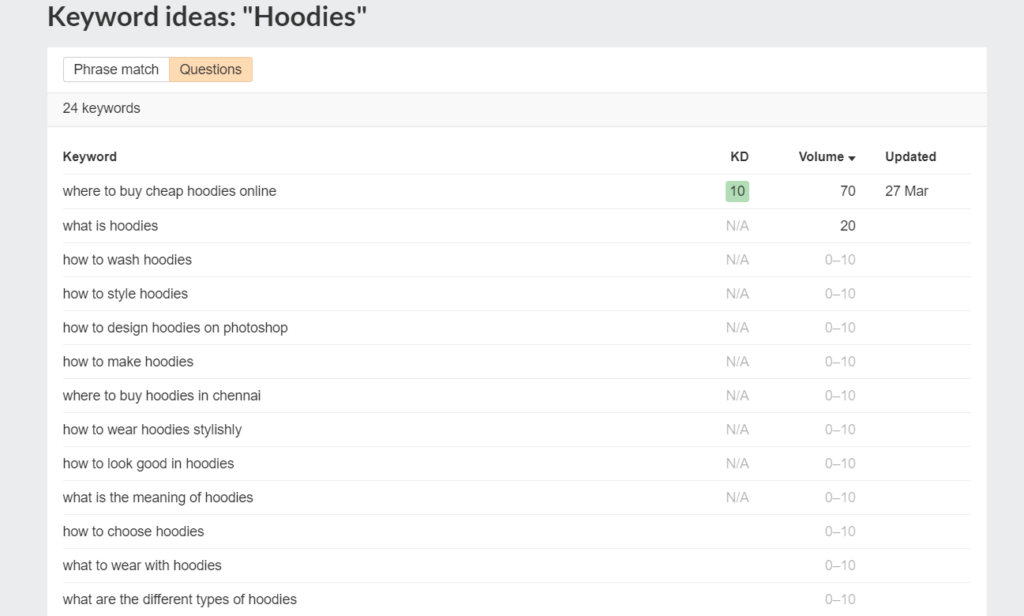 The tool also provides Search Engine Optimization Metrics. It mainly shows four items. The first two items are completely free of cost! However, if you wish to perform an in-depth keyword analysis, you could subscribe to their paid services-
Keyword Difficulty- This is showing the difficulty number for a keyword to rank high. Keyword Generator calculates the difficulty number of the keyword that you typed.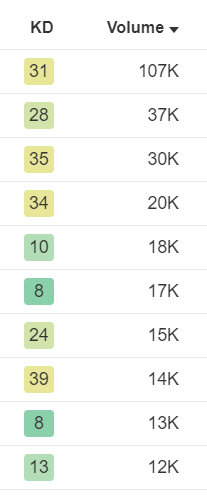 Search Volume- Keyword Generator also provides estimates of search volume. It also calculates the percentages of clicked and not clicked. It shows a timeline graph to know the search volume over time.
Clicks and CPC- This is a paid tool. The tool calculates the number of clicks, CPC, and RR (Response Rate). It also calculates the percentage of organic and paid search
Global Volume- This shows the popularity of the keyword in different regions across the world. And this tool is also paid for.
Keyword Sheeter
Keyword Sheeter is a keyword tool that performs multiple functions like Keyword ideas and Keyword analysis. Keyword Sheeter uses the following tools to perform these functions.
Free Keyword Tool
In this section, you can generate keyword ideas. You can start by typing a seed word and then click on the sheet keyword. You will find that the tool pastes various keyword ideas in a sheet form. These keyword ideas keep generating until you click on 'stop sheeting.' That is a lot of keywords!
There is a positive and negative filter. If you want to add specific words, you can use the positive filter. If you want to remove any word, you can use the negative filter.
Note: The below-mentioned sections are all paid services. The price of the analysis metrics will depend on the keyword typed,
Keyword Difficulty Grader
In this section, you can find the keyword difficulty of the keyword you typed. Again, you have a region filter. Therefore, you can find the keyword difficulty in the specific region.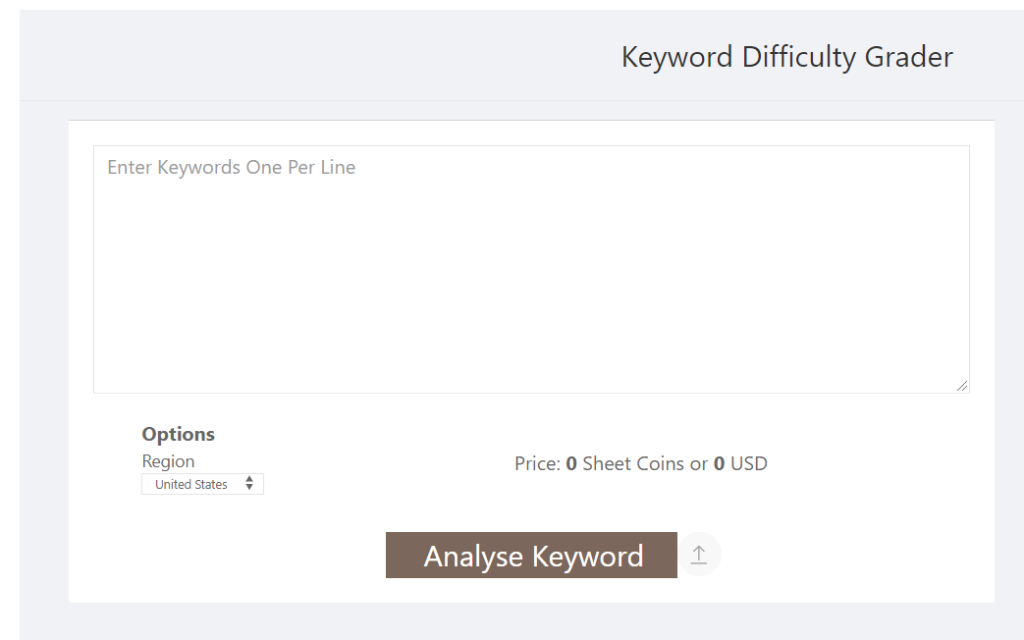 Search Volume
This tool also calculates the search volume and CPC. Here, you even can choose the language in which you want to check the search volume.
.com?
In this section, if you type any keyword, the tool will show you the domain with that keyword. Therefore, you will know the domain availability. If any domain is available with this right keyword, then you can change your domain name accordingly.
Top 100 rank Seeps
This section shows if your website ranks in the top 100 websites when the keyword is typed. It is always the rank one that attracts almost 50% of the audience, therefore decide wisely.
Import Keywords
You can import a set of keywords in this section and then analyze its performance.
Answer the Public
This keyword tool is entirely free of cost! Using this tool, you significantly find new keyword ideas.
Start by typing your keyword. Then you will find beautiful images with all the keyword suggestions.
You will find questions, prepositions, comparisons, alphabetical and related.
Questions
In this section, the tool identifies several questions ideas for you. The questions are categorized into who will, which, where, when, why, what, are, can, and how. Almost eight questions are presented in each category, making it almost 80 question ideas in a second!
Prepositions
As the name suggests, you will find keywords ideas with prepositions like for, can, is, with, near, without, and to. For example, if I want keyword ideas for curtains, it shows keywords with prepositions like curtains to block sunlight or curtains without holes.
Comparison
Here, you will find a keyword with comparisons or differences with seed keywords, including and, like, versus, vs., and or. For example, if I want keyword ideas for curtains, it shows keywords curtains versus blinds.
Alphabetica
Here, there are at least six different keyword ideas from each alphabet! For example- For keywords like curtains, the tool showed ideas like curtains on amazon, curtains blinds, or curtains color.
Related
Lastly, the tool shows keywords that are related to the earlier typed keyword.
All these keywords can be viewed either in graphical or list form. These keywords can also be saved to a CSV file.
Soovle
If you want to analyze keywords in an instant, without wasting time and money, use Soovle! This is the most straightforward keyword research tool. The homepage has different search engine images including,
Google
Bing
YouTube
Answers
Yahoo
Amazon.com
And as you type the seed keyword, you can find the list of popular keywords on that particular search engine.
To know more about search engine marketing, read our blog: https://www.profseema.com/seo/semrush-review-the-best-seo-marketing-tool/
Suppose I type Baahubali, Google shows 'Bahubali' whereas Yahoo shows 'Bahubali 2 full movie' as popular.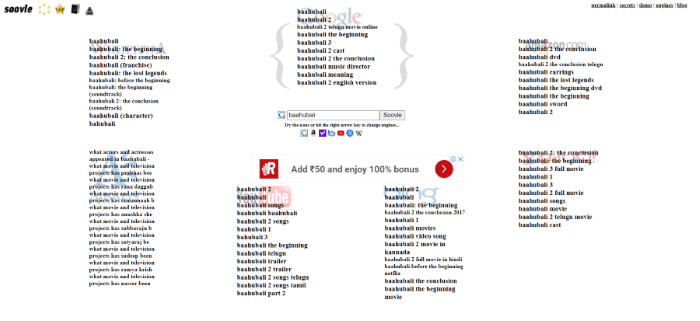 At a glance, we can know which keyword is popular in different search engines.
Keyword Surfer
Keyword Surfer is a chrome extension. You have to add Keyword Surfer extensions to your web browser. So, every time you search for something, you will receive the keyword analysis along with the search results.
For example- If I type 'Blue jeans' on Google. Right next to the keyword, you can find the search volume and cost per click estimation. You can see that the search volume of 'Blue Jeans' is 14,800, and the CPC is $0.23.

On the right-hand side, you can find the keyword analysis for 'Blue Jeans.'
Mainly the analysis shows two items-
Keyword Ideas
In this section, you can find at least 400 keyword ideas along with their search volume and similarity to the seed word you searched for.  You have a country option too. Therefore, you can get the keyword ideas region-wise too. For the 'Blue Jeans' keyword, you can see that 'jeans' and 'jeans for men' are similar words.
Correlation Charts
In this section, you can see the graph of traffic. This graph shows the sites with estimated traffic for the 'Blue Jeans' keyword. It also shows sites that use the 'Blue Jeans' keyword the most. You can see that 'Wikipedia, bluejeans.com, and Myntra have used this keyword the most.'
Question DB-
         This is another keyword research tool that helps you in finding questions related to your keyword. The keyword research tool shows the top related keywords and the questions. These questions are shown along with the source links. Therefore, you will know in which website audience are curious about your product.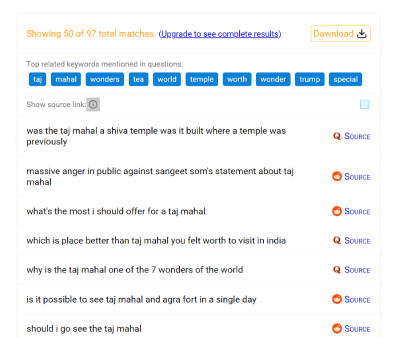 Suppose I type 'Taj Mahal,' you can see that the top related keywords are 'taj, 'mahal,' and 'wonders.'
And the questions are listed below. Do you see that the 'Taj Mahal' keyword's top question is 'was Taj Mahal a shiv temple? Was it built where a temple was previously?' and it was asked on Quora.
So, this way, you understand both the question and where is it popular?
Bulk Keyword Generator-
This tool is primarily used for local SEO. This tool generates very business-specific keywords. This tool has majorly had two sections.
Keyword Suggester
Here, the tool will suggest words according to your requirements. Suppose I want to search keyword for 'carpet cleaning' in Bangalore
Step 1 – I will choose 'cleaning' as the business type
Step 2 – To be more specific, I will choose services like carpet cleaning
Step 3 – Finally, I will add the location as Bangalore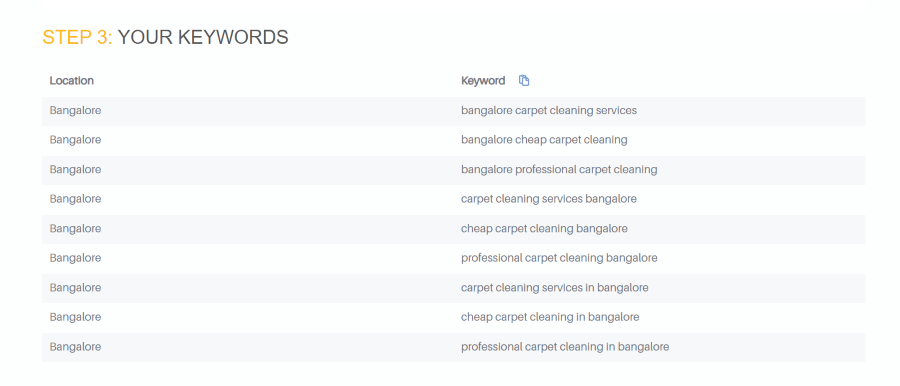 You can now see that the keyword tool has generated words, like 'carpet cleaning Bangalore' and 'Bangalore carpet cleaning.'
DIY Generator
In this section, you can choose the template in which you want your keyword. The template can be 'services location' or 'location business type services.'
Ubersuggest-
By just typing a small seed keyword, you will get enormous in this keyword research tool! Ubersuggest carefully analyses the keyword you are searching for and also generates keyword ideas.
The analysis of Ubersuggest can be divided into three major sections-
Keyword Overview
In this section, the tool provides the search volume, SEO difficulty, Paid difficulty, and CPC value. SEO difficulty represents the number of competitions in organic search. The paid difficulty is the estimated competition in paid search. Higher the number, higher the competition.
In this section, the tool also provides a volume graph. The graph represents the mobile volume and desktop volume over some time. By glancing at the graph, we may know the number of people searching your keyword on mobile and desktop.
For example- If I want to the keyword analysis of 'Gulab Jamun.' You can see that the search volume is 160500, SEO difficulty is 51, and CPC is $10.00.
Keyword Ideas
In this section, the tool generates keyword ideas along with their search volume, CPC value paid search, and organic search. These ideas are suggestions, related words, questions, prepositions, and comparisons.

Content Ideas
Here, the tool provides Page URLs,  estimated visits, backlinks, and social engagement. So with these page URLs, we can get content ideas for the keyword. We can also know what type of content with the keyword is popular.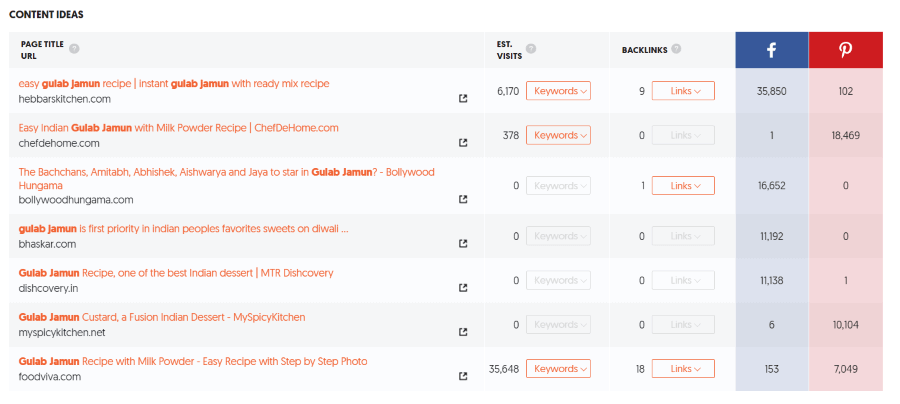 Clever Ads-
Clever Ads is like any other keyword generator tool. This keyword research tool generates over 500 keyword ideas and their search volumes, the trend over time, CPC value, and competition.
To know more about competition analysis, watch our video.

For example- If I type 'Newspapers,' you can see that one of the popular ideas is 'newspaper headlines' with around 100050 search volume.
Filters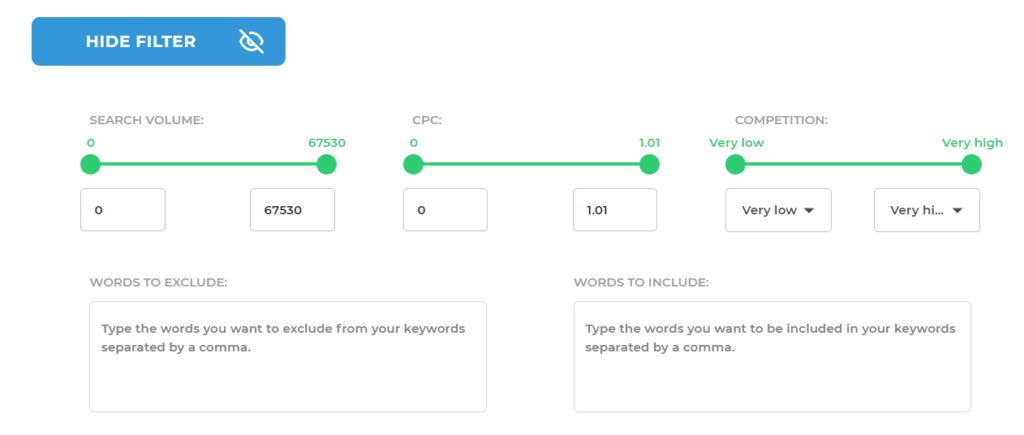 There is a search volume filter, where you can choose keywords according to the search volume range you prefer.
The CPC filter shall help you choose the CPC range in which you want your keywords
Competitions filters help you search for words with high or low competition.
To know more about Keywords, read our blog on Keyword planner tool.
And we that we come to the end of the article! Keyword Analysis is the practice of any SEO marketer.  Marketers do the same research level as market research when it comes to generating traffic and promoting campaigns. As part of your primary research, it's always a good idea to look at how your competitors perform by analyzing keywords on their site. Using keyword research tools, you can compare those to your own to find what is commonly searched by people.
Keyword analysis helps you generate traffic through organic or paid search. Keyword research aims to find words and phrases that users are searching for on Google and other major search engines. A great deal of keyword research involves taking time to understand your audience and their questions. It is also finding ways to answer their questions, using a mixture of keywords and phrases.
So go ahead and try them. Let your SEO game grow with apt and perfect keywords!
Do let us know your favorite keyword analysis tool in the comment section below.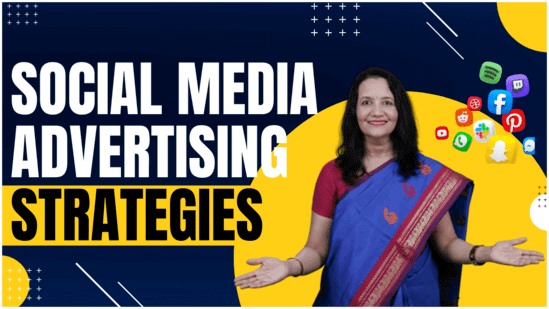 Spread the loveAccording to a study, an average person scrolls close to 300 feet of social media content every day. That's the height of Qutub Minar! Thinking about the amount of time that we tend to spend on social media daily, I find it quite believable. The main idea for social network advertising is to
Read More »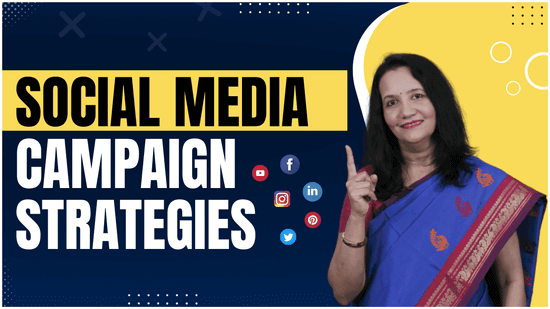 Spread the loveDo you want to create social media campaigns that will make your brand a sensation? Read these five strategies to grow your social media and blow your audiences' mind.Social media campaign is nothing but a series of coordinated activities aimed to promote your product or raise brand awareness in a community. We all
Read More »
Do you want to create excellent landing pages? Do you want to cutdown the cost required to hire a webpage creator. Read the article to know about SeedProd, an excellent landing page builder plugin for WordPress.
Read More »
HERE IS HOW I CAN HELP YOUR BUSINESS GROW
Don't just stand by and watch others make millions! Jump in and leverage digital marketing to skyrocket your business!