Google my business offers a lot of benefits and features! There are unique strategies you need to implement to top the SEO page and get a chance to share the limelight on SERP with five-star reviews! Stay inquisitive and read on to know how you can benefit from google my business that might attract 10X potential customers!
Have you searched something on Google before making a decision? Be it finding a new restaurant, or checking reviews to watch a movie, exploring a new tourist spot nearby! Like this one below?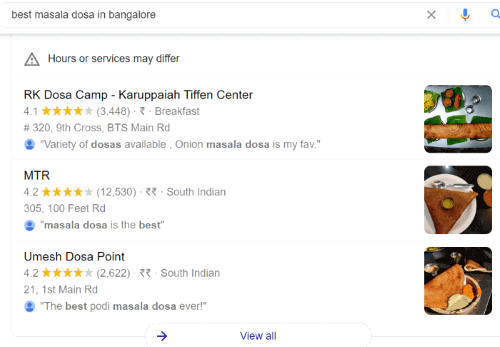 Now, let us turn the table!
Think of the same situation from your viewpoint as a business owner!
What are your potential customers finding when they search for your Business? What if they want to book a table? What if they immediately need your phone number?
Google My Business comes in handy to help you!
Google My Business is a tool that contains all the information like Phone number, ratings, reviews required by a customer about a business. It is one of the most popular tools used by businessmen to appear 1st on search results.
It would help if you made sure this information is available to consumers before they even reach your website. So, when your customers try to search for you, it will be waiting for them.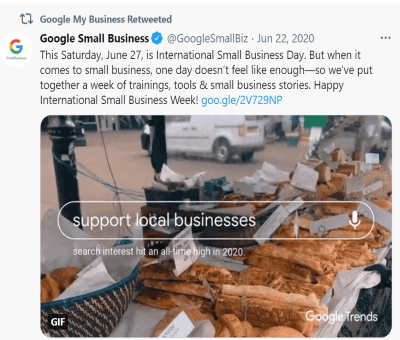 Google My Business retweeted the importance of supporting a local market using Google Maps. That is precisely GMB's mission!
Many small-scale businesses were often unrecognized because they never had the opportunity and budget to share the limelight with competitors. Additionally, Customers were facing the challenge of exploring new businesses around since the whole processing is tiresome.
Don't you agree? Where there is a problem, there is an opportunity!  Google my Business was founded to connect businesses and potential customers through search, Maps, and Website.
Google created this platform to help small and medium-sized businesses compete online to get leads and be seen since it's really hard to get on the first page as a new business.
Google My Business is a free and easy-to-use tool for organizations and businesses to manage their online presence across Google, including Maps and Search.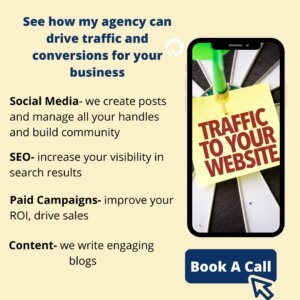 Accuracy
Did you know your Google business account might exist on Google even if you did not create it? Users can add and edit information about your Business. Hence, I recommend you claim and control your data on your business account.
Endorsement
We all love how versatile digital platforms are. Use Google My Business account as an inexpensive marketing opportunity to grow your network on Instagram, Facebook, and your webpage.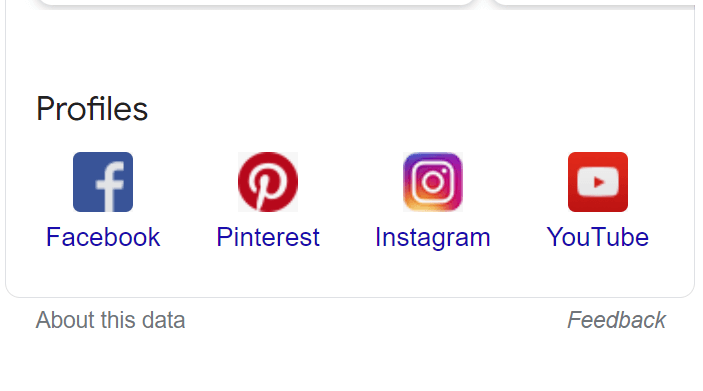 Google Virtual Tour
We have seen numerous memes about expectation vs. reality on social media. Don't disappoint your customers; give them a virtual tour! If you own a beauty salon, flaunt your new equipment and woo customers.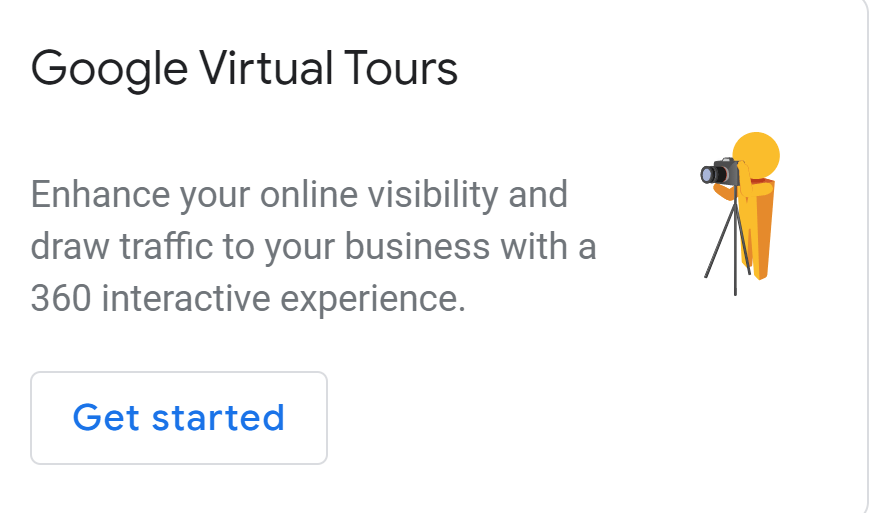 TIP– There is also a possibility of storytelling or adding ambient sound or music that accompanies a virtual tour.
Digital Business Card
Business cards are a holy grail and the best method to market a business. Google offers you a digital business card in the Name of 'Knowledge panel.' This panel contains a summary of details about your Business.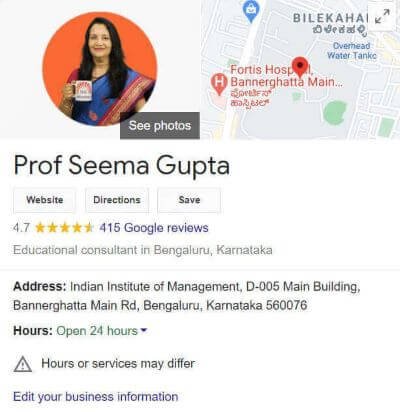 Direct Bookings
It is rightly said, managing a restaurant is not a piece of cake when it comes to tracking your bookings and reservations. You guessed it right!
Google is like your go-to assistant, who manages your bookings. The calendar and reminders help customers to give alerts well in advance.

Top Search Results Page
First impressions are the most lasting. If you want to grab a user's attention, optimize your account with loads of pictures, good reviews, and a catchy description.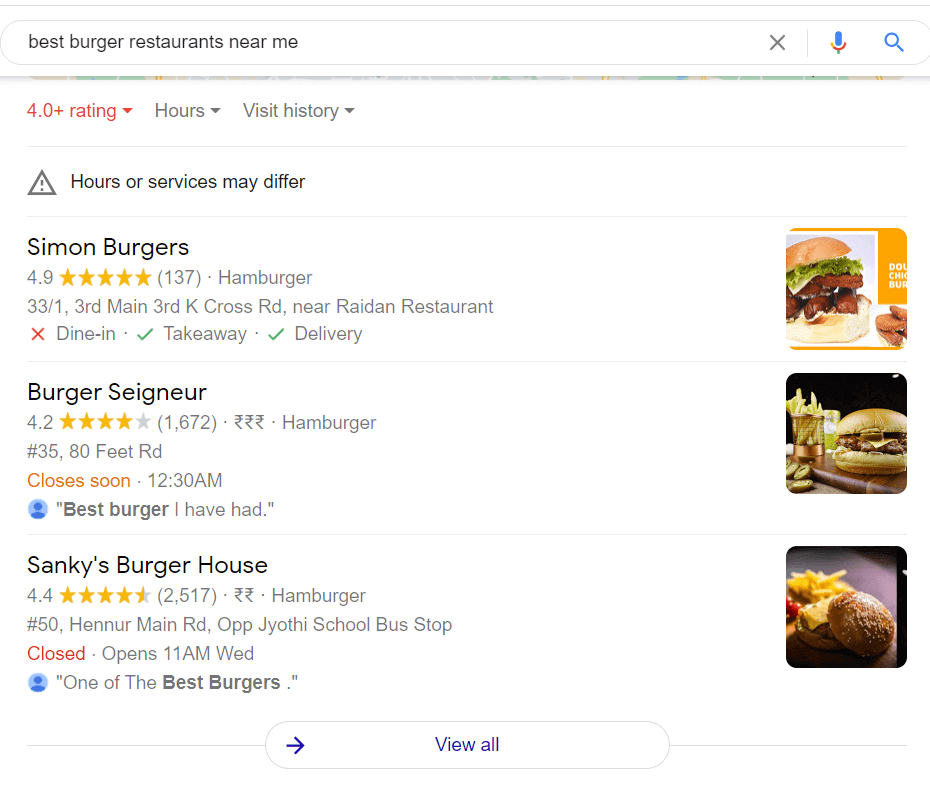 TIP– 90% of the users don't visit the 2nd page. Make sure your account is displayed in 1st for better attention.
If you want to top SERP using the best combination of keywords, read my article – Keyword Analysis That Gets Your Website On Top!
Products
Showcase your products to let your users know about the variety of products you offer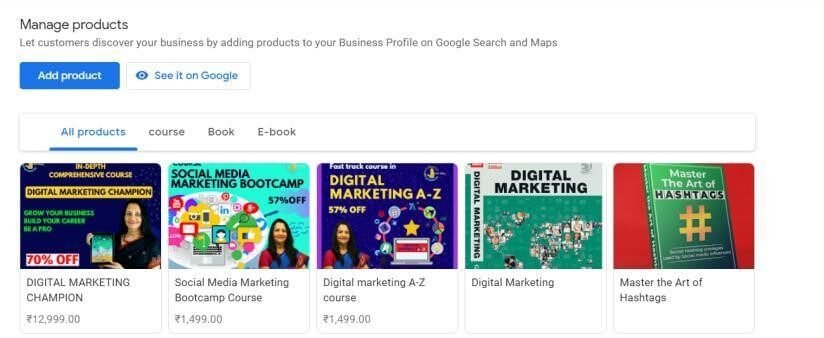 Menus
Be it your mouth-watering Pav Bhajis in town or finger-licking French fries, Google My Business enables restaurant owners to create and edit menus. As an owner, you will be granted autonomy without having to use third-party menu services.
Popular Dishes
Popular dishes can be viewed on business profiles. Uses can add pictures; however, dish names added by owners will be preferred. Users can suggest edits if they feel a dish's Name is inaccurate.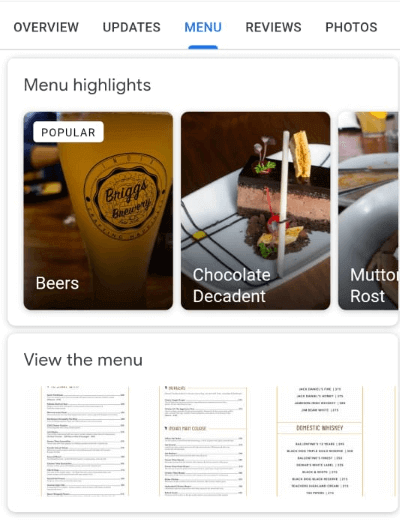 TIP– Add titles, descriptions, prices, and break the menu into various sections like appetizers, entrees, and desserts for clarity.
These benefits have a phenomenal impact on your Business.
Now that you are convinced Google My Business has numerous benefits let me familiarize you with Google My Business's impressive features.
Google My Business is like a delicious pot of biriyani your mother cooks for you. Just like biriyani is a perfect blend of masalas, vegetables, meat, rice, and perfection, Google My Business offers a mixture of many features, which is the need of the hour for many businesses.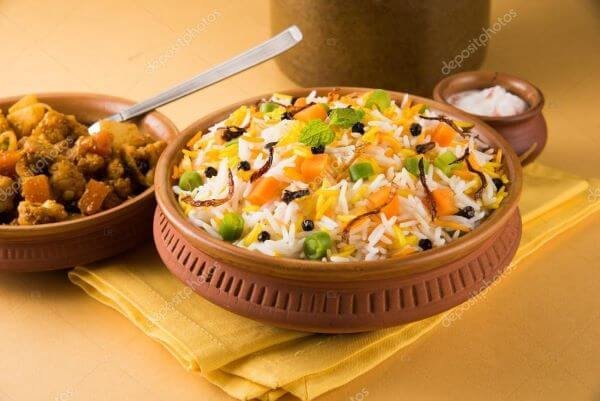 Small Thanks
There is no better marketing than word of mouth. Reviews are a digital form of word-of-mouth marketing.
'Small thanks' is a feature that allows you to take the positive Google reviews you received and turn them into digital posters that you can share or print online.
TIP– These posters are customizable. Make your poster stand out!
Click here to read Quick Tips To Create and Verify Google My Business Account
Attributes
If a user searches for 'Dog-friendly pubs near me,' attributes will enable the user to find the right Business.
Attributes are phrases that provide details about businesses in a way that makes it easy for searchers and Google Maps app users to make faster and hassle-free decisions.
There are two types of attributes-
Factual attributes – These attributes determine your business category. These are facts about your business-like outdoor seating, non-smoking area, etc.
Subjective attributes – Subjective attributes are what customers have said about your Business. For example, if you want the 'homely' attribute, make sure your business atmosphere is actually homely.
Click here to know more about the marvels Of Google Ads Keyword Planner Tool
Insights
Insights are metrics that help you determine how customers are trying to reach you and your account. If you want to find out your most effective method of reaching customers, be it Phone, Maps, or search, Google Insights is the key. It even helps you manage how your business data and information appears across Google- including Maps or search using Google My Business.
Search
Search is your traffic source. You can find out how customers search for your Business.
Description-
DIRECT- Customers who find your listing searching for your business name or address.
DISCOVERY- Customers who find your listing searching for a category, product, or service.
BRANDED- Customers who find your listing searching for a brand related to your Business.
TOTAL- The total number of direct, discovery, and branded searches.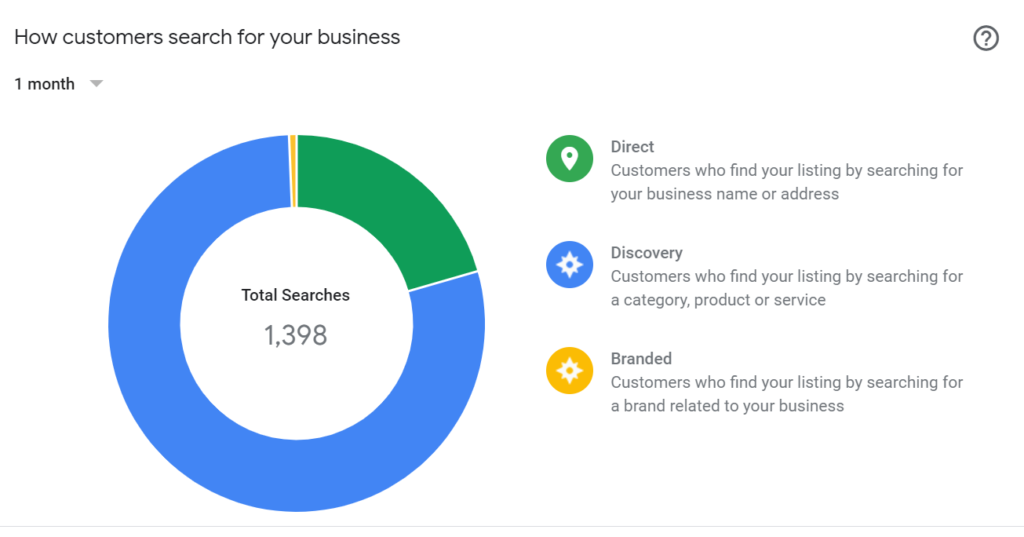 TIP- You can promote your Business within 15 minutes using Google Ads according to your budget.

Your listing will appear on top of the search page.

Click here to find out the best Alternatives For AdSense To Multiply Your Ad Revenues Exponentially
Insights Heatmap
Keep an eye on your analytics and insights to know where your customers are located and the most efficient method of reaching you. You will master the knack of segmentation, Targeting, and positioning of your product.
Custom Domains
Google my Business offers you custom domains for just Rs. 860/year. You can add themes, edit texts and attractive photos.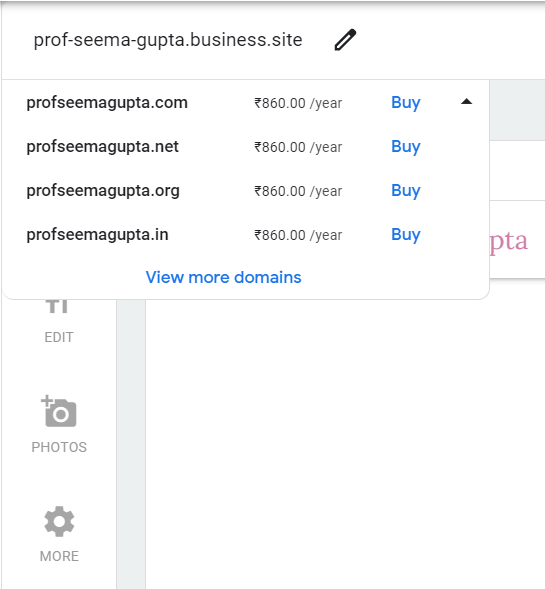 TIP– Use domains that end with .com, .org, .net because these are the most popular.
Posts
We all love the post feature on Instagram and Facebook, which has gained immense popularity over the decade. I'm sure millennials love the posts feature on Google My Business too. Post your current happenings and update your customers.
TIP- Make sure your posts contain 'learn more,' 'call, 'visit' to increase CTA (call to action)
Message
Messaging has revamped the cliché method of Business. The messaging feature in Google My Business helps in improving the engagement with customers. If a customer wants to enquire about your product, hours of operation, this will be the go-to option.
TIP- You can turn off this feature if you don't require it.
Pictures
It is indeed said, pictures speak a thousand words! Add images and a Logo to attract customers. Keep an eye on your views to calculate your reach.
Reviews
Let's agree, all of us have given importance to reviews while choosing a product or a restaurant. Reviews help you determine your performance. It allows you to evaluate and convince customers to trust you and build brand equity. Loyal and happy customers will always review positively.  A high rating with a satisfying review of the value received will go in a long way.

TIP- 91% of the people trust online reviews as much as personal recommendations. Prioritize your reviews to top SERP.
Ratings
Be it an ola driver or swiggy delivery personnel, we have given them frequent ratings.  
Ratings are customer's assessment based on your performance and standards.
TIP- Ratings play an essential role if you want to top the results page.
Q&A
Users may have many questions in mind while choosing the right product. The question-and-answer tool helps customers enquire and confirm with the Business without any haste.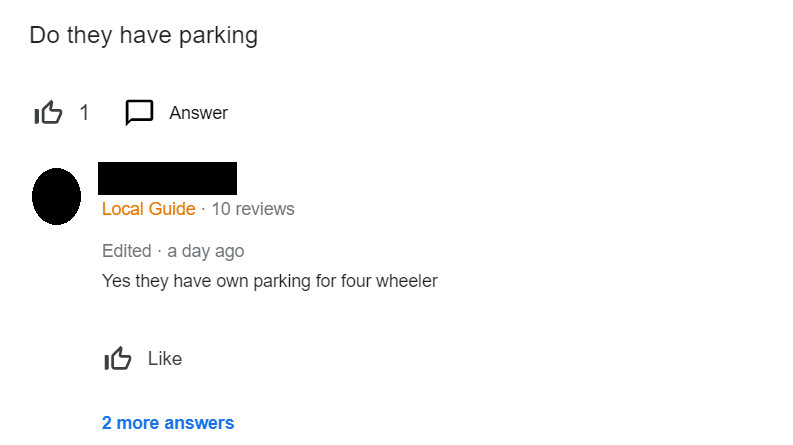 TIP- Pin frequently asked questions for easy viewing.
Live Updates
You can use the 'popular times' feature to display your current happenings.
Customers want information about your Business every fraction of a second. Use that to your advantage and continuously update them. This results in high chances of customer bookings to avoid wait time.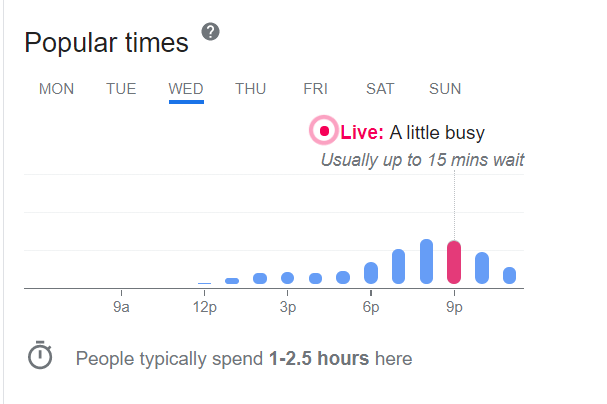 When we hear the word 'optimization,' we may imagine tools that require a lot of money, time, and effort to prepare. But there are creative tips that can help you master this art effortlessly.
I have noted these observations that might change the way you use Google My Business. Let me walk you through observations about Google My Business tool optimization to attract 2X customers.
Quality Over Quantity
The key to a phenomenal description is quality information. Instead of a vague and long description, keep it short and straightforward. This also provides an opportunity to be on one of the top searches of your Google business listing.
For instance, if you own a restaurant, select descriptions such as " XYZ marks the trail of sweet and spice according to contemporary Indian cuisine, refreshingly and deliciously."
Let us look into an example of how your description directly affects your rating and reviews.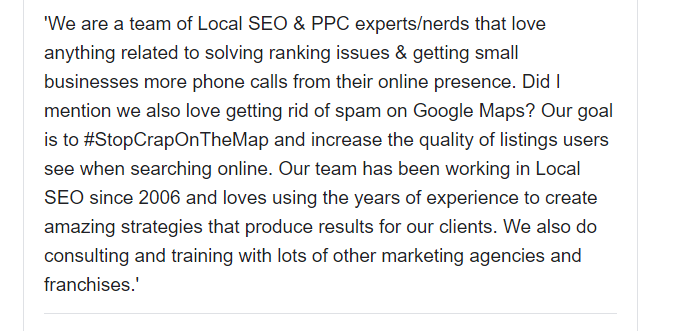 Emojis
Add Emojis to your post. Google has added the use of emojis to the searches. This adds value to the post, mainly when the younger generation uses it. The response is faster and may receive maximum clicks.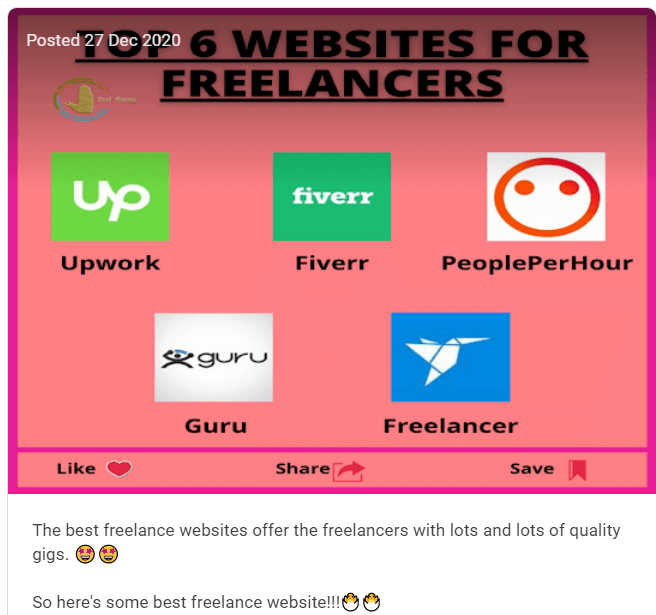 Set Special Hours
Update your Google My Business profile to offer the most precise information to your valuable customers. For example, if Covid-19 restrictions impact your Business, you can provide updates such as different operation hours and delays in services. This will significantly help your customer to know about your business better.
TIP- You can also mention the health and safety to assure your customers!
Use Memes
Who does not like memes? Memes lighten our mood and make social media fascinating. We hope this humorous community will never vanish and leave us awaiting a good laugh!
You can use memes to get the word out regarding upcoming events or a new product or service your company will launch. Using a meme to generate buzz about your Business's forthcoming event can create excitement and discussion around the event using humor in your posts.
Complete Information
Giving complete information builds trust and increases your brand equity. With more information, you have a higher chance of customers choosing you over other competitors. Add information such as your address, number, hours of operation, and website.
Let me walk you through an example of how incomplete information affects your Business and reviews.
Offers
Be it free delivery or 20% off on your bill's total, offers and events are super exciting. But how are you going to let your customers know about your events or offers? You got it right! You can add customized information about your offers and events on Google My Business.
Let's look at these offers as examples.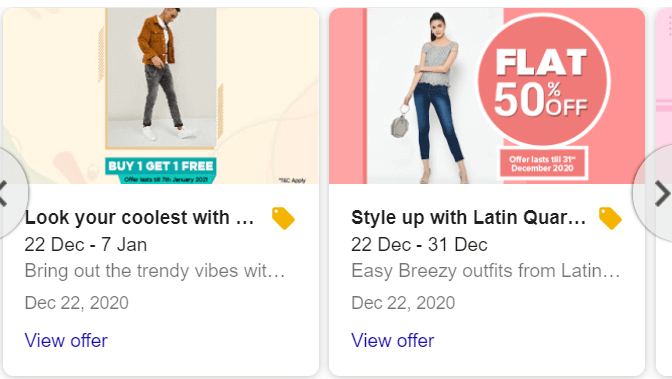 Let me walk you through a case-let to understand how offers can promote your Business. I'm sure you have heard of Onesta's 'Name of the Week' promotion and offer strategy.
Onesta's Business was a big hit on weekends but suffered on Wednesdays. There was a plan made to beat the mid-week crisis for the brand. Most of Onesta's target audience was teens and youngsters. So, they decided to engage their target audience digitally. Since Onesta is a digital brand, the best way to reach its customers was through social media; beating cut-throat competitions and capturing attention was a concern.
That's when they came out with a promotion offer called "Name of the Week." The reason behind the offer is that "Name" is the best way to grab a person's attention. It was introduced to increase revenues on Wednesdays. It was an offer wherein people with a combination of four letters in their Name e.g., 'MEER 'or 'AMAR' could claim a free meal consisting of unlimited pizzas and deserts. Since nobody likes to eat alone, the person claiming a free meal usually would come with friends and family who would pay for their meal, thereby earning revenue and fame for the brand.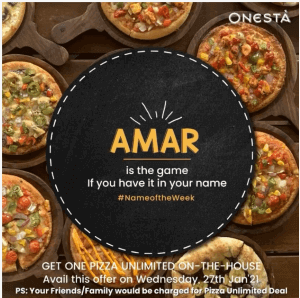 The footfalls on Wednesdays tremendously increased by more than 500%. Since the revenue tripled, the social media engagement was higher than any other digital business. With friendly digital interactions, the Name of the week offers engagement increased drastically.
In recent times, their restaurant is busier on a Wednesday than Sunday because of the offer!

#NameOfTheWeek offer improved Onesta's Google My Business page. Customers post reviews, photos, and book tables in advance to avail free pizzas! This was a massive hit.
Providing Link
Providing a website link is a great idea to enable a user to have a complete awareness of the product or services you offer. The more the clicks to your webpage, the more are the chances of increased Business.
                             *To know more about the product, visit our website, www.XYZ.com*

Wait Time
Customers dislike long wait times when they have messaged. Respond as quickly as possible to offer the best service and reduce wait time.
Use these efficient and useful tips to optimize your Google My Business account and have the edge over your competitors.
Final Note:
With more customers relying on Google to find what they need; Google My Business has become an essential and easy to use tool for companies to grow.
Whether it be looking for a new restaurant to try or messaging a restaurant to book a table, Google My Business is designed to meet a user's need instantly. Undoubtedly, Google My Business's convenience and excellent tools mean any business can reach the moon if used efficiently. Every Google My Business user is looking forward to topping the SERP page. Hence, they are getting as creative as possible because of the cut-throat competition.
Comment below how you are using GMB and if there is any point that I missed out.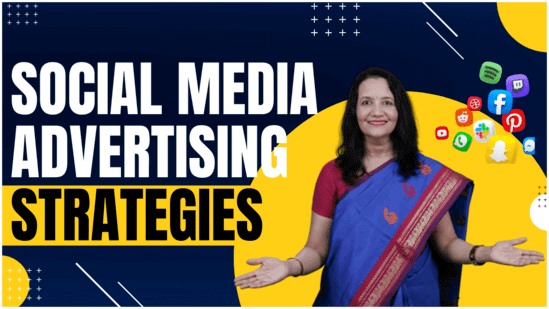 Spread the loveAccording to a study, an average person scrolls close to 300 feet of social media content every day. That's the height of Qutub Minar! Thinking about the amount of time that we tend to spend on social media daily, I find it quite believable. The main idea for social network advertising is to
Read More »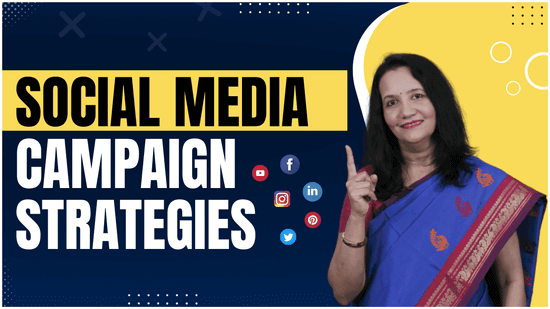 Spread the loveDo you want to create social media campaigns that will make your brand a sensation? Read these five strategies to grow your social media and blow your audiences' mind.Social media campaign is nothing but a series of coordinated activities aimed to promote your product or raise brand awareness in a community. We all
Read More »
Do you want to create excellent landing pages? Do you want to cutdown the cost required to hire a webpage creator. Read the article to know about SeedProd, an excellent landing page builder plugin for WordPress.
Read More »
HERE IS HOW I CAN HELP YOUR BUSINESS GROW
Don't just stand by and watch others make millions! Jump in and leverage digital marketing to skyrocket your business!