One of the famous traditional methods of marketing is Outbound marketing. It can do wonders for increasing your awareness, consideration, and sales.
Let us recall! Although we use different creams to make our skin glow, Haldi remains the best of all. Although creams with fairness technology and anti-aging potions sound fancy, we always look for traditional homemade remedies.
This is because traditional methods are always meant to be safer and most trusted. Similarly, although many marketing methods exist today, traditional methods haven't faded away and remain prevalent. 
In this blog, I will walk you through the outbound marketing strategies. I will also talk about the difference between Inbound and Outbound marketing. I will shed light on the advantages of outbound marketing channels and outbound lead generation strategies.
.
The primary purpose of marketing is to generate leads, which our customers who have shown some interest in our company by either installing the app or subscribing or downloading an e-book or registering for a webinar.  Once marketers generate leads, they can nurture them so that some of the leads will eventually convert into paid customers. 
To do so, we use marketing strategies – Inbound and Outbound marketing. Thus, you need to know about these strategies and implement the best fit for your business.
Outbound marketing is majorly related to traditional marketing methods. Companies push messages to the public. They initiate the engagement process to sell products or services. 
The carpet-bombing approach in outbound marketing is a useful technique as it creates awareness about the company.
Outbound marketing consists of various marketing strategies that target a broad spectrum of people. Some of them include cold emailing, cold calling, trade shows, paid advertising, and content marketing. For example, brands such as Surf Excel and McDonald's make fair use of this method.
Surf Excel uses TV commercials to connect to its audience. The commercial usually provides a social message to its audience.
McDonald's uses outdoor marketing methods. Huge hoardings on the roads tempt you to grab that McAloo Tikki on the go!
 Apart from McDonald's, many FMCG brands use TV advertising and outdoor marketing to promote their products.
Insurance companies such as LIC and many financial companies rely on cold calling.
Nykaa, the cosmetic brand, uses all sorts of online ads to promote its products. Many clothing brands use paid ads to sell their products.
Now that we have understood what outbound marketing is, let us look at ways to leverage this age-old method in today's world.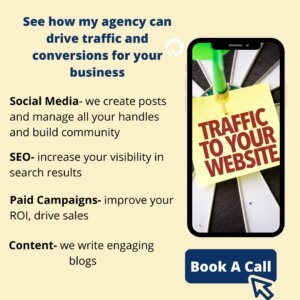 Ways to Leverage Outbound Marketing
LinkedIn for lead generation: You can grow your business by generating quality leads through LinkedIn. In-mails, sales navigators, and sponsored ads can reach out to highly targeted potential customers and gauge their interest and capture their contact information.
Twitter: Twitter events are a powerful option. It lets you target users interested in a particular global event and capture their lead on a lead form.
Track your ROI: Traditional marketing has a spray and prays approach. It lacks tracing and tracking. You can upgrade your old strategies using current digital marketing.
Leverage Technology: Due to advanced technology, you can have a CRM model installed and use its automation feature to pace the work.
I am often asked whether outbound marketing is more relevant to early-stage companies or established companies?
If you're a startup company and launch your website, it will be difficult for you to take a long time before you start getting a regular traffic stream.
At this point, Outbound marketing will come to your rescue. Outbound marketing can give results in a short period. Established companies also use Outbound marketing to reinforce the brand and remind customers.
Now let us understand the process of outbound marketing to increase your leverage!
The Process of Outbound Marketing
 As explained in the diagram below, start by making a list of your leads. This list will consist of people you want to contact. Once you make a list, go ahead and send the messages to them. After that, check the open rates; this way, you will come to know who opened and read your messages.
Then score your leads. Based on that, send messages targeted to them in specific. This way, they shall receive personalized messages. And based on the lead score, reach out to the users with the highest scores.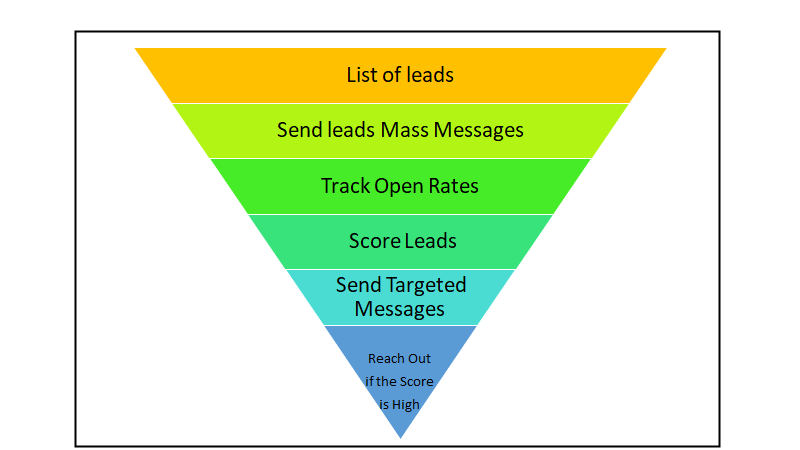 Well, now that we have understood everything about Outbound marketing, let us take a look at its sister method, Inbound Marketing.
Inbound Marketing
Inbound refers to marketing tactics where one tries to pull customers towards your brand. Inbound marketing has a long term impact on your visitors.
Inbound marketing is replacing the outbound marketing strategy.
In inbound marketing, the customer finds the company at the initial stage of buying.
The companies don't chase customers like outbound marketing. They focus on creating quality content to attract customers.
The Process of Inbound Marketing
Inbound marketing is customer-centric. It takes into consideration the customers' needs and focuses on building relationships with the customer.
To know more about Inbound Marketing, read my article on, 'What is Inbound Marketing?' 
Differences between Inbound & Outbound Marketing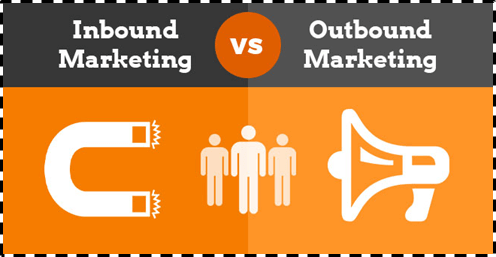 Inbound and Outbound marketing is similar to Pull and Push Marketing. Inbound Marketing uses pull marketing tactics to generate leads. Outbound is related to Push Marketing, where the delivery is to a broader audience to create a buzz in the market.
These methods differ from each other in the following aspects.
Focus: Inbound focuses on a long-term strategy to build a brand, retain customers, and sustain in the market. In comparison, Outbound marketing is short term and is aimed at getting instant results.
User Intent: Inbound marketing focuses on user intent. Inbound only attracts those users who are searching for any specific product or service. In contrast, outbound pushes messages to everyone regardless of their interest.
Communication: Inbound marketing encourages engagement with visitors. It is two-way communication, while outbound marketing is linear, one-way communication.
Channels: Inbound Marketing channels consist of Blogs, social media, search engines, and search engine optimized content. Whereas in outbound Marketing, the main channels are Television, Print, Radio, Magazine, Cold Calling, Emails, Display ads, Video ads, Telemarketing, Events, and door to door sales.
Pace: Inbound Communication is like Sachin Tendulkar. He is slow and steady but wins the game. Outbound communication is similar to Virendra Sehwag, fast and furious.
Interaction: Outbound Marketing has indirect interaction with the audience through TV, radio, digital, or newspaper.
In the case of Inbound Marketing, brands or companies encourage audiences to share their views, comments, and respond to them. Here brands interact directly with audiences, often in real-time.
Outbound marketing and Inbound marketing strategies complement each other.  Thus, instead of treating them as rivals, companies can use them together to create a push and pull.
Now that we have understood both marketing methods' fundamentals let us look at different channels used in these methods.
Essential Channels for Outbound Marketing
Cold Calling / Telemarketing
Many organizations use the cold calling method to generate leads. It is an easy technique to persuade a customer and push for action. Cold calling is a common technique used by the sales team of many organizations.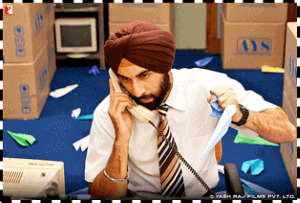 Hoardings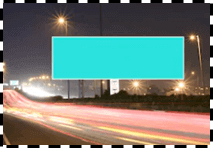 OOH (Out of Home) is one of the oldest media. It consists of ad displays on Hoarding, Bus Stops, Railway Station, Buses and Trains.
I am sure you must have seen so many different Amul hoardings with a message. As a brand, Amul has been using this form of media advertising consistently for years to reach the masses.
Radio Advertising
Radio advertising is done by many local and FMCG brands. Companies who want to reach a more significant number of audiences in different cities use this channel.
TV Commercials
TV commercials, even today, dominate the market. They help in building brand awareness and communicating the brand's value proposition.
TV ads help you develop an emotional connection with your customer.
Trade Shows & Events
Trade shows, events, seminars are an excellent way to showcase the brand. Companies display their products and services in trade shows or launch events. These events are interactive, informative, and fun for customers to gain some knowledge about the product.
For example-FEMINA Miss India, Nykaa Beauty Awards
There are some Digital Channels of marketing, which falls under the category of outbound marketing.
Emails
Around  95 % of consumers use emails.  Analyze your customer base, send out good content, and create value. Boom!! Your email marketing will fetch results. Email marketing is not dead; it has evolved. Try automating and integrating emails in your marketing strategy.
To know more about email marketing, read my article on, 'Best Email Marketing Tools to Automate Your Growth'
SMS
SMS Blast on an extensive database to generate leads is a form of outbound marketing. A large number of SMS are pushed for any locality or network of people to generate leads. Real Estate Developers, educational institutions majorly plan these activities of SMS Marketing.
 Social Media Advertising
Many social media platforms offer outbound marketing. Social media ads, also known as paid social, helps in boosting awareness and giving immediate results.
To know more about Social Media Marketing, watch my video on ' Social Media Marketing Strategies in 8 Steps' –
Banner Ads:
Banner Ads occupy a space on the web and mobile when users are consuming content. They get displayed in different layouts to the user and push them to take action.
For banner ads, you can target specific sites based on your user's online journey. Banner ads can further help you create brand awareness, promote your product, increase sales, and generate leads.
 Facebook Ads:
Ads are pushed to customers to increase sales and generate awareness. Facebook is a form of outbound marketing. Facebook ads are displayed to create sales, traffic, and engagement without knowing their buying intent.
Facebook has an option to reach and target people. Facebook gives a good reach and cost-effective ROI.
Read my article on 18 Awesome strategies for Facebook marketing that will Rock.
Now, after knowing the essential channels, let us see the benefits of Outbound Marketing:
Immediate Results
In Inbound marketing, you have to consistently work on content for a more extended period and be patient to see the results.
In Outbound Marketing, you can immediately get results, as waiting sometimes is not possible, when you want to generate leads and need clients quickly in a short period.
Generate Traffic
You must have seen full-page advertisements in newspapers of E-commerce websites like Amazon and Flipkart.
Many brands take outbound marketing and spend on TV, Newspaper, Radio, and other outbound mediums to generate online traffic.
You can easily integrate with inbound marketing strategy.
Suppose you are implementing an inbound marketing strategy and making quality content, writing blogs, creating free eBooks, courses, guides, and white papers but are still not receiving good traffic; you need to push your content.
You share it on social media, and you get some engagement and clicks, but most organic and social content is seen by very few people today as the organic reach of all platforms is decreasing day by day.
When planned and executed correctly, outbound marketing can give a better result for your inbound marketing too for a more extended period.
Learning a method gives you knowledge. But knowing when to use it gives you a knack for it. Therefore, let us understand when you use outbound marketing.
Generally speaking, older customers relate more to TV commercials, Hoardings, billboards, seminars, brochures, etc.
Outbound marketing is also beneficial for generating B2B leads.
If you want people to remember your brand, outbound marketing plays an essential role as there is no precise targeting. Using TV commercials or OTT ads, you can create an impact in the minds of customers.
How to determine which strategy to use?
★     Firstly understand your customers. Learn what they are looking for.
★     Set your objectives and goals.
★     Define what is your product and how it stands out in the market
★     Decide how you will catch the audience's attention.
After having answers to this, align your Inbound marketing technique with Outbound marketing strategies.
Let us see how Outbound Marketing fares on specific parameters:
Reach – Outbound marketing's purpose is to reach a more extensive audience base and grab their attention toward you. It has a broader reach compared to other inbound advertising methods as targeting is not specific to one type of audience. It can create more awareness.
No chain reaction – In outbound marketing, other customers cannot see any feedback, reviews, and ratings of your organization. Thus, there is no social influence, which is an advantage and a disadvantage depending on the brand.
Traffic – Your Outbound advertisements on various platforms like print, radio, and television can help you get massive traffic directly to your website or landing page. It allows you to get more and more inquiries online.
Leads – Though outbound marketing seems to be a bit costly, it can help companies generate leads faster rather than wait for users to interact with content.
Immediate Return on Investment – Businesses expect a rapid return on investment. Outbound marketing efforts give you a quick return on the amount invested for marketing.
Although outbound marketing works very well, it does come with specific challenges. 
Here are a few Challenges with Outbound Marketing
●     Marketing Cost
All companies focus on marketing costs. They expect the marketing department to spend less and generate higher revenues.
One of the biggest challenges with outbound marketing is cost. These mediums like TV, Radio, Print advertising are costly. Big companies majorly use these mediums. All local or city level brands use cold calling, newspaper ads, etc.
●     Lead Quality
The lead volume may be high through outbound marketing, but the quality of leads may be lower than those generated through Inbound marketing.
As these mediums target masses with offers and attractive visuals, they may approach you out of curiosity but with no intent to buy any product.
●     Short Term Benefits
Companies use outbound marketing to create a temporary buzz in the market while launching a new product.
You might have observed mobile companies launching new phones every 3 to 6 months. They spend a lot on TV, Radio & Print advertisements to push sales for that new model. If your brand requires long term sales, customer retention, and consistency for marketing, spending so much for short term benefit may not serve your marketing purpose.
●     Customer Retention
Customer retention is challenging with Outbound marketing efforts.
●     Communication Limitations
In outbound, you can engage with your client one or two times.  Marketers try to speak with one specific message due to the high cost. They expect audiences to understand.
In contrast, in inbound, you have lots of scope of retargeting audiences with the help of follow-up automated emails and blogs at a lesser cost.
Conclusion
 Coming back to home remedies, it is always a mix of ingredients. No one element can do magic to your skin.
Similarly, solely following a specific method of marketing isn't going to help you so much. Therefore, choose wisely and try to mix and match various ways. Find that combination of techniques that best suits your business.
We can use the strengths of both inbound and outbound marketing strategies.
Maintaining a balance between outbound and inbound marketing is essential. The key is regular interaction with clients, creating content, and getting support from outbound mediums.
Tell us about the strategy you are using in the comment section.
---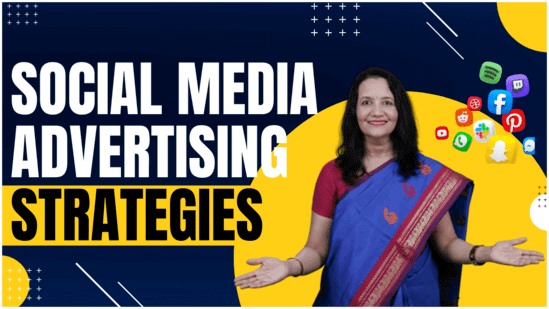 Spread the loveAccording to a study, an average person scrolls close to 300 feet of social media content every day. That's the height of Qutub Minar! Thinking about the amount of time that we tend to spend on social media daily, I find it quite believable. The main idea for social network advertising is to
Read More »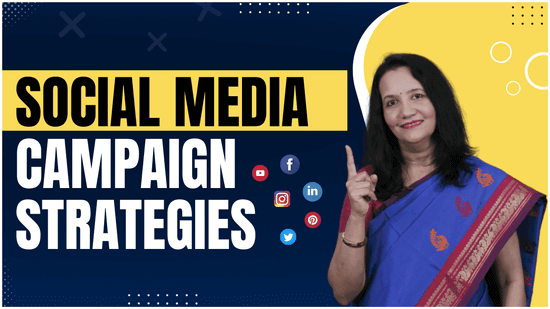 Spread the loveDo you want to create social media campaigns that will make your brand a sensation? Read these five strategies to grow your social media and blow your audiences' mind.Social media campaign is nothing but a series of coordinated activities aimed to promote your product or raise brand awareness in a community. We all
Read More »
Do you want to create excellent landing pages? Do you want to cutdown the cost required to hire a webpage creator. Read the article to know about SeedProd, an excellent landing page builder plugin for WordPress.
Read More »
HERE IS HOW I CAN HELP YOUR BUSINESS GROW
Don't just stand by and watch others make millions! Jump in and leverage digital marketing to skyrocket your business!