Email marketing tools have become a necessity for business. Whether you aim to build better relationships with your customers or track the performance of your large-scale email campaign – these saviour tools are there for all your needs. 
So, what's the catch? It's nothing but their abundance! There are so many email marketing tools out there to choose from. Their variety and offerings can leave even the experts in awe of their vastness. 
To solve this very problem, I have compiled my most trusted email marketing tools that I have used as my secret ingredient to success. Not only have I personally used these tools but I also suggest them to my business clients anytime they seek help with email marketing.
Before we dive right in, let me tell you about some of the many superpowers of email marketing tools –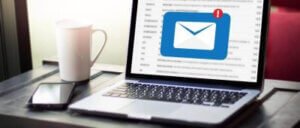 Automate your marketing workflows
Track your statistics
Send more emails in less time
Create more effective emails
Build deeper relationships with customers
Some common features of these email marketing tools include email scheduling, social media integrations, free trials and a wide range of email templates to choose from. To help you decide what additional features can help your business and their pricing plans, I have presented the analysis below. 
These also include some free email marketing tools that you need to know about today if you plan on a low investment business expansion. So buckle up and get your thinking hats on because it is important to realise what you need these email automation tools for. 
By now you must be eager to make the best use of these tools to expand your outreach. So let's get started!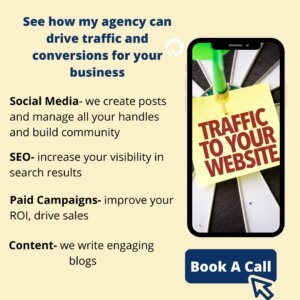 1.Constant Contact 
Just as the name suggests, Constant Contact helps you to stay in contact with your customers or potential customers constantly. This is achieved through focus on the following building blocks of your business – Email Automation, Websites and Social Media Marketing. 
Constant Contact provides you with all the tools you need to make your business growth smart. This can be done either by launching an email marketing campaign to engage your customers or by building an awesome website in minutes. 
To read about some detailed and trending tips on landing page design, check out my blog on 10 ideas for your landing page that can increase conversion rates by 10 times. 
This powerful email automation tool uses 4 easy yet effective ways to grow your business online-
Create an Ecommerce website: Use Constant Contact's website Builder to create a responsive online store for your company that is also mobile friendly. Its features include seamless website navigation, secure checkout and much more!
Help people find you: This tool helps you spread your word through email, social media, SEO and other methods of online marketing – all from one platform.
Use email to boost loyalty: This email marketing tool helps you segment your customers based on criteria of your preference. You can then send them specific content that they would want to open, thus increasing your chance of conversion. 
Track your performance: Constant Contact's performance tracking tool can give you detailed customer and visitor metrics in real time. This gives you the power to quickly identify and make the most of every trend in your favour. 
These features indicate the need to work smarter, not harder and email automation is here to do just that. You can drive your sales up by keeping your audience engaged and building stronger relationships.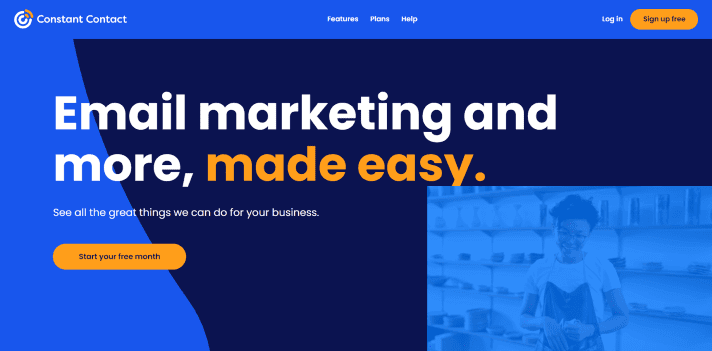 And now, an added advantage to all its features is the fact that it comes with a one-month free trial! This makes Constant Contact a free email marketing tool for this trial period, when you can monitor if this is the right tool for your business.
2.GetResponse
If you are looking for an automation tool that is robust yet easy to use, GetResponse can be your go-to solution. This simplified tool to send emails has been a trusted choice of various small and large brands like IKEA, Zendesk, Revolut, etc. owing to their compatibility with business needs. 
From email marketing and landing pages to marketing automation and conversion funnel, this tool has it all covered. More than just an automation solution, this tool can help you with superpowers in the following domains
Grow your customer base
Engage with potential customers
Sell your knowledge 
Boost your online sales
GetResponse provides you with customised tools based on who you are. If you find yourself falling into any of the following categories, this tool can fulfil your specific business needs-
Entrepreneur: Build your business from scratch and market it to your potential customers with the aid of email automation, fresh landing pages, paid ads and a lot more. 
Online marketer: Start making money anytime, anywhere with GetResponse's flexibility to generate and convert leads from the comfort of your home. Get started with sales funnels, popup forms, autoresponders and more. 
Marketing manager: Not only does this tool allow you to segment your user base but it also helps you send personalised messages via various channels. From website tracking to organising live and on-demand webinars, GetResponse has your back. 
Large company: Sky-rocket your Return On Investment (ROI) with tools tailored and scaled according to your business needs for the best results. Whether you are seeking help with a dedicated IP address, transactional emails or 24/7 dedicated support, this tool has you covered.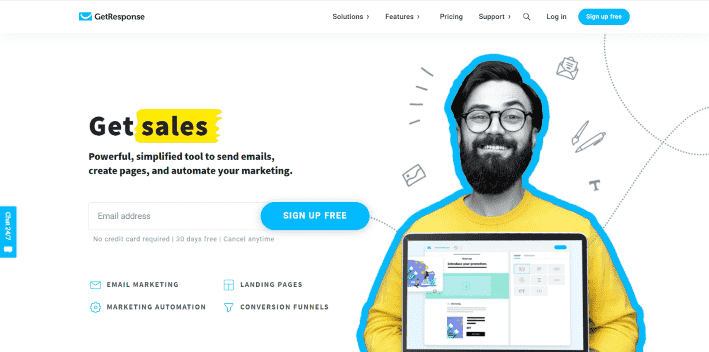 So, aren't you tempted to join a network of 100,000+ businesses that are growing with GetResponse? Get your audience engaged today with the right set of tools at the best prices. You are just a few clicks away! 
As an added tip, GetResponse is also General Data Protection Regulation (GDPR) compliant. This allows you to be completely transparent and with your customers' consent fields as they sign up for your services. 
3.ConvertKit
Are you an online creator looking for a platform that can help increase and engage your audience base? If your answer is yes, then we got the ideal audience building tool for you!
ConvertKit helps you share what you love to do by connecting with the best followers, thus helping you convert your passion to profession. As a creator, this tool helps you share your creative process with your followers for a better engagement. 
You can now reach your followers through newsletters and blog about your creative process. Either ways, ConvertKit has been a preferred tool by various small and large scale creators for numerous reasons. 
With ConvertKit, you can enhance the relationship building aspect which is the foundation of your business. Starting from writing great looking emails full of valuable content to building trust by portraying your expertise, this tool has a unique approach to it all. 
Once you realise your audience and their needs, sending relevant emails about your products and services to the right audience at the right time helps convert that trust into sales. 
To gain a deeper insight on how you – as an influencer or entrepreneur – can build your personal brand stronger with this ultimate tool, read the following testimonial of Glo and her transition from a travel blogger business to helping women build their own business. 
If you want to make a change by creating an impact in the online business world, ConvertKit can ease that process for you. 
From my experience as a content creator, I know that the first and most important step to setting up your business online is by creating a landing page to share your ideas with your followers. 
Create an account on ConvertKit's free plan and you can begin your process in just a few minutes! Launch your next project for free and see how it grows with this awesome automation tool. 
Hey, listen up! If you are planning to grow your business into the next big thing then you must also know about these 13 Must Have Email Marketing Software to Grow Revenues.
Check out my blog on Bulk Email Marketing. 
4.Drip
Are you the owner of a small-scale ecommerce business planning to make it big? Or are you an aspiring enthusiast from any other online business sector? If yes, then this tool can be your best choice for automated growth. 
As an ecommerce marketing engine, Drip can help you build personalised customer experiences, drive a greater revenue, and take your marketing strategy a notch higher. 
Drip believes in empowering the ecommerce rebellion. And, it does so by giving brands the same powerful automation tools as the big guys like Amazon. 
Drip makes marketing easy even for the rookies. It does so by helping businesses with the following services –
Providing smart insights: Drip takes your stored data to you with the best recommendations. These recommendations when implemented properly can help you grow your business, build your brand and make more money. 
Powerful Automation: An automation backed up by powerful segmentation can help you reach the suitable set of people across a variety of platforms. 
Segment to your heart's desire: This tool helps you graduate from the generic way of list building to dynamic behaviour and engagement based segmentation. 
An API for everyone: Exploit the world of API possibilities by meeting all your integration and authentication needs at one platform. Drip can provide you with world class APIs for every need of your business. 
Special feature alert! Drip's best in class integration with ecommerce leaders like Shopify, Magento and WooCommerce makes it seamless to use your store data and craft unforgettable user experiences. 
Understanding what your customers are doing is the key to excel in any business. The more you plug into Drip, the better you can understand your customers by getting deep insights. So get those tedious manual tasks off your plate and start working on things that really matter with this tool. 
If you want to Ace Digital Marketing Interview Questions Like A Pro and Land Your Dream Job, do give my blog a read.
I also highly recommend you to check out my video on Most Effective Tips For Digital Marketing For Business and subscribe to my YouTube channel to stay updated with the trends in digital marketing. 
5.AWeber
This free email marketing tool is definitely also one of the best in the industry. It essentially consists of all the features that you need in your automation tool from the day 1 of your business. 
With the mission to deliver powerfully simple email marketing for small business that does 90% of your work for you, Aweber has some salient features that need a special mention. These include –
Drag and drop email designer:  This helps you create customised email and landing pages in minutes without ever writing a line of code. 
Prebuilt Template Library: You can get started faster than ever with AWeber extensive pre-built email templates designed for your business requirements. 
Campaign automations: Start automating your email sending process and personalisation with built in campaigns provided by AWeber. 
Campaign marketplace: Import high performing pre-built campaigns into your AWeber account and to accelerate using automations in your marketing process.  
Accelerated Mobile Pages (AMP) for emails: Leverage the latest trends in email marketing technology to add more interactions to your messages directly into people's inboxes. 
AI – Powered design assistant: This smart designer tool automatically builds you amazing looking branded email templates within seconds. Isn't that super cool! 
I am sure you are wooed by the wholesomeness of this beast in the world of email automation by now. However, I strongly recommend going for their 14-day trial package before you decide for yourself. 
In fact, you can easily switch from one email marketing tool to another at any point in your business. Thus, it is important to keeps yourself updated with the nuances of these technologies so that you do not stay behind in this race to be the best. 
Dear readers, you must also check out this video on The Best Digital Marketing Tools for Competition Analysis if you want to stay ahead in your industry. I have presented a detailed analysis of various tools that could help you greatly!
6.Amazon Simple Email Service
You must know about Amazon as an ecommerce giant. What you probably don't know is that it has come up with its email automation tool that is just as effective. 
Amazon's Simple Email Service (SES) is a cost-effective, flexible, and scalable email service that enables developers to send mail from within any application. You can configure Amazon SES quickly to support several email use cases, including transactional, marketing, or mass email communications. 
Amazon SES's flexible IP deployment and email authentication options help drive higher deliverability and protect sender reputation, while sending analytics measure the impact of each email. With Amazon SES, you can send email securely, globally, and at scale.
With its users ranging from Reddit, Netflix and Duolingo, this service by Amazon is clearly promising with its offerings. All you need is an AWS account to get started with this high-scale inbound and outbound cloud email service. 
If you are looking to Leverage Outbound Marketing to Scale Your Business, then do check out my blog.
If you are looking for automation in the following domains, Amazon SES can be your right choice-
Transactional Emails: You can send immediate, trigger-based communications from your applications to your customers. For example – emails such as order confirmation, password reset, etc. 
Marketing Emails: Start promoting your products and services such as special offers, newsletters, etc., with personalised content and email templates. 
Bulk Email Communication: Send bulk communications through emails including notifications, announcements, etc. to large communities. You can also track results of these campaigns using configuration sets. 
7.Sender
This email automation has made it to the list owing to the various benefits it offers to its users, thus empowering them to quickly and easily keep in touch with their customers. 
Sender's email automation tool allows you to create automated emails with their visual workflow editor that makes your task much easier. Whether you want to send a welcome email to your customers or abandoned cart reminders, this tool can help you do it all. 
If your business needs you to sell a product online, then this tool can help you drive up the sales with its business-friendly features. You no longer have to copy-paste your product's information into your newsletters over and over again. This tool allows you to import all of your product details with its product wizard. 
One click, and you're done! Sender's automation makes editing at each step in your automation workflow simpler than ever. 
Do you want to send an email? No issues – there is a shortcut for email creation. Want to send notifications to your sales team? Choose an action for it. Want to change your subscriber's preference? Move to another list. 
With Sender, the coolest part is that everything has its shortcut which saves you a huge amount of time. And that's exactly why Sender has made it to my list of the best email marketing tools. 
8.Campaign Monitor
As the name suggests, this automation tool helps you connect with your audience in an easy way by helping you create straightforward email marketing and automation tools. 
Its ease of use, complete customisation, mobile optimisation and template management for teams has made it a preferred choice of more than 2 million marketers and over 250,000 businesses around the world. 
Most marketers think automation is intimidating. And Campaign Monitor is here to break that taboo. With its new and unique visual journey designer, this tool can help create unforgettable emails to woo your customers. 
With this tool, you can drive urgency using a countdown timer, and personalise every visual aspect for a completely branded email campaign that looks great on any device. 
One way to automatically drive revenues is to keep your potential customers engaged throughout. This is done by informing them about the story of your brand and build their trust in this process. Campaign Monitor helps you do all of this and more to offer one of the best Customer Relationship Management (CRM) experience you'll ever encounter. 
Evidently, it provides a more human approach to email marketing. Data being the fuel for personalised content, this tool uses detailed lists and smart segments to enhance engagements. As a result, it feels less like email marketing and more like email between friends to your customers.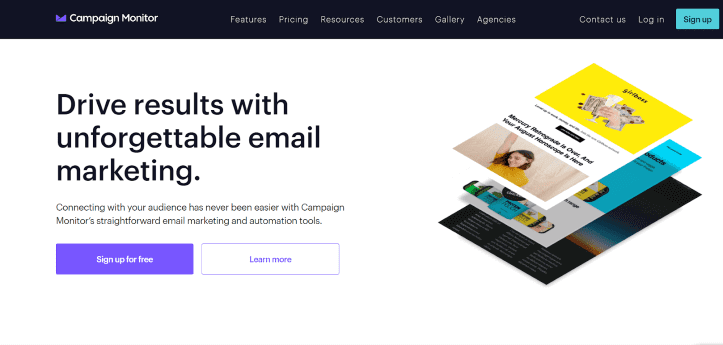 I hope the detailed analysis presented above made your job a tad bit easy. It is no doubt that choosing the right email marketing for your business requires a ton of preliminary research. 
However, this task can be made a lot less daunting if you have in mind what exactly you need from your email marketing tool. That is, you must keep your prime aim in mind throughout the search process. 
Now since the prime aim can vary depending on whether you are an entrepreneurial venture aiming to mark your presence in the education sector, or your business is an ecommerce giant aiming to increase its ROI, only you can decide which tool would work the best for you. 
If you know any other tools that you have used for your business, I would love to hear from you your experience! Feel free to share your thoughts in the comments below.
Final Words
A pinch of gold cannot buy a pinch of time. So why waste any more time sending emails manually? Get these email marketing tools today and let them speak volumes for your business.  
Since most of these tools come with a free trial, no matter the size of your business, you can easily select what suits your business needs the best and move ahead with it. 
Also note that you are not bound to be confined to any of the mentioned tools forever. Keep experimenting until you find the optimum one for your business. Each business, big or small, has its own needs based on its niche. 
So, what is your take-away from this blog? Let me know in the comments section below. I would love to hear your doubts pertaining to this blog too!
Keep learning, keep growing.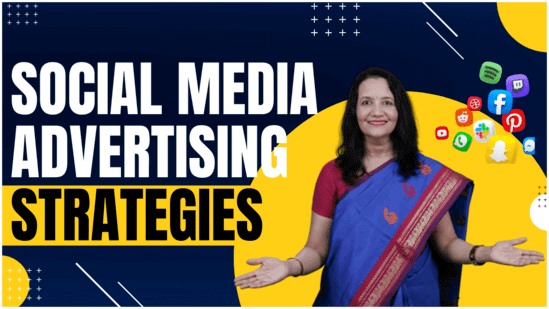 Spread the loveAccording to a study, an average person scrolls close to 300 feet of social media content every day. That's the height of Qutub Minar! Thinking about the amount of time that we tend to spend on social media daily, I find it quite believable. The main idea for social network advertising is to
Read More »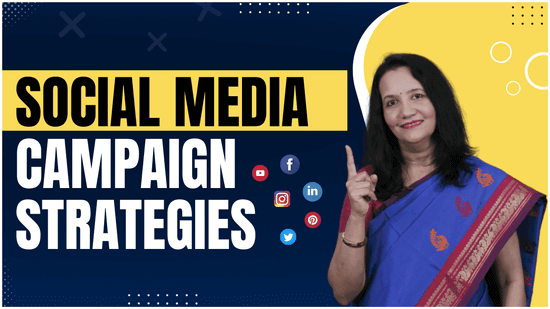 Spread the loveDo you want to create social media campaigns that will make your brand a sensation? Read these five strategies to grow your social media and blow your audiences' mind.Social media campaign is nothing but a series of coordinated activities aimed to promote your product or raise brand awareness in a community. We all
Read More »
Do you want to create excellent landing pages? Do you want to cutdown the cost required to hire a webpage creator. Read the article to know about SeedProd, an excellent landing page builder plugin for WordPress.
Read More »
HERE IS HOW I CAN HELP YOUR BUSINESS GROW
Don't just stand by and watch others make millions! Jump in and leverage digital marketing to skyrocket your business!
Some of the many superpowers of email marketing tools are –
● Automate your marketing workflows
● Track your statistics
● Send more emails in less time
● Create more effective emails
● Build deeper relationships with customers
You can also read this article to know the Best ways to turn profit from Email Marketing
Through Email automation you can grow your business online by-
· Creating an Ecommerce website
· It Help people find you
· You can use email to boost loyalty
· Allows to track your performance
Check out this article to know about Email marketing software to grow revenue
Email marketing tools include email scheduling, social media integrations, free trials and a wide
range of email templates to choose from. Some free email marketing for low investment business
expansion are:
· Constant contact
· GetResponse
· ConvertKit
· Drip
· AWeber
· Amazon simple Email Service
· Sender
· Campaign Monitor
Check out this article to know the secrets to make your Email campaign high performer