You might be pondering why is Facebook still in its "Sweet 16" phase? The prime reason for the success of Facebook is that it is an excellent cost-effective marketing tool for business. If you wish to take your small business to the next level, then you are in the right place! Let's dive in to reveal the ultimate Facebook Marketing for Business strategies.
Facebook knows about your social behaviour, likes, dislikes, level of interaction, whom you follow, your followers. 
Facebook and marketing go hand in hand. It is undoubtedly the best combo like watching movies with the bucket full of popcorn!
Before we move on, let's have a look at pre-requisites for FB marketing:
How to Make a Facebook business page
Before you make a Facebook new account, it is important to log into your personal Facebook account. Don't worry, your personal account information will not be visible from your business page. Let's follow these simple steps to create a Facebook business account.
Firstly, log in to your Facebook account and select Create a new page option on the left-hand side menu.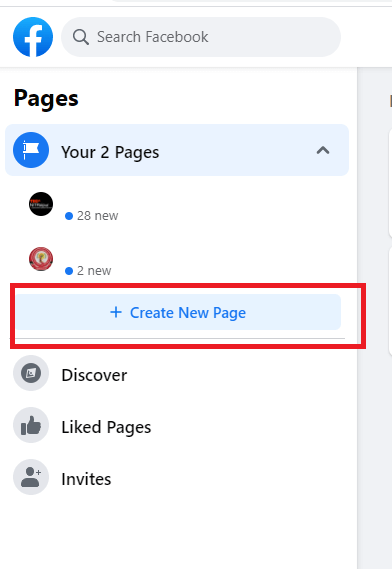 The second step is, just select the name of your page and its category. Whatever credentials you will add to your page it will display the preview on the right-hand side.
Now it is almost done! Before sharing the page among the audience, complete your profile by adding a Profile picture, Cover photo and a description. The best part is you can also add the @page_username so that people can easily find your page.
This is how the username will be visible on your Business page.
Set your goals for Facebook digital marketing. Have you watched 3 idiots? The reason for the success of 3 idiots was that it aims to motivate the viewers with its compelling storyline. Similarly, to do the Facebook Marketing one must be clear with its aim to achieve the desired result.
According to Sprout Social, marketers had the following objectives set for social media marketing on Facebook.
For example, in the picture below, Indian film production company YRF post an image with a question to increase its engagement.
Beware of the image copyright, don't just use any image from social media. Doing that, you may put yourself in trouble.
Know the Facebook audience
India accounts for over 334 million Facebook users, which is approximately 24% of our entire population. It further splits into 77.8% male and 22.2% female Facebook users.
To get more familiar with Facebook demographics, you can either use Facebook Insights page or a tool like Social Sprout.
 If you want to get more insights, check my blog on Supercharge your marketing strategy for Facebook (Quick ways)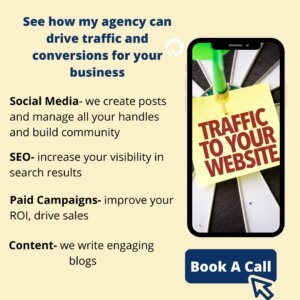 Create and Plan your content
As the content is fire and social media is gasoline, so the content should be attractive enough to drive profitable customers.   
Ever wondered, why Marvel comics are successful? People love to read Marvel comics because of its superheroes and fascinating stories with amazing graphics. You can see how the art of content writing acts as a game-changer.
Track, Measure and Analyze your results
Once you post any photo, video or link from your page, keep a check on its reception by the audience. There are several ways to measure the result. The number of impressions, likes, shares, comments and clicks to the link are a few of such techniques to analyze every post.
Facebook has an inbuilt analytical tool, which provides insight into your business. The insight option on the left-hand side of your page displays the page summary, i.e., page views, post likes and post reach. Facebook has the provision for paid advertisements too. All you need to do is just click on the Promote option on the left-hand side of the page.
You can even boost a post from your Facebook page. Remember, boosted Facebook ads are not free, you have to invest a small amount of money to increase the reach of your posts. There are various other options available which are mentioned in the screenshot. You can choose any one of them according to your requirement.
Since now you know how to create Facebook page and other pre-requisites for Facebook marketing, let's get started with 17 mind blowing strategies for Facebook for business:
1. Link your Facebook business page to your website
Often people search for the products and services on the internet. Why not leverage it as an opportunity to drive them to your website. Further, you can add the link of your Facebook page, which may convert them into your followers.
You can see how I have added the links of my social media business pages on my website. In the same way, you can easily add your Facebook business page by adding a clickable icon CTA as illustrated. Even the Facebook business page link can be added at the bottom of the home page.

2. Follow Social Media's the Rule of Thirds
In 2019, Facebook reinvented its News Feed algorithm. This new algorithm gives priority to the feeds from friends rather than the advertisements of different brands. Due to this change, it has become difficult for businesses to show their promotional content to the audience. Don't worry, you can quickly resolve this issue by establishing a balance in your content.
The rule states that you can split your content as below,
1/3 promoting your products or services.
1/3 sharing recent news of your industry and information you believe could be beneficial for your followers.
1/3 interacting with others.  
Indian Hotel Chain, Oyo Rooms promoting itself and at the same time giving information about offers available.
3. Keep it simple, yet impactful! 
Make sure you are giving diversity to your followers in terms of content. 
Text is the most basic and easy to do post. It may not help you widen your reach or increase your followers, but they are capable of bringing excellent user engagement on Facebook. You just need a good number of followers or friends on your page. Instead of writing an essay in your post, write 2-3 lines in the form of an interesting question, seeking suggestion or opinion of users. If users find your question interesting, thoughtful or entertaining, most of them will express their views in comments. 
In the screenshot above, a thought-provoking question by SRK to the audience to promote his new TV show which received over 2500 comments and around 29k likes. You may not be a King Khan, but this is surely going to work for you.
4. Add more links.
 Can you predict how long a viewer will read the text? I can't remember any such tool that would give you this information. What will you do if you want to provide more details about any product? 
To avoid this situation, make sure your website is updated with this comprehensive information before you post on Facebook. Copy the URL of that webpage and paste that link into your post with some 2-3 lines of introduction. By adding the link visitors will be redirected to the homepage of your website.
The graph below clearly depicts that the post with the links has the highest engagement among other types of posts.
(Source: Sprout Social)
Check out my article on how to Create facebook messenger chatbot.
5. Use more effective Ad formats
In this type of Ad, there are three to five images with links to different destinations. This format of Ad is mainly used by Shopping or clothing Apps.
You can see how Udemy advertised its wide range of courses in the carousel style ad.
Facebook brings the new feature that provides full-screen Ad experience to the viewers. Facebook provides a fully immersive canvas Ad with the possibility to add GIF, images, videos and link as CTA.
You can see how Adidas displayed the Canvas format Ad with the CTA that direct to its website.
6. Share your content via  Facebook Story
Similar to Instagram and Snapchat, Facebook also started this concept with some added features in 2017. It was in response to the declining level of original content on the platform and to encourage more user-generated content. It is also accessible to Facebook pages. Whatever you will share in your story, it will disappear after 24 hours. 
In this example, you can see how tata motors used this feature. It even asked a question in its story to make it more engaging.
7. Target right people at right place.
Gone are the days when local marketers rely only on newspaper and hoardings for advertising. But now, Facebook made their work easier by launching a whole new tab in its app called Facebook Marketplace.
This feature was launched in the place of "Buy and sell" groups. It displays the relevant feed of things to buy from people who live nearby, and you can also sell your own stuff.
Can you locate the Facebook marketplace tab? From the picture above, you can see that the price of commodities is also displayed. The Filter tab on the left-hand side enables to adjust the location on map, category and cost of the articles.
8. Conduct Facebook Polls
Have you watched KBC (Kaun Banega Crorepati)? It is undoubtedly the favourite Indian quiz show ever made! Well, most of us are not lucky enough to get selected for the 'Hot seat', so you might just answer the questions correctly via SMS and feel good about yourself! Now you can do the same thing on Facebook from Facebook poll!
Questions could be an exciting way to start conversation with your audience. 
 In the Facebook poll, You can  simply put all the possible responses/solutions as options and ask users to vote accordingly. People would generally prefer simply ticking an option over typing in the comment box, which in turn would increase participation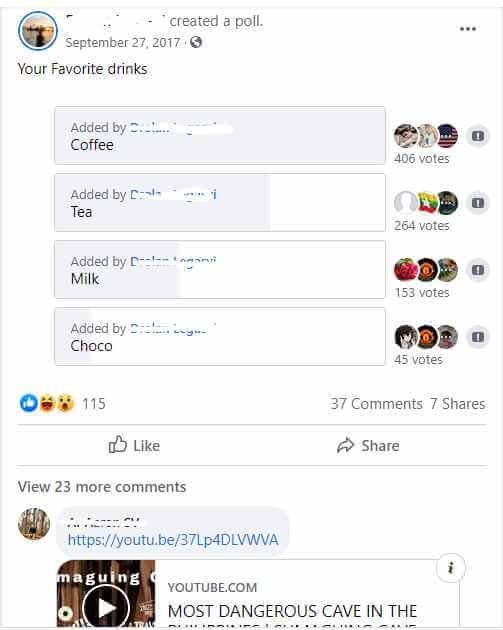 In this example, a user created a Facebook poll asking people about their favourite drinks! I guess you might be curious to know the result right! Don't worry, once the poll gets over, you can even display its results.
9. Go LIVE on Facebook 
This is the live video broadcast on Facebook. You can go LIVE occasionally like many movie stars. It is one of their ways to interact with fans spread all across the globe. Similarly, you can interact with your customers, show them behind the making of product scenes, make them aware of any new developments in your company.
Rather than just interaction, you can go live to make any big announcement. During the lockdown, this feature was widely used by corporates to make big announcements. For instance, DisneyPlusHotstar announced the release of seven films by going live with the lead actors and Disney India CEO. Real-time announcements will be much more impactful than a mere recorded video or image post. 
For all the gaming freaks, you can even attend the live game steaming by different world-class gamers. Facebook live comes with the option to comment during the live streaming. You can also see the number of people who joined the live session. 
Facebook allows people to take action for charitable work by introducing a donate button that can be used during the Facebook live story. Celebrities often use this feature to raise funds for a cause. The donation button can also be used as a sticker for the Facebook story. Remember, to use this feature, it is essential to have a verified Facebook account.
This picture depicts the Facebook fundraiser sticker for Facebook stories.
Create a petition to support Noble cause
Launching a petition will act like hitting two birds with a single stone. Firstly, you will work for the benefit of society. Secondly, it will create a good image for your brand.
After creating a petition, you can tag the relevant organization, officials and get a lot of people to support the cause. There are various apps from which you can create a petition, such as:
For example, this is a petition launched to support mental wellness in schools. Once you have signed the petition, you can easily share it with other people via a different social media platform.
10. The optimal time to post 
Will a post-receive the same number of likes, shares, views if posted at two different times? Certainly not. Then, what would be the best day and time to post?.
It is a trial and error method. Initially, post at different times and days in a week, then using Facebook Analytics, compare the user engagement for each post. This way, you can get the optimal day and time for posting on Facebook.
However, Hootsuite already did a detailed analysis and came up with the results (listed below) which you can directly use for scheduling your posts.
For B2B brands, the best time to post is 9 AM and 2 PM on Tuesday, Wednesday and Thursday.
For B2C brands, it is observed to be noon on Monday, Tuesday and Wednesday.
11. Always keep a Pinned Post
Facebook allows you to pin any of your posts. The pinned post will always appear at the top whenever any user views your profile. So, if there is any post which you think every visitor should see, you can pin that post. It may be an important announcement or a post that gives a glimpse of your business etc.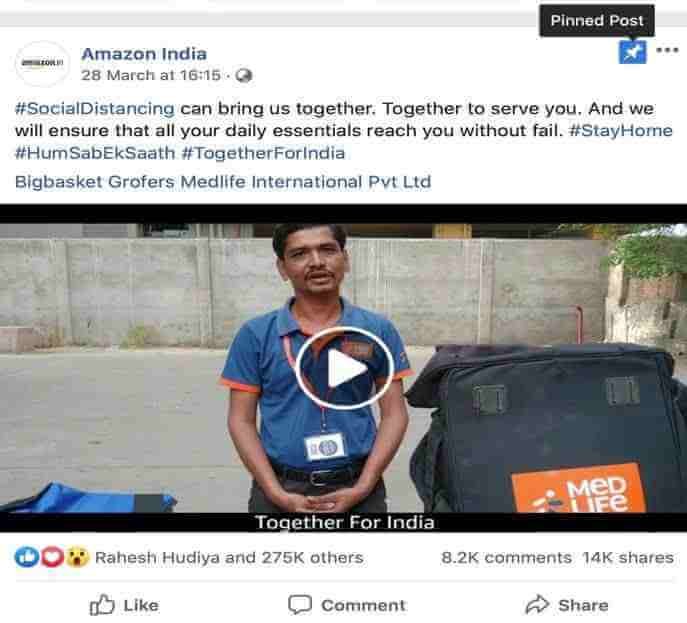 This is the Amazon India Facebook page. You could see, they have pinned a post related to social distancing and delivery of essential goods, both of which have immense importance amid coronavirus pandemic. 
12. Does Ad fatigue bother you?
Have you ever wondered why test cricket match is losing its importance day-by-day when compared to ODI and T-20 matches! The reason is pretty simple; test cricket match no longer connects with the cricket fans because of its monotonicity. Same happens when the visitors become over-familiar with Facebook ads and start losing interest.
In simple terms, your advertising strategy is no longer effective, which lead to a steady decline in Click-through-rate (CTR)! Don't worry, here are some effective ways to combat Ad fatigue.
Facebook allows you to choose the campaign objective according to your requirement. By changing objectives from clicks to conversions to awareness you are optimizing for different goals thereby reaching different audiences and overcoming ad fatigue.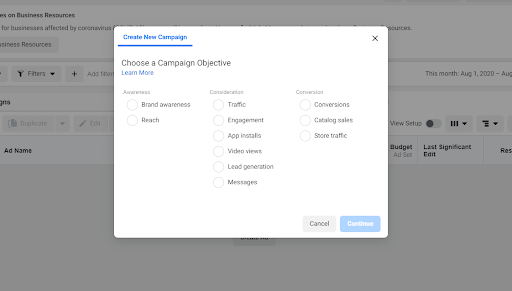 Seeing the same advertisement, again and again, annoys visitors. But what if the same ad is displayed in different forms. Let's see how we can do it. Ad rotation involves creating multiple variants of an advertisement and presenting it differently. Now the ad appears fresh and unique to the visitors. 
You can clearly see that how Make-My-Trip used ad rotation. It conveys the same information by using different graphics and images.
For avoiding Ad fatigue, it is crucial to filter the audience from targeting list time to time. It can be easily achieved by creating a separate list of the people who have recently signed up for your services. Apart from it, try to reduce the frequency of the ad. This can be done by optimizing the daily unique reach of an advertisement.
13. Customize your Facebook page to the next level!
We all know that Facebook has the feature to create a business page. This is it? Nope. The functionality of a Facebook page can be increased by creating custom tabs which allow you to display custom content on different pages such as loyalty program, Instagram feed, bookings, trip advisor ratings. 
This task can be done by using a third-party platform like Woobox. It offers to try custom tab for free. Here is a step-by-step guide for creating a custom tab in Woobox.
Install the Woobox app for your business page and sign-up.
After following these steps, Woobox will select your main Facebook business page.
On the top of Woobox page click on Facebook tabs. After this step, select the HTML tab.
Click on Create a New Tab, now you can easily add the content on your page. Embed it with images, videos or widget.

After it is done, Don't forget to save it by clicking on save changes.
Apart from Woobox, there are other tools which offer to create custom tabs such as Pagemodo, TabSite, ShortStack, TabFrames and many more.
3D Ads for Facebook
Everyone loves to watch movies in 3D, whether it is a famous blockbuster Avengers Endgame or any sci-fi film. For all the 3D movie lovers out there, now you can have 3D movies like experience on Facebook! Believe me or not, it is absolutely right.
3D Ads are a brand new concept and engage the visitors more when compared to other Facebook content. 3D ads offer subtle, realistic features such as lightning, textures and various other effects too. 
Let's see how you can use 3D Ads for Facebook marketing.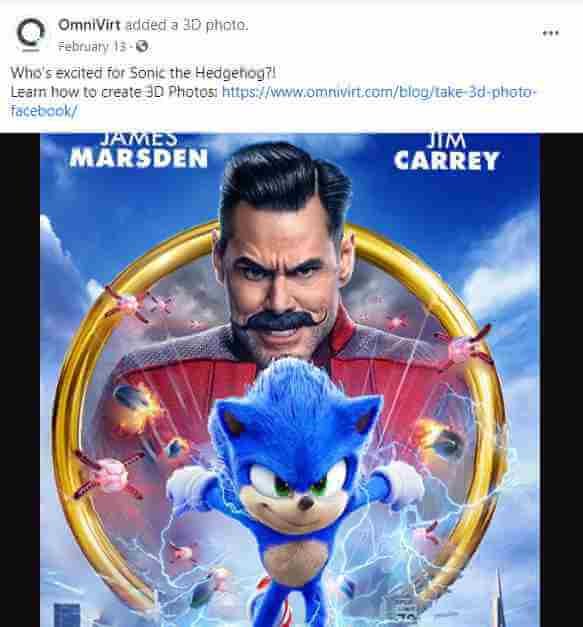 In this example, you can see a perfect visual 3D representation of every child's favourite Sonic. 
This is not the end! Facebook offers to create 360-degree videos and photos. This feature is used by many big brands to endorse their products and services. Undoubtedly, it acts as a robust tool when it comes to advertising. 
Why don't you create a 360-degree video for your next advertisement to have the best virtual reality viewing experience? The above example is the 360-degree video clip of the NASA scientists training for a spacewalk.
Let's try it before you buy
Facebook is not only meant for posting and sharing stuff, but it is something which is used by people of all ages. Here I will tell you about a new feature of Facebook that is intriguing for all the gaming freaks.
Facebook Playable Ads enables marketers to offer Facebook users an interactive preview of apps before downloading. It means you can have a trial of the game from your Facebook feed! Facebook playable Ads has three parts:
When a user scrolls the News Feed, they find a demo video which entices the users to click and play the game.
If a user clicks on the ad, they will be able to play a short, interactive game without installing the app.
After the demo video is over, CTA allows the users to install the app from Google Playstore or App Store.
The above example is from a famous game War Robots. You can see the CTA in the form of play now button which directs the visitors to install the app.
Facebook Custom applications
Facebook marketing helps your brand to stand out in the crowd, this is only possible because of useful API of Facebook that enables to do effective marketing campaign. Let's see how it is possible!
Lacta is one of the famous Greek chocolate brands. Its marketing strategy was based on a pretty simple concept, where people compare their loved one to the sweet taste of Lacta chocolate. The chocolate brand has the slogan, "You may not be Lacta, but you are the sweetest part of my life". 
To promote the Lacta's Facebook page, the company developed an application that let people create a customized Lacta chocolate wrapper with the name of their loved one on it. Then they could post the same custom wrapper on their lover's Facebook wall with the caption, "You may not be Lacta, but you are the sweetest part of my life". In just a few months the application become a viral hit with more than 3,00,000 virtual Lacta chocolate!
The next example is of the premium washing powder brand Ariel. You will see how smartly Airel utilized Facebook for marketing purpose. It organized an event Ariel fashion shoot in Stockholm, which was one of the most interactive product demos in history. 
The people all over the world can participate in the event through real or virtual participation from Facebook. It was a public event and a live Facebook event at the same time. In the one week challenge, the participants target to stain the designer clothes by the Robot loaded with jam or chocolate. The winners received the stain-free garments as a gift.
As a result, 15,000+ new Ariel Facebook fans arise, and all the online gaming slots were booked. These examples depict the potential of Facebook to take your business to another level. 
Well, what could be next! Use Facebook business manager to ease the work.
 For the smooth conduct of the match, a captain is appointed to take the significant decisions, make strategy and organize the team. Similarly, the Facebook business manager is used to keep your Facebook account secure and organized. It functions in the same way as the MS Dhoni did for team India by being the best captain ever!
It keeps the Facebook marketing and other advertising work centralized at a place.
It keeps all your business-related activities separated from your personal Facebook account (Don't worry about posting at the wrong place!)
If you are managing two or more business page together, then there are chances of mishap. The Facebook business manager acts as a supervisor to manage different pages together effectively.
It is the best place to keep a track on the Ads by showing performance reports.
You can connect your Instagram account to the Facebook business manager as well.
Now you know the importance of Facebook business manager, so let's follow these simple steps to create the business manager account.
Enter your business name and the email address you want to use for your account.
Enter the details such as country name, address, city and website.
Now you will be directed to Facebook business manager dashboard, click on Add Page.
A window will appear where you can type the name of the page. If you have its administrator access, then your request will be approved.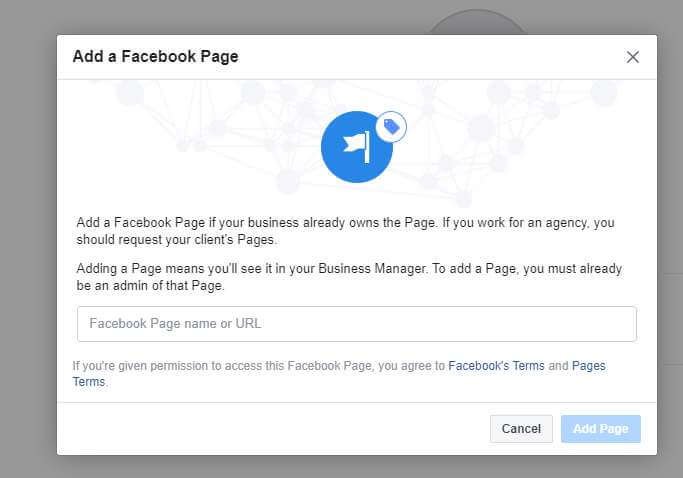 Managing a Facebook page alone is not easy. Facebook manager allows you to add the team members to work for an ad campaign.
You can even give permission to the team members to work on a particular page along with giving them access to a specific function.
The work is almost done! The invitation mail will be sent to the respective team members notifying them about the access.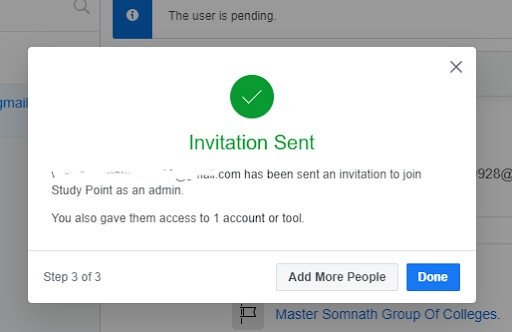 By putting the small effort, you are ready to use Facebook business manager to organize the Facebook marketing work.
 Paid advertising on Facebook.
The success mantra for most of the big companies is their grand advertising strategy. They spent a massive sum of money to endorse their products and services. 
Did you know, Samsung electronics spent whopping $2.41 billion in the US itself for online advertising!
To keep a track on Facebook advertising, Facebook Ad manager is used. It is equipped with a dashboard that highlights how much you are spending on marketing. It also creates the custom view of the final results.
Remember, to use Facebook Ad Manager, you must have a Facebook business page. Let's follow the step by step guide to creating an ad through Facebook ad manager. Remember Facebook ad manager is housed under Facebook business manager. 
Log in to Facebook Ad manager homepage, and set up your account by selecting a payment method.
You will be directed to the Facebook Ad manager dashboard, where the Ads and Ad campaign will be listed. If you haven't created any Ad yet then get started by clicking on green button Create.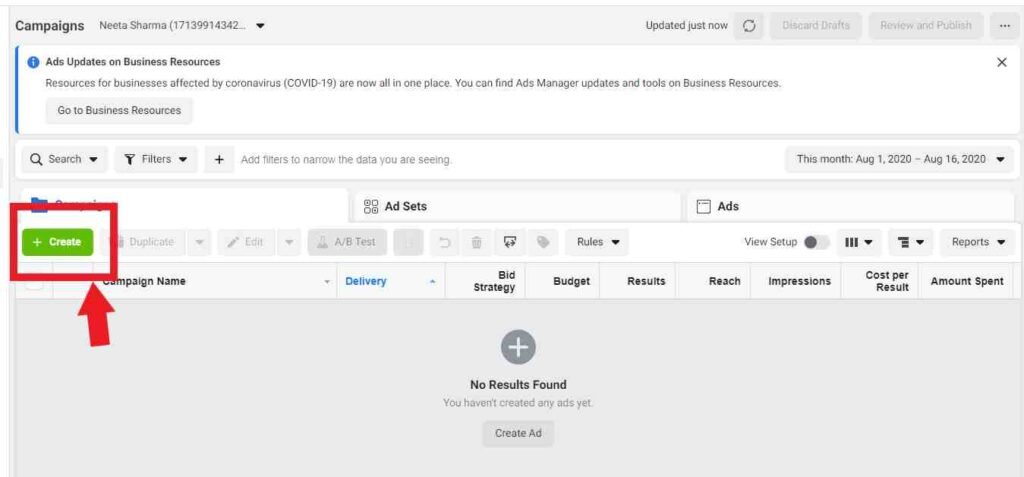 Facebook Ad manager works by keeping the objective in mind. Here I chose Brand awareness as an objective for the Ad campaign.
Next step is to choose the target audience. This step is crucial because it is better to choose specific people who are interested in your services. Head to the three dots on the left-hand side, then click on Audiences and Select the location. You can even add the filters based on age, gender, behaviour and interests.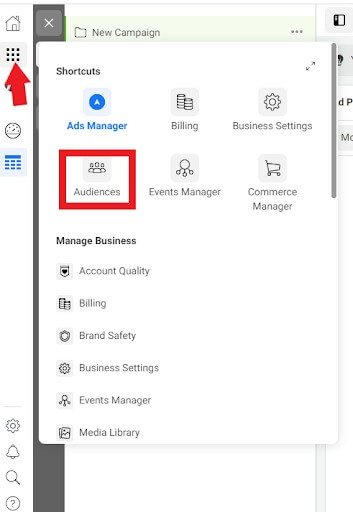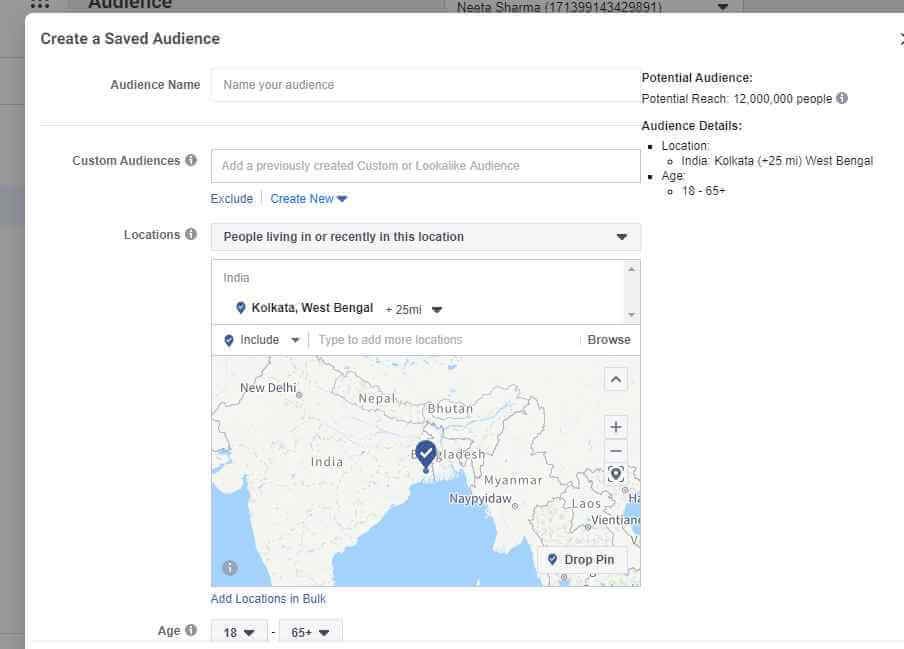 After following these steps, you can specify the budget and schedule the time to release the Ad.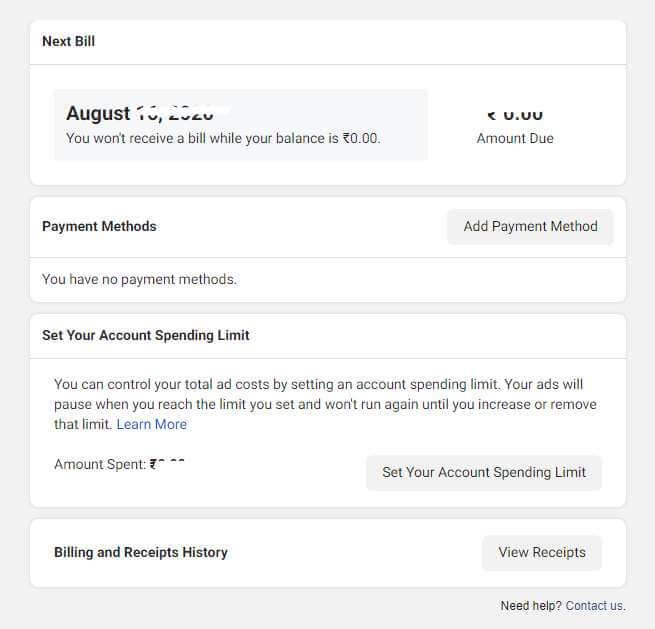 Now you are all set to create your Facebook Ad. Select the type of Ad you want to create, and that's it! 
You can also check out my article on Advanced tips for Digital Marketing on Facebook for top-notch strategies of Facebook Marketing.
Conclusion
As Facebook has gained the trust of millions of people, why not leverage it for marketing! With above steps in hand, it is the time for you to come up with your own Facebook marketing strategy! 
Let me know in the comment section, which Facebook marketing strategy worked best for you. Additionally, you can also share another approach which we haven't discussed in this article. I will be happy to help you out!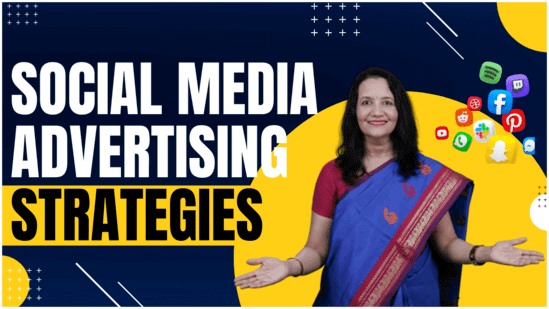 Spread the loveAccording to a study, an average person scrolls close to 300 feet of social media content every day. That's the height of Qutub Minar! Thinking about the amount of time that we tend to spend on social media daily, I find it quite believable. The main idea for social network advertising is to
Read More »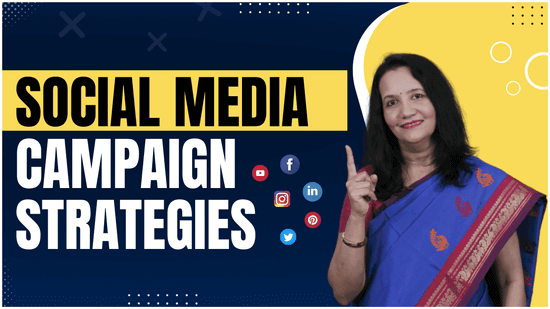 Spread the loveDo you want to create social media campaigns that will make your brand a sensation? Read these five strategies to grow your social media and blow your audiences' mind.Social media campaign is nothing but a series of coordinated activities aimed to promote your product or raise brand awareness in a community. We all
Read More »
Do you want to create excellent landing pages? Do you want to cutdown the cost required to hire a webpage creator. Read the article to know about SeedProd, an excellent landing page builder plugin for WordPress.
Read More »
HERE IS HOW I CAN HELP YOUR BUSINESS GROW
Don't just stand by and watch others make millions! Jump in and leverage digital marketing to skyrocket your business!