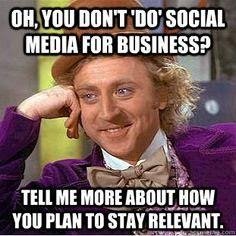 Source: pinterest.com
With India going bonkers over Virat Kohli being the 1st Asian, 1st Cricketer and only the 4th Athlete to reach 100 MILLION Instagram followers, are you someone trying to figure out what exactly this magnitude/ number means? 
Wait no further! Dive right in to know how YOU, as a small, medium, or large business owner, can reap benefits out of these social media platforms to boost your brand presence, sales and make the best out of this digital world and create an impact in your market.
What Is Social Media Engagement?
Every other person has a Facebook account, Instagram ID, LinkedIn, and various other social media handles to keep us connected to the rest of the world. Data is generated in such volumes, and there is so much untapped potential in the digital world that the knowledge of tapping this potential would lead to drastic improvements in the business of an individual or a company.
Simply put, looking at the above picture, I am sure all of you can figure out what each of them mean:
and some others not pictured include
Retweets
Click-throughs
Hashtags etc.
The above, combined with simple, efficient, smart, and unique marketing strategies, when understood and used judiciously, can yield maximum returns.
As a businessperson online, your goal must be to attract the audience and keep them entertained, engaged, enlightened and give something back to them as a token of them being loyal to your company and brand. 
Also check my article on Amazing ideas to explore in the world youtube Shorts
These things done right provide a positive experience and helps you in forging meaningful relationships with current and potential customers.
Read my blog on- Enroll In Social Media Marketing Course To Explode Your Business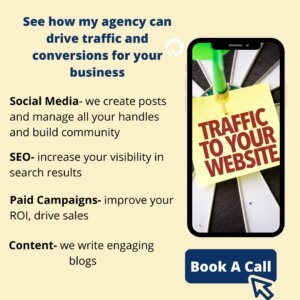 Why Is It Needed?
Gone are those days when traditional ads on Newspapers and Television create the reach among people. With humans entering deeply into the Information Age, a study shows that 84 % of the millennials don't trust in traditional ads. At the same time, another study states that 92% people believe if an expert commented on it rather than having seen a generic ad elsewhere. 
Now the above statistics gets you as a business owner worried. So, what should you do so that people are more engaged socially and you are able to drive more traffic to your platform and create more awareness about your brand and your products?
Source: capitalelementmedia.com
Engagement in social media can be of various kinds, with each one having its own benefit in a unique way:
Engagement can help provide a wider reach for your product/ service and be visible to a larger number of people hence expanding your customer base.
It can strengthen the bond of loyalty and trust that a customer has in your brand.
It helps keep in touch with the consumers and know their needs and demands and assist you in turn in taking your business forward in the right direction and growing it.
It helps humanize your product. 
Giving a human touch to anything always has a lasting impact as humans trust humans more than they trust machines. This also enables you to connect with them emotionally. 
The above graph provides us with some relief as social media users are likely to keep increasing. If these media are used rightly and the consumers are properly engaged, they can be great tools for business owners.
The million-dollar question now is How do we increase our Social Media Engagement? 
Fear not, as it isn't something so hard and can be done easily by you. Read along as I take you through the main components in analyzing your social media presence and give you simple yet effective steps to bolster it in the right way. 
Also check out my blog on Review of Promo Republic – Social Media Tool for Content Posting, Collaboration, and Approval
Know Thy Audience
A successful craftsman is a person who knows what is demanded of him and delivers it at the most crucial time in an effective way. 
You cannot randomly play a defense when your team is chasing a massive total and when it's demanded of you to try and hit every ball *ahem Kedar Jadhav ahem*.
Source: thecricketlounge.com
The role of a successful businessman is to thus recognize who his customers are and classify them according to proper metrics, and cater to their needs and demands. 
This process is scientifically termed as "Target Audience Identification." Once you do enough audience research, decide your target audience, and craft relevant content, messaging, and ads, it would lead to better engagement, higher conversion rate, and better social media Return of Investment (ROI).
How do we analyze our audience?
Some data points which we can consider while solving such a problem are:
Age
Location
Spending Power
Language
Interests
Stage of Life they are in
Your own consumer database would mostly provide you with enough and more information regarding the above data points. 
NOTE: Don't forget to use analytics tools like Google Analytics and others. Read along to find what those are and how they may help in your business.
Analyze Your Engagement
Now that you have the raw data of who your audience is, we need to refine it more to suit our needs, and we need to analyze it in a way that is most useful to us.
The main advantage of knowing your audience is that it helps you to quickly determine what kind of marketing and engagement strategies you can employ and which will resonate within their community.
This is when we figure out what metric we are tracking and why, set our goals accordingly, measure the right metric corresponding to your goal, and take action based on the results obtained.
There are various softwares that can aid you in this quest. Some of the best are:
1. Hootsuite Analytics: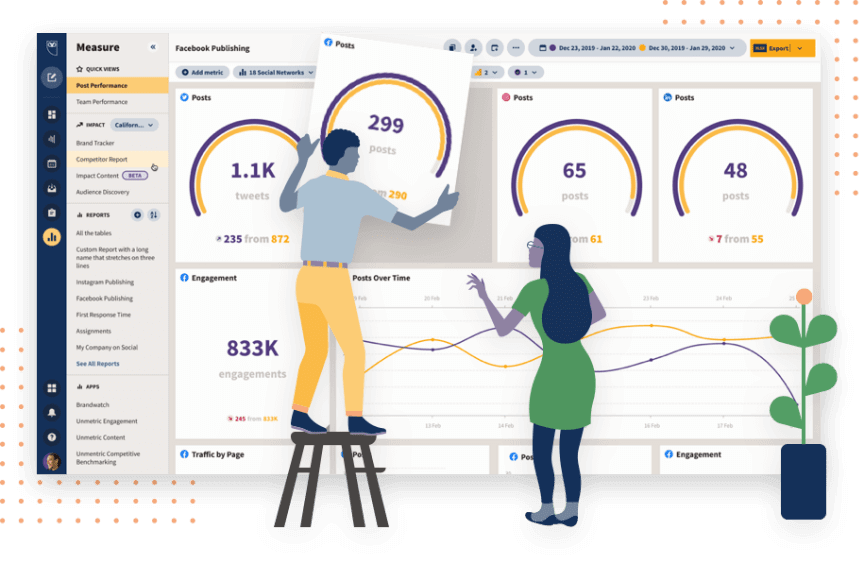 This is an all-in-one tool that can help you analyze all your social media activity in one place without much trouble. This saves time and makes it easy to compare various metrics. 
We can customize it according to our own needs, and it would provide us with reports in Excel sheets or PDF based on our needs.
This is one of the most useful tool and makes life simpler but beware; it is a PAID tool.
2. Google Analytics:
This is a FREE tool.
This tool can help you in different endeavors in various ways. It can help check traffic on multiple platforms and help check what content works best among the audience. It can also help attract the right audience, see the leads, and convert new customers into loyal ones.
Apart from these, every social media site has its own analytics page, which provides us with information we can use for our marketing campaign.
Instagram Facebook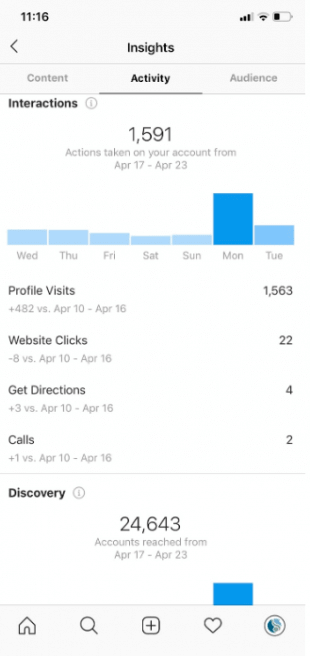 Source: digicon.com.au Source: klipfolio.com
Twitter
Source: klipfolio.com
YouTube
Source: zoho.com
Learn more about Social Media Advertising Strategies
Strategies Employed To Increase Social Media Engagement
Now that you have analyzed who visits your websites, who watches your videos, and who goes through your social media handles looking for products/ services you offer. It is high time you learn how to increase the volume of people doing this, thus potentially growing into a bigger brand, and increasing your sales.
There is no fixed way to do this, and each method is unique for a particular company based on what they have to offer and who their target audience are.
Some of the ones which will help you the most are:
1. Initiate Conversations: 
Posts on social media can be tailored in such a way that they ask creative and unique questions to the audience or even test their intelligence.
E.g.: 1) Asking them to post a picture of how your product looks in their home
       2) Asking them a question based on the brand's history etc.

These questions make the customers and general audience curious and engage them in a fun way. Try and include as many pictures and pictorial questions as possible, which will attract the audience and create more impact.
Try and keep the conversation going and promote funny and relatable conversations among your audience.
2. Ask A Question / Create A Poll Or Survey 
As an owner of a business, these are what help you find out what the audience wants from you and what is in their minds.
A question asked might give rise to some unique answers, which could even give rise to discovering new domains and hence expanding production to cater to the diversified needs.
On the other hand, a poll helps you understand what the consumers like more or the different things they expect from you in the coming times.
Such polls and questions can be conducted on various platforms like LinkedIn and Instagram hence facilitating you to reach a wide variety of audiences.
3. Respond To Tags And Comments
This can humanize a company or a brand and give you an opportunity to engage with the customers. This even allows you to help solve problems faced by people who own your product/ service. 
A person enjoying your product heartily may even tag you. Replying to their positive post would also create a sense of trust and loyalty among customers and the feeling that someone is always around, i.e., a sense of security around your products.
Responding to tags relating to current trends and creating posts reflecting these create a feeling to customers that the brand/ company keeps updating with the times and can be depended upon in the long run.
4. Discounts, Contests, Online Events And Giveaways
Who wouldn't like free items! A contest/giveaway is an easy way to attract attention and gain new customers. This excites people as they are always eager to win something. 
Discounts are something which everyone likes as it will provide them with the incentive to buy your product.
This giveaway could be designed in such a way to provide reach for your company.
E.g.: 1) 10% discount for customers posting an Instagram story and tagging the company. 
2) Online contests like Spin-a-Wheel and various others to keep the audience engaged.
The advantage of Giveaways and Contests is that it can be conducted on any social media platform and is sure to attract some audience.
Discounts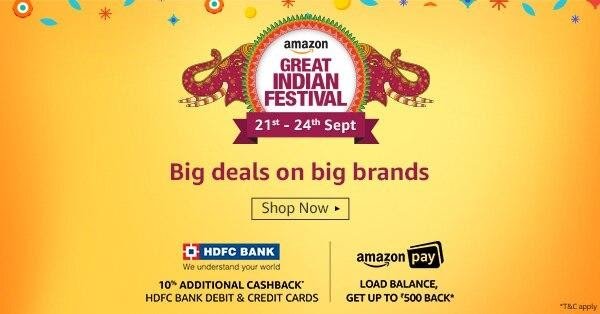 Contests
5. Reach Out To Social Media Influencers And Celebrities
If you are a business with money to spare, an excellent way to spend would be to the social media influencers and celebrities as they would have their own fan base, and you could reach out to a new demography of the population.
This could help expand your customer base and provide some assurance to customers because they tend to believe when someone they follow or if an expert says so.
Check out my article on "Demystify Influencers in Social Media to Grow your Brand."
KL Rahul endorsing Puma 
6. Use Relevant Hashtags And Create A New Trend
A hashtag is an excellent way to track your audience and to relate it to what you do. It is also a right place for people following your content to keep track of it. 
People who follow your hashtags are likely to engage with you more often, which can help boost your following and engagement. 
Read my article on "Choosing the Best Hashtags for Instagram"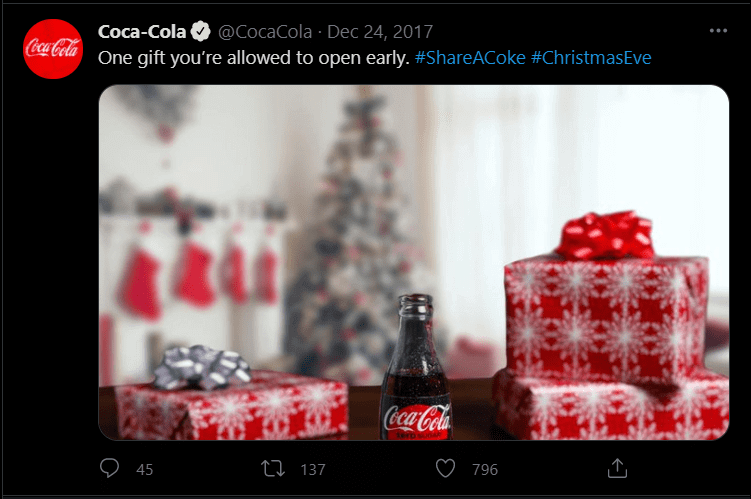 7. Share Customer Reviews And Experiences
Everybody likes to hear other's opinions before purchasing anything. Doing this would be a good way to assure your customers that the others who have purchased your product have, in fact, enjoyed it quite a lot.
This would give assurance and leave a positive impact on the mind of the customers.
Sharing a story/ experience of someone who already has tried and tested your product would give the customers their perspective and would make them closer to your brand.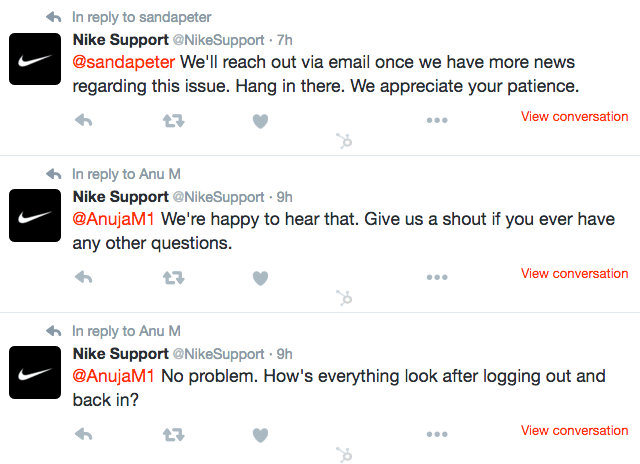 These are just a few different ways you can employ to engage your audience and keep them in the loop of what's happening in your company.
You can always think of new and different ways to captivate your audience and keep them engaged in your content and products.
Ok, Hold Up! Give Me Some Examples 
With every brand/company focusing a lot of their attention on social media and spending a lot of money to create relative and engaging content to grab the attention of the general public, it is necessary to keep ourselves updated with the times.
Here are examples of some companies which are using social media to their advantage:
1. Netflix India
Netflix, as usual, is at its funny best, be it trolling other people and companies, fun references to celebrities, and engaging people with content relevant to the trends of society.   
The main reason why Netflix is very successful in its marketing and ad campaign is that it either stays relevant to the trend or manages to create a trend of its own.
This helps to increase its engagement and generate a lot of conversation among the viewers. This is one of the many factors which makes Netflix a pro in the digital marketing area
2. Zomato
Zomato is an international food delivery app, and they keep their audience engaged by creating and posting things trending at present. Being a food app, they try and bring food into every content they create in a unique way.
This keeps everyone guessing and even sometimes gives a nice laugh.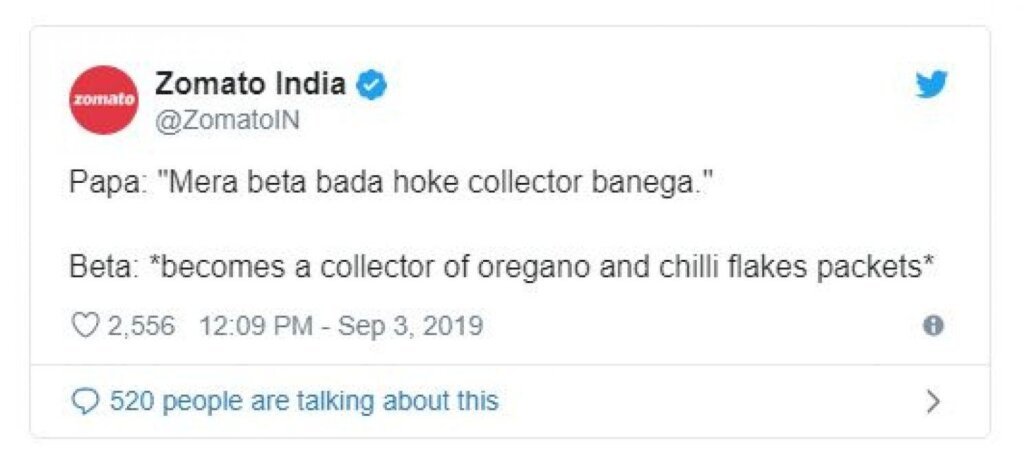 3. Amazon India
Amazon is a one-stop-shop for all your necessities and is an online platform present in many countries. They also employ social media to stay in touch with their customers and sometimes get involved in funny banters. 
4. Tinder
Tinder is a dating app where we get to meet new people and make new friends. Their social media engagement has been trendy and has always been up to date with the society's current trends.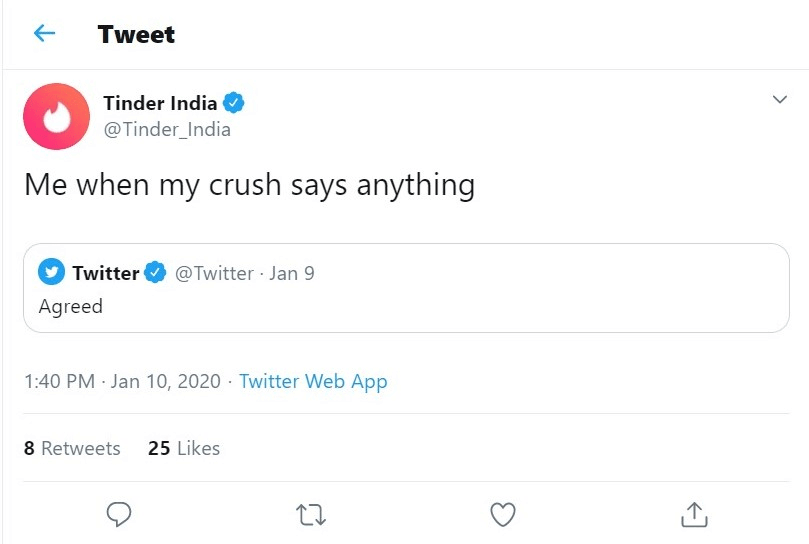 5. Nike
Well, you don't always need humor to engage your audience. Nike is an international sports brand that does just that.
With a world-famous tagline of "Just Do It" Nike is a brand that keeps its products up to date and tries to provide informational content to keep the audience engaged. It also collaborates with famous individuals like celebs to reach a wider audience. It sometimes tells life stories about sportspersons and tries to inspire people.
These inspiring stories make people believe in the product and earn their trust. Thus, Nike has a long-standing relationship with its customers.
6. Amul
With a tagline of "The Taste of India" and a catchy slogan of "Amul Doodh Peetha Hai India" Amul are already ahead in the social media marketing game. They also try and keep the audience engaged by creating content involving their product and including the current trends of the world. Another advantage is the fact that they even have an icon for the company, "A girl with a polka-dotted dress and blue hair," this helps consumers identify Amul products even more quickly.
I'm sure these examples helped you understand the power of social media and the benefits of keeping the audience engaged in your creative content. 
Concluding Words
Reading this article would have helped you realize What social media engagement is, Why it is needed in today's world, and the importance of keeping your customers and everyone going through your feed engaged.
The examples provided are some of the more famous ones. There are many other notable startup companies employing social media to their advantage and creating engaging content and expanding their customer base and reaching into new domains.
If you were ever wondering, why do I need to waste my time on social media? I can just market in newspapers and television. I hope this article helped clear that doubt and provided you with enough information to start your digital marketing journey.
So, what are you waiting for? Go ahead and analyze your audience and start creating content and bring about a change in the society.
Right, now it's time to hear it from you guys!
Which was your most liked tactic to engage with your audience? Give any unique social media engagement you have seen or heard from other people! Or, if you have any other questions, please feel free to share in the comments section down below, and I would definitely help!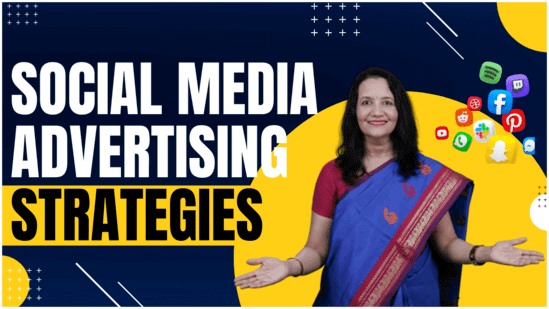 Spread the loveAccording to a study, an average person scrolls close to 300 feet of social media content every day. That's the height of Qutub Minar! Thinking about the amount of time that we tend to spend on social media daily, I find it quite believable. The main idea for social network advertising is to
Read More »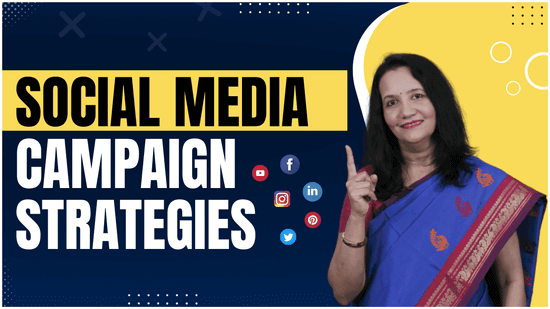 Spread the loveDo you want to create social media campaigns that will make your brand a sensation? Read these five strategies to grow your social media and blow your audiences' mind.Social media campaign is nothing but a series of coordinated activities aimed to promote your product or raise brand awareness in a community. We all
Read More »
Do you want to create excellent landing pages? Do you want to cutdown the cost required to hire a webpage creator. Read the article to know about SeedProd, an excellent landing page builder plugin for WordPress.
Read More »
HERE IS HOW I CAN HELP YOUR BUSINESS GROW
Don't just stand by and watch others make millions! Jump in and leverage digital marketing to skyrocket your business!