Besides Instagram and Youtube, Quora also makes sure that your business game stays upbeat!
 If you want to develop your thought, influence others, manifest your oracle in your niche, or simply spread your brand awareness, Quora is your best friend!
This blog will give you insights into Quora marketing and Quora advertising! 
Well, Quora is just like the second section of your question paper! Simply put, various questions are asked, and answers for the same are posted on this platform. The main aim is to solve users' problems. 
Questions ranging from silly doubts like, 'Is Pakistan better than India?' to life decisions like, 'Is it okay to take a break year after graduation?' are posted on the platform. You must be thinking of how a mere question and answer platform can help you gain leads and advertise your brand.
A simple ask-and-answer system can do wonders if it is considered as a social media marketing strategy! As a marketer, Quora will help you understand your user base and drive traffic to your website.
On some platforms, you chase your audience, but on Quora, your audience comes to you, and all you have to do is grab and seize their attention whenever they express interest.
Quora allows advertisers to build credibility in the eyes of a customer. Most of Quora traffic comes from Google or other search engines; this shows how powerful Quora is!!
Beyond the simple Q and A system, Quora is quite useful for directing your questions to specific users, especially for collaborations and hunting for certain topics and keywords related to your users' interests.
The concept of upvoting is very crucial in Quora. The more people upvote your answer, the more exposure you are likely to gain from the platform.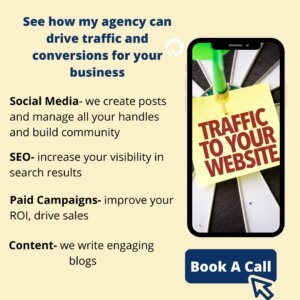 Now let us understand how Quora benefits the advertiser!
More visitors, more exposure: Around 300 million users visit Quora monthly. With such a large number of visitors, you can increase your exposure!
Outdated? No problem: You can search for questions on Quora like Google. The questions and answers are always visible. You can find answers to even outdated topics on this platform. 
Followers right away: Digital marketers often use the word, thought leadership which refers to people who have great business ideas with immense attention. By producing high-quality content, you will receive many followers, which in turn will boost your brand's goodwill.
 Gary Vaynerchuk is one of the thought leaders who take full benefit of this platform by answering questions. 
Always More Sales: By answering questions, a marketer can introduce or promote the product and demonstrate how it solves their problem. For example, someone asks a question, 'Which is the best method of hair removal for women?', then marketers from brands like Venus can answer the question by introducing their products and their features. Some people genuinely post questions and wait for real answers.  If you answer your audience, they'll return your favor by purchasing your products and services. 
With these benefits, Quora can be any advertisers cherry-pick!
Before getting started with paid advertising, let us understand what you need to do.
1. Build a strong Quora profile for business
 Before you purchase a shoe, you always look at its brand, warranty, price, and other factors. Similarly, when someone reads your answer, he/she is likely to find your bio as well. 
Therefore, create a solid Quora business profile just by filling up a few details.
 Short description: – Write a short description of your business. Here you can link your website and can also link your Instagram, Facebook, or Twitter account. By doing this, you will be able to funnel people to your site and social media handles.
Highlight your credentials – You can enter your education background, work experience and highlight the topics you know and have expertise in.
Pro Tip-Use the space of long-description and tell your target audience who you are and how you can benefit them.
2. Research your Target Market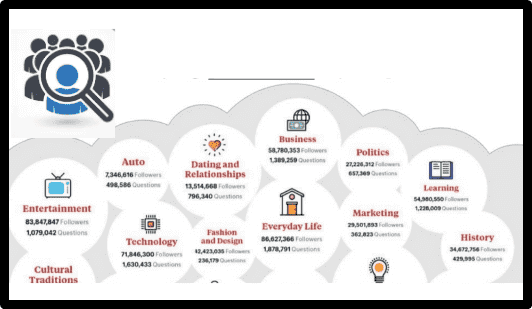 Quora is an excellent platform for conducting market research. The primary work is to understand what the audiences are asking. You can read threads being asked in your topics of interest. 
Content on Quora is bucketed into topics and divided into questions.  
Don't just answer but read, i.e., see what is already ranking, and then prepare your content around that.
Pro Tip –The private follow- feature allows you to monitor your competition and know what your competitors are doing.
3. Select the right Question
Your choice of a question to answer is crucial. 
Look for questions you know the answers to; this reduces the time spent on writing.
Many users view questions with many upvotes; this will help your answer become popular too. 
Pro-tip You can use Screaming Frog's custom extraction and grab relevant data such as the number of people who have answered your questions, links to your competitors, and much more.
4. Short and crisp answers
 Provide statistics, sources, and other shreds of evidence to support your answers. The answer must be specific, focused, and referenced. 
Your answer should be in a specific format and add value to the person asking the query. Social media awards consistency, and Quora is no exception. Be consistent, answer 1-3 questions per day to gain traction.
Pro tip – Follow the AIDA formula to write better answers.
Attention- First, try to capture the reader's attention with something relevant and catchy with a dominant introductory sentence or image.
Interest- Tell interesting facts, hacks, stories, use dialogues.
Desire: – Make your audience desire your product or services by sharing testimonials.
Action:-Encourage the visitors to engage, comment, and upvote your answers as upvotes help your answers attract traffic.
By interlinking your answers, you can keep the readers going down the "Quora Rabbit hole "and follow your page.
5. Join Quora spaces
Quora spaces are a collection of content and communities with a shared interest, making it easier for people to share and read content on specific topics.
Let us now see how you can leverage Quora in more sophisticated ways.
Promote your uniqueness by promoting your blog
The blog is one such platform where your uniqueness is identified. Therefore, it shall help users to differentiate your brands from others.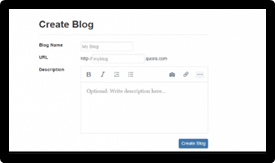 Use the built-in Quora blog feature to place your website URL, and give a short description of your blog. That's it, start writing your posts on that blog.
The hack you can use here is to provide a short description and some details about the topic and then give a link to your website or blog in your Quora blog; this will help you increase traffic to your website blog.
Quora allows users to submit their articles to your Quora blog. This way, you can build a network with others in your niche and submit your blog to their Quora blog and get backlinks. And, hence you can form a cornucopia of thoughts!
Let the world see what you have got to tell
            Show the world your thoughts by promoting your thoughts!  
❖   Go to the answer you want to promote.
❖   Just below the answer, you will find an option to promote.   
❖    Here you add and subtract the topics that are related to your answer.
❖    You can also set the promotion period and the total budget and see your Ad preview as well.
❖   Quora will ask you for card details; then, you are set to promote your answers.
The answers you promote will be displayed to the people interested in them or reading the topics you had selected while creating your Ad.
 Quora is a great way to generate referral traffic. Now, what is referral traffic?
 It is Google's way of reporting website traffic from sources other than google.
Referral traffic allows you to remarket your audience.
Generating organic traffic is good, but you cannot always be sure about the algorithm; you never know when it will change. In that case, keeping doors open for other sources is safe.

Now let us understand what is remarketing your audience.  
Remarketing- targeting the audience who have already visited your website or page is an essential component of any marketing campaign. Thus, installing Quora pixels in your website code will help you create a list of the audience you can remarket.
For that, take the google tag manager's help and know how you can set up Quora pixels and optimize your marketing campaign.
You just have to copy the pixel and place your pixel id in Quora Pixel Id.  Then select "Page View" and set up the base Quora pixel across all your site pages.
With this, you can retarget and track your audience and thus increase your conversion by spending less.
Now let us dive deep into Quora's Ad anatomy and understand how to set a Quora Ad campaign.
Quora strategically places ads, so they appear as part of the content.
Quora Campaign has three layers.
 1. Campaign
2. Ad set
3. Ad
Quora offers Ads such as images, text, and promotional answers that can be displayed using a self-serve Ad manager to give advertisers the chance to showcase their content, products, and services.
Read my article to Showcase And Sell Fast With Pinterest Ads.
Quora reviews your ad unit; it has a high-quality standard for ads and ensures compliance.

1. In the Quora Ads dashboard, click on create a campaign, type in your campaign name.
2.  After that, they will ask you to select your campaign Objective, i.e., Conversion, App installs, Traffic, and Awareness.
Pro Tip – If your campaign objective is to optimize conversion, include a keyword, topic, audience, and Question targeting in your targeting mix. If it is to increase awareness and traffic use interest, issues, and broad targeting.
3. Set your campaign budget; you can even schedule your marketing campaign.
After that, you move to Ad set level,
Here you will have to add the name of your Adset; after that, you will get an option to select your primary targeting. These are the targeting options Quora offers:-
Audience targeting: – Quora offers audience targeting options where advertisers can target demographics to display their ads.
Website Retargeting – It allows you to retarget users who have visited your sites or Quora pages using Quora pixels.
Lookalike audience targeting– This helps you widen your audience list by targeting the audience with similar characteristics and liking patterns. You can use your audience list to match the audience.
Topic Targeting– Advertisers can run ads on issues that are in line with their industry. You can also use positive and negative keywords to have accurate results.
Keyword targeting – Quora offers advertisers both broad-match and phrase-keyword targeting, thus making the targeting more accurate.
Question targeting – Quora allows advertisers to target questions. You can also utilize the "follow question" tab that shows the curiosity of the audience. 
4. Then, you will have to select a city, state, or any specific location where you want to target or exclude. You can also refine targeting by choosing a preferable device type, mobile platforms, and desktop browsers.
To finish the whole process of setting up your ad campaign, decide if you want to optimize ad delivery for clicks/impressions. Then set a bid. Click on Continue and move ahead to ad level.
➢ To set up your ad, type in the ad name and choose your ad format (Image Ad, Text Ad, or Promote an Answer).
➢   Then you will have to provide the details about your ad, including the headline, body text, call to action (CTA), image, and landing page URL.
Now you are all set to start your Ad campaign on Quora! 
You can add a payment method if needed and click on complete Order.
You must monitor performance periodically. Turn off weak performing ad sets to utilize and reallocate budget effectively.
One of the essential things after setting an Ad Campaign is to Measure, Analyze, and Monitor your Ad campaign. Quora Ad manager helps you do all these.
When we first log into Quora's advertising platform, you will see the Ads manager.
Under this tab, there are two sections –
1. Spending summary
2. All campaigns
Spending summary: – This tab will show a graph of your spending over time. There are four labels on the left, i.e., Impressions, Clicks, Conversions, and spends.
 By clicking on any label-tag, you can see your graph based on the label clicked.
You can place all these graphs side by side and analyze and measure all the metrics' relationship.
All campaigns: – This tab shows a summary of all your ad-campaigns.
The available metrics are-
✪  Delivery
✪  Impressions
✪  Clicks
✪  Cost per click
✪  Conversions
✪  Conversion %
✪  Amount Spend.
✪  Remaining Budget.
Use auction insight in Ad manager as it will give an idea about competitors' activity. 
Auction lost to the competition will tell you a percentage of the sales your ad set entered but couldn't get the slot.
Impression share will tell you the percentage of auctions where your adset won the slot.
Absolute image share will tell you the percentage of the auction your ad set entered and got top slots.
By comparing all the three metrics, you will be able to improvise on your ad creatives, targeting, and bids.
Now let us understand how Quora Ad auction works.
Here, the advertisers' bid for ad placements, and it works similar to any other auction.
Auction Factors
Quora's Ad optimization algorithms use a variety of factors to determine the winner of an auction. These factors keep on evolving constantly.
The Bid price clicks on the ad and conversions through the ad play a significant role.
How Quora determines the winner?
Every ad placement considers all eligible ads from advertisers based on the budget, targeting specified in your ad sets.
High performing ads win – this means the likelihood of engagement on your ad, your bid, as well as user experience of showing your ad is all that matters.
Here are a few tips that you can use to optimize your Quora Ad Campaign
●    Use A/B testing – Test different headlines and see which of them performs better than others, phrase your headlines as if the prospect is asking a question, or state your headline as if you are providing a solution to an issue.
●    Test landing pages- Use optimized landing pages. You can also try different landing pages and check which one brings more conversions.
●    Keep strong Cohesion between Quora ad and landing page- Match your message from ad space to the landing page.
Now that you are acquainted with how to set an Ad campaign on Quora let us find out more reasons to consider Quora for advertising!
●    The resemblance to existing Ad Platforms
       If you are using ad platforms like Facebook or Google AdWords, you need not worry and learn new features or terminology. Quora's interface is easy to understand as it resembles existing platforms.
●     Quora can improve your search result ranking: –
     Google search results often include Quora posts amongst the highest ranking. All this makes Quora an SEO tool that can attract organic traffic to your website. You can research keywords and use keywords in your answers and increase your ranking.
●    Quora helps you connect with influencers: – One of the trends of digital marketing is the growing importance of influencer marketing. Quora is a place where you can connect, engage, and directly approach influencers and leaders from your niche.
●    Quora helps you to generate content ideas: – Quora enables you to create content ideas and get long-tail keywords. If you see many people posting a question "how do I increase subscribers to my YouTube channel," you get a relevant idea for your next blog as long-tail keywords help you improve search engine performance. 
Do check out my blog on 4 Steps For Using Google AdWords To Boost Your Business By 10X.
Now that we know the benefits of advertising on Quora, I will throw some light on the Don'ts of Quora Advertising. The mistakes that you should avoid while using Quora.
Plagiarism is a big no while writing answers or blog on Quora. They might ban you permanently from the platform.
Don't just spam too many links in your answers. They may find it suspicious and take action against it.
Don't violate BNBR policy. Be nice, be respectful. It is okay to disagree with someone as long as you are civil but do not use harsh language or insult.
Editing just to thank for upvotes is not against the policy, but this act won't fetch you results in the long run.
Don't answer in one word. You should elaborate more about the topic or give examples and help the readers to conclude.
Don't use incorrect or unusual capitalization and abbreviations while writing ads. Quora ads should be well formatted and should be free from grammatical and punctuation errors.
Don't bid too low and not win the auction. Start initially at a higher bid to enter the sale as a strong contender.
Here are a few Insights that I observed while using Quora. It might help you to plan your next ad campaign 🙂
       ❏   Quora is a platform predominantly used for a B2B business. Still, these days many influencers, bloggers are also using Quora to build their brand by providing useful content and insights in their niche.
If you want to know if Quora is suitable for your business?
Start testing with lower funnels like going after your email list on Quora or remarketing your website visitors.
❏    As Quora is rapidly expanding into different languages, one thing you can try is translating your answers into different languages. Imagine the amount of traction your website and your quora account will get.
❏   With the increase of voice search, the use of long-tail keywords is increasing. Thus, you will find more results of Quora getting displayed on Search Engine Result Pages. Therefore, Quora has a long way to go. Start enhancing your Quora profile to attract leads and traffic in the future.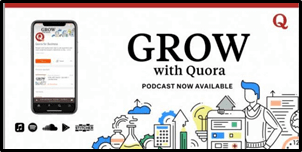 ❏   These days' podcasts are one of the marketing techniques to grow your audience base. Quora has started, Grow with the Quora podcast, thus helping you to improve your brand and share your expertise with others.
 Conclusion 
As users ask specific questions on certain topics, target advertising slides in naturally. Quora offers marketers the ability to listen. Being active on Quora regularly should be a long term strategy to attract traffic and provide social proof for your brand.
As we know, "Early bird catches the prey." Start advertising on Quora before your competitors set in.
Is there something that you tried and it worked? Or maybe even something that didn't work? Or any doubt you may have? Share your experience and comments in the section below.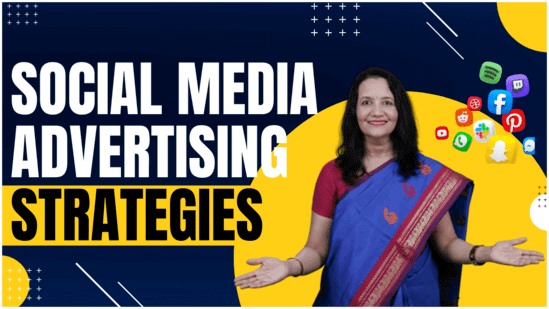 Spread the loveAccording to a study, an average person scrolls close to 300 feet of social media content every day. That's the height of Qutub Minar! Thinking about the amount of time that we tend to spend on social media daily, I find it quite believable. The main idea for social network advertising is to
Read More »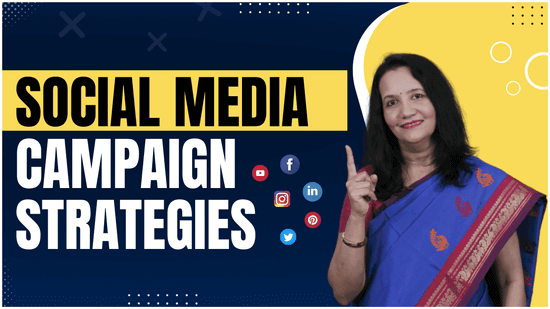 Spread the loveDo you want to create social media campaigns that will make your brand a sensation? Read these five strategies to grow your social media and blow your audiences' mind.Social media campaign is nothing but a series of coordinated activities aimed to promote your product or raise brand awareness in a community. We all
Read More »
Do you want to create excellent landing pages? Do you want to cutdown the cost required to hire a webpage creator. Read the article to know about SeedProd, an excellent landing page builder plugin for WordPress.
Read More »
HERE IS HOW I CAN HELP YOUR BUSINESS GROW
Don't just stand by and watch others make millions! Jump in and leverage digital marketing to skyrocket your business!