Let me ask you something.
What is the first thing you do when you wake up?
We all know the answer. You pick up your cell phone and check the messages from BAE and probably take a look at your Instagram notifications, and the memes just make your day better. 
And even before you notice, it's been an hour, and now you're late. The good thing is that you are updated, and your social media game is on fleek. Spending too much time on Social Media is worth it, right? 
WRONG!
Spending countless hours on Social Media is affecting your life in ways you cannot even imagine. In this eye-opening article, I'm going to list you ten facts that will definitely change the way you look at social media.
Social Media – A Blessing or A Curse?
In an era without social media, which you will never know of, sending mails was a horrendous task. From carefully writing, stamping and taking your letter to the mailbox, and then waiting for a month to get a reply, social media took the world with a storm.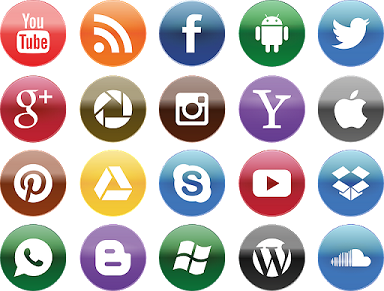 In 1971, the first Email ever was sent, and Social Media was born. With the birth of Sixdegrees.com, Friendster, LinkedIn, Facebook, YouTube, WhatsApp and Instagram, Social Media was indeed a luxury – 'A Gift to Mankind'.
From waiting for months to receive a letter, to texting at the reach of your fingertips, Social Media was truly a blessing for it was meant to serve the following purposes-
Bringing the World Closer
Social Media has served us the elixir of staying connected with the world. No matter how remote your loved ones are from you, reaching them is just a few clicks away with texting, calling or even video conferencing.
With platforms like Facebook, Instagram and Snapchat, you barely feel that you have lost touch. Even making new connections with people from the far corners of the world is now possible, all thanks to social media.
Keeping us Updated
With social media at the tip of your fingers, you don't need to send ravens to know if Jon Snow is alive. You just need to check what's trending on Twitter so that you don't miss out on anything. Nobody wants that FOMO attack, right?
Getting updates is a piece of cake with social media, from President Trump's recent speech to PM Modi's Mann Ki Baat, you can be updated with everything going around in the world.
Keep Yourself Updated on the Reliance Jio and Facebook Deal
Providing Liberty to Express
Social Media provides a platform to reserved and introverted people, a safe space to open up and explore the joy of making connections. With this newfound hope, imagine how drastically it changed their lives.
Social media also serves as an excellent platform to showcase your creativity and talent. From musicians to artists, everyone has their chance to express and impress their audiences.
Fun & Entertaining
From being a luxury and paying hefty sums of money for internet packs to a point where we can't even imagine our lives without using social media, we have come a long way. You don't need the impact of Social Media on youth pdf when you have my blog. 
It's not a matter of coincidence that you find yourself scrolling your phones anytime you are free. Social Media has the potential to fix our bad days. From Hera-Pheri memes on Instagram to funny videos on TikTok, social media never fails to entertain us.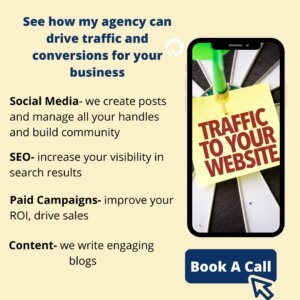 Developing Skills
Social Media is not merely fun and games, it serves as an opportunity to learn skills like content writing, graphic designing and video editing and if you're talented enough, you might as well end up making some fortune in it. Sounds like a deal! 
Social Media is the bread and butter for millions of people, from software engineers who work night and day to get the bugs fixed to the micro-influencers engaging with their audience, Social Media is a blessing for businesses.
Paid Advertisements
Social Media is the Holy Grail for budding startups and small businesses. All because it can hook audiences even more than traditional marketing techniques like newspaper advertisements and hoardings.
It offers the perfect marketing solution for small brands with options like Paid Advertisements, and now the revolutionary Influencer Marketing, helping thousands of businesses flourish at a nominal and reasonable cost.
Learn How to Market During Corona
Reaching Large Audiences
Reaching Large audiences within your niche was impossible with traditional marketing methods; however, social Media uses algorithms to make sure that brands reach individuals who are actually interested in their products and services.
Providing Valuable Insights
When used the right way, social media proves to be an essential tool for marketing and businesses where you can not only do paid promotions and reach your audience, but you can get detailed insights and statistics.
These insights help in deciding the further strategies required to strengthen the brand, which, in turn, results in better ROI and conversions. 
Learn 11 Most Popular ways to get YouTube views
 Social Media seems to be a blessing until we notice what effects it has created on us in the long term. There is also a dark side to social media, which we all know exists, but we don't want to admit. 
Let me tell you ten shocking effects of social media and the impact of Social Media on youth along with some real-life incidents.
1) 9.2% of Indian Teenagers are Victims of Cyberbullying
Cyberbullying refers to bullying over digital devices through social media platforms. Bullying can be in the form of sharing or posting hateful, mean content for someone else. 
According to a study conducted by 'Child Rights and You' on Online Safety and Internet Addiction in March 2020, It was found that among 630 teenagers from Delhi NCR (consisting of 409 males and 221 females), 9.2% suffered from Cyberbullying.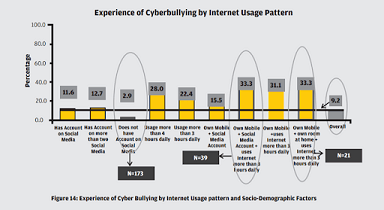 The dreadful fact, however, is that almost half of these cases are never even reported. And an even more depressing fact is that noticing that one is going through the trauma of cyberbullying is hard to see, and may result in extreme consequences.
Here is an example of cyberbullying that was reported in early May 2020.
Boys Locker Room Incident
On 4th May 2020, the screenshots from an all-boys Instagram group called 'boys locker room' created an outrage on social media.
The 24 members of the group were found objectifying underage girls, glorifying atrocious behaviour like rape and sharing private pictures of underage girls.
Soon, the news spread like wildfire, the Admin of the group was arrested along with other members of the group.
Reportedly, one accused even committed suicide.
Later, it was found that it was actually a girl behind the incident, using a fake ID on Snapchat to test the character of her fellows, and was declared 'juvenile' by the police.
The roots of the case are still being observed by the forensic and cyber cells.
Irrespective of who was responsible for starting the incident, there is no denying the fact that your freedom on social Media does not give you the right to treat someone indecently or say terrible things about someone.
This one incident is proof enough that cyberbullying can ruin lives and has a terrible impact of social media on teenagers and thinking about all those cases that go unnoticed makes the strongest of souls' shiver.
Read my article to know what is the impact of media on society.
2) Teens Prefer Social Media over Face-to-Face Interaction
Let me ask you something. 
When was the last time you remember spending quality time with your parents and grandparents? (If you're checking your phone while reading this, the impact of Social Media on youth essay is just for you.)
According to research conducted by commonsense.org for six years, from 2012 to 2018, the percentage of teenagers who prefer Face-to-Face interaction over social Media has considerably decreased.
The research also shows that the use of Social Media, Video Calling and Texting services have drastically increased.
It although looks like just another consequence of advancements in technology, but speaks volumes when looked from a different perspective.
Adolescents choosing social media over social interaction has drastic effects on their communication and social networking skills, which are the primary skills required to excel in one's career in the teenage years.
Teenagers are the most affected by the extensive use of social media. The Facebook->Instagram->Snapchat is a vicious cycle, or more like a teenage black hole that sucks their attention and energy.
Social media not only affects the teenagers but simultaneously affects their socio-cultural demographic, and the senior citizens who are not up to date with the advancements are the worst affected.
Studies show that children under age two years know how to operate an iPad or a smartphone when they haven't even learnt speaking. What kind of generation are we giving rise to? 
There are many incidents due to the loneliness and anxiety caused by social media that go unreported every single day. Imagine feeling lonely and having just Alexa or Siri by your side, traumatizing, isn't it?
The world of social media, although provides you with an escape from your mundane activities and daily lives, and gives you a peek into other's lives as well, but ask yourself, are you truly happy and satisfied?
3) Social Media causes 'The Goldfish Effect' in Generation-Z.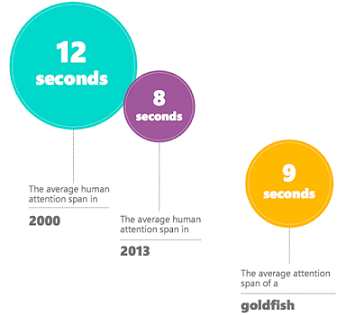 Source: Our 8-second attention span and the future of news media
The Goldfish Effect: The average attention span of a Goldfish is found to be 9 seconds, and if you've seen one, you will get how distracted they are all the time. The Goldfish Effect refers to the condition of having an even shorter attention span than a goldfish.
According to the National Centre of Biotechnology Information, It was found that the human attention span (average) in the year 2000 was 12 seconds which dwindled to 8 seconds by the year 2013. Sounds fishy?
Extensive research further concluded that the reason behind the Goldfish Effect in humans was nothing but the extreme use of social media, causing our attention span to be even smaller than a goldfish.
Why do we need to be concerned?
Shorter attention spans mean loss of focus and concentration. 
With access to tons of information, ability to contact friends in seconds and an overload of small entertaining videos (TikTok), we are continually losing our ability to focus on one thing at a time.
No focus implies no retention, and probably even a distorted memory which has a strong impact of social Media on students.
Symptoms like ADHD are becoming increasingly common in teenagers prone to heavy use of social media.
Consequently, tasks that require a longer time span of focus seem to be harder with each passing day.
So, if you struggle to focus on your lectures, can't commit to resolutions like reading, maybe you need to check your use of Social Media. The question arises, how to increase our attention spans? 
Try to keep your phones and laptops away while trying to concentrate.
Say no to using social media while having dinner or spending quality time with your loved ones.
Start reading books instead of using smartphones in your leisure.
4) 82.5% of Teenagers are Exposed to Inappropriate Content on Social Media
With great technology, comes great responsibility. 
According to an article from the Journal of Internet Social Networking and Virtual Communities, it was found that 82.5% of Omani Youth (12-18-year-olds) accepted that they were exposed to Inappropriate Content on Social Media.
Although the research consisted of primarily Omani Youth, the scenario is not much different all over the world, especially when 12-18-year-olds are the most active demographic on social media.
Source: https://ibimapublishing.com/articles/JISNVC/2016/171712/
While I agree that the degree of Inappropriate Content differs with one's age and maturity level, the inappropriate and upsetting content may include any of the following-
Explicit Content
Content having Harsh Language.
Platforms encouraging crimes and vandalism
Gambling sites
Violent and Cruel Games
Chat Rooms discussing Inappropriate Content
One such example of the Violent Games is the Blue Whale Challenge, whose victims were reported in several countries. This nerve-wracking challenge included a series of 50 self-harm activities with the final challenge to commit suicide.
Inappropriate content over Social Media is one of the significant parental concerns. While parents need to keep a check on their ward's well-being, it is a moral and ethical concern to be looked after by the social media platforms as well.
5) Most Millennials Portray Picture-Perfect Lives on Social Media
The friend who posts nothing but sumptuous dishes in 5-star hotels, the couple gathering love reacts, posting adorable videos or the zero-sized model giving you her health tips; all portray a picture-perfect life on social media.
This portrayal of ideal life and luxury is nothing but a trap, a myth, that is meant to be a mirage in a desert of social media posts.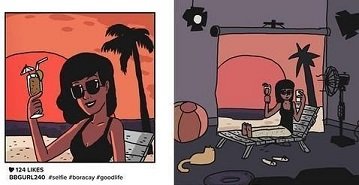 Source: How Social Media Contributes to Body Dysmorphic Behavior
Following are the effects of the portrayal of a perfect life on social media-
We all have been through the anxiety at one point or the other. Social media, through its depiction of perfect lives, is responsible for setting up stereotypes.
The myth of living-happily-ever-after is nothing but a fairy tale. Perfect lives end up putting most teenagers who naturally are supposed to look average, question their own self, thus lowering integrity and self-esteem.
It has been shown by research that perfect bodies on social media lead to body dysmorphic behaviour in teenagers, the condition full of negative thoughts about body image and perception.
Social Media leads to Imposter Syndrome. The standards are set so rigid that one needs to think a hundred times and click 300 pictures before posting it. 
Such behaviour among teens is becoming increasingly common, all because of the impact of Social Media on human behaviour. Always remember, the grass seems to be greener on the other side.
Know 25 Guaranteed Tips to Rock Your Marketing Strategy on Facebook
6) More than half of the Teenagers experience FOMO
Fear of Missing Out is the anxiety of being left out of interesting and exciting events that might be happening around someone. FOMO is mainly caused by posts and stories witnessed on social media platforms.
Source: Betterly : Fear of missing out
If you have got a habit of checking your social media accounts like Instagram and Facebook too often to check what your friends are doing, you clearly have symptoms of FOMO.
Following are some ways to cope with the fear of missing out-
Meditation and Healthy Self Talk to remind yourself that nobody is absolutely perfect. 
Embracing the benefits of what you are doing to make your future better rather than being anxious about what others do. 
Getting motivated to work hard to be able to achieve better.
Being grateful for what you have rather than feeling bad about yourself.
Happiness is more of a pursuit; self-realization is the key.
Distancing yourself (even if it means blocking or muting your friends from social media) for a while.
Fear of missing out is just a state of mind. And Social Media was all about fun, and if it doesn't serve its fundamental purpose, it's better to spend your time in more efficient ways.
7) Social Media is Highly Addictive (Instant Gratification)
You call it InstaGraM; I call it Instant-Gratification-Monster, we are not the same bro!
Instant Gratification– The feeling you get when you hear the notification and see that you've got likes on social Media is basically Instant Gratification.
Speaking more scientifically, immediate fulfilment and satisfaction without any patience, due to the release of dopamine is Instant Gratification. Let me also tell you, that the same neurochemical, dopamine, is released while smoking, drinking, taking drugs or indulging in addictive activities.
Following are the adverse effects of social media addiction-
Instant Gratification on social media often creates a false perception of success and thus has an impact of social media on human behaviour.
Social media addiction may lead to 'Phantom Vibration Syndrome', as a result of which one feels the need to keep checking the phone again and again because he/she experienced felt notification vibration, sounds familiar huh?
Over more extended periods, one might feel the need to post pictures, just to feel validated and maintain that false ego in public perception.
Generally, being addicted to anything is a matter of concern. Sean Parker, the first president of Facebook, explained the objective behind developing Facebook was to consume as much of our conscious attention and time as possible.
Feeling betrayed already?
8) The economy of Attention and its Impact on Youth
Just like Indian Rupees, the currency is something used to attribute value to a product or service. Analogous to social media, likes, shares, comments and subscribers have become a form of social media currency.
This social media currency is used to provide value to the products, in this case, our posts. In marketing, this is called the Economy of Attention. 
On social media, every post competes for attention, and when we give it a piece of attention in the form of likes, comments or shares, it becomes a transaction attributing value.
What is the problem?
In our social media handles, our posts are the product, and we are letting others attribute value to us indirectly.
Many times when our posts do not get enough likes and comments as compared to the average, you are likely to delete or archive the post (just like a product is kept off the shelf if it does not sell).
This ultimately makes our idea of identity reliable on others' perception of us.
Our youth is in the constant obsession with quantifying the no of likes and reactions to stay ahead in the game, which can lead to effects like anxiety and depression.
9) Social Media is one of the root causes of Procrastination.
Source: Huffington Post
According to a survey of more than 1300 high school and college students, social media was found to be the second reason for Procrastination (Not surprising, huh?), the first one being binge-watching TV shows and movies.
Social Media puts you in an endless loop of apps, and breaking this vicious cycle seems next to impossible. If you are guilty of too much social media lately, you probably know who to blame.
10) False Impressions of Consumerism and Romanticism
The belief that you need to try everything, travel to every corner of the world and eat every cuisine or experience Hogwarts before you die has been created by social media.
No matter how profitable this might be for travelling brands, it creates adverse effects on those who cannot afford to indulge in these luxuries.
The notion that you are 'not living enough' and need to try alcohol and smoking, and that it is what 'cool' people do is propagated by social media and is, in fact, a myth.
These impressions have resulted in creating unusual fantasies in youth.
Learn about the Impact Social media has on Consumer behavior.
Things to Remember
Social Media is a two-way street, and the consequences of using it are highly subjective and depend on how well you use it for your benefit.
Social Media is a blessing for being glued together and being updated and marketing for businesses.
However, the extreme use of social media has caused drastic lasting effects on today's youth.
Unlike China, where Social Media Rehab camps are used, I encourage you to monitor your day-to-day use for utmost efficiency.
Cyberbullying is a crime and must be reported, indulging in such practices is highly immoral and inhuman.
Use social media to your advantage, and there's no stopping you.
If you could relate to this article or have any queries, feel free to contact me through the comments section below. I would love to help you out. I hope after reading this you'll surely Practice Safe Social Media!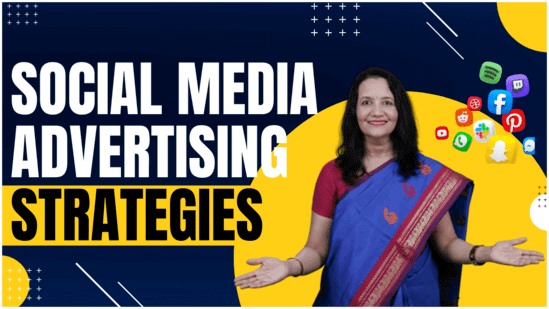 Spread the loveAccording to a study, an average person scrolls close to 300 feet of social media content every day. That's the height of Qutub Minar! Thinking about the amount of time that we tend to spend on social media daily, I find it quite believable. The main idea for social network advertising is to
Read More »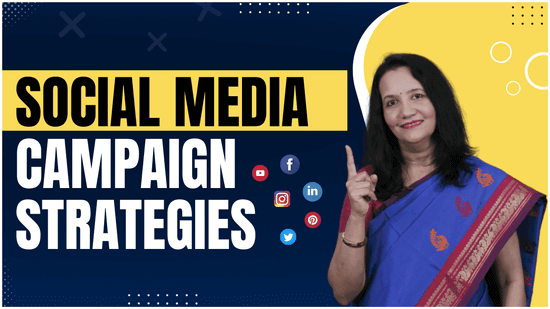 Spread the loveDo you want to create social media campaigns that will make your brand a sensation? Read these five strategies to grow your social media and blow your audiences' mind.Social media campaign is nothing but a series of coordinated activities aimed to promote your product or raise brand awareness in a community. We all
Read More »
Do you want to create excellent landing pages? Do you want to cutdown the cost required to hire a webpage creator. Read the article to know about SeedProd, an excellent landing page builder plugin for WordPress.
Read More »
HERE IS HOW I CAN HELP YOUR BUSINESS GROW
Don't just stand by and watch others make millions! Jump in and leverage digital marketing to skyrocket your business!