In today's world, what looks good – sells well!
Your landing page design is your most powerful tool to drive conversion rates, improve your SEO rankings and build your brand. It can truly be your one-man army. But when it comes to designing one, people often get in distress. 
I have curated 10 most unique ideas when it comes to designing landing pages. If implemented properly, these tips can help drive your conversion rates by 10 times!
I will hereby be sharing the strategies I used for my own clients to generate over 1,00,000 leads and 1 crore in income. These are tried and tested methods I use to generate high-quality leads. 
From designing the best landing page to sharing with you my most preferred landing page design services, I have covered it all.
Check out my article on designing the perfect ad to increase clicks by 10x
If you are curious to learn the A to Z of designing an efficient landing page, you are at the right place! Since your landing page decides the fate of your visitors (i.e., whether they will be converted into future customers), its role is as important as Virat Kohli in the Indian cricket team (Yes! The captain).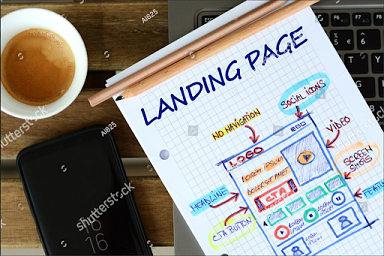 Design is undoubtedly the most fundamental and significant aspect of your landing page. Not only does it help you put-forth all the information in a presentable manner but also makes it aesthetically appealing. 
Your landing page design can help you in innumerable ways. Some of the most significant ones are-
Helps enhance the user experience
Increases focus on the important elements.
Improves readability
These points prove the significance of having a suitable design for your website landing page.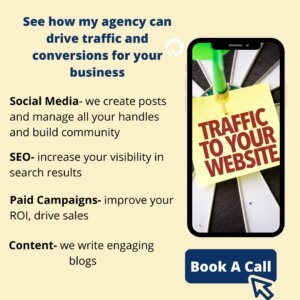 1) Designing a Unique Value Proposition (UVP):
Your UVP happens to be an inevitably noteworthy aspect of your landing page design. The UVP can make or break you. Finding your niche and coming up with an apt UVP is crucial.
UVP helps convey that one thing that you can serve to your customers that nobody else in the market can. In marketing your business, it can help differentiate your products and services from that of your competition, thereby creating a remarkable impact. 
Your UVP must convey that you are ready to go above and beyond to help provide your customers with top-notch products or services. 
As a fun example – think of M S Dhoni. The first thought that comes to our mind as it goes around "Captain Cool" is his calmness and composure even in the most difficult times. That is what his UVP is!
To have an edge while targeting your niche audience, follow the following steps to create your UVP from scratch-
What your customer needs: You should be able to serve them with something that they desperately need and are willing to seek a solution for.
What are you best at: Are you the fastest delivery service that your niche customers can have? Are you a market leader in making vegan-pizzas? Whatever it is that you do well must be a part of your UVP, and thus your landing page.
What your competitor can't do: Make your UVP a hard-to-imitate one. Even your competitors should wonder how you can do it!
This might seem like a tough task, but with the right approach, this can become a handy and fun job!
An important tool that you can use to determine the effectiveness of your UVP is Five Second Tests. It can help you determine the user-impression of your brand within the first 5 seconds of viewing your landing page. 
This test can help you determine whether your design is communicating its primary message. 
As a perfect example, why do you think AMUL has consistently been a market leader in selling its dairy products, especially milk and butter? It is because of its UVPs that it has managed to highlight pretty well through its taglines-
The Taste of India: The best UVP in the Indian Markets is TRUST. If you can manage to gain that, you are good to go. 
Utterly Butterly Delicious: While Amul offers a wide range of dairy products, there is hardly any household in India that hasn't used its butter at least once in their lifetime!
Know About –WP FORMS – form builder plugin for WordPress website
2) Templates to your rescue:
If you are starting off without a proficient design or tech team, this section has got you covered!
Landing page templates can act as a saviour a lot many times. Whether you are looking for an effortless design or uniformity throughout your landing page, templates can prove to be of bigtime help. 
You can get customised and efficient landing page templates to meet your needs. Websites like Themeforest sell thousands of templates at affordable rates starting as low as INR 450 .  
Another source of conversion-focused, highly efficient template provider is Unbounce. These templates are also compatible with WordPress and come with a free trial.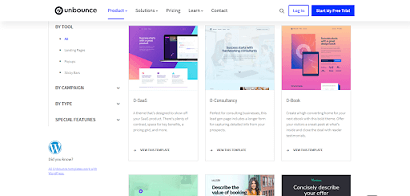 Lapa is another source of landing page design inspiration that helps designers to learn and improve their designing skills. With plenty of templates to choose from, Lapa proves to be a go-to for beginners in landing page design.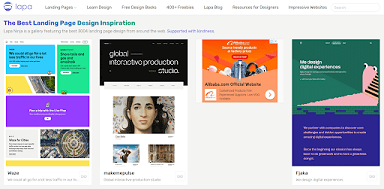 If you are looking for free landing page templates, consider using the following resources-
Which templates did you find the most inspiring? Let me know in the comments section below, and I would be happy to know.
3) Directional cues imply easy views! 
Landing page often consists of a lot of information for your viewers to process. The responsibility of conveying the essentials then relies upon the landing page design.
Using visual indicators to direct your viewers towards the most relevant parts of the page definitely helps. Consider using pointers, arrows, images, animations or even videos that keep your visitors engaged throughout their journey or scrolling and exploring. 
These directional cues can also be used to drive your viewers' attention towards the CTA button. This not only helps your CTA pop out from the rest of the page but also makes the job easy for your visitors!
One of the most successful directional cues, especially in the Indian context, consist of an eminent personality pointing at the relevant point (example – CTA). 
Making the most of this strategy, Byju's uses the face of King Khan himself to endorse their services on the landing page. Now, would you not buy their product if it comes with so much glam?
And if you are a fan of Salman Khan instead, the video presented just above the CTA would work for Byju's just as well. This is what we call a holistic design!
What you viewed above is an example of using explicit directional cues. These directional cues can also be implicitly to make your design seamless. 
One way to do this is with the aid of contrast in your design. Consider, for instance, the landing page of BigMarker. The evident use of colour-contrast captures our attention effortlessly.
4) More Landing Pages = More Conversion? 
With a majority of traffic coming from social media channels these days, it becomes highly imperative for companies to make the most of this. 
This implies that creating one homepage for all your visitors can prove futile. What you need are social media landing pages, each based on the kind of customers you drive from your respective social media handles. 
In fact, visitors through social media have already found something interesting in your proposition through ads, website links or social media campaigns. This is exactly why they clicked in the first place!
Studies also show that these visitors are 2x more likely to move forward the sales funnel. Thus, a few points to keep in mind while designing landing pages for these customers are- 
Mirror the landing page content to the added content
Keep the text and images concise.
Present a clear CTA and UVP
Customise based on where the user is coming from
Facebook ads are often considered most piquing by customers. Thus, companies should make the most of them to drive customers to their landing page. 
Making the most of this strategy, Slack presents its Facebook viewers with an enthralling yet simple ad that leads to its corresponding landing page-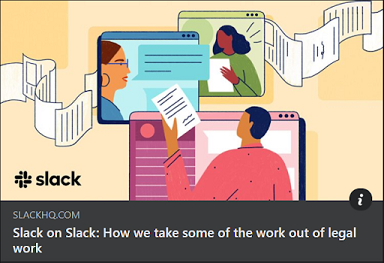 The landing page this advertisement leads to not only conveys the same message but also contains a similar image. This helps improve customer engagement and trust in their product.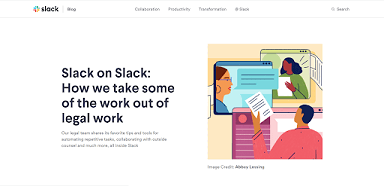 Just like Slack, if you want to learn the best tips for digital marketing using Facebook and grow your business, check out this amazing video! These 25 eye-opening strategies are all you need to make the most of Facebook Marketing. 
5) If It's Important, Put It First!
With the limited attention span we humans possess, it shouldn't come as a surprise when I say that more than 80% of your visitors won't scroll to the bottom of your landing page. 
This is also the prime reason why newspapers and articles publish their most important pieces at the very top.
Likewise, the most relevant information on your landing page should be kept above the fold. By above the fold, I mean that the users shouldn't have to scroll down to view this piece of information. 
This can also act as an indicator of the length of your landing page. Is it too long? Are the viewers not being converted due to lack of necessary information on their screen? Is the CTA button appearing below the fold in the device that device they are using?
All of these questions can be answered with the use of one powerful tool – Scroll map. This kind of heat map provides a clear indication of the point to which the user is likely to view your information.
Scroll map clearly helps you find the sweet-spot for your CTA by presenting before you the scroll-depth of your website landing page design. 
This type of analysis can also help you optimise your landing page design for different devices. For instance, a CTA positioned for a landing page being viewed on a desktop has to be different from that being viewed on a mobile screen. 
Technology like this one is clearly taking a toll on the way business is done today. To know more about how you can leverage the power of latest advancements in technology, check out the article below – 
Biggest Trends in Digital Marketing in 2020 You Shouldn't Miss
6) Did Somebody Say Second Chance? 
"I don't want a second chance to convert my leads to customers" – said nobody ever! 
One of the most underused strategies in landing page design is the intent pop-up. If your visitor tries to leave the page, an exit pop-up can be your second chance to convert. 
However, a pop-up can serve a lot more purposes than that. For instance, I use pop-ups on my own website to add visitors to my email list.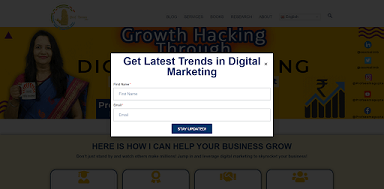 Pop-ups can also be used to provide incentives to your visitors. This can either be in the form of a free resource or special discount. Check out the example of KlientBoost – the CTA button consisting of a free proposal would catch anybody's attention. Such is the power of pop-ups!
If you have an efficient dev-team, pop-ups are easy to design and help drive-up conversion rates. Otherwise, you can also use certain software tools that help serve the very same purpose. One such software service to boost your conversions through pop-ups is-
Hubspot– Its free exit intent pop-up tool offers several customised pop-ups for your website based on visitors behaviour. This can prove to give you a great edge when trying to improve your conversion rates. 
Another added advantage of Hubspot is that it is easily compatible with a lot of popularly used software on the landing page – such as WordPress, Mailchimp, Constant Contact, etc.
7) Must-Use Services For Budding Businesses:
Are you tired of not being able to improve upon your conversion rates despite making changes to your landing page? Are you planning to kick-start your business with the power of high converting landing pages? 
Whatever be your case, there are some must-have landing page design services that you must try. 
Instapage is one such platform that is considered one of the best worldwide. It provides services ranging from landing page templates to conversion strategies.
Instapage customers can have as high as 400% more from their digital ad spend, and such is the power of the platform.
Their data-driven approach to landing page creation, personalisation and optimisation are sure to increase your conversion rates, no matter what your business is about.
Click Funnels is another mind-blowing service that is helping businesses transform the way they sell. It helps users realize the difference between a website and a sales funnel and how the two are interrelated.
It quickly builds sales funnels that convert and comes with email and Facebook marketing automation. Its simple drag and drop website editor also comes handy to use.
No wonder it has had over 120 thousand users of its services so far!
GetResponse is another marvelous service that has helped businesses grow over the years. It not only helps in building a landing page but also with email marketing and marketing automation.
It can also be integrated with your favorite apps such a Facebook, Salesforce, Shopify, WordPress and much more!
Essentially, it is an all in one marketing software service that suits most business marketing needs. Learn 10 secrets that will make your email campaign high performer. 
Have you used any of these services before? Would you like to tell us about your favourite ones? Let me know in the comments section below!
8) Decrease Friction:
Friction can be a troublesome phenomenon, even on your website landing page! It can cause your user to pause either due to a lack of clarity or an abundance of information. 
It hampers the user experience and reduces bounce-rates. Some ways to reduce landing page friction are-
Avoid redundancy of similar information on the lead form.
Turn long paragraphs into bullet points.
Ensure that your UVP is consistent with that presented in advertisements
Do not hide pricing information.
Make your landing copy more compelling.
While some form of friction can occasionally prove to be of help, anything in excess is never desirable. 
Thus, identify which components of your landing page are contributing to its friction and start working on them right away! 
These strategies become handy with practice and expert guidance. Tips like these make you realize where you have been going wrong all this while. For more mind-blowing content, check out my crafted digital marketing strategy and planning. 
9) Lesser The Hassle, Better The Design:
It is a well-understood fact that long and tedious landing pages or opt-in forms do no good to your conversions. 
Supporting this fact, it has been found that 2 step opt-in forms serve as the sweet spot for the visitors. This minimalistic design can help boost your conversion rates better than you can imagine. 
Need proof? This suggestion is based on the "Foot In The Door" (FITD) phenomenon where visitors are more likely to complete a long process of conversion if it is broken down into smaller parts. 
For instance, you could get your customers to subscribe to your newsletter by first having them click through your CTA. They can then fill out the form and opt-in. This improves customer engagement and thus, conversions.
Making use of this technique, Salesforce has optimized its landing page with two CTA buttons as you can see below-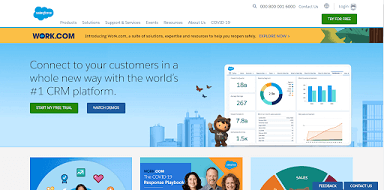 Each of the two CTAs leads to different lead forms that are based on a thorough customer review. The first CTA on the top leads to the following lead form-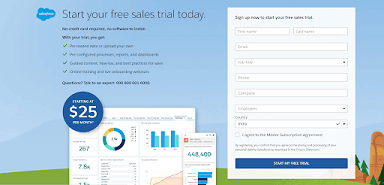 Now we know why this strategy works better than having a lead form at the very beginning on your landing page. It not only saves you space to provide more relevant information to your viewers but also appeases them psychologically. 
The two-step opt-in process could also be applied to pop-up forms and work equally well. Try it out on your landing page and see it for yourself
  10) V for Videos – V for Victory:
Remember, the attention span of your landing page visitors is less than 10 seconds. Whether your landing page creates its desired impact is based on these 10 seconds. 
If you plan on conveying a lot of messages about your brand to your visitors, please do not present it in long and boring texts. Nobody reads them, and they also mess up with your landing page design.
Videos, on the other hand, can not only help you convey your message in a lot more interactive manner but also drive your conversions up like crazy!
Videos are not only ideal for explaining your UVP further but also the details of your products that make you stand out. You can hit the right chords of your customers and compel them to move further down the sales funnel with one effective video.
One common mistake while adding a video on landing page is the issue associated with its loading speed. Remember – here the motive is conveying all that matters in a really short span of time. However, if in this attempt you end up making your leads wait for more than 3 seconds as your page loads, you have done more harm than good. 
As long as your video takes the right approach to avoid the issue mentioned above, you are all set!
This is a fool-proof strategy accepted by many and continues to gain importance. After all, this adds a touch of liveliness on your static landing page. 
This is exactly why I use a video-explanation on my website too. Check it out if you haven't already and let me know if you found this strategy effective too!
Every epic landing page consists of a core group of elements that play a major role in its effectiveness. These elements include the headline, landing copy, lead form, CTA, social proof, etc. 
For your landing page to convey its desired message, each of the elements mentioned above should be designed specifically. However, it is also important for all of these elements to come together in synergy and improve their overall impact.
If you feel that your conversion rates are stagnated to a constant value, feel free to experiment and figure out what best suits your design. You should be ready to go above and beyond in your offerings, especially so through your design.
Your landing page design can literally force the visitors to make a decision in your favour. Make the most of this opportunity and observe this phenomenon for yourself.
Read my article about Creative Web Page Design That Can Make Your Business Profitable.
Final Note: 
Now that you understand how you can improve your landing page design by following a few simple steps, you have the power to increase your conversion rates by multiple folds! 
Make sure your landing page design reflects the products and services you provide. Also, ensure that it connects with your customer base. A proper balance between these two helps you create the best landing page ever! 
The landing page acts as the first stage in your sales funnel. Thus, it is highly desirable for companies to make the most of it and leverage their power to the fullest. Start transforming your landing page today, and in no time, you will see visible improvement in your conversion rates.
So, which landing page design idea did you find the most effective? Let me know in the comments section below. 
Until next time!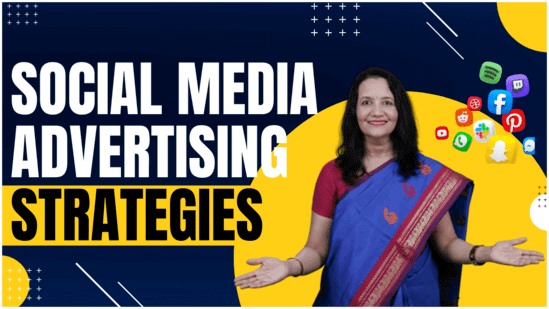 Spread the loveAccording to a study, an average person scrolls close to 300 feet of social media content every day. That's the height of Qutub Minar! Thinking about the amount of time that we tend to spend on social media daily, I find it quite believable. The main idea for social network advertising is to
Read More »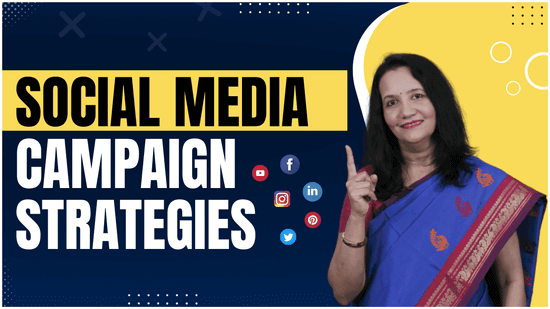 Spread the loveDo you want to create social media campaigns that will make your brand a sensation? Read these five strategies to grow your social media and blow your audiences' mind.Social media campaign is nothing but a series of coordinated activities aimed to promote your product or raise brand awareness in a community. We all
Read More »
Do you want to create excellent landing pages? Do you want to cutdown the cost required to hire a webpage creator. Read the article to know about SeedProd, an excellent landing page builder plugin for WordPress.
Read More »
HERE IS HOW I CAN HELP YOUR BUSINESS GROW
Don't just stand by and watch others make millions! Jump in and leverage digital marketing to skyrocket your business!