Email marketing stills holds the crown of being the king of digital marketing. The email marketing strategy can increase your revenue if done right. Let us see some interesting stats. 
59% of B2B marketers say email is their top-performing marketing channel.
Personalized emails result in higher revenue and sales volumes.
Automated email brings 320% more revenue than emails that are part of a nonautomated campaign.
Consumers spend 138% more on email marketing.
ROI is 28.5%, which is about four times more than direct mail sales.
Source: Wordstream
So, what is email marketing? and how to do email marketing?
Email marketing is not just about sending emails to people. It is based more on strategies and planning.
This article will guide you through some tried and tested strategies which will help you in email marketing planning.
WHY EMAIL MARKETING IS GREAT!
Email marketing has great benefits to businesses because of the values they provide.
It is a low cost                                                   
One of the key features is its very low cost and good Return on Investment. The Data and Marketing Association calls it one of the highest digital Return on the Investment platform.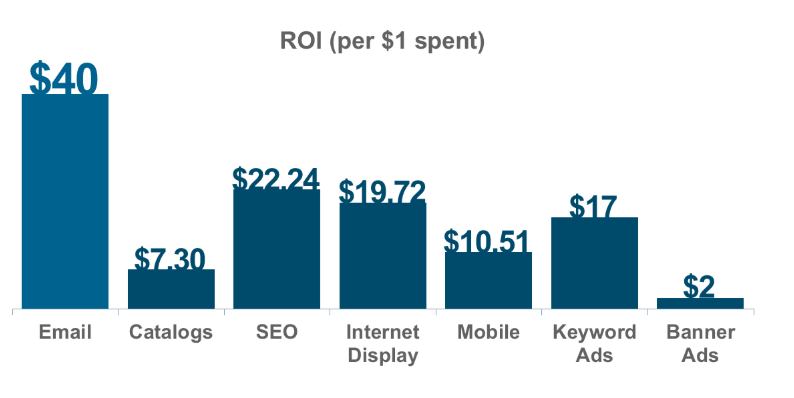 If you spend $1 on email marketing then you can generate about $44 in return.
Above graph shows how effective email marketing can be for any business. Especially small businesses that have small capital.
Easy to measure
Some tools can provide you with valuable insight. You can study the behavior and interests of the recipients.
You should customize your campaigns based on your analytics which will give you better results.
Once you have decided to start the journey of email marketing you must follow the below step by step plan. Firstly choose a good platform.
1. SELECT THE BEST PLATFORM.       
You can do it in a lot of ways.
You need to create self-supporting email marketing campaigns consisting of emails and autoresponders.  You will need a service provider that can help you with email marketing.
Here are some of the best: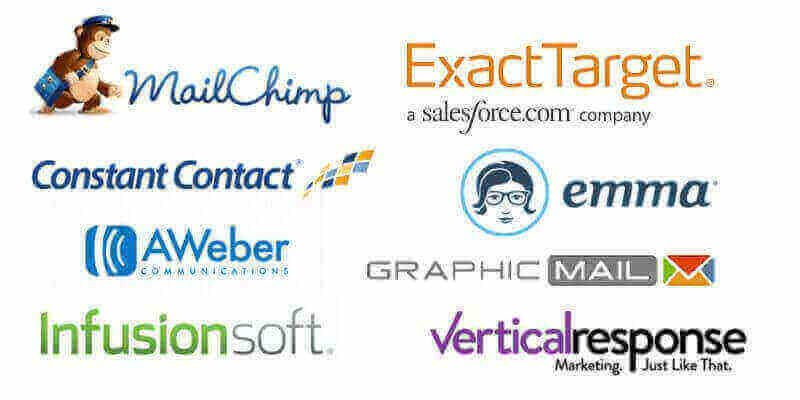 MailChimp–  MailChimp will give you the power to send automated emails. Targeting, tracking the metrics, templates, and social media campaigns.
It is also integrated with some of the major eCommerce platforms. A free version is available. But if you need a paid service, then you can start by $ 10 / month.
Mailify – Mailify is a great option for automated email service. It has great new features
GetResponse – GetResponse offers a lot of things including email marketing, customization pages, and web marketing. It integrates with popular eCommerce platforms.
Constant Contact – It provides effective email marketing with a template tailored to diverse actions. It will also track KPIs for you and simplifies the creation of lists.
It has a 60-day trial.
ActiveCampaign – ActiveCampaign provides automated email service. 
It provides paid service starting from $ 9 / month.
Campaign Monitor – Campaign Monitor Campaign provides you with a library of well-designed suitable templates for product marketing. It also has a drag and drops campaign builder.
It weighs heavily on customer satisfaction.
It offers a free version for you to start.
Read this article on best email marketing softwares to grow revenue.
Check out my article on Bulk Email Marketing.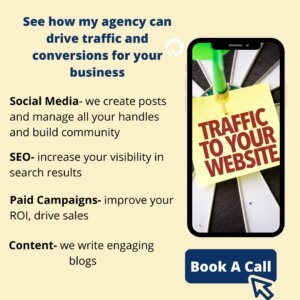 2. DETERMINE YOUR GOALS
"There is no planning without goal"
This is your first and the foremost step. You should know your space and market.
Are you selling your product like eBOOK or are you selling your service like social media service? Or are you an eCommerce store?
Based on your requirement, your goals are determined.
Your goads will define your customers, your targeting strategy, your budget, your email marketing plan and almost everything.
After choosing the goals you will need a list of contacts to start sending emails.
Learn about the Best Email Marketing Tools to Automate Your Growth
Check out my article on Adopt Efficient Email Practices by Creating a Group on Outlook
3. WHERE SHOULD YOU LOOK TO COLLECT CONTACTS?
Now, once you have determined your goals, it is time to start looking for people. Initially, you may not have a list of a lot of people, but you can get by using a few methods.
I have some ideas for you:
Existing Email List – This is obvious.This is how you are going to start your work.
Email Account – The first place to look maybe your existing and old accounts. Webmail will help you to get contacts.
CRM– CRM will provide you with a ton of contacts.
Contacts management system – It is a software program that will allow you to store and find contact information. It can be names, addresses and telephone numbers. It can be synchronized with media accounts. So you can get multiple contacts at once.
Ecommerce – Your past customers can be potential for you.
Now you are ready to start an email campaign. Let's see how to do email marketing.   
Check out my article on 10 Tips For Building A Free Email List!         
4. CREATE A CAMPAIGN AND CREATE AN EMAIL
Choose your template. This is where you can be creative with the strategies.
Write lines that grab your attention
What do your subscribers see first?
It is your "Subject lines"
Boring subject lines are a mood killer. "Unread" emails will compete with each other based on subject lines.
If you want your readers to open your email then you must have a unique and catchy line.
People have tons of emails in their inbox. No one opens up all the emails and read. So, you have a lot of competition!
I read emails once a day. Still, my inbox is bursting out with subscribed emails.
Know and Understand Your Target Audience
Understanding your audience is very important.
The mails that you send should align with the interest of your audience. This is possible only if you have done your research.
Every person is different. So take a unique approach with your different subscribers.
For example, your business sells gym equipment. So, ask them about the equipment that they use.
Include photos and images in small business email marketing campaigns
People receive hundreds of public emails from friends, family, and colleagues each week. Spice up your small business marketing campaigns by adding high-quality pictures.
This will make the emails interesting and users can collect important information by simply looking at the pictures. Try to communicate through images rather than words.
For example, the campaign shown above is of UBER. It very beautifully conveys the message through the images. Grab a pass – order cab – Enjoy your ride for cheap!
Create custom emails by entering the recipient's name
"Dear Customer" is a regular email greeting system that won't communicate with your customers.
For all your emails, enter the first customer name in the greeting. This is an important point in email marketing planning to make your customers feel valued. Most email marketing tools have an email design integration that allows you to do this.
According to Dale Carnegie, author of  How to win friends and influence people "People love to hear their names". This is so important he dedicated an entire chapter on this topic.
So, Make sure you mention people's names "Clear and Bold".
Check my article on Gmail groups: A powerful tool to get the most out of Gmail!
Your emails should be up to the point.
You will be surprised to know that still a lot of emails look very old fashioned. Keep your emails interesting and engaging.
How can you do that?
Short highlighted paragraphs.
Bullet points.
Representing pictures.
For example, the email shown is very short and very clear with the motive. Try to keep your mail up to the point and deliver a clear message.
Check out my article on 10 Secrets that will make your Email Campaign high performer
5. USE EMAIL MARKETING FOR BUSINESS WHEN THE TIME IS RIGHT
What if you send emails and no one reads them?
Timing is very crucial when it comes to email marketing to maximize profits. Avoid overcrowding your subscribers with excessive email campaigns at critical times.
That includes holidays, tax season, and towards the end of the academic year. People are less likely to open emails excessively during these peak times of the year.
For example, you send the emails on Sunday considering it a holiday. You thought people will read it because they are free! But that is not the case.
According to the data, Tuesday, Wednesday, and Thursday are considered to be the best days. So, if you want your emails to get a better engagement rate then keep this in your mind.
Check out my article on Notch up your business game using Gmail for business!
6. SEND EMAILS FROM TIME TO TIME
The timing of campaigns for your business is important. If you send them again and again then it can turn off prospects.
Try a regular session like every week or two, or even a month. You can also consider allowing subscribers to indicate how often they can communicate.
In sales, one of the important parts is following up the prospect from time to time and also to make sure that the prospect doesn't feel annoyed.You have to make sure that the prospect has all the information about your product or service.
For example, for a fitness campaign, you can set a reminder of 3 days or 7 days. If you take longer breaks for the fitness campaign then people may ignore it. You can also send some facts to make the email interesting and to add value.
7. MAKE IT EASY FOR SUBSCRIBERS TO UPDATE THEIR EMAIL ADDRESS OR SIGN UP
Email marketing only works if you can contact previous or potential customers. People who have provided their email address to your business need access to update their information.
People are in the habit of changing their email addresses. So,you must provide a quick and easy link for users to notify you of a change.
Also, you need to offer your subscribers the option to stop receiving emails. This is the law in many countries.
The opt-out function should be easily accessible and easy to use.
8. ORGANIZING EMAIL LIST
Try to split your list into categories. Campaign results will be improved. Make your email marketing list.
Haven't you heard entrepreneurs saying, "always know your customer"?
No matter who it is, this is one of the most important lessons of entrepreneurship and sales. This will help youto find customers who would pull your product or service instead of you pushing it.
A 760% increase in revenue has been seen from classified email campaigns.
You can categorize your list according to many criteria. I list a few for you.
Geography –   This assists in adapting content to specific locations.
Demographics – This includes points such as age, gender, and background.
Previous orders–It is very useful for eCommerce.
Interests–Knowing the interest will help you to generate a customized email.
Not all your customers want the same thing and never will. Using this data, you can make strategies to target a specific group at the right time.
For example, if you are targeting working-class people then you know for them "Monday mornings are not as bright as it seems". They would be at work for atleast 6 hours. Whereas, for students, you have more flexible timing. So, you can plan accordingly.
Read this article on how to make your email campaign high performer
9. PREPARE FOR MOBILE USERS
Do you think people would open their laptop or PC just to check emails?
It is very unlikely, right?
Mobile devices are used to open most of the mails.
This is an indication that your email should look good on cell phones and tablets. This is true for all social media platforms.
Mobiles are the next-generation PCs. So, be prepared for that.
10. HOW ABOUT MAKING AFFILIATE SALES USING EMAIL
Let me tell you a story!
I have a friend who loves to write eBooks to sell on amazon both for fun and some extra money. He also has a blog that is doing pretty well. So, he already has many emails, to begin with.
Everytime he publishes an eBook he sends emails to his subscribers informing about his eBook.
BUT!
Along with the link of his eBook, he also puts some affiliate links of some other bestselling books.
By using this strategy not only he manages to sell his eBooks very quickly which increases the chance to rank on Amazon for best-selling books but also makes some affiliate sales!
Clever, isn't it?
He is creating value for customers as well as making extra affiliate sales.
You can just copy-paste his method and you will instantly find a very big difference in your sales!
Check out my article on 13 Must have Email Marketing Software to Grow Revenues
11. TAKE THEM TO SOME OTHER WEBSITE
Instead of just trying to pull your subscribers to your website, you can try collaborating with some other website. You both can cross-promote each other's website to respective subscribers.
If you are doing pretty well with your website then some sites will also sponsor you to do so!
Usually, you get paid pretty well for such sponsorships. You can help them to land your subscribers to their landing page. It is a very popular method during a product launch or an event launch.
You can also reach to a new audience by promoting some other website if they promote yours. There is no additional cost and you get more exposure.
12. DON'T FORGET TO FOLLOW ALONG
Do not take your subscribers for granted. Your subscribers will not remember you if you do not send messages.
It feels like meeting someone after a long time.
Similar principles are applied in marketing. People won't remember you.
Set a reminder to avoid this mistake.
It can be weekly or monthly according to your requirement.
But try to avoid sending emails daily. It is annoying.
The best recommendation is to send weekly!
13. PROVIDE SOME VALUE
Above all else, provide value.
This is what will keep you in the game for a long time.
The email should provide your viewers with something to stick with. Something that keeps them hooked and which adds value to their life. Whether it's informative content or an opportunity in the industry.
Otherwise, that message will end up trash.
Elon Musk once said,"You get paid in direct proportion to the difficulty of problems you solve". So,try to solve something for your customers instead of just trying to sell your product or service.
14. ENABLE AUTORESPONDER
Autoresponder is an automated system for sending emails.
It is widely used by companies to increase leads. It also helps to tell useful information about products to the customers.
It is a basic need for any company. It is a cheap way to send emails to different people at different times and stages.
Why autoresponders?
It can be configured according to your requirements.
How can you use an autoresponder?
For Welcome –It is for your new subscribers. They are usually short, beautiful, and useful.
Thank you–It is to show gratitude and greet the customers after the purchase of any kind.
Transactional–These are bills. They are highly used by companies like Amazon. It provides complete information to the customers at different stages.
Activation–These emails are used when new users try to activate an account.It may include steps and approaches.
Postorder–These emails come under the category of emails you receive after you purchase an item
Date Triggered – These emails are created on notable dates such as renewal, reorganization, birthdays, or remembering to register.
Event–It is like a digital calendar. It tells about important dates and launches.
Re-engagement–These emails are for your cold leads. It can provide some deals or offers or tell them about the new product.
Shop Box Closure–These are very popular. Sometimes you leave items in your cart without buying it or you don't complete your registration on a particular website. The email you receive when you leave something unfinished is these mails.
15. ENABLE TRACKING
Tracking is aboon in the digital marketing world.
How to improve conversion and engagement?
The answer is by tracking. It is used in blogs, YouTube, email marketing, etc.
You can vary the emails and track the results.
There are infinite changes you can make and you never know which is best for you. You can change images, text, etc. over time.
Here are a few metrics
Unique Open–This will tell you about your new customers who have interacted with your mail.
CTR –This tells about the subscriber who clicks the link and lands on your website. It may vary significantly for each category and campaign type.
Click to open rates–This tells about the number of people who opened your mail.It is an impression that your content works well.
Bounce Rate–If somehow your emails get rejected then this will be shown here.
There are two terms -hard bounceand soft bounce.
A hard bounce is because of invalid emails. Soft bounce showsthat the inbox limit is over.
Rate of Unsubscribe–People who are not unsubscribing your mail shows under this.
Subscription rates vary according to industries.
Spam Appeal–If people report your email as spam then it will be shown here. If this rate is high then you need to make changes in your mail.
Send!
Congratulations!
You are all set to send your emails and generate leads!
Organize your list, read campaign performance, make changes, test emails and you will become an expert in email marketing.
Keep testing your strategies and keep eye on your analytics. Try out different mail templates over some time and see what works best for you.
As you keep on doing it, you will become an expert in your field and will start achieving better results!
Precise
Email marketing has one of the highest ROI per dollar.  It is cost-effective and easy to handle. Using a perfect strategy will help you to grow your business.
Choose the best email marketing platform
Use the strategies.
Follow the leads
Keep tracking and you are good to go!
Drop your thoughts in the comments below. Would love to hear from you about email marketing or anything digital.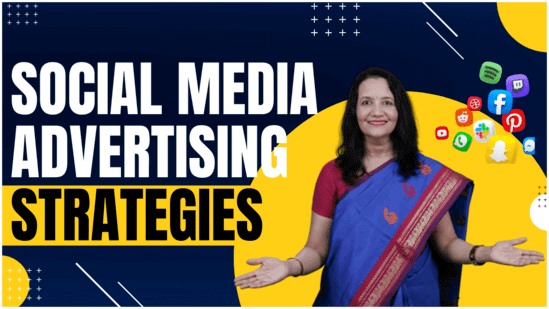 Spread the loveAccording to a study, an average person scrolls close to 300 feet of social media content every day. That's the height of Qutub Minar! Thinking about the amount of time that we tend to spend on social media daily, I find it quite believable. The main idea for social network advertising is to
Read More »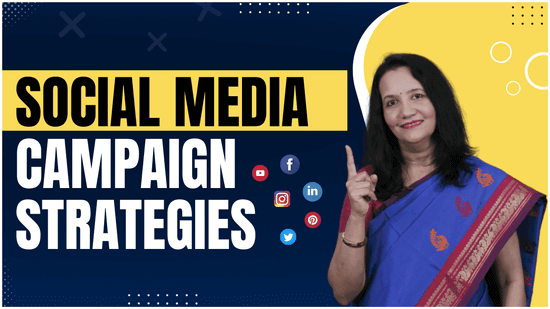 Spread the loveDo you want to create social media campaigns that will make your brand a sensation? Read these five strategies to grow your social media and blow your audiences' mind.Social media campaign is nothing but a series of coordinated activities aimed to promote your product or raise brand awareness in a community. We all
Read More »
Do you want to create excellent landing pages? Do you want to cutdown the cost required to hire a webpage creator. Read the article to know about SeedProd, an excellent landing page builder plugin for WordPress.
Read More »
HERE IS HOW I CAN HELP YOUR BUSINESS GROW
Don't just stand by and watch others make millions! Jump in and leverage digital marketing to skyrocket your business!