Do you wonder how to get more customers in your sales funnel? The answer to this puzzle is building a free email list. In this article, I will tell you 10 tips for collecting an email address list from scratch. You will learn how to nurture your customers with a mailing list in no time.
Did you ever see yourself buried in the barrage of emails?
And when you open them, they are the advertisements! Well, why were those messages sent to you? How did they get your email address? In this blog, we will address all the queries flooding your mind. So, let's get started!
The messages in your inbox are with the end goal of email marketing. You might have subscribed to some newsletter on a website, done online shopping, or ordered food from Swiggy or Zomato! At that point, you are added to the mailing list of those specific websites.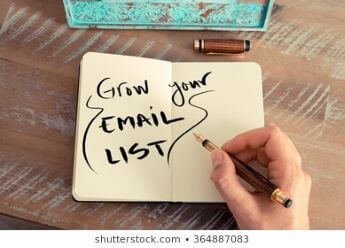 An email list decides your business's outcome as a coin toss decides the fate of a cricket match!
What is an email list? Why is it used?
An email list is an assortment of email addresses maintained by the companies in the form of an email database of potential.
It is being utilized by the companies to promote and showcase the products to turn their potential customers into buyers.
Have you heard about BuzzFeed?
BuzzFeed is an international digital media company that delivers news and entertainment to millions of people worldwide. It is one of the leading companies in the world that depends on Email marketing. Well, how did they do it?
When a person visits the BuzzFeed website and gets its membership, the company sends the personalized newsletter to its subscribers depending on their fields of interest, such as fashion, health, science, and various other topics.
 The mass email sending is possible only by forming email lists of the subscribers depending on their field of interest. Undoubtedly, their strategy is impressive!
Thus, we can say that email marketing relies on the lines of mailing lists. Now, let's try our hands-on building email lists!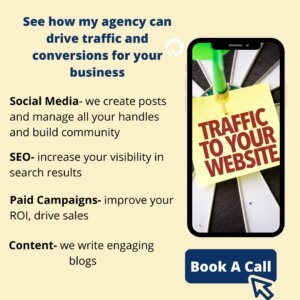 Getting started to build an email list
A goal without a perfect plan is just a desire. So, to execute a plan, it is a must to have a well-versed strategy. Here are some of the methods enlisted that must be taken care of before building an email list.
Target the right audience
"The work will be done only when force is applied in the right direction." Similarly, to get the output, it is necessary to target the right audience.
According to Campaign Monitor, Marketers who used segmented campaigns noted a 760% increase in revenue. Undoubtedly, it is mind-blowing! So, let's find out how you can segment your audience.
You all might have heard about Nestle. It is a famous household food and beverage brand with the motto "Good food, good life." It earns a huge profit from the target-based marketing strategy!
Nestle has segmented its products according to age group, gender, geographical location, and income.
For example, it offers Milo for children and Nescafe coffee for adults. (Yet, Maggie and KitKat is something that people from all age groups love to snack on!)
Hence, the email database should be maintained according to the demand, age group, and the customers' interest to receive information about things that fascinate them the most.
Create a website with an impressive landing page
A website with an eye-catching landing page will serve as the best medium to build the email list. Not to forget, the landing page must be equipped with a proper sign-up box to capture the email addresses.
Hitting a six in a cricket match isn't as easy as it seems. Similarly, enticing the visitors to sign-up is not a cakewalk. But don't worry, I have some exciting ideas to sway the visitors!
Check out my article 13 tips to build a landing page that converts to have an edge in creating a landing page.
As mentioned earlier, the ideas are suitable for those who already have a website and need to make little modifications. But what about the individuals who don't have their website or planning to start a business from scratch?
Take it easy; I have unique ideas for your rescue! To build an email address list, it is not necessary to have a tremendous website. All you need is a landing page without much complexity.
Many services offer to create a remarkable landing page without much hassle. This can be considered as a critical step towards a free email list building. I have mentioned some of the free landing page builders to help you out!
ConvertKit
Ucraft
MailChimp
Landbot
Launchrock
Here I chose ConvertKit as an example to illustrate.
Firstly, log-in to the ConvertKit website and choose the template according to your requirement.
Secondly, follow the step-by-step guide and add the name, headlines, and other necessary details.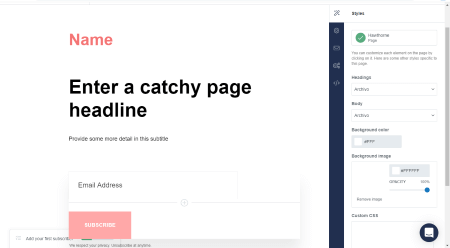 Woah! Your landing page is ready for building an email list.
More visitors = More Sign-ups
Driving the visitors to a landing page is not enough! To 'Finish off' in style, it is essential to get more sign-ups for creating a mailing list. This can be done by using an attractive sign-up box. Let's see how you can make it possible!
There are many ways to incorporate a sign-up box on the landing page. Most of the websites use the standard sticky sign-up box. They remain at the top or bottom of the page when the visitor scrolls. Offer an incentive to visitors to share contact details. This could be a free newsletter or e-book, or webinar.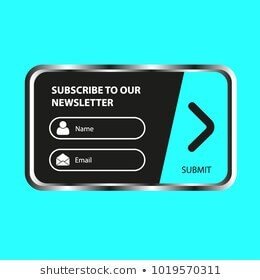 Advice: Using a sticky sign-up box sometimes annoys the visitor as it opens a sign-up box directly after clicking on the website link. It doesn't even let the visitors read the contents on the web page. In such cases, it is better to opt for a different sign-up box.
You can use smart bar sign-up at the top of a browser to build an email list. It will not hide your page's contents and provides the sign-up option to visitors just a click away.
Read my article on A Beginners Guide To Content (Marketing) Strategy

The exit-intent sign-up method is the last try to collect email addresses for an email list. This method offers visitors to sign-up when they intend to leave the page.
To find the best design for your landing page, check out my article on 10 ideas for your landing page design that can increase conversion rates by 10 times
Write an impactful social media bio
As MS Dhoni always acts as a savior when it comes to winning a losing match! Likewise, Social media acts as a savior in marketing when you have run out of all the resources.
Add your website link in the bio, as it will help to build an email list. This works out well with Twitter, Instagram, LinkedIn, and Pinterest.
For example, I have added the link to my website on my Instagram account bio. This will drive the followers to the site, where they can sign-up for the email list.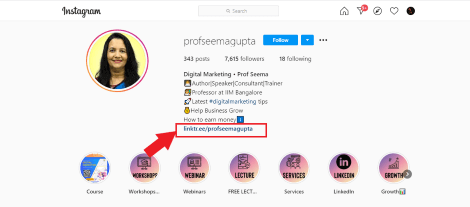 Advice: for the most compelling CTA (call to action), use catchy words to draw the visitors' attention. You could add words like free books, free courses in the bio.
Play the game of #Hashtags
Twitter is the platform where memes get viral. So it is the best medium to build your email list.
A few years back, Twitter launched the feature to pin the tweets that will be permanently displayed on the top of your account. Let's know how to build a mailing list out of it!
Write an impactful tweet along with mentioning your website link. Remember, the tweet should be precise, with hashtags and images. Moreover, try to keep pinned tweet trendy.
To stay up-to-date with trendy hashtags, you can use the Twitter diagnostic tool.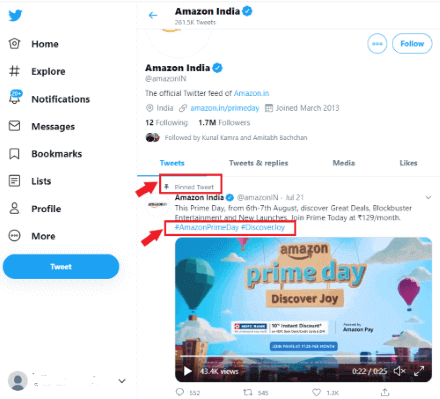 I took an example of Amazon India to illustrate this fact. You can see that the pinned tweet is accompanied by a video that engages the visitors. You can also use other options for better visualization, such as memes and attractive posters.
Here, you can notice how Pepsi mentioned the link of bit.ly form in the tweet with the prime objective of gathering the information of visitors to build the email list.
Advice: Curate great content with outstanding graphics for the tweets. Use limited and relevant hashtags because the tweets with more than two hashtags show a 17%  decrease in engagement.
Use CTA (call-to-action) for your rescue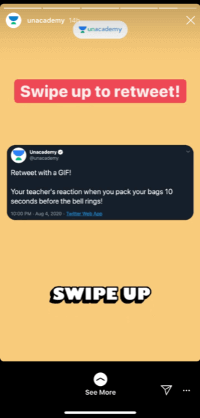 We already saw how an impactful bio and tweets with hashtags serve as a robust tool for email list building. But there is more to find out!
For all the Instagram users out there, you can use the swipe-up feature for Instagram stories. It can be done by adding the link to your email list in the swipe-up function. When someone views your story and swipe-up, they will be directed to the sign-up page. But there are specific terms and conditions. So, make sure your Instagram account fulfills these criteria.
Make sure you have an Instagram Business account.
It is a must to have more than 10,000 followers to avail of this feature.
You can see how Unacademy used this feature as CTA.
Creating your Facebook business page will give the leverage in email list building. It will act as a CTA by directing the visitors and followers to the landing page. Let's see how you can do it!
Use your Facebook business profile cover page as CTA by adding your website link in its caption; also mention your details on the cover page as illustrated below.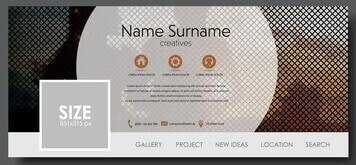 To create an email list straight out of Facebook, add the sign-up tab on your Facebook page.
While posting on Facebook, make sure to post in different Facebook groups by using good caption with the link of the website mentioned in it.
To get more ideas for Facebook's marketing strategy, check out my article on advanced digital marketing tips on Facebook.
YouTube is the highest-earning platform! Hence, it can be used to build an email list. Whenever you upload a video on YouTube, just add a link in the description box, which will directly drive the visitors to the sign-up page. Here is an example from one of the videos that I uploaded on YouTube.
Dear readers, if you wish to use YouTube as a powerful tool to grow your business by 10x, read my article How to do video marketing to increase business remarkably.
Use B2B email database as a last resort
Sometimes in the most extreme cases, available resources are not enough to build impactful email lists, or there is a need to expand the audience reach to various other locations. What to do in such cases? Here, B2B email lists come into the picture!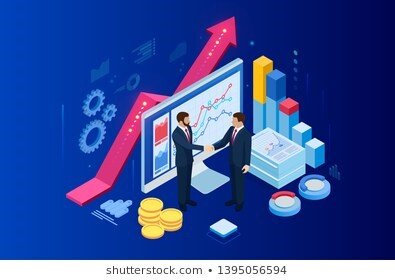 A business email list is the collection of the email addresses maintained by various marketing companies that act as a bridge between brands and customers. A B2B email list has the relevant contacts that help to skyrocket the sales. These marketing firms gather the data according to your business requirement and keep it up-to-date to remove inaccuracies. Let us see some examples of the best B2B email list providers in India.
LeadPyramid
EasyLeadz
BinaryClues
esales data
As a rule of thumb, try choosing an email list provider that offers 90-95% accuracy in email dataset and email delivery.
To know more regarding some of the best email marketing software, check out my article on 13 must-have email marketing software to grow revenue.
All that glitters is not gold! We talked about the B2B email list, yet it is not suitable for the long run. Here are some of the reasons to strengthen this fact:
Most of the email addresses in the B2B email list consist of people who have never heard about your brand or may not be interested in your services.
Sometimes the emails received through the B2B email list have fewer conversion rates and end up becoming spam.
It is considered malpractice to send contact to a third party.
It increases the probability of creating a bad image of your brand.
Introducing exciting offers to lure visitors
It's a human tendency to expect something in return for a favor. This same logic applies here. To build an email list of visitors, you need to work smartly! Let us see some tricks and tactics to achieve it.
Most Indian e-commerce companies such as Amazon and Flipkart target to lure the visitors by introducing sales and offering a discount during a festive season. You might also fall prey to these exciting offers!
Who doesn't adore free stuff! Giving freebies in exchange for sign-up to build an email list is also very fruitful.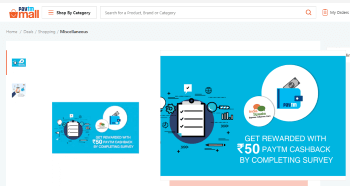 Here, Paytm offers cashback just by filling a survey form. Thus, this tactic will surely compel visitors to provide contact details, which will be beneficial in email list building.
Announcing a giveaway is one of the best ways to engage inactive visitors. This method is widely used nowadays. Just choose the product in demand and release the registration form for the same to build an email list. The giveaway winner can be decided by selecting a candidate with the most number of likes on a post.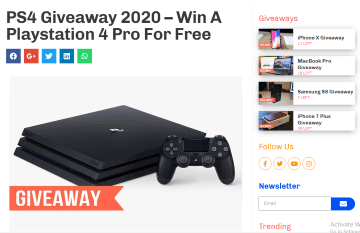 Introducing free trial periods is the strategy that is being used by many service-based companies. Who hasn't used Netflix or Amazon Prime free subscription!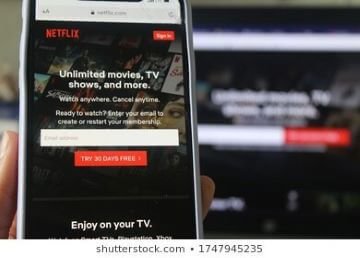 Netflix introduces tempting offers for its visitors by giving 30 days of a free trial. Why not apply this tactic to build an email list for your business!
Conducting quizzes and hosting webinars are some other ways to drive traffic to your website. All you need to do is just entice the visitors to participate and build the email list out of it!
Use what you have, do what you could
Did you know your current subscribers have the potential to bring you, new subscribers? After all, they have subscribed to you for a reason, that is your splendid services!
You can ask your existing subscribers to refer a few of their friends who will benefit from your products and services. Either you can create an email for a referral or post it on your social media handles. In exchange, you can give freebies to those who refer your brand to a maximum number of people.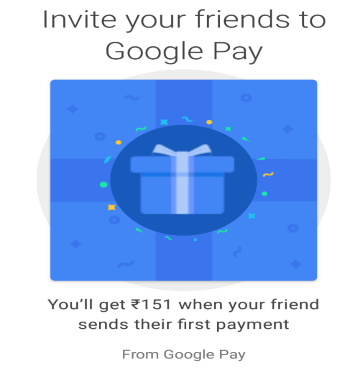 You all might be knowing that Google Pay uses this strategy. Whenever you refer Google Pay to your friend by sending the referral code, you are rewarded with a bonus! This is one of the best plans that will always work for email list building.
There is always a scope for improvement and learning. Hence, it is considered good practice to know about your weakness. Releasing a survey form will help you to do it! This method will help you in two ways, i.e., you will know the areas for improvement, and you can build an email list from the survey forms.
As your existing subscribers are familiar with your services, why not ask them for suggestions! You can even survey other platforms too so that most of the people can participate (apart from your subscribers). Don't forget that the survey should focus on trending issues that interest most of the people.
Over time, many things lose their significance. But some of them are "Evergreen" like the legend Master blaster Sachin Tendulkar!
Target your popular and Evergreen content, make it a medium to get the subscribers for your email list. I use this strategy too! On my website, I kept an option for visitors to enroll in my digital marketing courses, which are in demand. All you got to do is just identify your USP (Unique selling proposition) and be unstoppable!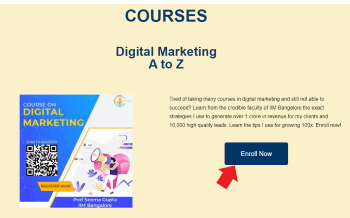 Recycling and reusing are excellent practices to make old things look as good as new. In the same way, you can refurbish your existing content by adding videos or graphics, which will increase the engagement on your website, which will eventually build a good email list.
Sell it before you made it
Launching a product in the market is not an easy task – it requires years of hard work, time, and money. You anticipate D-day, but when it arrives, it kills all your expectations. To avoid this terrific situation, why not sell it before it's created. Let's see how to make a profit out of it!
Preselling is a technique used by many big brands such as Xiaomi, Apple, and  Samsung. It has many advantages, which will surely be helpful to build an email list. Let's check them one by one!
It gives customers ample time to think and evaluate your product.
Preselling gives you time to brainstorm the product and know the ideas from customers.
Get insight into what your competitors are doing and come out with a better product.
It helps you to manufacture the products according to the demand.
Preselling creates hype for a new product, building an email list by collecting email addresses from preselling registration.
You might know about One Plus, the famous mobile brand that used this technique. Pre-order entice the users to register; all you need to do is use promising lines such as "Be the first one to know" "Get notified first." Apart from building a mailing list, this method has the potential to collect money too.
Wrapping up
Now that you know A to Z about email list building. Get set, go, and build your email list!
In this article, I have covered major aspects that are essential for email list building. Apart from the strategies discussed above, just brainstorm and try to come up with your idea. Like you can opt for Quora marketing to create an email list, use an autoresponder to communicate with visitors.
Remember, aside from building an email list, it is vital to maintain good relations with subscribers so that they never lose faith in your brand. You can even send your subscribers personalized emails on special occasions.
Is that it? Definitely!
On wrapping up, which strategy did you find most useful? Are you able to build your email list? Let me know in the comment section below, and I'll be happy to help you out.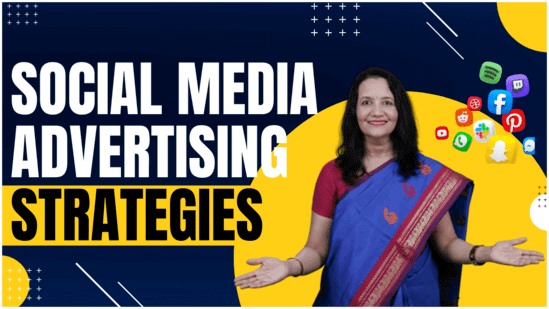 Spread the loveAccording to a study, an average person scrolls close to 300 feet of social media content every day. That's the height of Qutub Minar! Thinking about the amount of time that we tend to spend on social media daily, I find it quite believable. The main idea for social network advertising is to
Read More »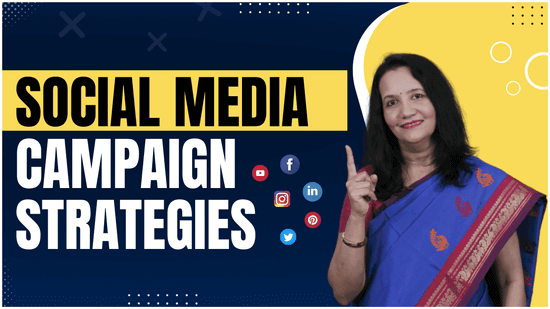 Spread the loveDo you want to create social media campaigns that will make your brand a sensation? Read these five strategies to grow your social media and blow your audiences' mind.Social media campaign is nothing but a series of coordinated activities aimed to promote your product or raise brand awareness in a community. We all
Read More »
Do you want to create excellent landing pages? Do you want to cutdown the cost required to hire a webpage creator. Read the article to know about SeedProd, an excellent landing page builder plugin for WordPress.
Read More »
HERE IS HOW I CAN HELP YOUR BUSINESS GROW
Don't just stand by and watch others make millions! Jump in and leverage digital marketing to skyrocket your business!