With 560 million active internet users, along with the prospect of tapping 600 million towards the start of 2021, the potential of Digital Marketing is obvious. 
Higher engagement rate than most conventional marketing strategies, apparent affordability, the capability to reach global markets, and our Government's Digital India Initiative make the prospect of starting a Digital Marketing Business even more attractive.
Join me as I share my experience over 'How to start Digital Marketing Business in India', through the eyes of a person who has no prior professional experience with Digital Marketing.
Read my blog on Digital Google Garage – A Complete Guide
#LoveWhatYouDo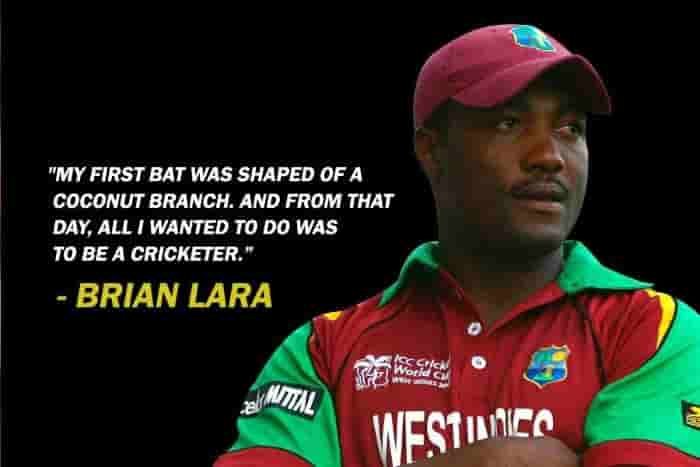 Picture Courtesy: ScrollDroll
The path to building a successful Digital Marketing Business, like any other ultimate passion of one's life, is filled with moments of joy, disappointment, hard work and luck. Thus, if the prospect of having a Digital Marketing Business truly makes you happy, you would cherish the next 15 minutes of life. Remember, showing a strong character during tough situations is of utmost importance.  
Learn
Did you know? Sourav Ganguly's initial passion was football! But soon, Dada knew Cricket was his true calling. He practised hard over many years, to move up the cricketing ladder. After ten years, Dada became the lynch-pin of Indian Team as the captain. The faith he had on himself and his team led him to many accolades. 
Similarly, You have to choose one tool among the many used in Digital Marketing Business Ideas (Search Engine Marketing, Social Media Optimisation, Data & Analytics, Search Marketing, Web Solutions, Email Marketing, etc.) as your core strength.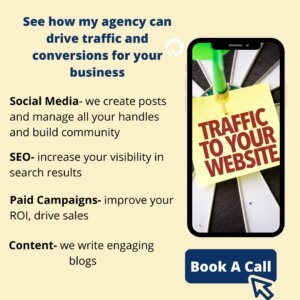 Learn this tool inside out. Learn it until you are the best. Only then your clients, your team-mates and yourself would be confident in your abilities; after all, you are the lynch-pin that connects them all. 
Once you have tasted some success with this tool, you can move onto thoroughly learning the next one!
Read my blog on 12+ Free Digital Marketing Courses Online
~ 2 Days Later ~
Get some Market Research done on a topic, related to the tool you have chosen above. 
It's about time we step into the game! Open a Blog. Soulfully write about all you have learnt on the topic, by applying all your Marketing Techniques. 
Over time, with consistent creative writing, you'll gain confidence in yourself. 
Now, apply for a job on Freelancing Websites like Freelancer, Upwork and Truelancer. 
Start making your mark in the industry, by making every client of yours happy. In time, you'll soon have loyal clients. Build a strong bond with such clients. 
The Trailer
You might require some money to start a Digital Marketing Business. 
If you feel, you do not have enough money, consider teaching your ideas to people interested, in exchange for some money. 
The last act before witnessing your dream, is to decide whether you want to be a Single Owner or want a Co-Owner(s).
– Be Positive –
Brand Name
Remember, the name of your company travels with you forever. It not only defines your company but everything you stand for. It's your first chance to impress your clients and the audience. Thus, choose a name that resounds eternal passion and purpose. Learn how to start your career in Digital Marketing as a Fresher.
Focus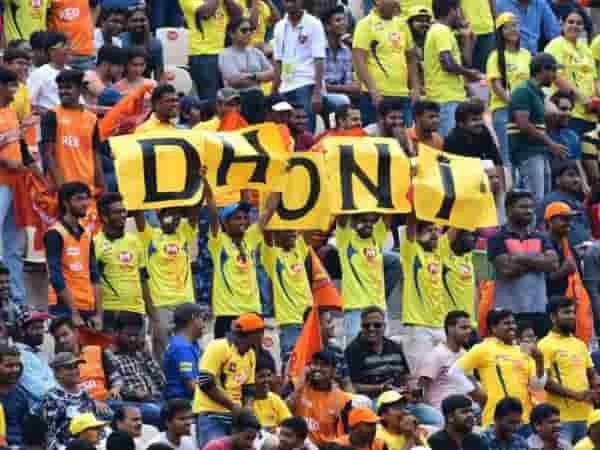 Picture Courtesy: The Hindu
"The way I got accepted and the whole of Tamil Nadu – whenever they see me they don't call my name, they call me Thala. It feels very special" – MS Dhoni on CSK Fans.
Dhoni has repeatedly reiterated the role of fans, on his life. It's them who constantly challenge Dhoni to this day, to be a better cricketer; even after being Lord Krishna of Indian Cricket for 14 years.
Similarly, you have to decide whom you want to serve. When you are starting, you want to appeal to everyone by offering many services. More clients mean more income, right? This is totally a normal thought, but absolutely wrong. 
Try to answer the following questions for more clarity on your Digital Marketing Business Ideas:
What's your niche? With whom do you want to work with? Small businesses, MNCs, restaurants? Focus on locality or go national? Knowing this will help you narrow down potential clients.
Whom do you want to appeal? Is it the whizz-kids, the geeks, the specialists or the new bees in town? This will assist you to discover the right people to work with, to shape a beloved brand.
What makes you unique? There are thousands of digital marketing business agencies out there, so what makes yours different? What do you do differently?
Analysing your abilities is a pivotal step in building a profitable Digital Marketing Business. The principal idea is to play to your strengths. Start Small – Start Strong.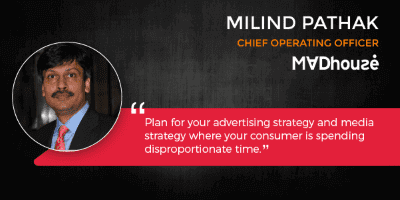 Photo Courtesy: UpGrad
T0-D0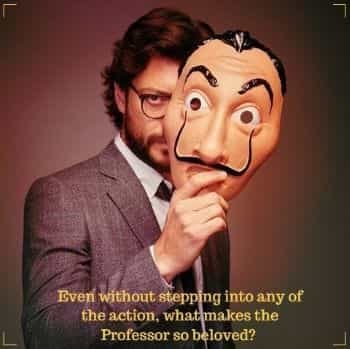 It's over to a simple fact that the whole heist is his plan. He has thought about every single move, every unique possibility. He is the Master-Mind. 
It's time to be the Professor. 
Make an effort to figure out what precisely you want to achieve as a Digital Marketing Business Agency. Goals give you focus, clarity and confidence, even during the most challenging times. Make a SMART Goal: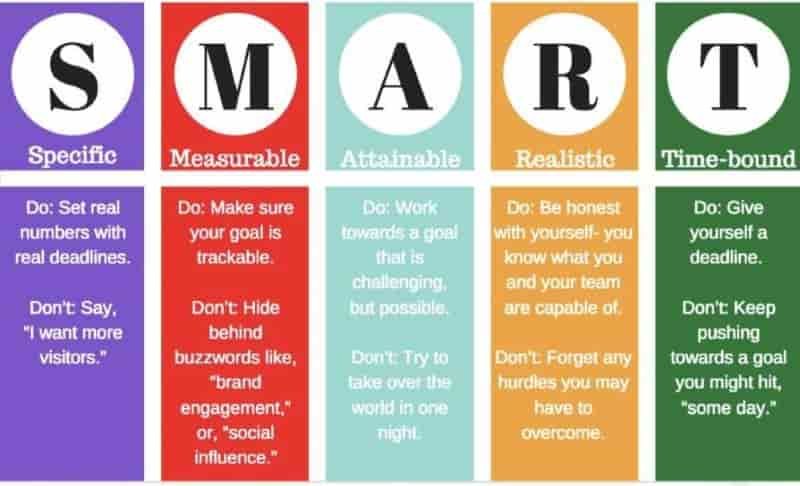 Systems and Procedures for every aspect of operations are fundamental to your Digital Marketing Business Plan. It is not adequate to hire talented professionals and expect them to know what to do with minimal guidance. You need specific procedures and policies in place for them to follow daily. 
It's about equipping your team with choicest practices and a robust framework for how to execute their jobs, by keeping their morale high. 
Are you looking for a good email marketing software ?Here are 13 must have email marketing softwares for growing your revenue
Website
The dough for your pizza. The TasteMaker of your Maggie. The tamarind for your Rasam. 
The strength of your company's website individually speaks about all you've got to offer, on 'How to do Digital Marketing Business'. Thus, make a cool and awesome website to promote your services.
Get started by procuring the right domain name. It would be ideal for getting a domain, that matches your brand name like for like. However, that may not be generally possible, and thus settling with the closest match is absolutely fine.
Words cannot express enough the importance of content for your website. Maybe this is why, the most famous Indian Marketers have started their careers as Bloggers—later growing onto offer Digital Marketing Business ideas. (Harsh Agarwal, Deepak Kanakaraju, Lakshmipathy Bhat, Ankit Singla, etc.)
For Business-to-Consumer (B2C) companies, a .com extension is ideal. But, for Business-to-Business (B2B) agency as yours, a .in extension would be enough.
Note: If you are targeting International Clients, then a non-country specific extension (.com, .net, .org, .co, etc.) is preferable.
Moreover, you have to concentrate on the design of your website immensely. As most of the time, your company's calibre gets judged by the look of your website.
Read more about the importance of content and website designing through the story of India's most popular Digital Marketer – Harsh Agarwal.
Picture Courtesy: Sorav Jain
Once you've got considerable fame, for the content of your websites, you can later also make Guest Blogging, pdf & ppt submissions for Quality backlinks; on industry-related domains. This becomes an eye-catching advertisement for your Digital Marketing Business. 
You can also make use of crowdsourcing to obtain consumer-driven content, to amplify your brand's reach gracefully.
Here are 13 must have Email Marketing softwares to grow revenues.
Unorthodox Spin
When you are at the start of your journey as an agency, it's highly recommended to use your own tricks to promote yourself. 
Usage of unorthodox methods, like Video Marketing, to differentiate yourself from a thousand others, could be the perfect blend of cleverness and master-class.
Read my article, An Unbiased Review of FlexClip: A great free online video editing software
Talk about your experience and what you have got to offer, with a tone of authority. If you can express with confidence, clients are surely going to have confidence in you.
Social Media
Uff! Finally, it's here. The protege child of the Millennium Age. One place for knowledge, communication, entertainment and business. 
We can harvest rays from this enormous star, for success in Digital Marketing Business Plan as well. Start by choosing the platform that suits you the best, based on your target audience and niche.  
Share relevant, entertaining content regularly. Your content often is your most valuable weapon, to attract your audience, on 'How to start Digital Marketing Business in India'. You can share knowledge, crazy facts, memes or any other content that might steer the audience your way.
By building a deep connection with your ardent followers, you can create a robust online presence for yourself. Unsurprisingly, Social Media happens to be one of the best mediums to deal with complaints, as well.
Check out my article on 10 Reasons Why Everyone Loves WhatsApp for Business
Moreover, Social Media may not be the most famous tactic for attaining new clients, but they are unmistakably out there. Having a strong presence, helps you in finding them, as well. Learn about Influencer marketing on Instagram.
Picture Courtesy: Sorav Jain
In India, there are lots of Facebook pages which started from scratch and now are owners of millions of likes; who are now digital marketing business agencies!
Do go through the journeys of India's most remarkable marketers who thrived because of Social Media: Sorav Jain, Rohit Onkar, Prasant Naidu, Nidhi Singh and Ankita Gaba.
18 Awesome strategies for Facebook marketing that will rock.
Brand Building
A brand isn't just a differentiating tool – It's a Promise. It's a pledge to deliver a service that the public can blindly trust. One that they cherish. One that connects with them. There will undoubtedly be people who dislike your brand as well, pay no heed to them. It simply is a mark of a good brand. 
Answering questions like "What do my audience value?" and "What does my brand stand for?" give you direction. Moreover, at this point, do not invest much time or money to get a good logo. Instead, find something that appeals to you and take it forth from there. Once your agency is fruitful, you can then assign a budget for an upgraded design.
Branding adds meaning and value to the purchase of customers and sets the product apart from its competition. The power of branding is when you are able to take your brand to a level that anyone can easily identify it. #profseema #iimb #digitalmarketingexpert #educate

— Seema Gupta (@seemaIIMB)
Idea!
If you are going to be a triumphant Digital Marketer, you need to get used to taking risks. Do not be hesitant to change or a complete overhaul.
Any idea that you feel can bring substantial returns should be conveyed to your clients without a hint of a scare. It's often these ideas that successful in the end, leaving a lasting impression upon people. 
It could be quite tempting to follow the techniques your competitors get right. But instead, it's best to build upon such ideas by adding something of your own. Or, turn it completely to give it your own twist.
There are always individuals who would love your concepts. With the right focus and efforts, you'll find them 🙂
Register Your Agency
Based on your previous decision of being a Single Owner or having a Partnership, registration process differs.  
If you prefer Single Ownership, go for Sole Proprietorship. Here, an individual owns, maintains, and regulates all of the business.
If you prefer Partnership-type ownership, go for Pvt Ltd. companies or Limited Liability Partnership (LLP).
It is best to register your company under Indian Partnership Act as well. This registration gives you the right to file a lawsuit against a third party, property protection, co-partner protection, etc.
For a Digital Marketing Business Agency, a simple partnership like the above is ample; as it doesn't require any issued shares or investors.
Don't Quit Your Job Before You Are Up and Running Successfully
I know this sounds insane and demotivating. But this is the beauty of life. You never know what's coming next. 
If all of your plans go absolutely right, it's time for a treat. If your plans do not go on track, by chance, then you might end up being in a situation where you have coughed up all your savings with no proper product to account for. 
Thus, do not quit your job before your company is up and running successfully; with clients behind you and money splashing in.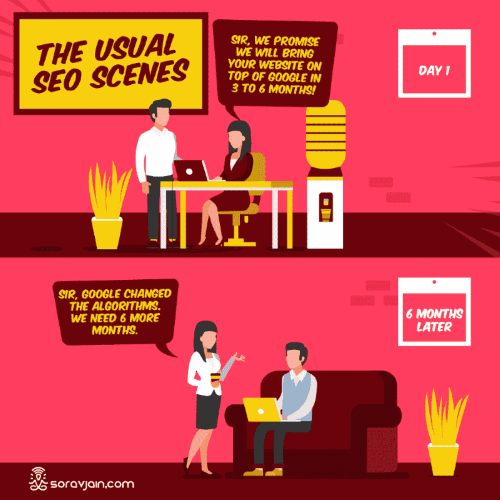 Picture Courtesy: Sorav Jain
Art of Hiring
The right mix of taste and texture, makes Bhel Puri universally loved. One can never argue that puffed rice is the main ingredient – the perfect blend of sev, onions, tomatoes, chaat masala and chutneys make the Bhel Puri warm and complete. 
Similarly, there will come a time when the owners alone cannot get the job done; employees are a must. Each employee you hire should have expertise in a specific field of Digital Marketing. Knowing when and what type of employees to hire is an art. 
Based on the current requirement and the company's economic status, you need to decide between Freelancers, Part-Time Employees and Full-Time Employees.
You'll most probably require the expertise of – Content Writers, Graphic Designers, Ad Experts, Social Media Managers and Sales Experts. 
Don't start with employees right from day one; make sure you don't go too long without taking someone on board either.
Photo Courtesy: UpGrad
Make it a priority to develop your and your team's skillset away from your speciality, to keep yourself ready for any contingency. This practice will eventually improve your overall portfolio, service quality, and also help you gain your clients' trust along the way. There are various learning materials available online to help you out.
Taxation
There are three types of taxation involved in running a company:
The tax paid upon your company's net income. If you break even, then you do not have to pay any Direct Tax, as you haven't generated any income.To pay Direct Tax, you need a PAN Number registered for your company.
The tax paid upon your company's net consumption (purchasing required goods). To pay Indirect Tax, you need a GST Number.Your GST input credits play a significant role here.
You have to deduct 10% of your employee's salary and deposit this amount against your employee's PAN number. 
A TAN Number is necessary for this process (at least Aadhar number isn't required 🤷‍♀️)
Later, open a Current Account for your company (in any bank), for all the future transactions.
Become Google Partner
Google, the most significant player in Online Advertisements, offers Google AdWords Certification Program for Digital Marketing Advertising Agencies, Marketers, and other Online Advisers.
To be a Google Partner, you must pass two exams. This will get you access to a range of benefits, including certifications, industry analysis, exclusive functions, training, and more.
Facebook Ads
If Google AdWords doesn't appeal to you now, you can consider Facebook Marketing. It is the most comfortable starting point for a new Digital Marketing Business Agency. Following Tutorials or subscribing to some Online Courses, might do the trick.
Explain Exactly
When it comes to the mindset of most clients in India, Digital Marketing is still seen as an add on to traditional marketing methods, like TV Ads, News Paper Ads, Banners, Flyers etc.
Very few understand and accept the true potential of this glorious prospect. Moreover, no one would pay out for something that they do not understand!
Therefore, the following needs to be kept in mind, when approaching a client:
Choose the most appropriate means of communication-based on the client's liking. Some companies respond better to emails; it could be messages or phones call for others. 
Explain patiently about various processes, tools and results that they can expect from you. Your aim here is to remove their stigma, to show the true beauty. 
Show reports of your past work by using screenshots, arrows, and charts. (But in the same time, do not confuse them with raw lists of traffic counts or citations either)
Speak in simple English, with no jargon. Remember, they may not know anything about Digital Marketing.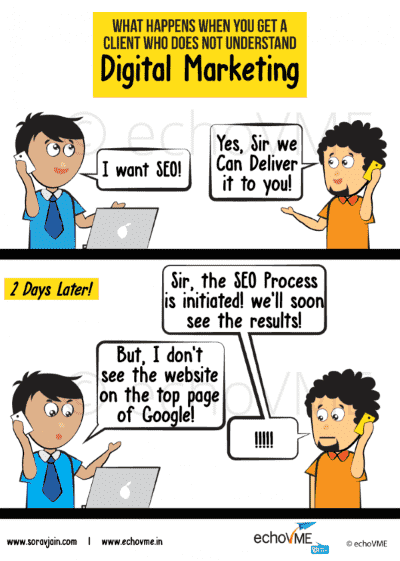 Picture Courtesy: Sorav Jain
Practise with Friends & Relatives
I can thoroughly sense all of your confusions now. But hear me out!
Preparation – A word every Indian is drenched upon (Remember, your IIT Preparation Times?). But again, isn't it better to prepare then directly dive into deep-end of the sea? (Aha! The word never seems to leave you 😛) 
If you test your abilities on the businesses of Friends & Relatives, and things go wrong, you can find your mistakes and put things right. * Lessons learnt without damage *
Many successful Digital Marketers started out this way, including Neil Patel (he worked free for the first six months).
Once you are confident about yourself, you can start serving various big and start-up clients through Freelancing Websites like Fiverr, Freelancer and 99designs.
Once comfortable, you can also create Landing Pages with your Showcase Projects, to run AdWords Campaign with Email Marketing.
Option Optimize
It's imperative to optimise every content of yours (Ads, Website, Social Media Posts, etc.). Being an active part of SEO, you very well know this by know. 
Therefore, write content accordingly. Even if optimisation only brings a couple of leads, it's better to have it, than not. 
Understand Banner Ads before you regret in this complete guide.
"No!"
One of the most common mistakes made by several new Digital Marketing Businesses is to accept all the clients who come on their way. This might pay handsomely now but would destroy your company's potential. 
You will unmistakably come across clients being rude, not listening to your advice or paying late. 
While working on a project you absolutely hate with a client you despise, being miserable, you should instead work for a different client on a different project that you absolutely admire.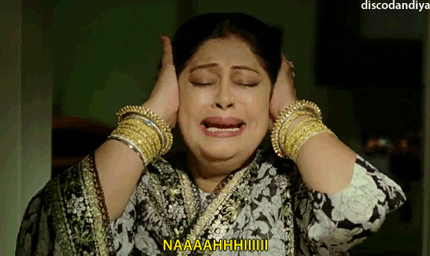 Be Trustworthy
A client might offer you a lot of money for something that you are not familiar with. If you cannot give the client what they want, do not take up the project and lie to them. This is the quickest way to lose clients, along with your reputation.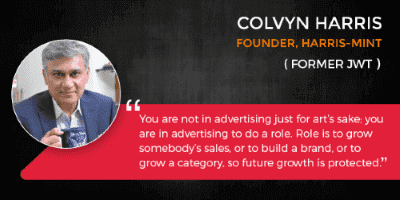 Photo Courtesy: UpGrad
Budgeting
Pricing reveals your self-value to your clients. Furthermore, nothing is more valuable than your company's time. Thus, set suitable prices for every service (SEO, SMO, PPC Campaign, etc.) you offer.
Learn in detail here:
Moreover, look out for opportunities to reduce your overall cost. (Cheap Labour, Hacks for Lower Cost per Advertisement, etc.)
Book-Keeping and Reporting
As a responsible owner, you must regularly monitor your company's net revenue and expenses. To make your work easier, you can make use of accounting software like Zoho Books and Horizon ERP.
Even if the client isn't interested, you must report your work and the subsequent results. Using Microsoft Office or Google Docs would come in handy for this.
Final Notes…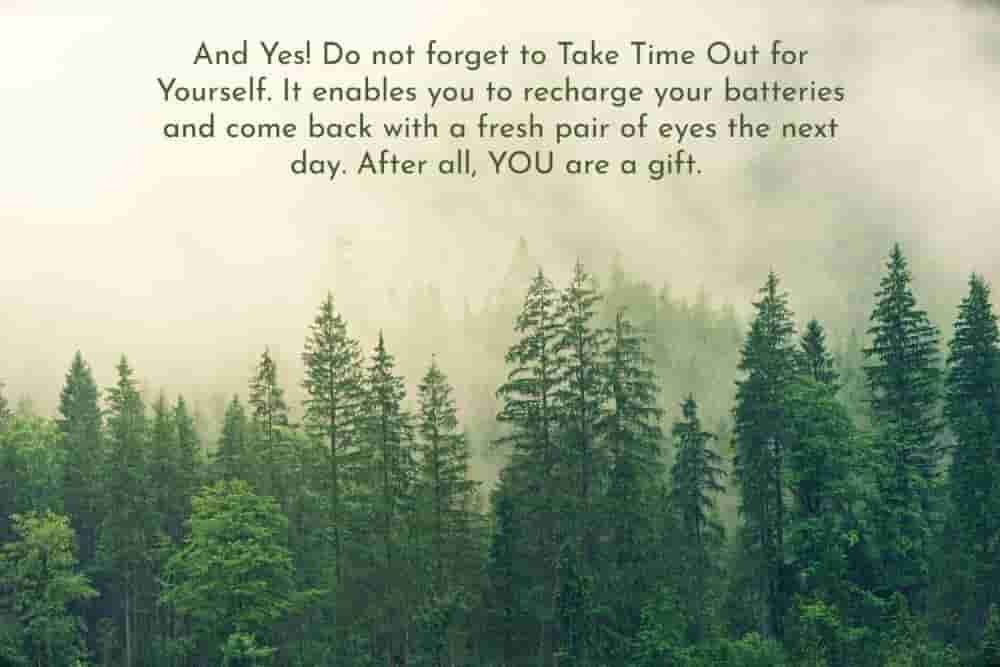 – oOo –
Building an elegant Digital Marketing Business takes a lot of time, effort, criticism, and commitment. But eventually, with patience, you can reap its benefits.
Aim for consistency. Never stop learning.
And now I would like to hear from you! Which strategy from today's post excited you the most? Or maybe you have a doubt about something you read. Either way, let me know by leaving a comment below.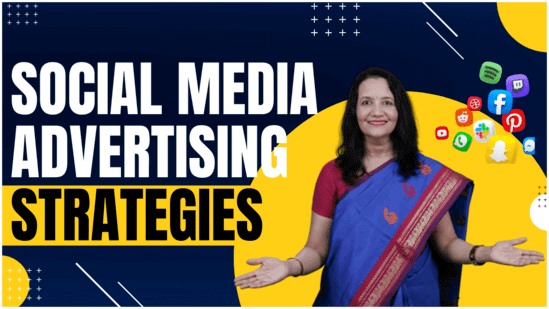 Spread the loveAccording to a study, an average person scrolls close to 300 feet of social media content every day. That's the height of Qutub Minar! Thinking about the amount of time that we tend to spend on social media daily, I find it quite believable. The main idea for social network advertising is to
Read More »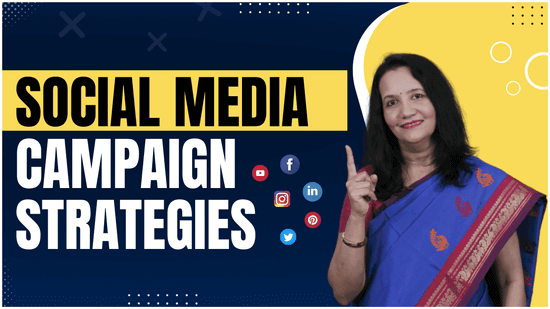 Spread the loveDo you want to create social media campaigns that will make your brand a sensation? Read these five strategies to grow your social media and blow your audiences' mind.Social media campaign is nothing but a series of coordinated activities aimed to promote your product or raise brand awareness in a community. We all
Read More »
Do you want to create excellent landing pages? Do you want to cutdown the cost required to hire a webpage creator. Read the article to know about SeedProd, an excellent landing page builder plugin for WordPress.
Read More »
HERE IS HOW I CAN HELP YOUR BUSINESS GROW
Don't just stand by and watch others make millions! Jump in and leverage digital marketing to skyrocket your business!