The moment you open any social media app, it is flooded with new content.
Source: ifunny.co
Amongst countless information, a single reliable source of new and fresh content is what everybody looks for. Thankfully, we have social media influencers to the rescue!
In the cosmos of fake news and twisted facts, these people act as a shield by cutting through the noise and providing the truth.
Social Media Influencer
Someone who exercises his/her authority and has an active following on social media is called a social media influencer. These people have a strong reputation for their knowledge and expertise in a specific niche. They regularly share content on their social media handles. They have a large following of enthusiastic, engaged people who value their opinion.
Now let's look at why social media influencers are so popular these days.
Check out my blog on What No one Tells You About Social Media Engagement
The rise of Social media Influencers
Well turns out the traditional digital media techniques no longer work. 84% of the millennials don't trust traditional ads at all. They find them pushy and unreliable.
This is where social media influencers come in! Influencers help the brands by promoting them on their behalf. They create content on the brand's product and talk about it with their followers.
This is earned media. Earned media is trusted more by the customers. This is because brands cannot control any information in it. Also, Influencers won't trick their audience with false information, as their audience's trust matters the most to them.
The industry of influencers stands on the trust between influencers and their audience. Nielsen reports that 92 percent of people believe somebody who is an expert in that field, even if they don't know them, over brands. 
Almost 3 out of every four customers will look for reviews of social media influencers before making a purchase.
Using social media influencers not only tackles ad blockers, but it is also way more effective. A report shows that influencer marketing delivers 11x more Return on investment (ROI) over all other forms of digital media..
According to Business Insider Intelligence estimates, the influencer marketing industry is expected to be worth up to $15 billion by 2022, up from $8 billion in 2019.
Now, let's look at the different types of influencers out there, based on their audience size.
Read my blog on- Enroll In Social Media Marketing Course To Explode Your Business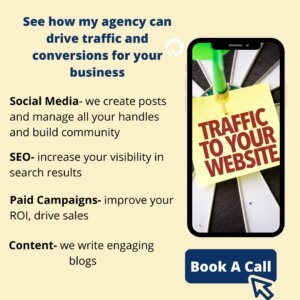 Types of Social Media Influencers
There are different types of influencers on social media these days. They happen to fall under one of these categories.
Celebrities– These can be artists, cricketers, actors, politicians, etc. who have more than 5 million followers. They have a substantial impact due to their status.
Mega-influencers– They are right next to celebrities with followers ranging from 1 million to 5 million.
Macro-influencers– They usually have less than a million followers. They are often experts in their respective categories. These categories can be fashion, fitness, photography, technology, etc.
Micro-influencers– These influencers have a relatively small audience of 10,000 to 100,000. They actively engage with their followers, more than celebrities, and mega influencers.
Nano-influencers– These are the influencers with a small and unique audience. They usually have less than 10,000 followers. Nano- influencers interact the most with their audience.
(Source: Mediakix.com)
Each of these categories has pros and cons. These days, there is an expanding demand for Micro and Nano-influencers. In 2018, a study found that only 4% of people trusted celebrity advertisements. This is because everybody knows that celebrities charge a huge fee for recommending the product. Also, these stars don't know much about the product.  Another report by Tapinfluence found that engagement rates are often higher for influencers having 5,000 to 25,000 followers.
These influencers can also be classified based on the platform they are active on. Note that  influencers  have a presence on more than one platform. 
Instagram influencers
Youtube influencers
Bloggers
Snapchat influencers
Twitch influencers
Facebook influencers
LinkedIn influencers
TikTok influencers
Influencers in lifestyle, beauty, fitness, and food find Instagram a fitting platform for them.
However, it's better to choose the platform which your audience uses.
For example, Twitch would be the ideal choice for you if you plan to live stream your gaming.
If you are an expert in some field, then LinkedIn is a better platform for you. Create a professional LinkedIn profile and  present your opinion about events related to your expertise. These people are called Thought Leaders.
Read my article for all you must know about influencer social media marketing.
How much Social Media Influencers make?
Mostly, the bigger your follower base is, the more are your earnings. Celebrities like Virat Kohli, with around 62 million followers on Instagram, charge well above Rs 1 crore per post. 
Meanwhile, macro-influencers, with around 500,000 followers, impose a price of up to Rs 7 lakh per post. Cost per post for Nano-influencers goes approximately 8,000 and about 20,000 for micro-influencers.
 Before you get carried away and start relating to this more, let me tell you one thing. Getting thousands of people to follow you is no piece of cake. It is a lot more complicated than it looks. It quite challenging but is certainly achievable. 
Let's look at a thorough guide on how to become a social media influencer.
NICHE 
Your niche will define your entire career as an influencer. In practical terms, the niche is something that you're highly interested in. For example- If you are into photography, then 'Wildlife Photography' can be your niche. The key is to find something that you are willing to specialize in. 
With the intense competition in the  influencer industry, specializing in a particular niche makes you stand out. Let's look at some of the most popular niches amongst influencers.
Source: ulivewv 
If you are having trouble figuring out your niche, look for something that you're really good at, no matter how weird the category. Sometimes our strangest habits become our more valuable assets. When you successfully find your niche, your following will soon increase because you love what you do.
Creativity and niches
Niches can be loosely defined into two categories, based on the creativity it requires.
Non-Humor niches
This category includes technology, fashion, beauty, etc. These niches focus more on keeping themselves updated with the new stuff in their industries. Influencers focuses more on presenting the latest information in the right way. Users rely on trusted sources for their content.
Advancements and new products are a great source of content for these influencers. These influencers also provide their opinion on the trends and changes in the market and its short-term and long-term effects.
The creative part of their job comes while presenting the information to their audience. For YouTubers and Instagrammers, the original piece in their post/videos is the layout and the effects of audio and video transition. Added humour acts as an icing on the cake.
For example- Unbox therapy is a good example of this category.
From the image above, we can see that his ten latest videos talks about products from Apple, Google, Oneplus, Samsung, etc.
Humor
Humor is a niche that requires more creativity. This category can include some types of entertainment, Lifestyle niches as well. Creators in these niches need to come up with unique and fresh content every time.
Since it is really challenging to deliver unique and funny content for a long time, the competition in these niches is limited compared to the non-humour category. These influencers include trending topics and discussions to entertain the audience.
Bhuvan Bam is a good example of this category.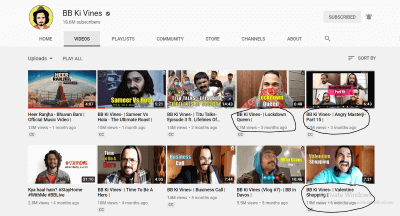 His law few videos also include topics like Lockdown (Video in April), Online classes (Video in May) Valentine shopping (Video in February),
SOCIAL MEDIA CHANNEL
Choosing the right channel is essential for a social media influencer. You can select more than one platform to share your content. Research shows that 87.1% of the influencers named Instagram the central platform for their posts.
 Want to know why?
Well, Instagram's sparkling interface nudges people to post highly-visual content, along with a short and exciting caption. Options like stories and IGTV make Instagram an excellent platform for video content. With a lot of competition, especially on Instagram, gaining followers can get tricky. Do read my article on how to gain Instagram followers for free.
Source: Mediakix.com
As an influencer, another thing to consider is the medium you're best at.
If you're a natural in front of the camera, try creating some fresh YouTube videos or setting up an Instagram account instead of writing out blogs every week.
Check out my article on 6 Unexpected Ways Influencers on YouTube can Make your Life Better
Check out my article on Demystify Influencers in Social Media to Grow your Brand
There are a few questions that you need to ask yourself before selecting your central platform. The first thing is to recognize your target audience.
Target Audience
Try to form a picture of the person who ideally represents your target audience. What is their age? What kind of content do they like?
Do they have any common interests? Do they prefer any social media platform?
After you have a clear picture of your target audience, there are some questions you need to ask yourself.
Which channel is your competition using to promote their content? What type of content do you intend to create in the long-term comfortably?
For example- if your niche is humour, you can always follow the lines of Bhuvan Bam by creating your YouTube Channel. Don't forget that he does have an Instagram account as well. 
If YouTube happens to be one of your platforms, read my article on   how to quickly gain YouTube subscribers. Even if you still have doubts, then there is no need to worry. Just join a few platforms and start sharing your content. As people start to follow your content, you can check out your follower's profile and try to find some similar traits. Also ask them what they like and dislike about your content. This will provide further clarity about your target audience.
It is advised to have your presence on 2 to 3 social media platforms, out of which one is your primary platform and presence on other platforms is to direct people to your primary social media account.
STRATEGIZE YOUR CONTENT
 It's time to make a strategy for your content. It is imperative to create unique and genuine content that resonates with your audience. Without it, you just can't make it as an influencer.
Every social media channel is full of mediocre content that sells them one thing or another. The point is people hate such aggressive ads and do not want to be sold every time they turn around.  You must initiate meaningful conversations.
That's how a person will become a successful influencer. It doesn't matter which niche they are in. If you connect with people on a genuine level, you will automatically gain genuine followers.
You need to be at the top of your game if you want to cut through the noise, and the best way to do that is to create content that's worth consuming.
Also, try to use all the options that are available such as stories, photos, videos, blogs, podcasts, etc. 
TIP – Video posts have a higher impact than other types of posts. Before making a purchase, 4 out of 5 millennials go to video content.
There is a 5-3-2 principle that says that out of every ten posts, five should be valuable content shared by someone else. Three should be informative content that you wrote yourself, and two should be about you and your personal story. This strategy allows your audience to know about your personality, along with useful information about the niche. Adding a touch of your personality in your content helps you create a brand and authority in a specific niche.
GIVE THEM WHAT THEY WANT
Post about things that your audience actually cares about. So the first thing to do is to know what they want. Just Search about your niche on Google to get a few ideas. Scroll to the bottom to see trending keywords used in your niche.

You can also search on Quora and Reddit to know the trending topics in your niche. These things will give you insights about the kind of content you should post. Check your content's comment section to find new ideas/suggestions for new content.
Websites like Answer the Public provide you with trending  questions directed around your chosen keywords. This will help you understand what your audience wants.
HASHTAG IT!
There are tons of pictures and videos being posted on social media every single day. Instagram alone witnesses a total of 95 million posts every day. This is where hashtags come to rescue.
Hashtags let you connect with the like-minded people who are interested in your content. Using the right hashtags can improve the visibility of your content in this endless ocean. Read my article on Choosing the Best Hashtags for Instagram to increase your reach.
LIVE IT!
Platforms like Youtube, Facebook, and Instagram allow you to go live and interact with your audience in real-time.
Influencers also use the live option to host 'ask me anything' sessions. This way, your audience feels closer to you.
HOST CONTESTS AND GIVEAWAYS
It's always helpful to keep your audience engaged in different ways. Top Social media Influencers keep hosting giveaways to boost audience engagement. They offer a reward in exchange for engagement of your post.
A Contest is making your followers  use your brand hashtag or do some task in exchange for a prize. VYPER is a fantastic tool that helps you create contests and giveaways starting from scratch. 
ANALYZE
One of the most significant benefits of creating digital content is that it's so inherently measurable.
By tracking everything, you can try different content types and approaches and see what your audience responds to. Most of these platforms come with their insights that provide you demographics, reach, and engagement rate. They also show the posts with the most engagement, so that you can know what works for you.
STAY UPDATED TO KEEP YOUR AUDIENCE UPDATED
Start reading more about your niche. Keep yourself updated which all the new things around it. This way, you will have more content to create and will be the first one to post about new things. This will eventually increase your following.
WEBSITE
Apart from your social media accounts, you need to have a website that showcases what you do. This makes you look professional. Also, people are eventually going to search for you on Google as your followers grow. So, having a proper website makes you look credible.
This helps you win the trust of your target audience.
Also, you can do affiliate marketing on your website to make more money. Check out my article on how to do affiliate marketing in India to earn money. Now is the time to take a look at some of the top social media marketing influencers in India.
Top ten Social Media Influencers in India are- 
Jannat Zubair Rahmani (jannatzubair29)
Bhuvan Bam (bhuvan.bam22)
Kritika Khurana (thatbohogirl)
Sejal Kumar (sejalkumar.1195)
Kusha Kapila (kushakapila)
Dolly Singh (dollysingh)
Savi and Vid (bruised passports)
Ranveer Allahbadia (beer biceps)
Gaurav Taneja (tanjea.gaurav)
Karan Due (dilsefoodie)
Well, it's quite evident that the larger your audience is, the lower will be your engagement rate.  Try hitting the right balance between the number of followers and your engagement rate. Those with around 10,000 followers have almost twice the engagement rate as that of 10 million followers.
Ever wondered what a brand looks for in an influencer for their marketing strategy. Well, it turns out brands don't know this as well. Marketers  waste a lot of money backing the wrong influencer. But the silver lining is, brands are using social media influencers for marketing.
According to a survey, most brands in India allocate between Rs1 lakh to Rs10 lakh ($1,409-14,091) in there influencer marketing budget, and it's increasing every year!
72% of Indian firms are planning to increase their budget on  influencers, the report said. Finally, brands recognize influencer marketing as a potent way to reach their audience.
So here are a few things that most brands keep in mind while choosing a social media influencer for their marketing campaign.
Brands tend to use tools like Buzzsumo, which gives you all kinds of content being posted on social media. It also tells you where that content was posted
You can also keep a look at such websites from time to time, to keep yourself updated about the content your competitors are creating.
NO TO FAKE FOLLOWERS
If Suzie is a social media influencer with 125,000 followers and Shane is an influencer with 130,000 followers, how many checks do you have your parents write to buy 200,000 fake followers to surpass them both? #SATQuestionsForRichKids

— lauren folds her nyepkins to the left (@iamlaurenp) March 19, 2019
Spoiler Alert: Don't waste your time doing the math behind buying followers, it WON'T WORK!
Brands understand whether or not you have fake followers or not. Most of such profiles have quite a low number of likes and comments, compared to the number of followers. Example- Having 100 likes on the content posted by a profile having 20000 followers. So, don't waste your money purchasing followers.
If you want to know how to be on top of the Instagram algorithm, then don't forget to watch this video on Instagram Marketing.
Brand's Expectations from an influencer campaign
Brands are looking to pursue either of the following goals if they are looking for an influencer-
Reach – to improve your brand's and its product's awareness. The Key Performance Indicator (KPI) is an increase in your website's traffic, number of likes, comments.
Relevance – to have a deep connection with the brand. This is mostly achieved by collaborating with a celebrity. It enhances a customer's loyalty towards the brand. The KPI for this is the number of shares on your influencer's post.
Resonance – to poke your audience to engage with the help of influencer's content. This increases your follower count, drive traffic to your site, and boost conversions. The KPI's to track is traffic from your influencer's account ( which can be tracked using promotional code)
Below is the scale brands can use to choose the right influencer.
Pic courtesy- www.talkwalker.com
Now let's look at how brands prefer to collaborate with influencers.
Types of Collaboration
Most of the brands use one of the following posts to strengthen their brand's social perception.
Sponsored posts – Brand chooses a celebrity/famous personality as its social media face. These are mostly used to increasing a brand's awareness.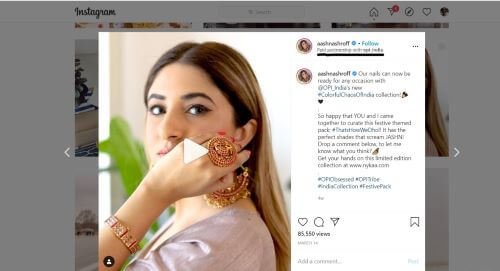 This is O.P.I India, one of the leading salon brand, collaborating with Fashion Influencer Aashna Shroff.
Giveaways – These posts are mostly used when a new product is released in the market. It helps create a buzz amongst the audience. Here is an example of Lenskart collaborating with Bhuvan Bam over Instagram.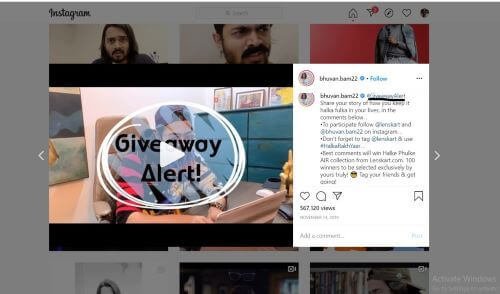 Post with Discount coupons – These posts are used to increase the sales of their products. This can be easily tracked using personalized code provided by the influencer. Myntra collaborates with many influencers, including Kritika Khurana, a.k.a thatbohogirl, to fuel their sales.
HOW MUCH DO I DESERVE?
Influencers are generally not aware of the money they will be offered. This can create misunderstandings, ruining a perfect opportunity.
It's smart to know what you deserve. Influencer Marketing Hub's Instagram Influencer Earnings Calculator shows the user's follower count, engagement rate, earnings per post. You can use this data to know your worth.
CONCLUSION
Now you are all set to be a social media influencer. Remember, it takes genuine efforts and a lot of your time to build an honest audience.
Watch this video to know more about Social Media Strategy and Marketing.
So it's time to hear it from you guys!
Which tactic from this post you liked the most? Or maybe you have some questions on being a social media influencer. Feel free to share it with me by leaving a comment below.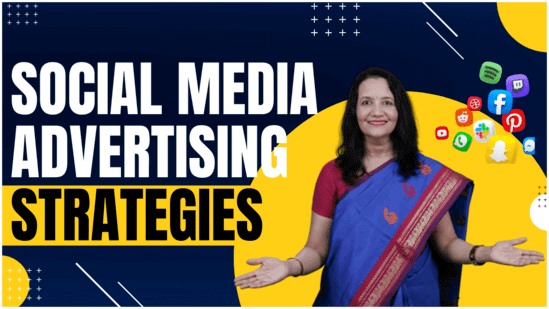 Spread the loveAccording to a study, an average person scrolls close to 300 feet of social media content every day. That's the height of Qutub Minar! Thinking about the amount of time that we tend to spend on social media daily, I find it quite believable. The main idea for social network advertising is to
Read More »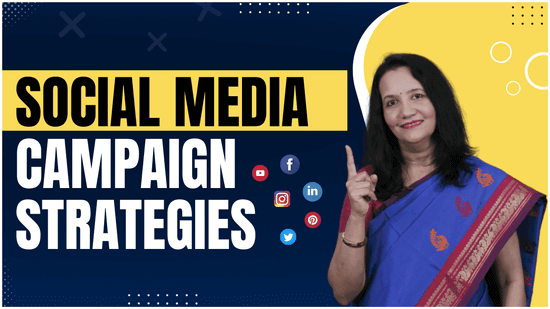 Spread the loveDo you want to create social media campaigns that will make your brand a sensation? Read these five strategies to grow your social media and blow your audiences' mind.Social media campaign is nothing but a series of coordinated activities aimed to promote your product or raise brand awareness in a community. We all
Read More »
Do you want to create excellent landing pages? Do you want to cutdown the cost required to hire a webpage creator. Read the article to know about SeedProd, an excellent landing page builder plugin for WordPress.
Read More »
HERE IS HOW I CAN HELP YOUR BUSINESS GROW
Don't just stand by and watch others make millions! Jump in and leverage digital marketing to skyrocket your business!