Prime, Netflix, Hotstar, Zee5, SonyLIV… Almost every single TV Channel seems to have its own Online Streaming Portal now! 
But despite all these, we still go back to our dear YouTube, isn't it? 265 million users per month in India, speaks volumes. 
YouTube has proven to be an attractive option for anybody who wants an enjoyable, casual and well-earning job. In fact, YouTubers are modern-day superstars!
Of the millions who try their hand on being a sensation, very few succeed; as it takes more than knowledge and commitment to be successful. Strategies used by successful YouTubers differentiate them, from the millions who try. 
In this post, you shall witness the most creative ways to get YouTube Subscribers.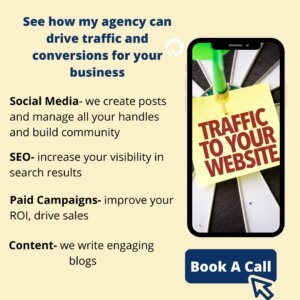 #1. Select a Theme
YouTube Channels posting a variety of unrelated content, go into oblivion. A classic example of, Jack of all trades but a master of none. 
That's why, if you are new to YouTube – before doing anything, decide upon a theme. A niche which you are well aware of and comfortable with. Example: Engineering Classes, Movie Reviews, Sports Analysis, Vines, etc.
The audience who profoundly care about your niche, won't mind subscribing to your channel for more updates. 
Our favourite YouTubers all do this:
BB Ki Vines – Vines
Geekyranjit – Tech
Vidya Vox – Music
All India Bakchod- Comedy
Sandeep Maheshwari – Motivational
#2. Clear Your Channel Up
If you already have a YouTube Channel and posted a few videos in it, this tip is for you. 
As you have narrow-downed your theme, it's crucial to remove old content which isn't related. Furthermore, remove poorly produced content or flop videos which should never have made it, in the first place. These videos make the audience lose trust in your brand. 
#3. Strictly High-Quality
Even Detective Charles Boyle would know that only top-quality videos make the audience interested to come back. 
Do Your Research
This might be the only time you are given full license to stalk! 🙂
Stalk your direct competitors and other popular channels, note down the topics they make videos about. Further, notice the reaction of their audience to it. This gives a wholesome idea about what topics generate interest; to make videos on.
Scripting
You might think you can be Madan Gowri and wing it on screen. But you shouldn't. A solid script guides you to organise your videos, helps you to uphold quality throughout your video and keeps you stress-free. 
Include as many details as possible in your script:
The main points, that need to be delivered
The exact words you need to use, in different situations
All the actions you need to use, in different situations
Various Images or Statistics that might be required
Various Call-of-Action (subscribe to the channel, click on the link, etc.)
Also, write the script based on your target audience (smart/dumb, well-informed/not-informed, language preference, professional/funny, etc.)
Purchase the right equipment
You know it, a camera alone isn't enough. In fact, you need not even spend big on a camera during your starting stages; your phone's camera is more than capable of shooting the required. 
You further need, studio lights, mic and a simple background to kick start your videos. Based on your content delivery, a few more equipments might also be required.
Photo Courtesy: https://wistia.com/learn/production/diy-office-video-studio
#4. Types of Videos
For starters (not the eatable ones shh), there are two types of videos:
Evergreen Videos: Videos that would be of relevance, whether they are being watched today or five years from now. Majority of 'How-To' videos are Evergreen. In the first four months of 2015 alone, 100 Million Hours of 'How-To' content were watched. 80% of your videos, got to be Evergreen.
Topical Videos: Videos whose topic lose relevance, after some time—videos based on the current trend. Example: Reactions to Viral Videos, Parodies of Viral Videos, Responding to other YouTubers etc. Timing these videos right can make you relevant in the eyes of people who may not know you, and introduce them to your channel. 20% of your videos, got to be Topical.
#5. Give people what they don't even know they want yet
Another 80-20 Rule! It's wise to have 80% of your content Search Engine Optimised (SEO), (i.e.) Topical or Evergreen content.
For the remaining 20%, you can make content – that you are genuinely passionate about, which no one else has thought about yet. Content which follows no patterns, just love. 
Ex: Showing off your Iranian Massaging Skills
      (Believe me, that's super rare)
These videos help you to be creative, to do something new and original. (a.k.a. Blue Ocean Strategy)
#6. Life in 10 seconds
From Washing Machine to People, we always check out before buying (into) them. The same applies to videos as well. 20% of the audience drop off within the first 10 seconds of your video!
Thus, do not start your video with a monotonic introduction, but rather with a "Bang!". Commence with the most cinematic part of your content 😉
Just take a look at how Netflix India make their videos. Their first 10 seconds are literally – "WTH!".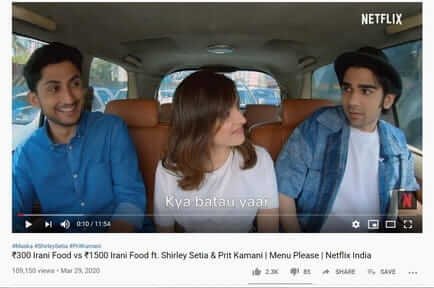 #7. Show Personality!
It simply isn't enough if your videos are just highly informative; they need to be engaging and entertaining as well. 
The best way to hook your audience to your content is by getting them hooked to you – Show Personality!
Don't just talk at the camera and read your script, instead be passionate, animated, and genuinely excited to share your content. Don't be afraid to be fun and quirky – people are more fascinated when things are outside the box.
Also, make your audience interact with themselves. Make them look into their pain points; make them reflect. This is how you make relatable content to build a genuine rapport.
Do take a look at how Bhuvan Bam does this beautifully.
Moreover, you can use the Pattern Interruptions! These are actions used by YouTubers to change a person's thought pattern. Ex: Graphics, Corny Jokes, Jump Cuts and Change of Camera Angles. These maximise your Watch Time. 
An example from one of my videos: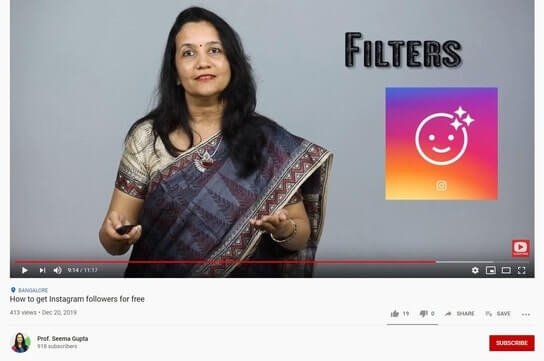 #8. Publish Long Videos (10+ Minutes) Consistently
"Long Videos! Seriously?" – I can hear all of you saying this right now. Yup, this goes against conventional wisdom. But stay with me.
According to a recent study, long videos perform significantly better in YouTube's Search Results (i.e.) There are more chances for your videos to be ranked higher in YouTube's Search Results if they are longer.
Photo Courtesy: https://backlinko.com/youtube-ranking-factors
If you are still unsure, take a look at Sandeep Maheshwari:
Furthermore, it's crucial to be consistent with your posts. After all, people would only take the effort to subscribe – only if they are sure to be regularly entertained. 
Thus, make a schedule of your upcoming uploads; and strictly stick to them. You need not be a robot to accurately update content on time – every time; instead, you can use 'Schedule Option' available on YouTube. 
There's a small corollary here: It's imperative to post content regularly. After all, more videos mean more subscribers. But, the quality of your content should be given utmost importance. Any video where you pour your heart and soul into, always works well. Thus, you have to find a work ethic, that produces consistent content with utmost quality.  
Moreover, if you've got real huge content (40+ minutes), the video length could be potentially intimidating for anyone new.
Thus, you can post 'highlight clips' of interesting points and topics discussed in your video; as short videos are a perfect way to give a taste of your content. (59% of the audience watch a video till the end if it's under a minute long.)
#9. High End
Just like the last dialogue of a beautiful role-play, end your videos in a memorable fashion. A small note of confidence while creating anticipation would be the perfect marriage. 
Naturally, your audience would be brimming with anticipation at the end, if they thoroughly enjoyed your video. Now, you can tell them about your upcoming content, or use a CTA (#10). Some YouTubers also make their audience guess their next video.
Make your audience know that you highly appreciate their viewership. Hyping the video and telling why not to miss, is the most organic method to get YouTube subscribers.
Our favourite Lilly Singh has been doing this for ages:
#10. Add Powerful CTAs
This complex-sounding abbreviation simply stands for 'call-to-action'. It includes options like Polls, URLs etc.
To understand this better, let's divide them into two:
End Screens
You might know many YouTubers who take 10 seconds (minimum) before the end, to guide you to their next video; isn't it? This exactly is the End Screen. Whether you want to get YouTube Subscribers (by audience clicking onto your channel's icon), point to your previous videos, promote your website or crowdfund a campaign; you can do it all here.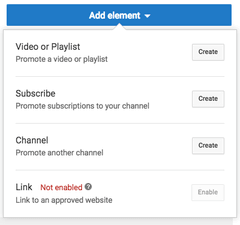 Note: You can use all of the above options simultaneously too, if necessary. Just like how I did, in my channel below:
Cards
Want the options of End Screen not just at the end, but throughout your video? Cards are your answer.
Remember the 'i' in the top-right corner of a video? These are Cards.
Cards are primarily used for increasing the interactivity with your audience. Whether you want to point your finger at a URL, promote your channel, show off a playlist or even polling your audience; you can do it all here.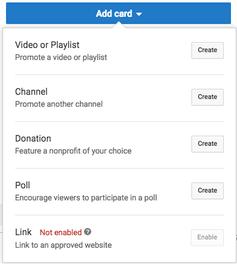 You can decide when your cards need to pop out. Regardless, they can be accessed any time throughout the video.
Here's how I use this option:
#11. Watermarks
Make it effortless for your audience to subscribe. Add a Branded Watermark to the bottom right corner of your video; through which people can subscribe anytime.
You can use your Channel Logo as a watermark. Just like how Amit Bhadana does:
Or you can use a picture of 'Subscribe' directly. Just like how I do:
Using an image of 'Subscribe' instead of a Channel Logo generates 70% more subscribers 😛
Or you can use both! Just like how Sony Music India does:
#12. Edit Ruthlessly
Thomas Hawk, a celebrated photographer, claims that for every single photograph that he publishes, he has ten rejected shots. The same applies to YouTube Videos as well.
Only the best gets published. Take multiple shots and edit them later, if necessary. 
If you are working on Windows, Adobe Premiere Pro CC works the best for this cause. As of Mac, Final Cut Pro X takes the edge.
Note the right YouTube Dimension for various quality:
2160p (4K) – 3840 x 2160 pixels
1440p (2K) – 2560 x 1440 pixels
1080p (HD) – 1920 x 1080 pixels
720p (HD) – 1280 x 720 pixels
480p – 854 x 480 pixels
#13. Tantalizing Thumbnails
Think of it, when you have many videos to choose from on your YouTube HomePage; which one will you choose? Don't deny it! You too judge a book by its cover!
A Thumbnail is a poster that tells about your video instantly. YouTube currently offers you to choose your Thumbnail from the 1/4th Mark, 1/2th Mark or the 3/4th Mark; select the one that describes the best.
But an expert would always advise you, the contrary of the above. Instead of choosing shots from your video; make a Custom Thumbnail. A Thumbnail which has different colours, annotations and an eye-catching image!
Take a look at my Thumbnails:
A Thumbnail should be of size: 1280 x 720 pixels. You can use tools like Thumbmaker and Canva; to create your Internet-Breaking Thumbnail. 
Furthermore, branding your thumbnails differentiates your channel from thousands, while also adding authenticity. 
Our favourite Nisha Madhulika can be seen doing this:

#14. Handsome Headline
Thumbnail & Headline, individually decide whether your video is strong like Salman Khan or comedy like Zakir Khan. 
Find out different keywords related to the theme of your video (various SEO Tools can help you out here). Now, think of some (Power) Words that make your video stand unique, as well as attract a massive number of views.  You can later use symbols like '| : + – &' to separate Keywords from Power Words.

#15. Dramatic Descriptions
Descriptions are a few sentences that best describe your video.
Descriptions go a long way in deciding How High your videos are in YouTube Search Results; based on the keywords used. But do not overdo it, Keep it short, natural & authentic. 
Furthermore, here you can include URLs to Other Videos of yours, URLs of Social Media Handles, or Time Stamps that take your audience to a particular time of your video.
It would be wise to use affiliate marketing here, to add an extra income to your channel.
C4ETech displays these attributes the best: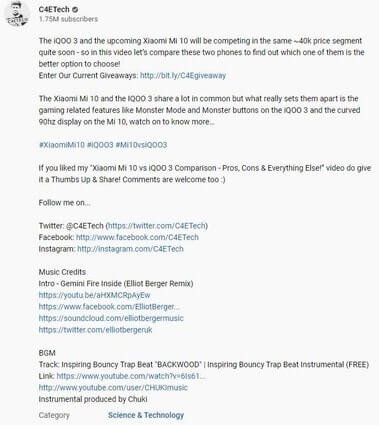 Similarly, with all we have learnt above, we can create a Channel Description for our channel as well.
If you are looking to expand your social media marketing skills, be sure to take a look at 25 Guaranteed Tips for Facebook Marketing.
#16. MetaTags
Another tool, if used right, that hoists your chances of coming higher in YouTube Search Results.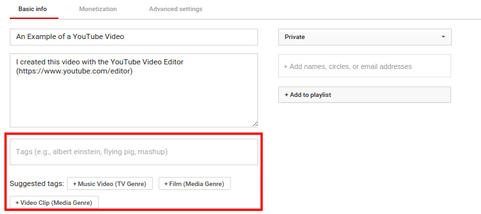 Photo Courtesy: https://neilpatel.com/blog/the-real-secret-to-growing-your-youtube-subscribers/
You shouldn't use anything misleading here. Carefully choose tags that are quite broad, yet related to your topic. 
You can do some research to find out the best hashtags for a particular video. Also, there's no harm in using suggested hashtags; as long as they are related.
Moreover, to check which of your MetaTags work, you can make use of YouTube Analytics. As a matter of fact, you can use YouTube Analytics right from knowing how you got a subscription to knowing which content works best! 
#17. Reply to Every Comment
Social Media is built upon this elegant thread of connecting and interacting with fellow people.
Replying to comments, immediately makes you stand out from hundreds; as most YouTubers don't reply. You may indeed face inevitable backlashes, but brush it off with elegance and listen to your loyal fan-base. This would make them feel special, build trust, and they will respect you for caring for them. 
A Tamil Review Channel Avant Grande does this the best.  Here, the subscribers don't just comment but have highly intellectual discussions. Based on these suggestions, Avant Grande make their subsequent videos.

As seen above, you can use Creator Hearts as well. When you heart a comment, the user gets a notification or sometimes even an email. This makes the user very likely to subscribe.
Another unique method to attract an audience is to leave a funny comment or start a conversation on another YouTube Channel. Many users that engage in discussion with you there will click on your profile, see that you have an impressive channel too, and subscribe.
#18. Host Q&A Session
At the end of your videos, you can ask your subscribers to post their questions in the comments section.
Later, you can make a separate video for these questions or could spend some time on this on your next video. 
So many YouTubers use this method, to connect with their audience regularly.
#19. Niche Online Communities
You probably thought of sharing your videos on WhatsApp, Facebook, Twitter or IGTV. But have you explored heavily followed Online Communities? – Quora, Reddit, Facebook Groups, and LinkedIn Groups.
Photo Courtesy: https://optinmonster.com/get-more-youtube-subscribers/
Search up topics related to your Channel's Theme, contribute your thoughts regularly, let users familiarise with you. If they want to see more of what you have to offer, they'll undoubtedly subscribe to your Channel.
Note: Users here are protective when it comes to maintaining the integrity of discussion, so be sure to add value first and foremost.
#20. Share It!
Birds help Birds. Animals help Animals. Social Media Handles help Social Media Handles.
It's natural to post your videos on other Social Media Handles like Facebook, Twitter, LinkedIn or IGTV; after all, they'll get you additional views, isn't it?
The above statement is absolutely true, no denying it. But do you know, YouTube Videos on other Platforms are hardly found by any new audience there?
It's because Social Media Domains do not show your videos (on top) of their search results; as they want their audience to be on their site and not go to YouTube.
Thus, make a 30-90 seconds clip from your YouTube Video, which explains about one idea or point; and post on the respective Social Media Handle directly. Add a link to your YouTube Video on the first comment. 🤷‍♀️
Moreover, you can promote your Channel on your Blog, eBooks, Webinars and Ads (Facebook or YouTube) as well. 
#21. Create Playlists
Playlists are like perfumes, if used well – they attract a massive amount of people. 
Videos of a similar theme can be grouped, under a Playlist. This allows your audience to binge-watch your content without manually choosing their next video. 
Playlists get your audience to stay a little longer in your channel and show them that you've got a plethora of quality content.  Interested users would subscribe to get notified when the next video of the playlist is released. 
There are two types of playlists:
Power Playlists
Power playlists are those playlists that are made for a specific outcome. 
Example:
This particular playlist by India's Most Subscribed Channel, can be tuned in when you are up for some peppy numbers.
Conventional Playlists
Conventional playlists are those playlists that are made on a common topic. 
Example: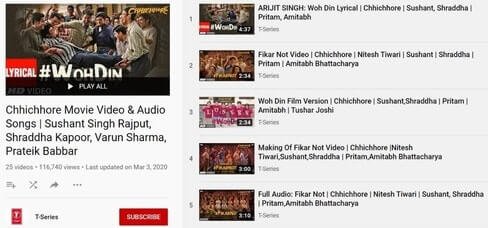 This playlist contains all the videos from T-Series related to 'Chhichhore'. (If you haven't watched the film yet, do yourself a favour by witnessing this laugh riot)
If you are new to YouTube and haven't got enough content to make a playlist then no worries! You can create a playlist of videos from your favourite YouTubers. For instance, you have a new chess channel, you can make a playlist of your favourite songs to listen to while playing chess.
#22. YouTube Live!
"Two roads diverged in a wood, and I – I took the one less travelled by, And that has made all the difference." – Robert Frost.
A fairly new and underused tool – YouTube Live, is the best way to get close with your viewers and build your brand, while being highly unique at the same time.
Research from Livestream found that 80% of the audience would rather watch Live Video from a brand than read a Blog, and 82% prefer Live Video from a brand to Social Posts.
A small caveat here being, you must have a minimum of 1000 subscribers to be eligible for YouTube Live.
#23. Charming Channel Icon
Your Channel's Icon shows up everywhere! 
Just like Rani Padmavati, charm people at the first look of yours. Make an icon that's simple and exciting, at the same time. 
If you are a personal brand, use a high-resolution headshot:

If you are a company channel, use a rounded version of your logo:
#24. Channel Tagline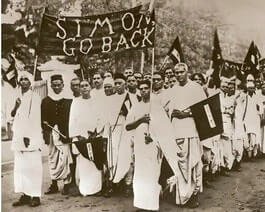 Photo Courtesy: https://www.hindustantimes.com/columns/opinion-90-years-later-india-must-send-simon-back/story-2V64TbLO9T7EdyutjcHTPL.html
Even after 90 years, the above sentence still arouses a deep sense of patriotism. That's the power of words. 
We are looking to tap upon the same power here. 
Come up with a unique line, from your niche, that defines every drop of sweat of yours. A line that perfectly sums up you and your Channel. 
Use this Tagline in your Channel Art.

Use this Tagline in your Channel Trailer and All your videos as well.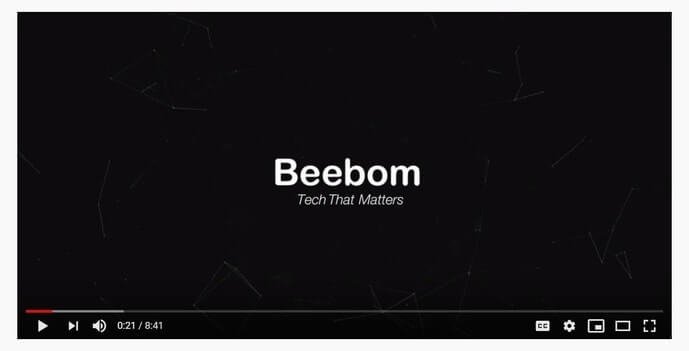 #25. Killer Channel Trailer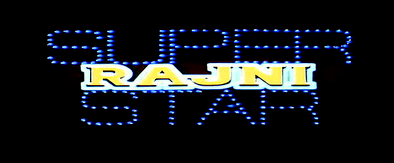 Photo Courtesy: https://cinemachaat.wordpress.com/tag/padayappa/?iframe=true&preview=true/feed/
This Shot. This BGM. Is there a more landmark introduction?
Just like how this shot has ruled our hearts for ages, your Channel Trailer got to be the perfect start for anyone curiously entering into your Channel. 
Start your Trailer with your Tagline. 
Keep the Trailer short, 60 seconds or less.
It should have a 20-30 seconds highlight reel, of your other videos. (One Video that sums up all inside)
Try to provoke motivational emotions, comedy, and end with a very creative call-to-action.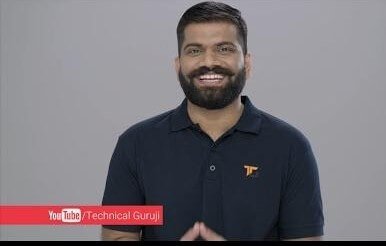 Check this trailer of Technical Guruji out.
You can even have one of your popular videos as a Trailer. But a Customized Trailer works the best.
#26. Include Subscribe Link to your Channel's Art
An adorable minor hack. You can add links of any plugin on your Channel's Art. As we can see above Arun (Mrwhosetheboss), has added links to his various Social Media Handles. 
Along with these, he has also added a Subscribe Button. This is quite a wise move, as this small hack attracts an enormous amount of people.
#27. Incentivize Your Audience
Remember how a mom gets her child to eat? "If you eat your lunch, I'll give mobile for 10 minutes". It's human nature to love free things. 
We look to tap on this emotion!
Host Giveaways. These reward your current followers and help lure in new followers. 

But, Have Strict Rules:
User needs to subscribe your Channel
User needs to leave a comment
User must follow all your Social Media Handles
Classic Example of a Win-Win Situation? 😉
#28. Append Channel URL
Time for another Minor Hack! Let's start with an example directly, for a change:
Before: www.youtube.com/channel/UCBDgBiaon_9MMMVCumg-v1g
After: https://www.youtube.com/channel/UCBDgBiaon_9MMMVCumg-v1g?sub_confirmation=1  (Click to see the action)
This removes the friction and gets users to rapidly subscribe to your Channel.
#29. Collaborations
Your subscribers love you. Offer them something extra, in return!
Try to reach out to similar YouTubers in your niche and ask them out for an opportunity to work together on something interesting. 

Through Collaborations, you'll be able to connect to a new audience, and your viewers will love all of this extra value they're getting.
You can also collaborate with Celebrities, over an Interview. As you might have already guessed, this would sky-rocket your following!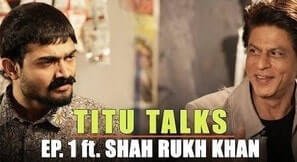 Moreover, you can use external tools like TubeBuddy. These will help you find more viewers, make more money, and automate your entire YouTube experience.
#30. YouTube Influencers
YouTube Channels who already have a big fan-following, who interact with their viewers frequently; can be termed as influencers. 
Search and Find out which YouTube Channel suits you the best. Don't be shy; reach out to them. 
When an influencer is backing you, people will be more likely to check out your Channel.
Later on, you can also approach these experts and see if they would be interested in doing a video with you – whether it's an interview or insights into a particular topic; either way your reputation will surely increase! (+ a great video content too :P)
Besides, even YouTube themselves are using this method! They have joined hands with some top Indian YouTubers to promote YouTube! Check it out:
Even Vidya Vox, Shirley Setia, SANAM and Being Indian are part of this.
#31. Optimize Your Channel
Remember the times when your whole family starts cleaning the house when a guest is about to come? 😂
How your channel looks, makes the difference between a new-comer leaving or staying longer on your Channel. 
Thus, arrange your trailer, videos and playlists in pleasing order; on your HomePage. There's no perfect way to organise, but you can follow the below: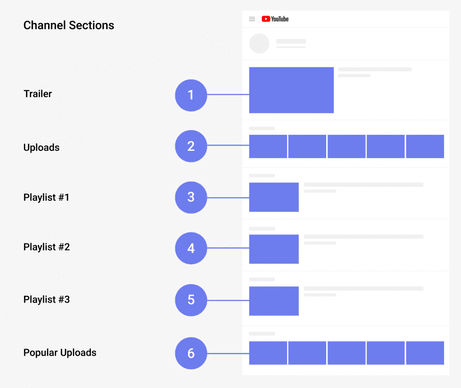 Photo Courtesy: https://backlinko.com/how-to-get-youtube-subscribers#reply
– oOo –
If anything, YouTube has proven that there's an audience for almost anything on the net. 
Building something of profound value on YouTube takes a lot of time, effort, criticism, and commitment. But eventually, with patience, you can reap its benefits.
Be sure to check out Insane ideas to channelize YouTube views to money , Amazing Ideas to Increase Subscribers on Youtube and if you want some Quick Handy Tips to Get Free YouTube Views, click the link.
Stay true to your yourself and keep working.
And now I would like to hear from you! Which strategy from today's post are you excited the most? Or maybe you have a doubt about something you read. Either way, let me know by leaving a comment below.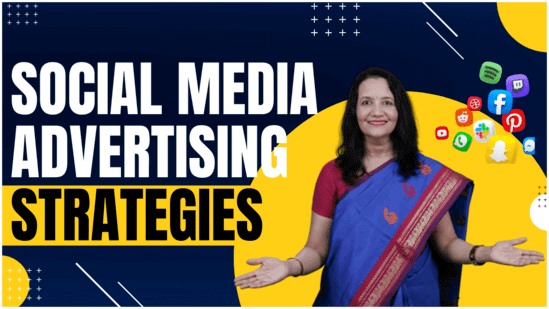 Spread the loveAccording to a study, an average person scrolls close to 300 feet of social media content every day. That's the height of Qutub Minar! Thinking about the amount of time that we tend to spend on social media daily, I find it quite believable. The main idea for social network advertising is to
Read More »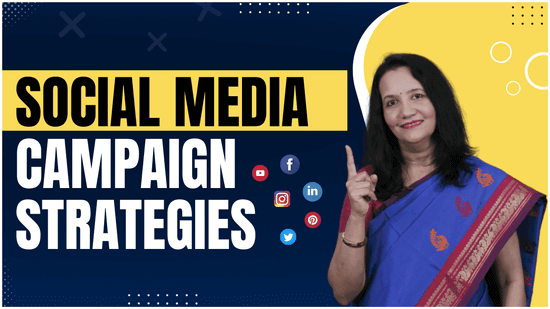 Spread the loveDo you want to create social media campaigns that will make your brand a sensation? Read these five strategies to grow your social media and blow your audiences' mind.Social media campaign is nothing but a series of coordinated activities aimed to promote your product or raise brand awareness in a community. We all
Read More »
Do you want to create excellent landing pages? Do you want to cutdown the cost required to hire a webpage creator. Read the article to know about SeedProd, an excellent landing page builder plugin for WordPress.
Read More »
HERE IS HOW I CAN HELP YOUR BUSINESS GROW
Don't just stand by and watch others make millions! Jump in and leverage digital marketing to skyrocket your business!